Scenes from the Scalar ProScope



The Scalar Proscope is a modestly priced, plastic-bodied digital microscope with the advantages of not being mounted permanently upon a stand (although one is available, and it is very useful), and of simply communicating with virtually any personal computer via a USB cable, thus allowing it to be used like a camera, displaying real-time images on the screen for point-and-click capture. It employs contemporary digital camera imaging technology and so the characteristics of its functioning and products will seem usefully familiar to those with such experience. Here are a couple of views of my ProScope in use:

In the first you will see my notebook computer in the background, displaying a picture of the swan's-neck regulator which is being captured from the watch which is under the 'scope. Although the internal lighting which is standard with the 'scope is quite excellent (and almost necessary!), it is not surprising that additional, exterior lighting is beneficial as well, and is in certain cases (such as picturing very dark, flatly-finished dials) best employed alone. It is tethered to the computer by the white cable exiting the back, and operates with very straightforward software.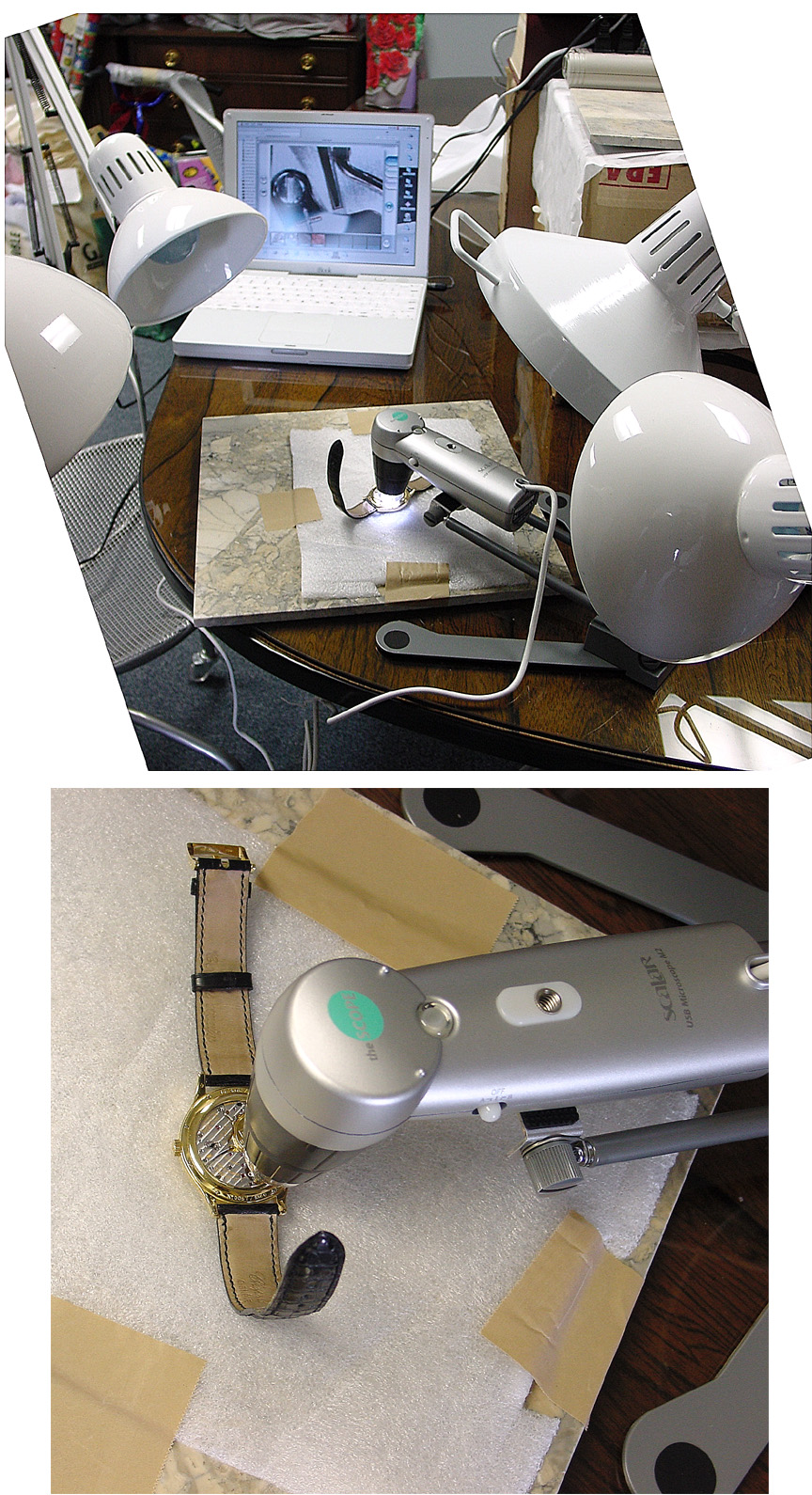 The second picture just shows the 'scope a little closer as it is suspended above the watch. Whether one is using the standard 50x lens, or the optional 100x or 200x lenses, focusing is simple in concept, if rather touchy in practice: The plastic shround which protrudes outwards (or in these pictures, downwards) can be rotated, causing it to move closer to or further from the camera. It is intended that when fully extended, the middle of the available focal range will be precisely at the opening in the end, which places it generally just a bit too high for focusing well on a watch movement through a display back. This is a minor matter with the 50x lens, if one is picturing anything at the height of the bridges, or above. But if one is trying to focus primarily below the bridges, or is using one of the higher powered lenses, then adjustment is necessary, and just a bit delicate.

The captured images are each 640x480 pixels, and while this may not seem to suggest great detail, keep in mind that it is always possible to trade off greater detail for less magnification, and at 50x and up there is plenty of the latter available! For internet posting purposes I have been shrinking my images about 20% (to allow 2-across viewing on a typical XGA screen), thus rendering them functionally closer to 40x, a distinction which nobody has yet to remark upon.

These initial pictures are really just experimentally trying to get a feel for how the device works. For example, because the main (and usually best) lighting is internal, there are times when my desire to focus on or at the height of a very smooth or reflective surface would make it desirable to tilt the light source slightly, however this also complicates the touchy focusing arrangement at the same time.

Here are some pictures taken with the standard 50x lens:

Blancpain 7002 chronometer: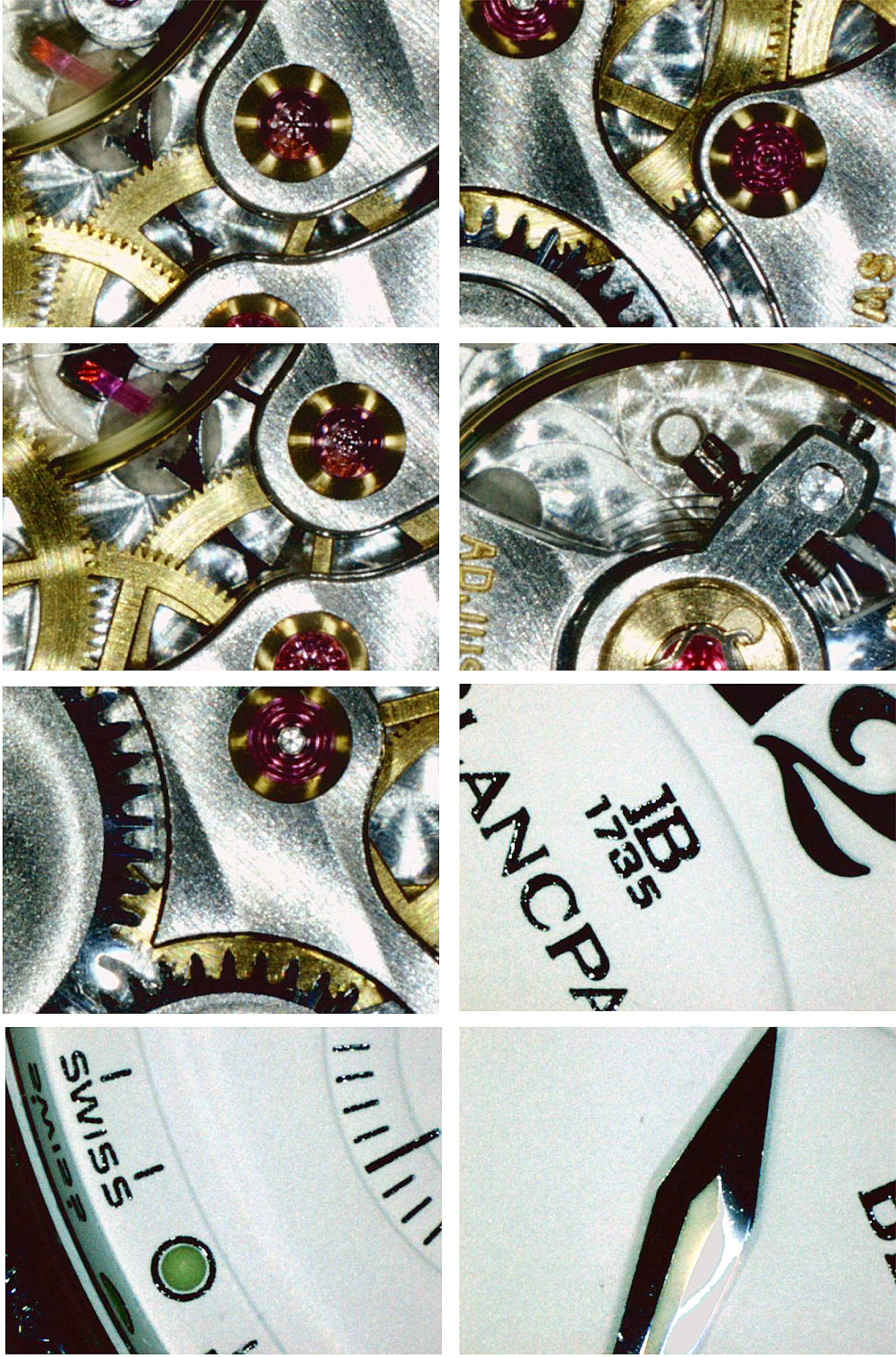 Chopard L.U.C. 1.96:






Grand Seiko handwind: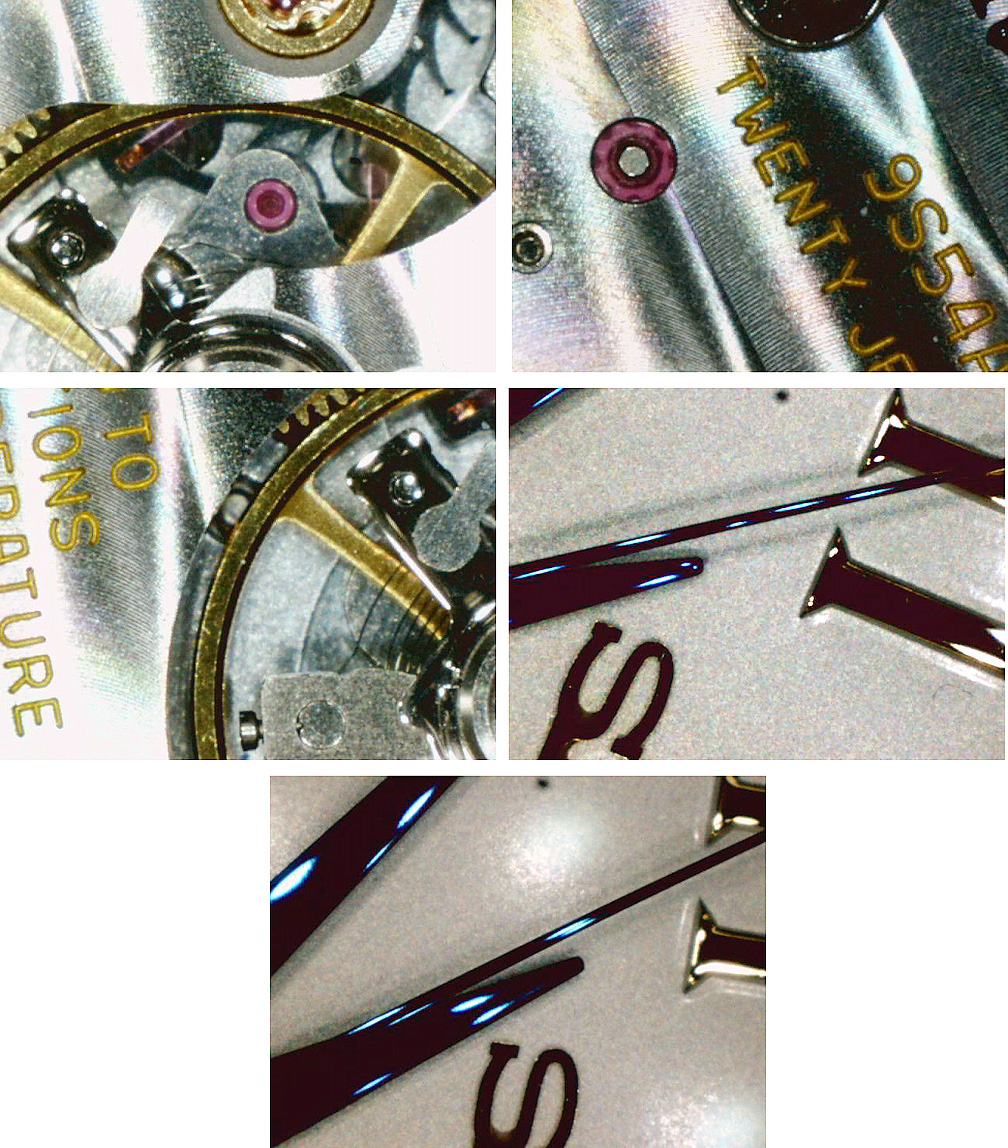 Lange Datograph: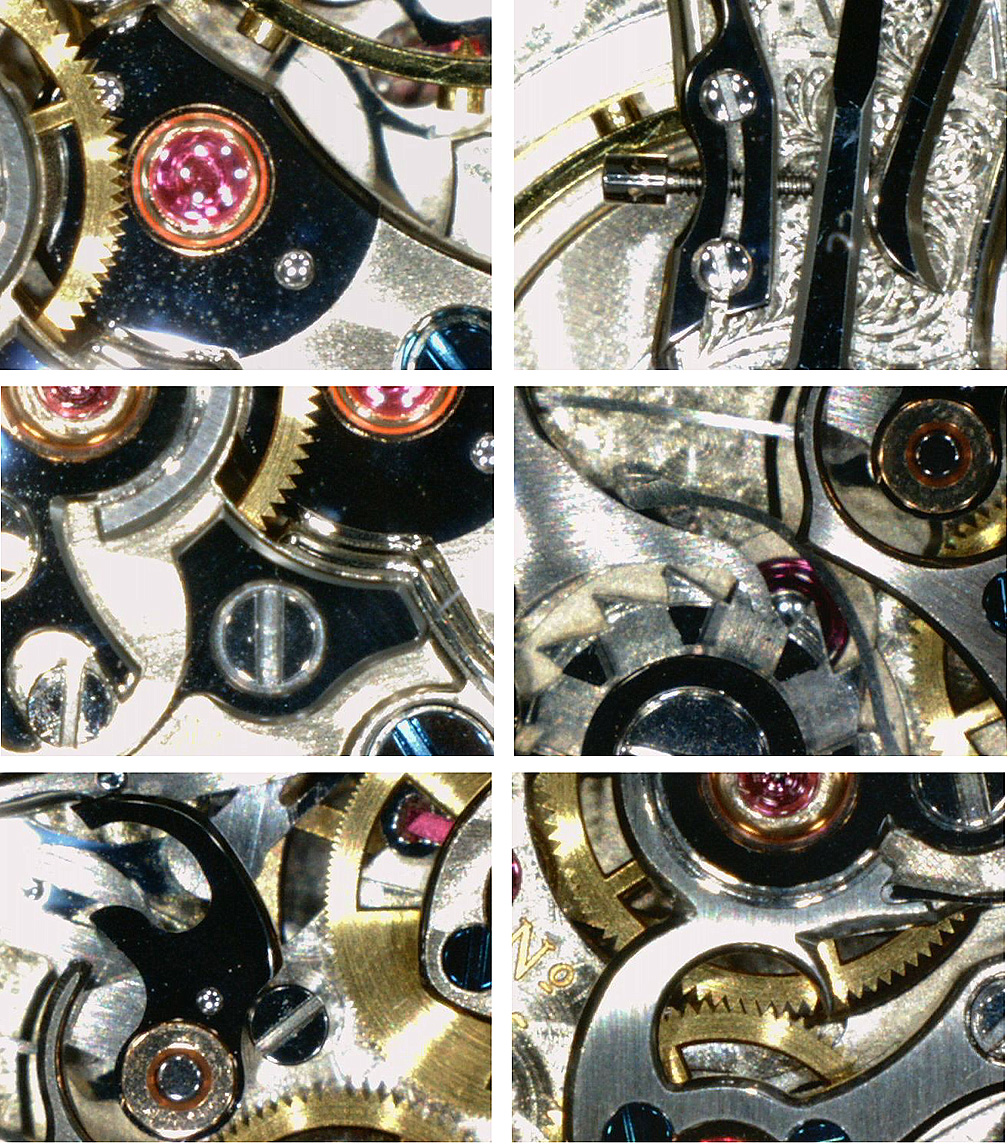 Urban Jurgensen Reference 8: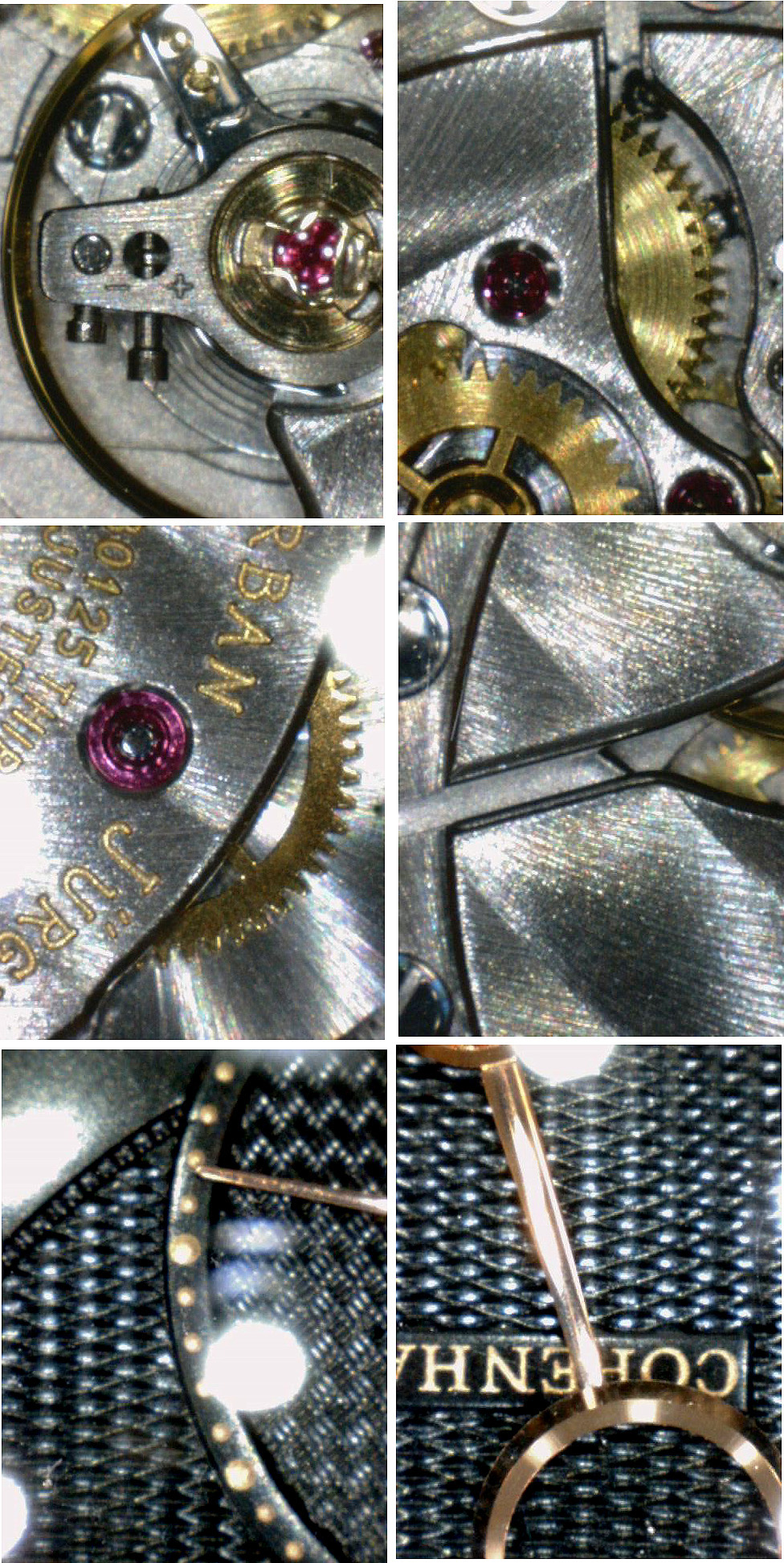 Be-Ba competition chronometer: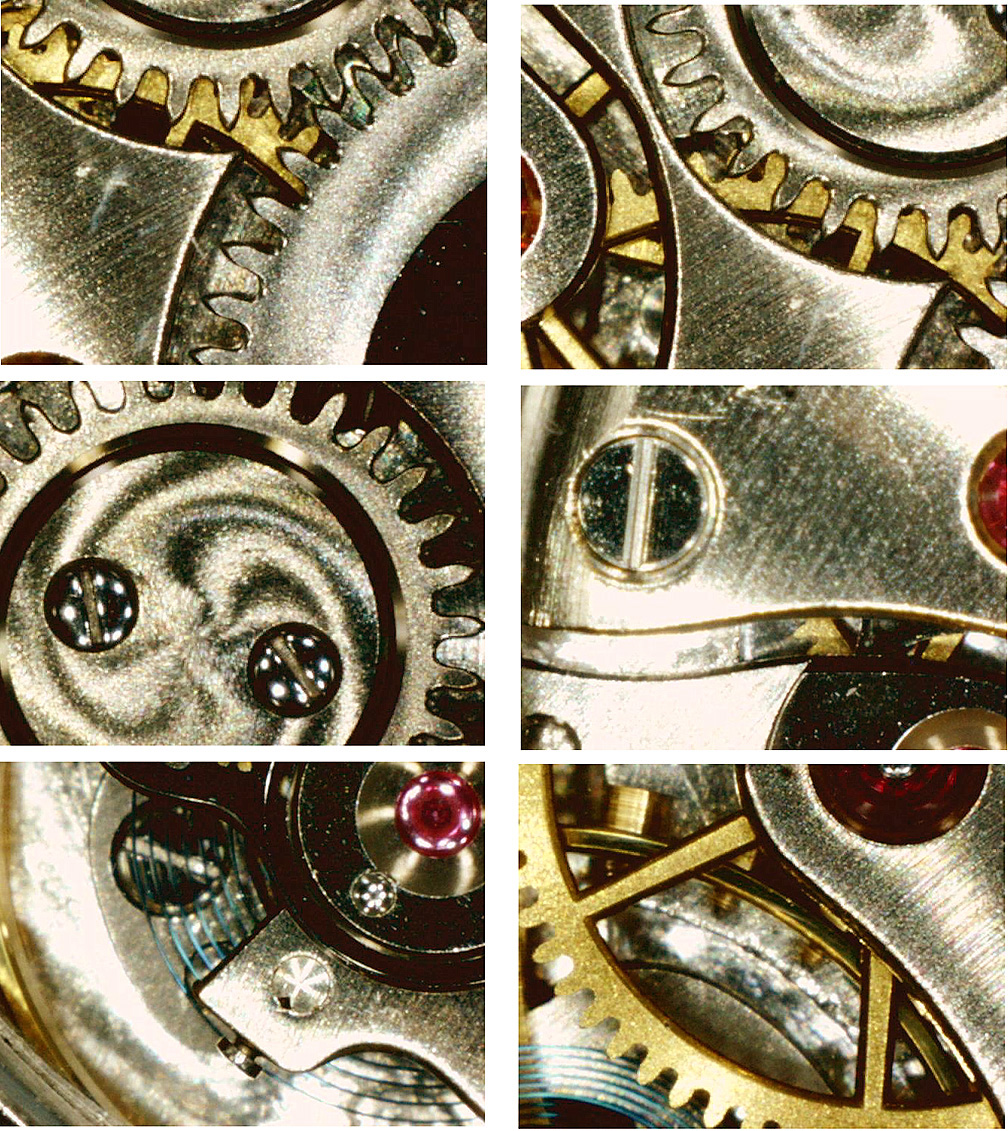 Here are a few at 100x:

Roger Dubuis Hommage Condottieri:





Urban Jurgensen reference 8:






Chopard L.U.C. 1.96: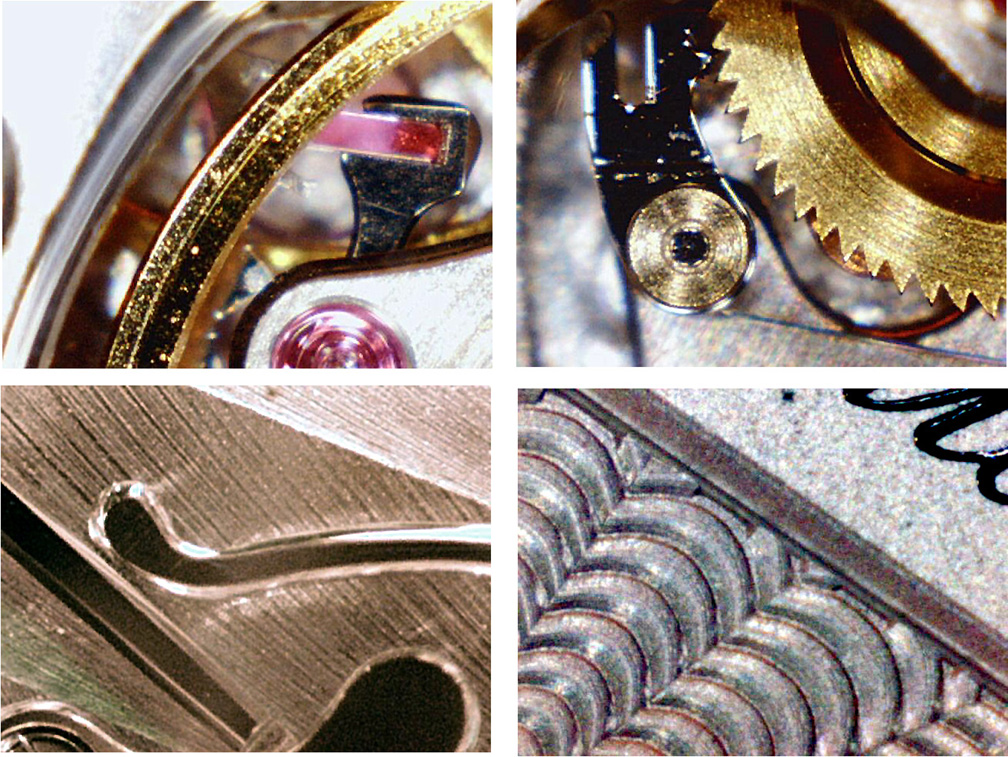 Finally, the Blancpain at 200x: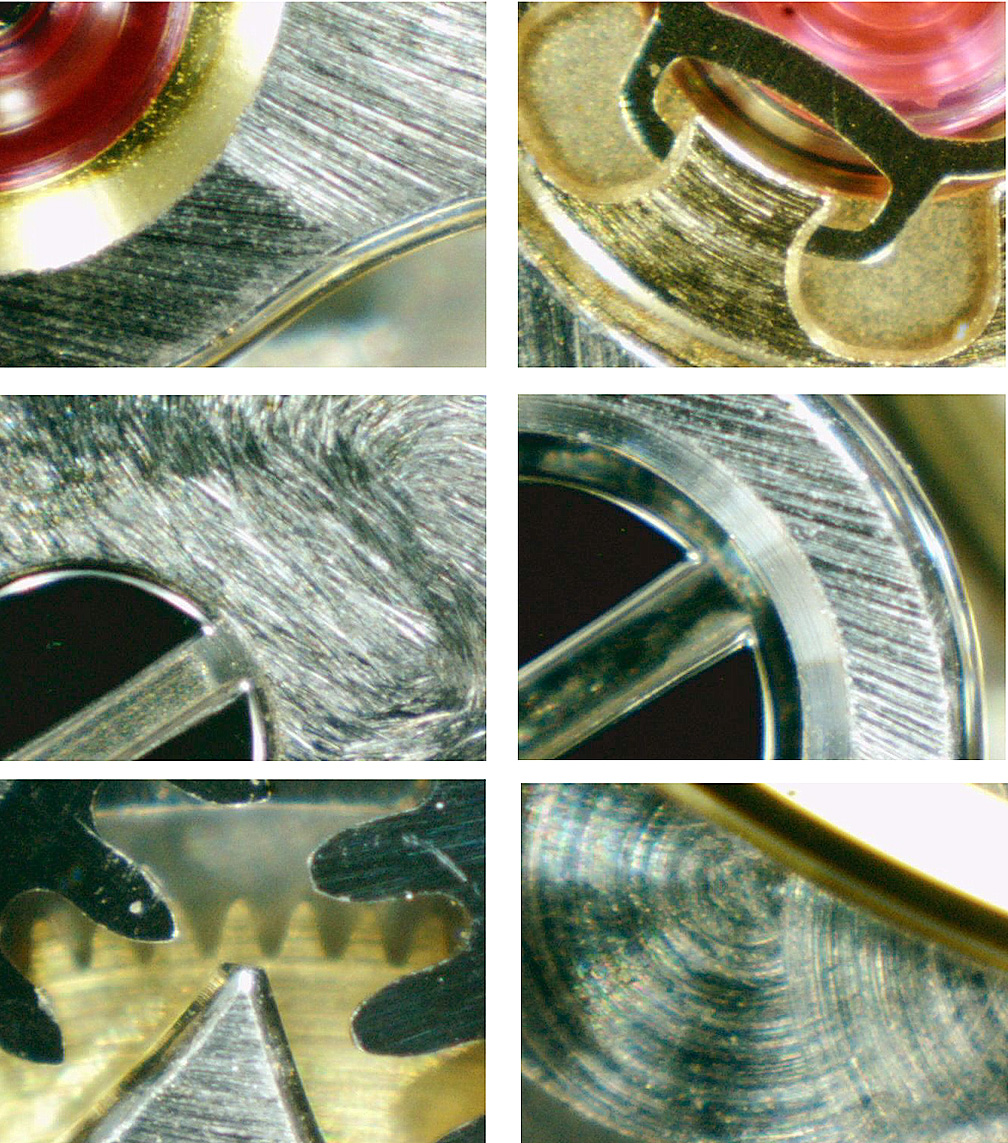 The ProScope even takes movies! (click the pictures below):