The watch pictured herein is an Audemars Piguet handwind, with small seconds at 6 o'clock, circa 1948. The circumstances under which I purchased this watch are somewhat unusual, and now that I have lived with it and thought about it for several months, I am beginning to consider that the watch itself might be even more so.




Obviously meant for dress wear, the 3, 9 and 12 markers are rectangular diamonds, each about 3.5mm long, and the balance are comprised of 2 small round diamonds, each about 1mm diameter. Each marker surrounds it's diamond(s) with a "bezel" of polished white metal (platinum?). The baton hour and minute hands are also polished and white, while the small seconds hand appears to have been enameled or painted black. The dial is a very subtly vertically "brushed" silver of unknown metal, while the very small amount of printing is black, shiny and raised, perfectly preserved. The crystal is, unusually I believe, glass rather than plastic. The case is platinum and all surfaces are very finely brushed concentrically or laterally (except for the back) to an almost matte finish. The lugs are soldered on and although they are prominently curved, thier edges, like those of the case itself, are very sharp. The original strap (pictured with the original clasp, not on the watch) is a very soft, totally black velvet, while the underside of the clasp is adorned with its metallic identity in several different fashions. All in all, this is a very low-key and subtle design, even considering the jeweled dial.

I came across this watch most unexpectedly on the Ebay auction site, while seeking something else, naturally. At that time, (and still, with the present exception) I had never bid on anything at this site exceeding $200. This watch, however, really looked just right for me, and vintage platinum Audemars Piguet watches are tolerably uncommon. Since I was rather uncertain about the whole arrangement of Ebay, I decided to write the seller before even considering a bid. I subsequently spoke with him at length over the phone, and as it turns out he and his family had run a rather prominent numismatic dealership for several decades, one that I had dealt with many years ago and which still had a fine reputation. I called the main store and they confirmed the gentleman's identity, and I was off bidding. Being an amateur, I simply placed my maximum bid into line, and waited while emails arrived several times a day confirming that a competing bid had been received, and mine had been entered in response, finally being the last remaining. My inclination is to consider that if I never visit Ebay again, I might be very much walking away a winner, as I found fortunately that I received exactly what had been promised.




Click most pictures for even larger!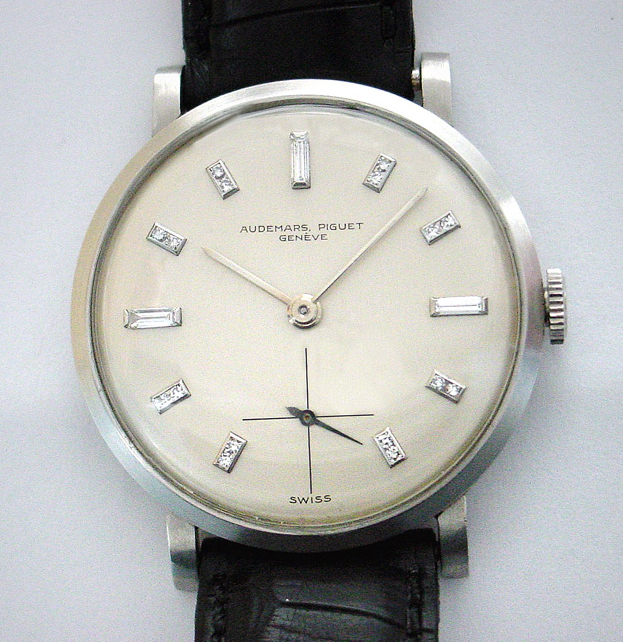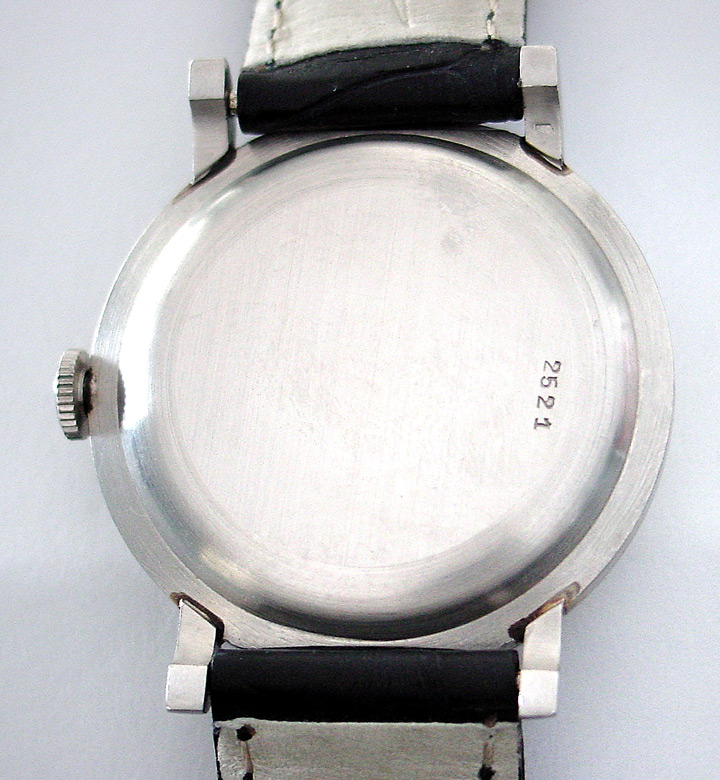 What surprised me upon seeing this watch the first time, and truly even more now, is that it is really a very large watch, especially considering its age and its dress design. Measurements (all +/-) are: diameter, 37mm; case thickness, 6mm; total thickness, 7.5mm. The movement is also a most substantial 29.5mm (13 lignes?), justifying the large case width. Evidently the movement descends from a rather elder line of AP designs, so that it doesn't conform with the "smaller and thinner" trend in dress watches of the time.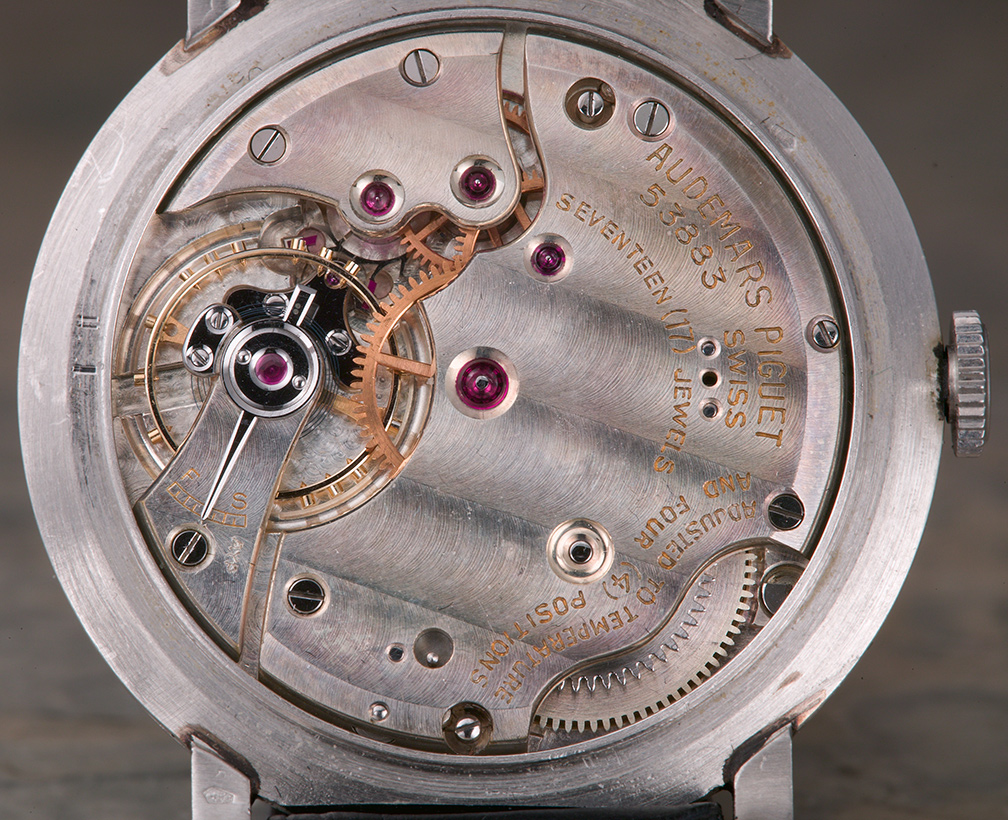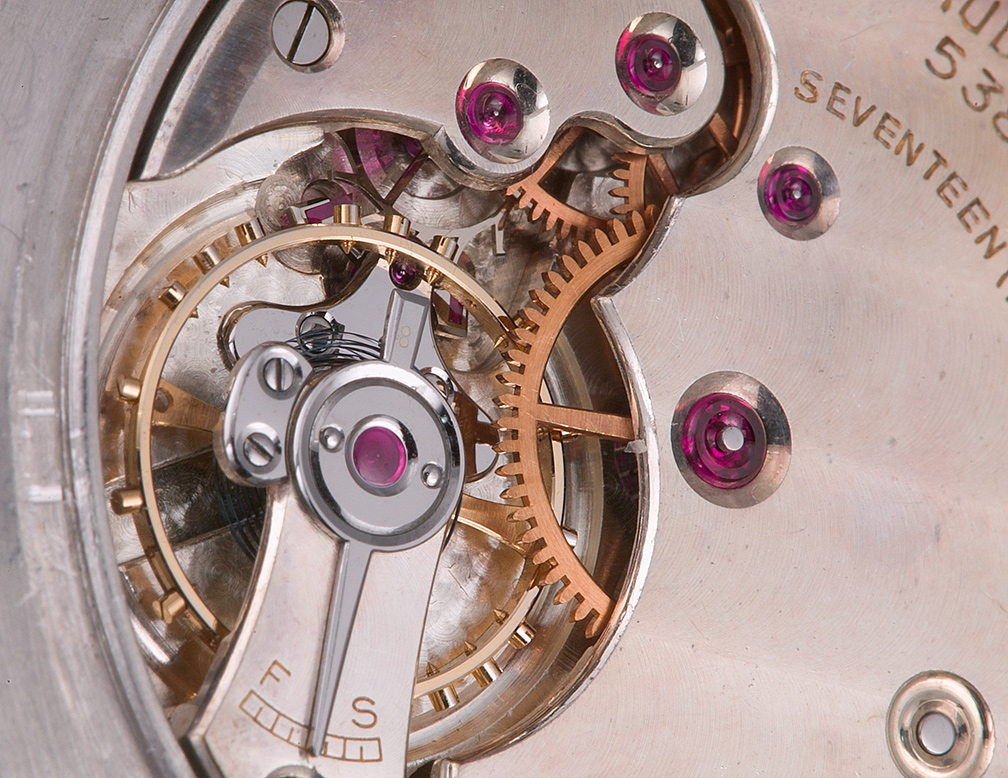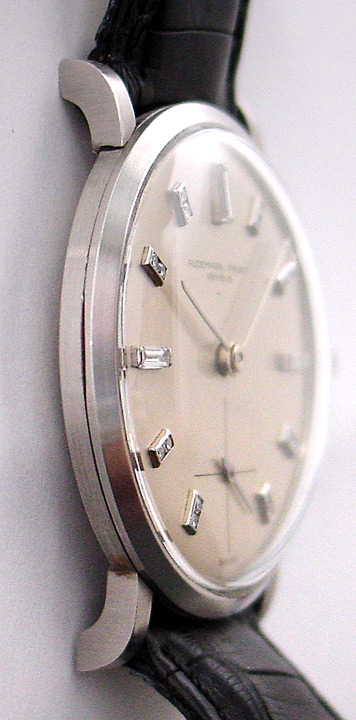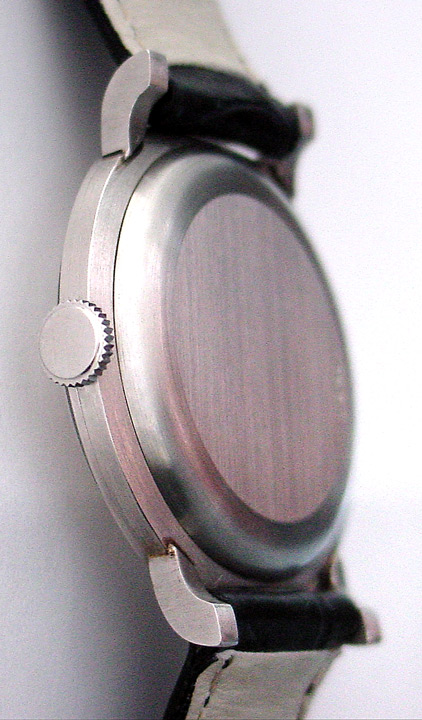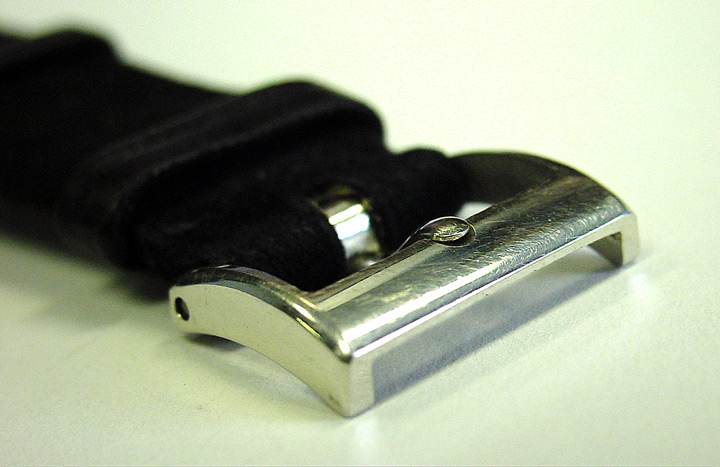 Please check out the rest of my Watch Articles and Pics
I hope you enjoyed this!
SteveG
May 31, 2001

All content Copyright asserted 2003