Chopard L.U.C. 1.96
In the process of rewriting this relatively early article, I spent a while examining Chopard's offerings as reflected in the current "Watches International", and I now have a greater appreciation for their manufacturing accomplishments, and for their very wide range of design. While their catalog certainly includes a large variety of strictly jewelry watches, many with quartz-controlled movements, even their black-and-clear diamond-encrusted "Ice Cube" (almost unnecessary to show the picture) and some of the "Happy Jewels" lines incorporate thoughtfully chosen mechanical movements of apparent high quality from Frederic Piguet and JLC . In this light, their decision to launch in 1996 an entirely new series of watches featuring horologically ambitious movements seems less mysterious to me, as I can now understand it as a move to complement their existing products, rather than as an abrupt departure.

Chopard has given these new movements and associated watches the name "L.U.C." as homage to its founder Louis-Ulysse Chopard, and to mark the firm's return to its origins as a producer of ultra-high quality watches after some two-plus decades of concentrating mostly on the jewelry trade. The initial watch was the exclusive 1.96, followed shortly by the handwinding 1.98 (with 9 day power reserve), and slightly less finished siblings, 3.96 and 4.96 (with sweep seconds, but not Geneva Seal) and the tonneau-shaped 6.96; I believe this latter has recently been shown also in a version with tourbillon.

Aesthetically, the 1.96 is an almost entirely traditional dress-watch, as epitomized by decades of Patek Philippe Calatravas and similar designs, excepting that it is a rather modern 36.4mm diameter. The extra area available to the dial is filled practically to the square millimeter by the guillocheed sunburst pattern, an additional distinction. It has a relatively thin, slightly stepped bezel, and to my eyes the entirety is most harmonious and clean; I expect it to age gracefully.
Click most pictures for even larger!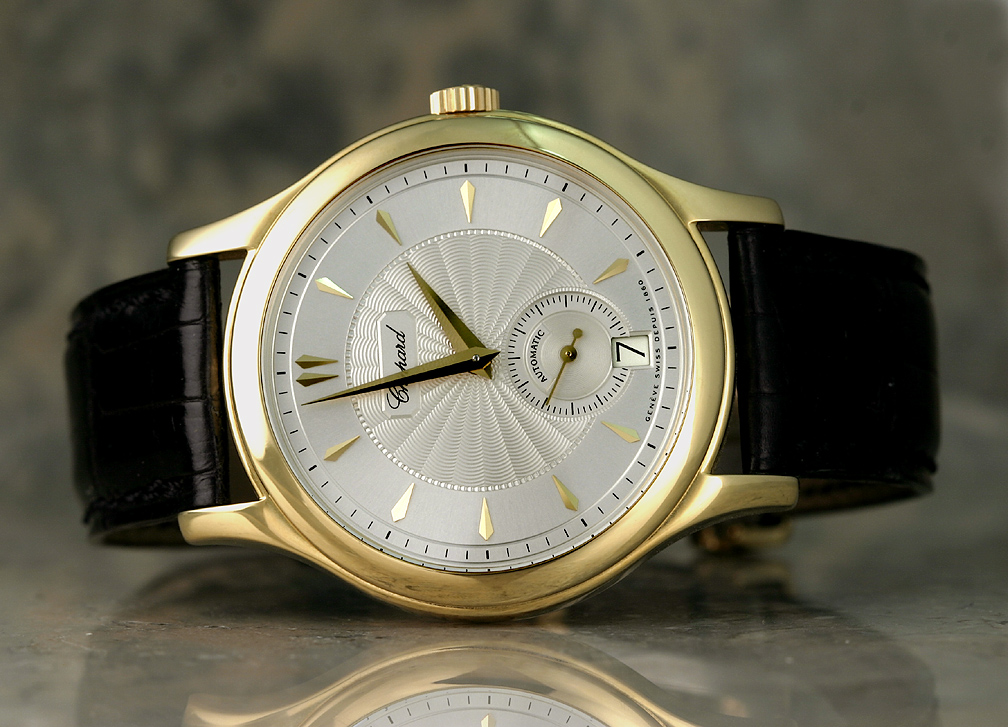 The case, markers, hands and silvered and hand-engraved dial are all of solid 18k gold, and their finish is very deep and clean Perhaps it is the result of Chopard's long association with jewelry, but the attention to detail and nuance is evident, and from the front this watch clearly connotes luxury and elegance, rather than mechanism and compromise..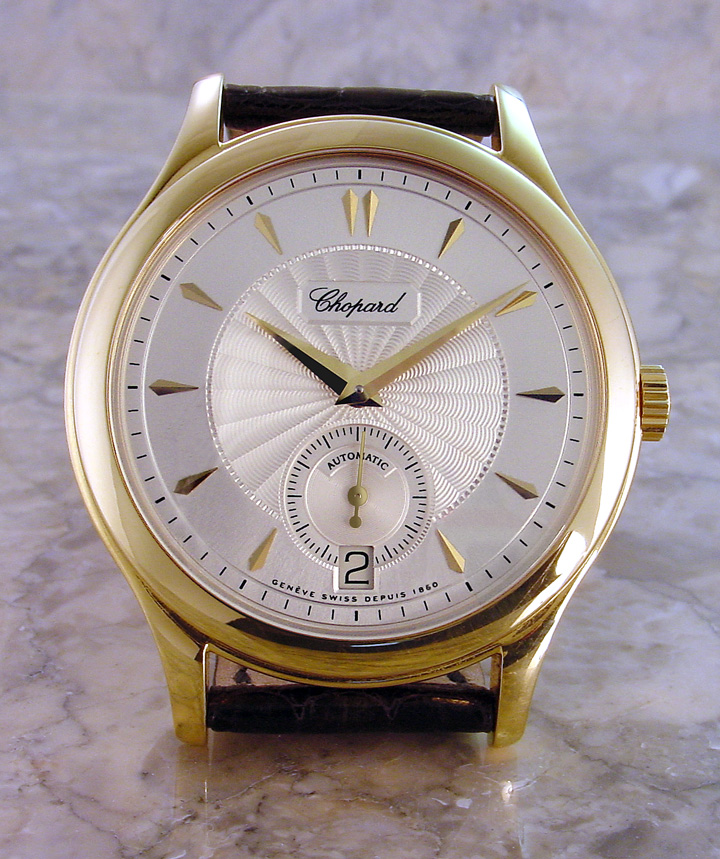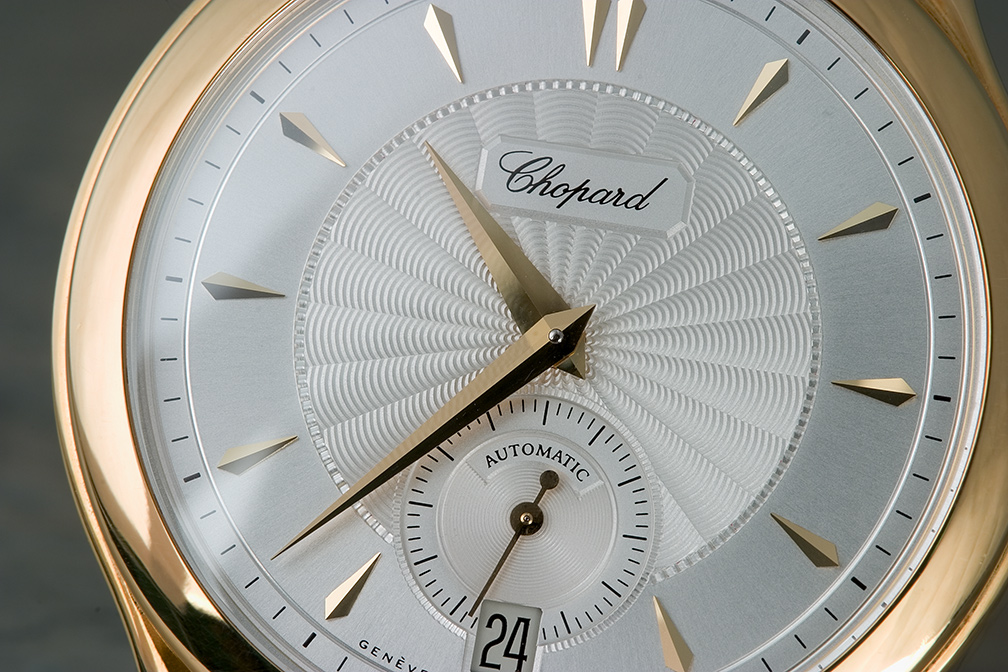 On the other hand, the view from the reverse reveals the beautiful and thoroughly realized machinery which lies within an L.U.C. In volume the movement is a near adoption of Patek Philippe's Cal. 240, being 27.4mm diameter by 3.3mm high, courtesy of the similarly incorporated micro-rotor. It features 32 jewels, a Breguet overcoil balance spring, goose-neck fine adjustment and two stacked barrels yielding over 65 hours of reserve at 28.8kbph; the rotor is 22k gold and the entire movement is finished and anglaged by hand. The design of the 1.96 was originally commisioned from the highly regarded Parmigiani firm (before their ownership was partitioned), but completed by Chopard, and is produced in-house, and carries the Geneva Seal as well as C.O.S.C. certification. For a wonderfully informed and detailed accounting of this extraordinary movement, I refer you to Walt Odets' Horologium article.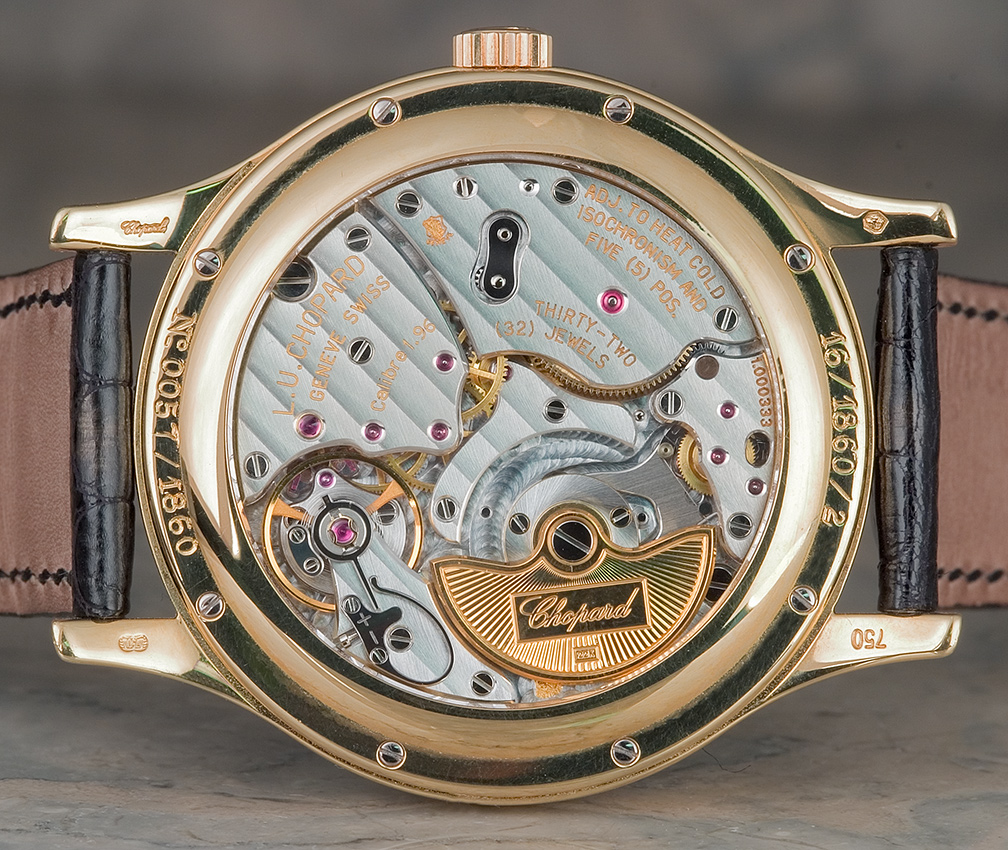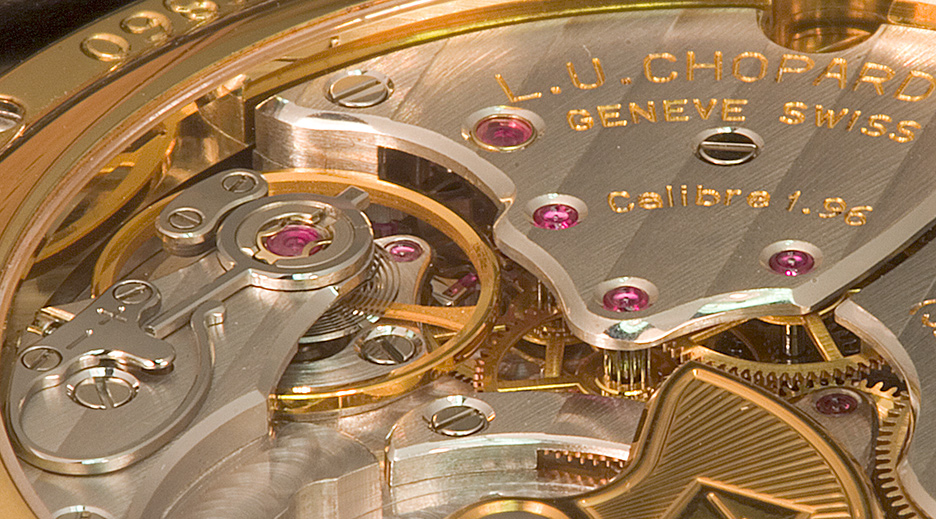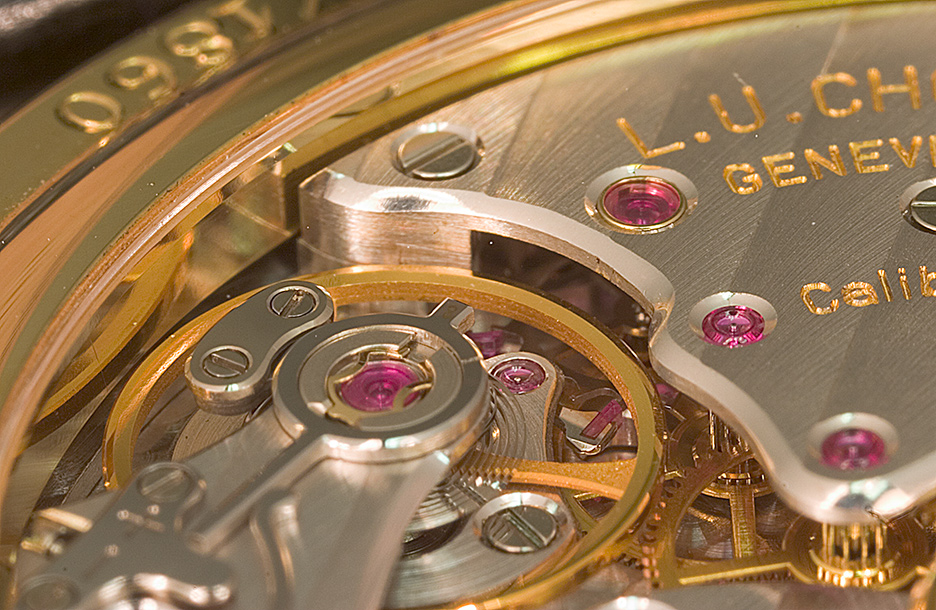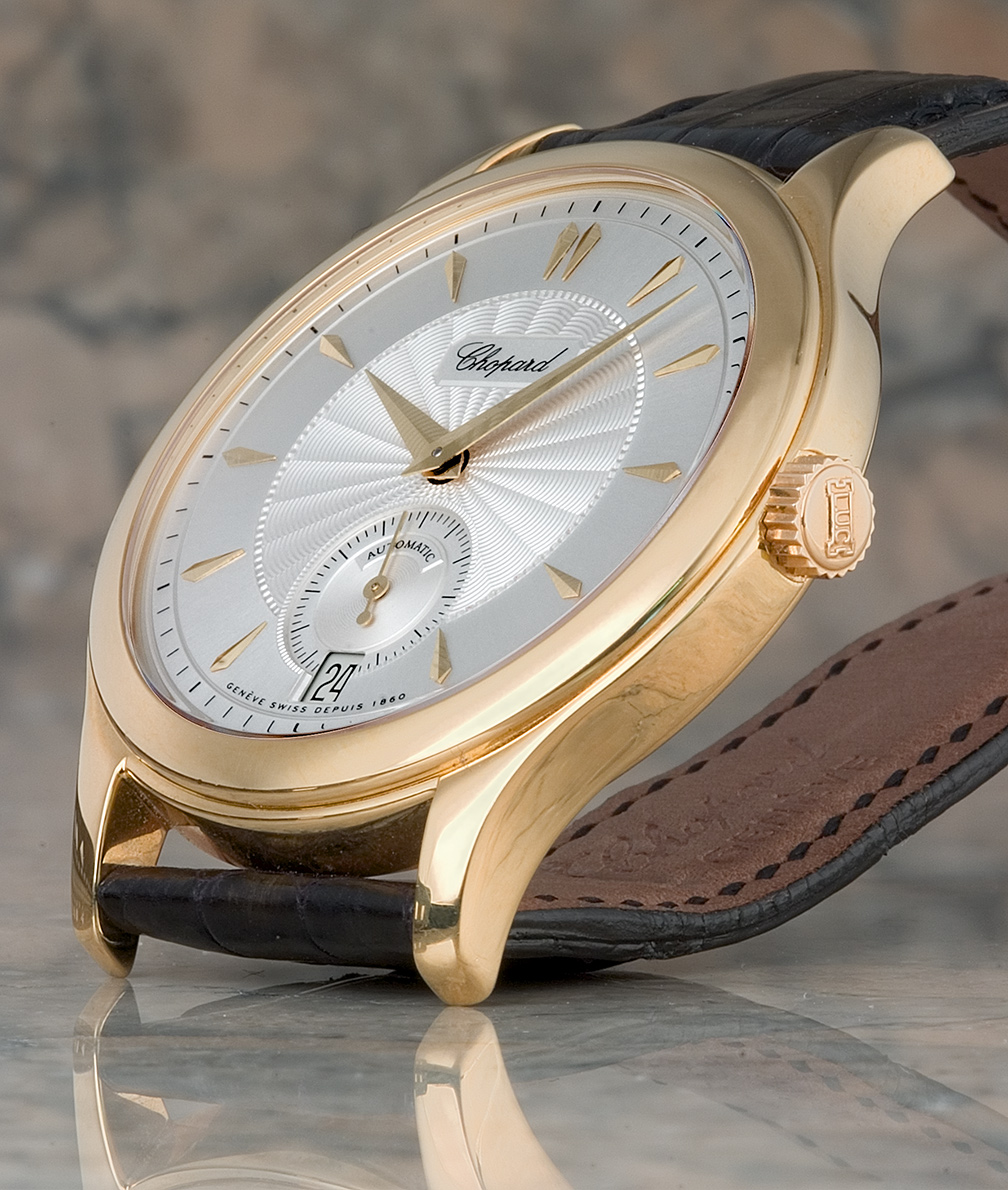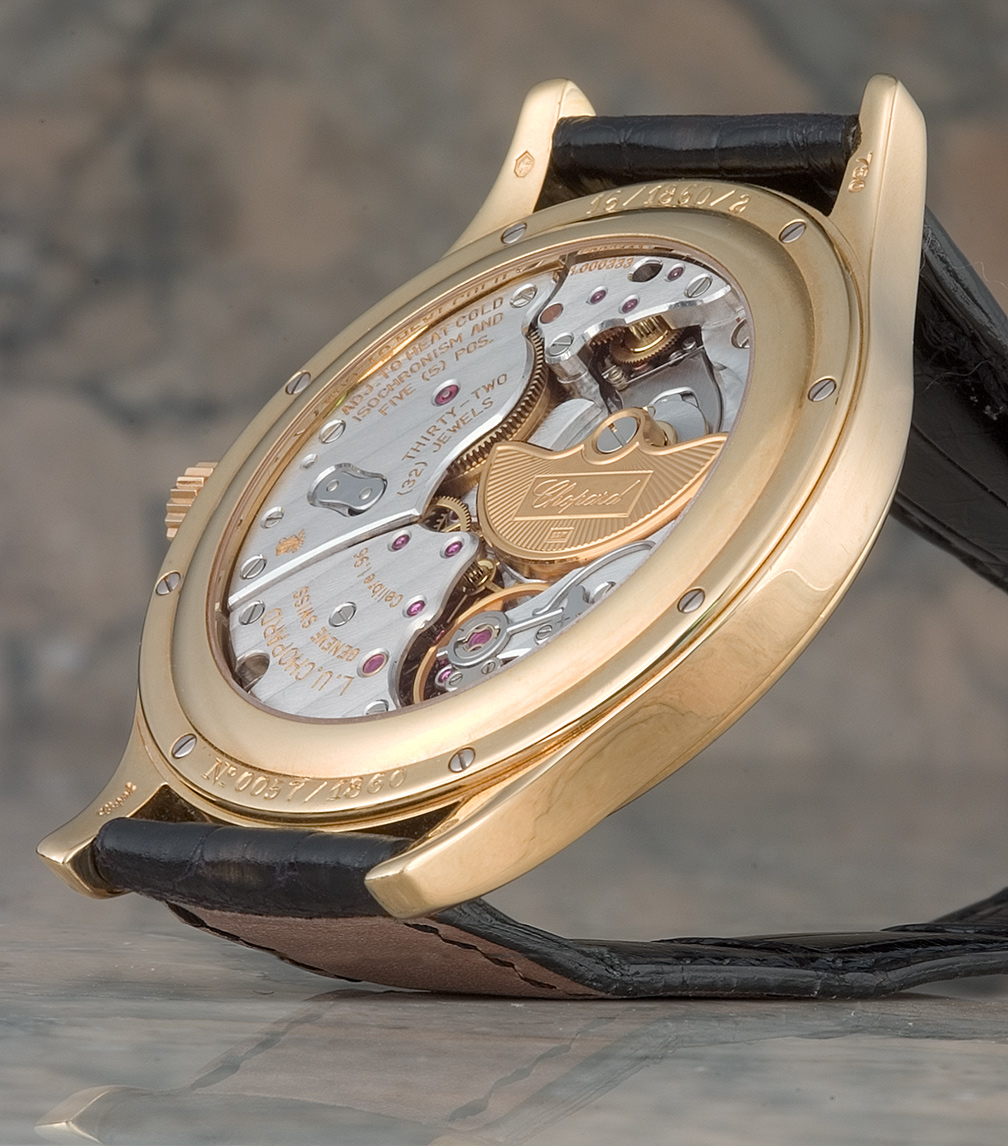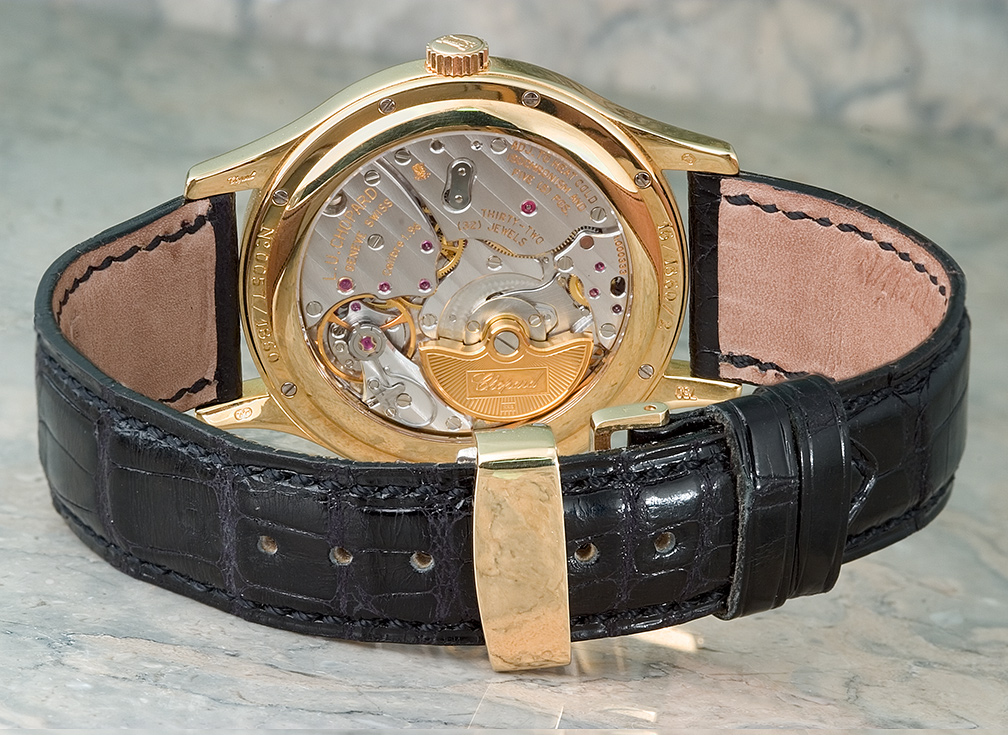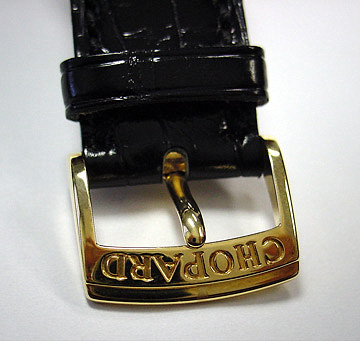 Please check out the rest of my Watch Articles and Pics


I hope you enjoyed this!
SteveG
August 31, 2004

All content Copyright asserted 2003