(Pictures revised, March, 2005)

The history of the Lange firm is one that may seem annoyingly familiar, except that the manufacturer is German, rather than Swiss. Like many watch companies, Lange in its current form is only tenuously connected with the firm founded by Ferdinand A. Lange in 1845. That operation ceased very soon after WWII. Apparently Walter, Ferdinand's great-grandson, having survived the German Eastern front, returned to Glashutte to watch the Soviet Union bomb his family's factory, loot it, and finally confiscate it in 1948. Whatever his personal adventures during the next 40 years or so, that was the end for the Lange company. The new firm of Lange Uhren GmbH was registered in 1990, combining the resources of Walter, IWC and Mannesmann (later Richmont), and presented its first watches to the public in 1994.

The above considered, interest in the current manufacture reflects the apparent effort to duplicate the success of the re-born Blancpain line. As in that case, the emphasis is on movements and watches designed and assembled in-house, top quality engineering and finishing, and the use of a distinctive house "style". As I have found out to my surprise, the initial Lange product was the rather complicated and adventurous Lange 1, and the release of the basic handwound 1815 (Founder Ferdinand's birth-year) appears to be rather later.

This watch has quickly become one of my favorites, enjoyed for its comfort and beauty, and admired for its simplicity and cogent design. I find this is a watch of integrity, delivering more than it promises, rather than less.

-----------------------------------------------



This blue-dialed version of the 1815 is cased in unplated white gold at 37.1mm by 7.1mm. The dial is a rather austere and very non-reflective painted (silver?) base, with the small-seconds being slightly darker and inset, and featuring a simple engraved concentic pattern. The numerals and other markings are printed, and the alpha hands are polished and I believe, stainless steel. The side of the case is brushed, along with the back bezel, and the balance of the case, front bezel and lugs are polished. Flat sapphire crystals are provided front and back.


Click the pictures for even larger!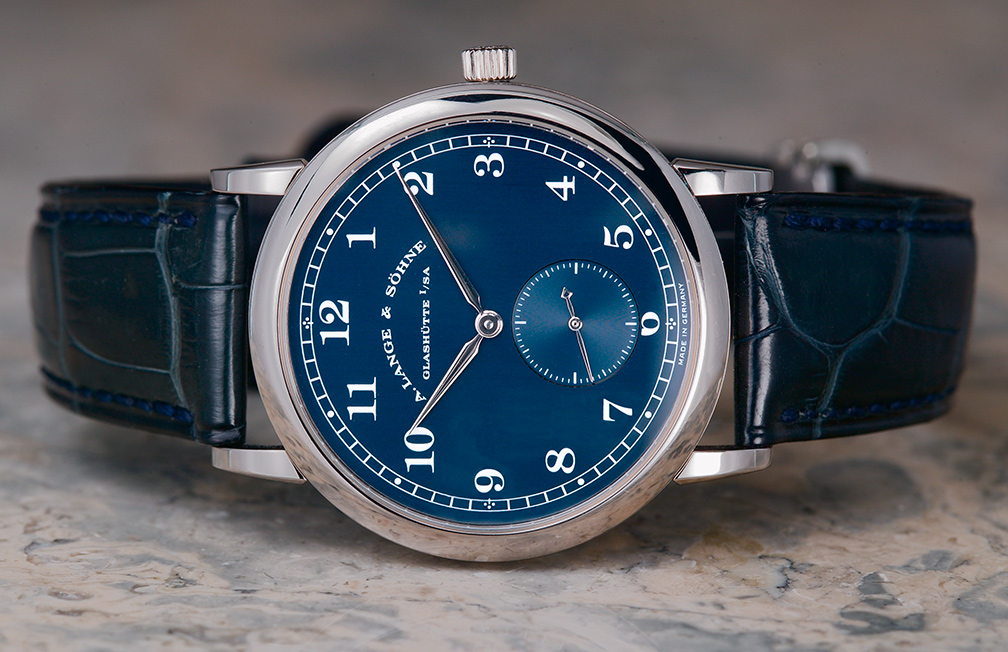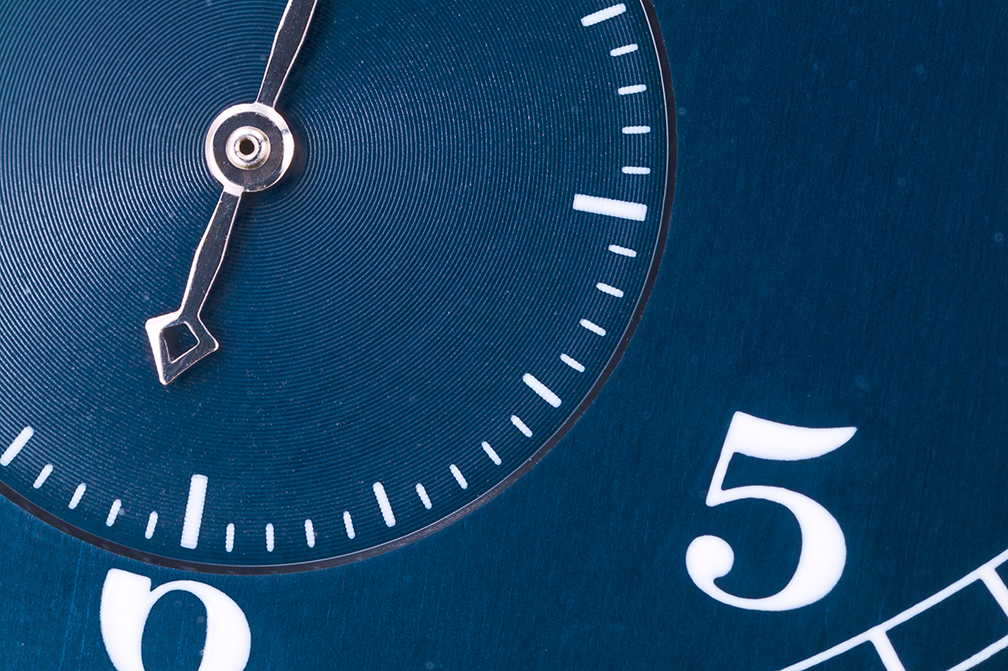 The 1815's movement, known as Caliber 941.1, is 25.6mm by 3.2mm, is exceptionally well-jeweled at 21 rubies, has a 45 hour reserve running at 21.6kbph, and offers a hacking feature. The huge plate is nickel-silver, rather than the usual plated base metal. All finishing, anglage and engraving are done by hand.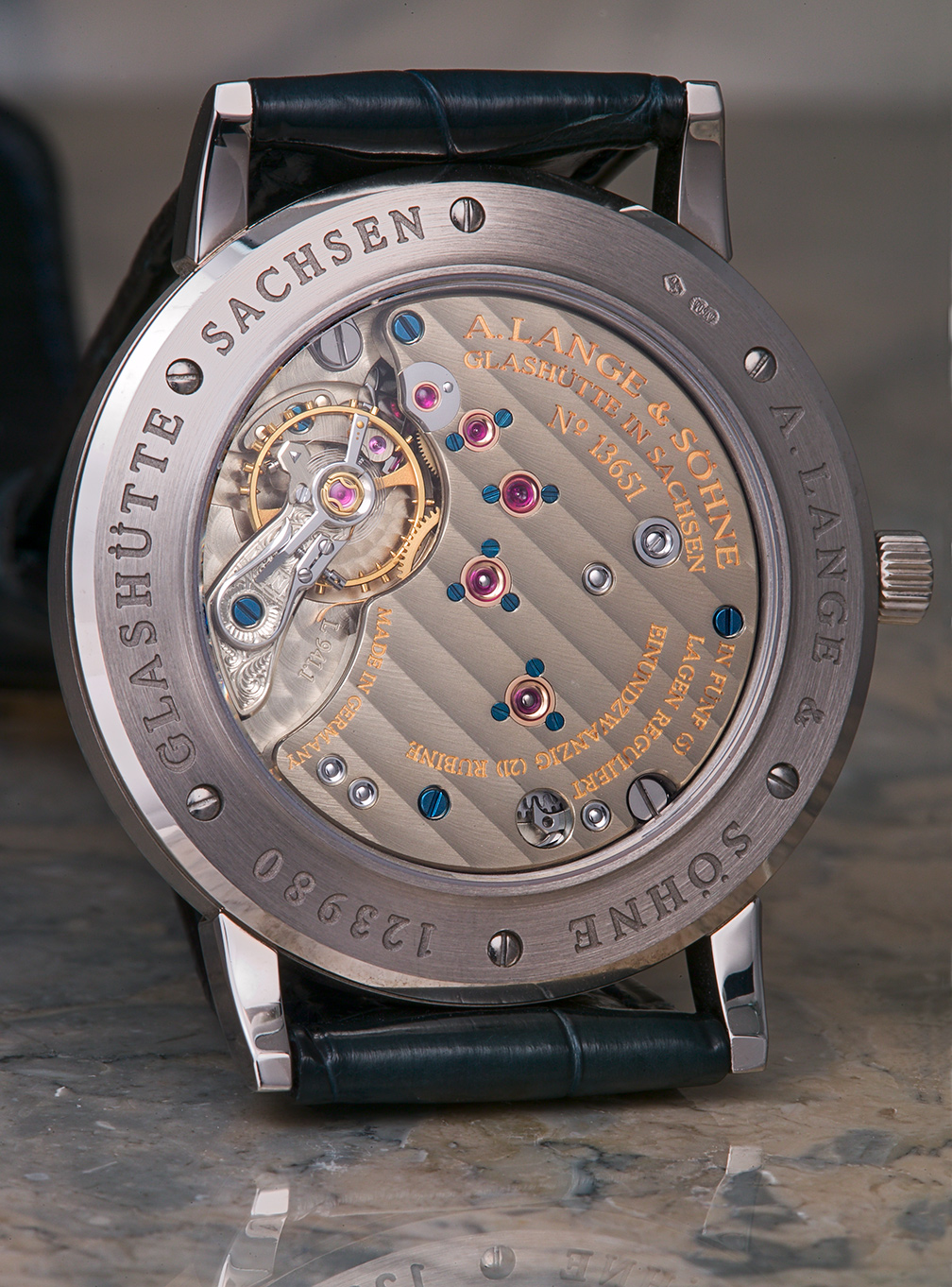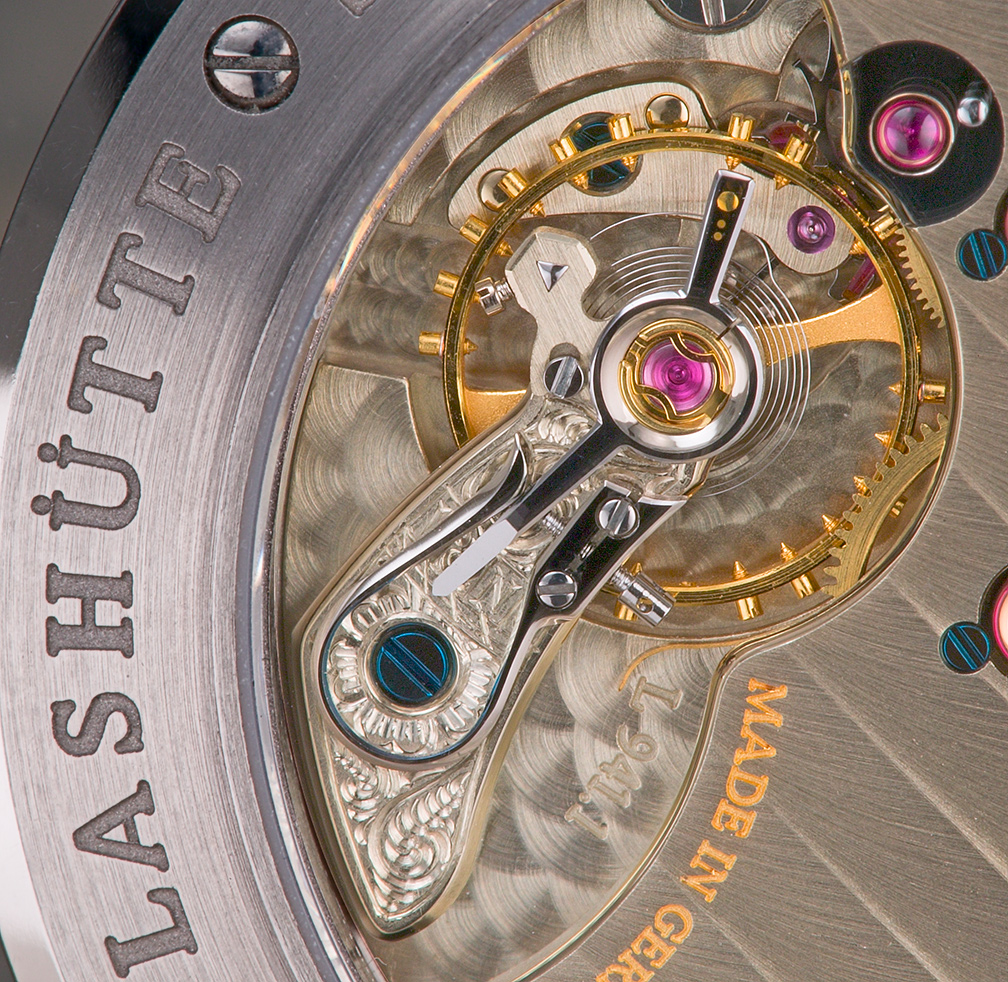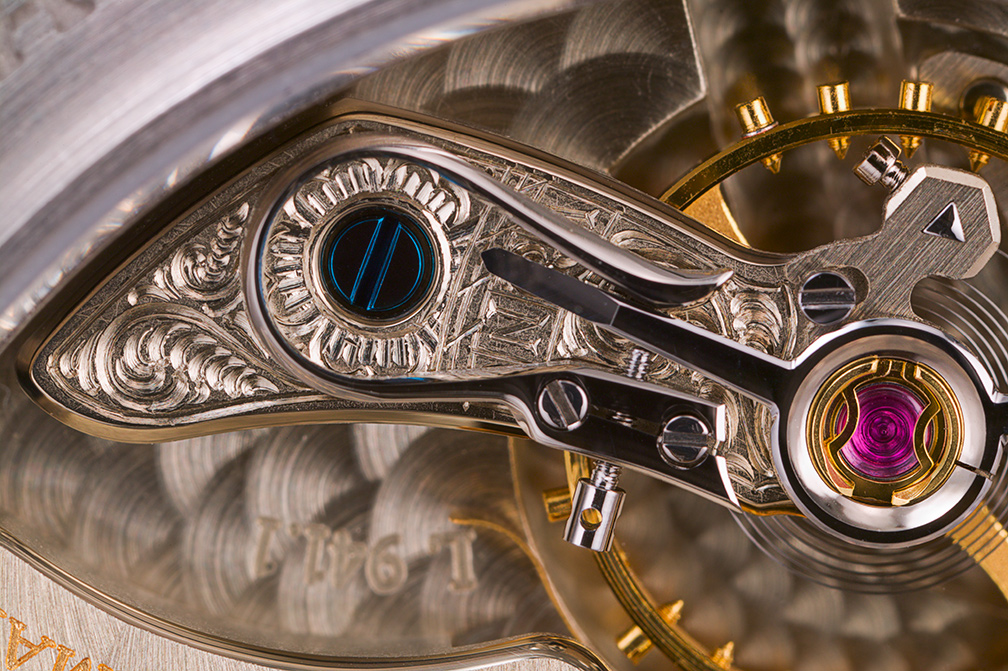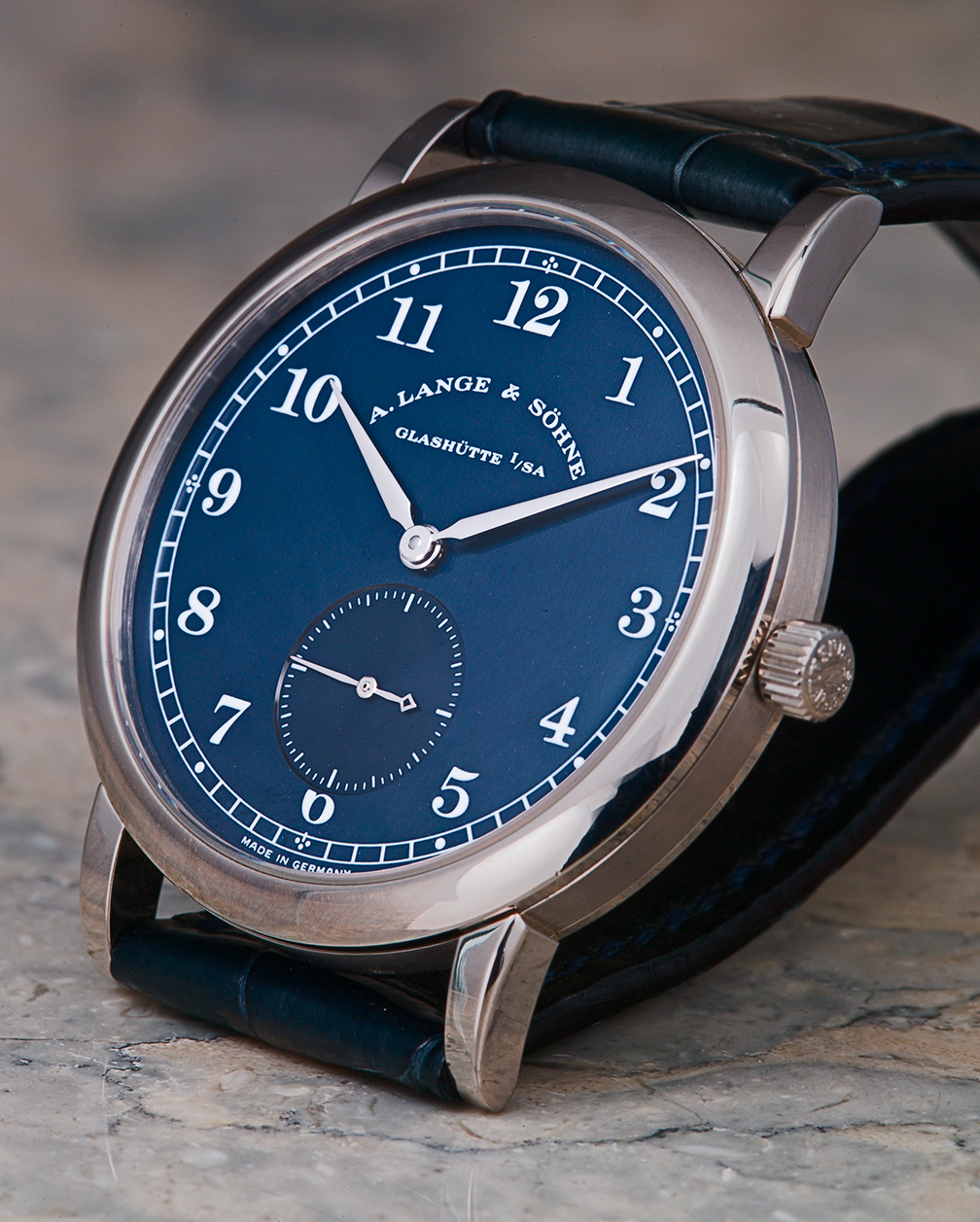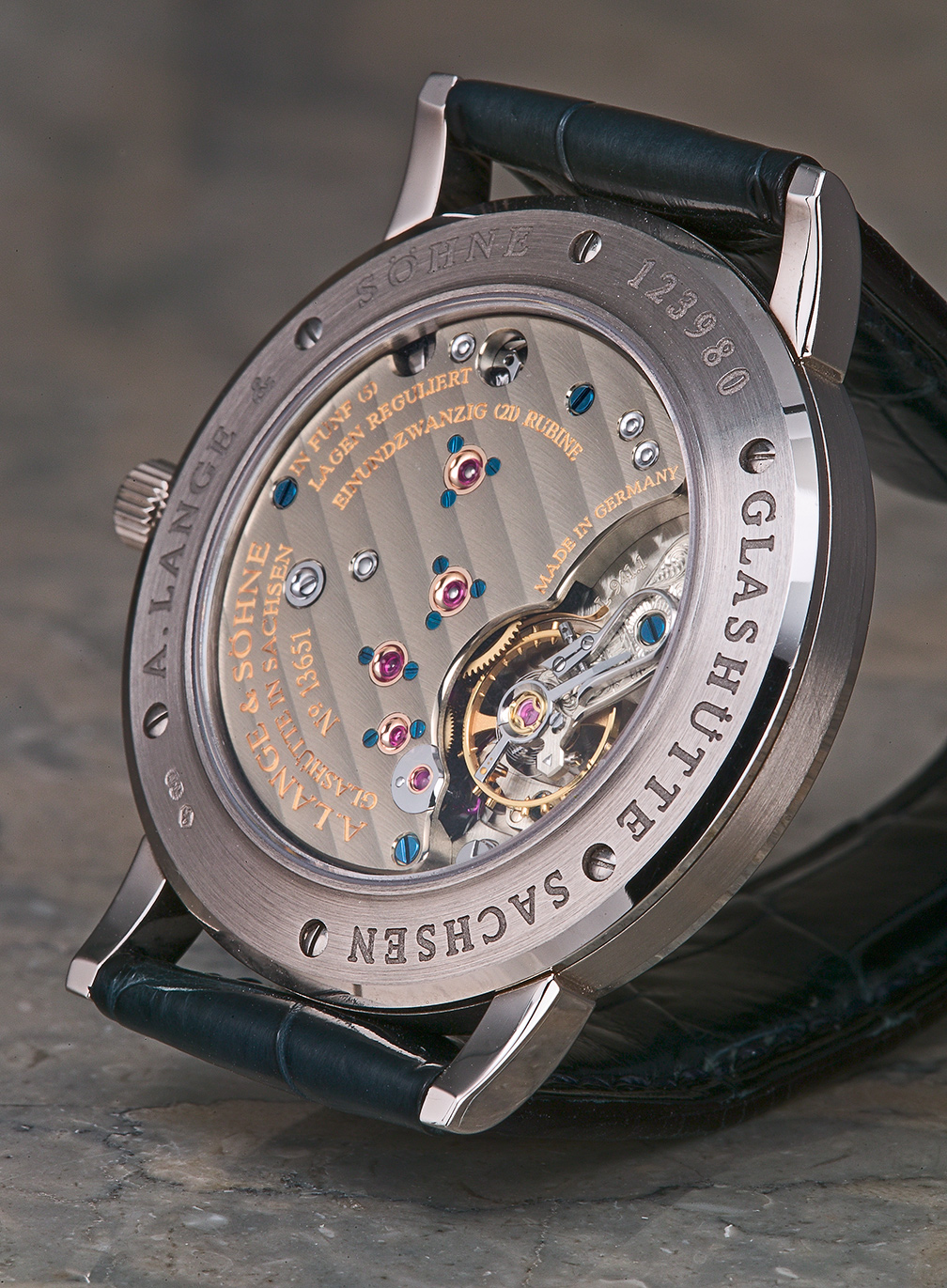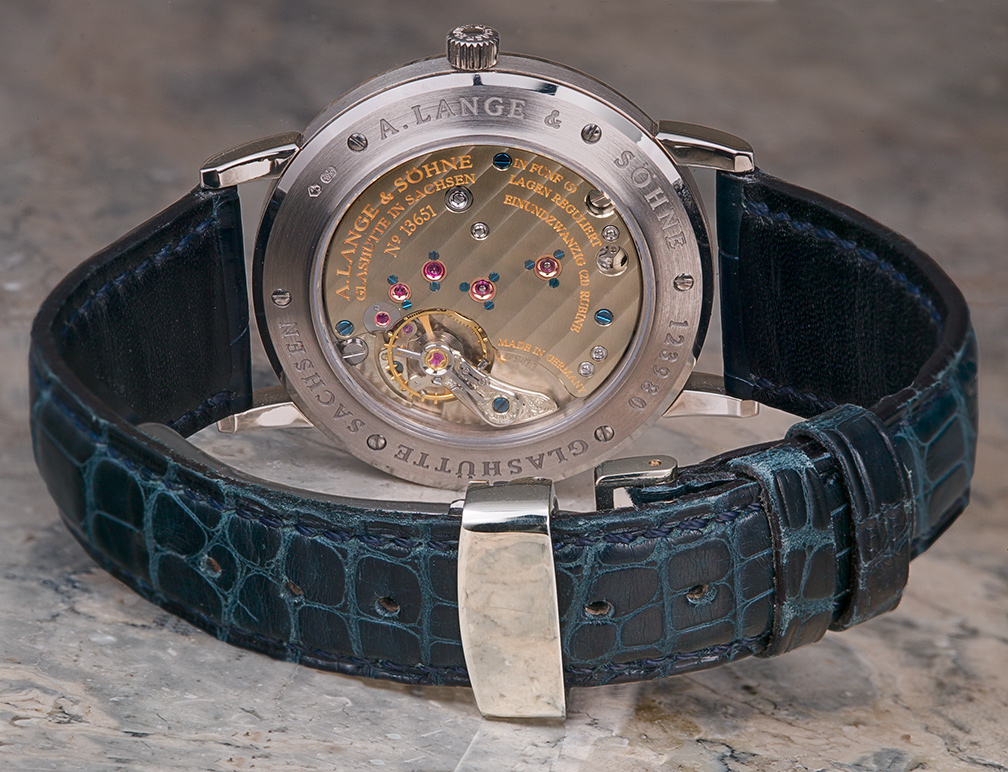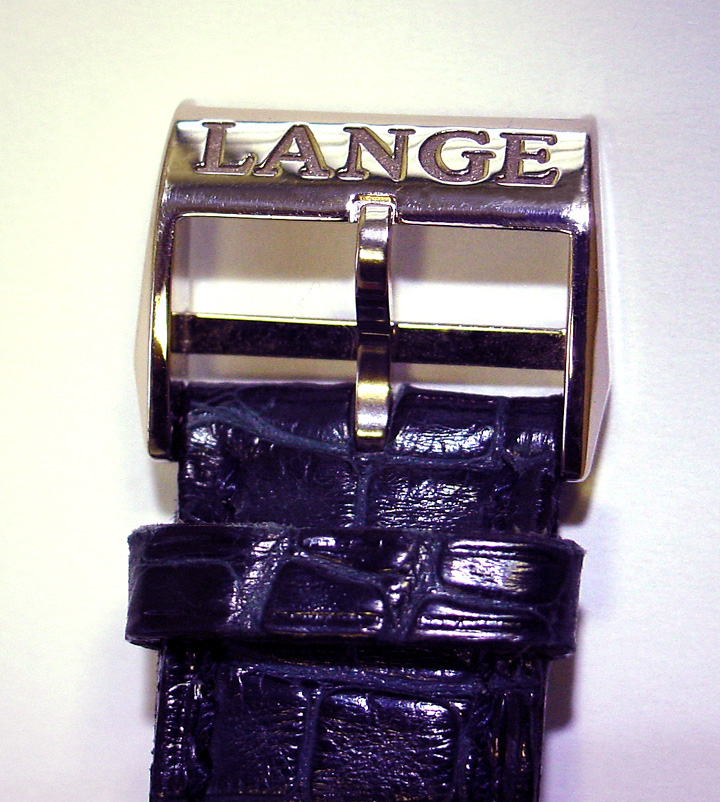 Please check out the rest of my Watch Articles and Pics
I hope you enjoyed this!
SteveG
June 6, 2001

All content Copyright asserted 2003