Dubey & Schaldenbrand Carre Cambre Grande Date



Dubey & Schaldenbrand was created by master watchmaker George Dubey in 1946, and is probably best known for its uniquely simple and economical version of a split-second chronograph, called the Index Mobile. Instead of using a complicated mechanism under the dial, an extra shaft holding the "split" second-hand runs through the center of the watch, and is kept in place directly underneath the chronograph's main seconds-hand by a finely coiled spring. When a button in the center of the crown in depressed, the top hand stops while the lower continues to run, and can be held to time a secondary event for up to 58 seconds, returning instantly to meet the other hand as the button is released. This ingenious device is illustrated and reviewed most excellently at ThomasM's article on the D&S Index Mobile .

Like so many other firms, the company suffered near extinction after the advent of quartz-controlled watches. In the 1990's, D&S was revived by one Cinette Robert, born into a watchmaking family and now the presumed first-lady of the Swiss watch industry. She has issued perhaps a few dozen watch designs in limited editions, primarily based upon the new-old-stock movements in inventory when she acquired the firm, and cased exclusively in historically attractive Art Deco styles. She has levered the attention rightly gathered by these unique creations, and also enclosed current movements in these same cases. It appears to be the company policy to purchase from the top end of commodity movements, and to decorate and finely finish each one. For example, the one at hand is described as:

"Automatic movement, ETA 2892-A2, 11 1/2''', modified with sweep second hand at 6 and big date at 12 o'clock. 26 jewels, 28,800 bph, Glucyder balance wheel, Nivarox I spiral, 'A' quality assortment, Nivaflex spring. The whole movement is rhodie and decorated, the rotor with 'Cotes de Geneve'. All parts are fixed with blue screws. Adjusted in 5 positions, 0/+15 seconds/day."

This may not exactly make your mouth water, especially since there is no display back, but the implication is that although not a unique, limited edition watch with a NOS movement, this is a fine timepiece, every bit worthy of its extravagant case.

And it is indeed the case and dial which set my heart to this watch. It is some 34mm squarish by just under 10mm thickness, and very well proportioned to my wrist. The dial is a midnight-blue, even deeper than I have been able to capture, and gorgeously guilloched. The color of the gold is more red than pink, and carries none of the slightly greenish cast of many yellow and lightly pink golds. The case is all soft curves and gentle reflections, absolutely an oustanding design, in my opinion, and the fact that the mechanism inside is durable and common, rather than distinctive and antique, allows it to be priced competitively, and encourages me to comfortably wear this watch for what it is: a beautiful everyday watch.

Click the pictures for even larger!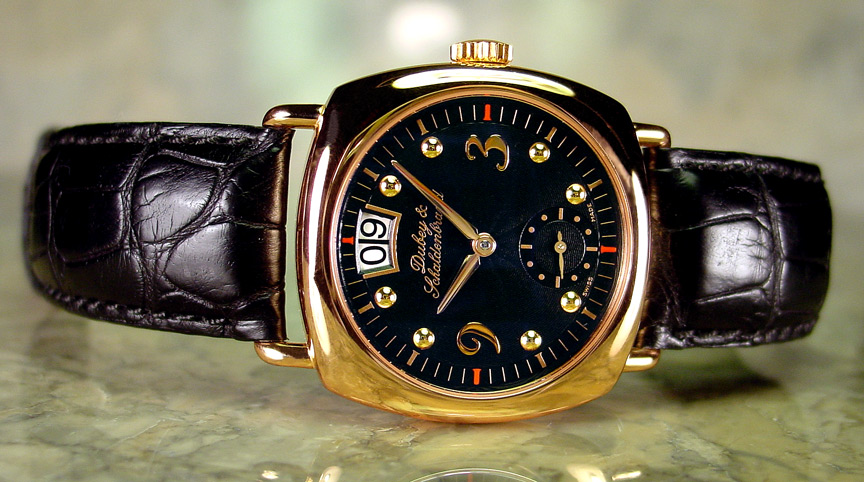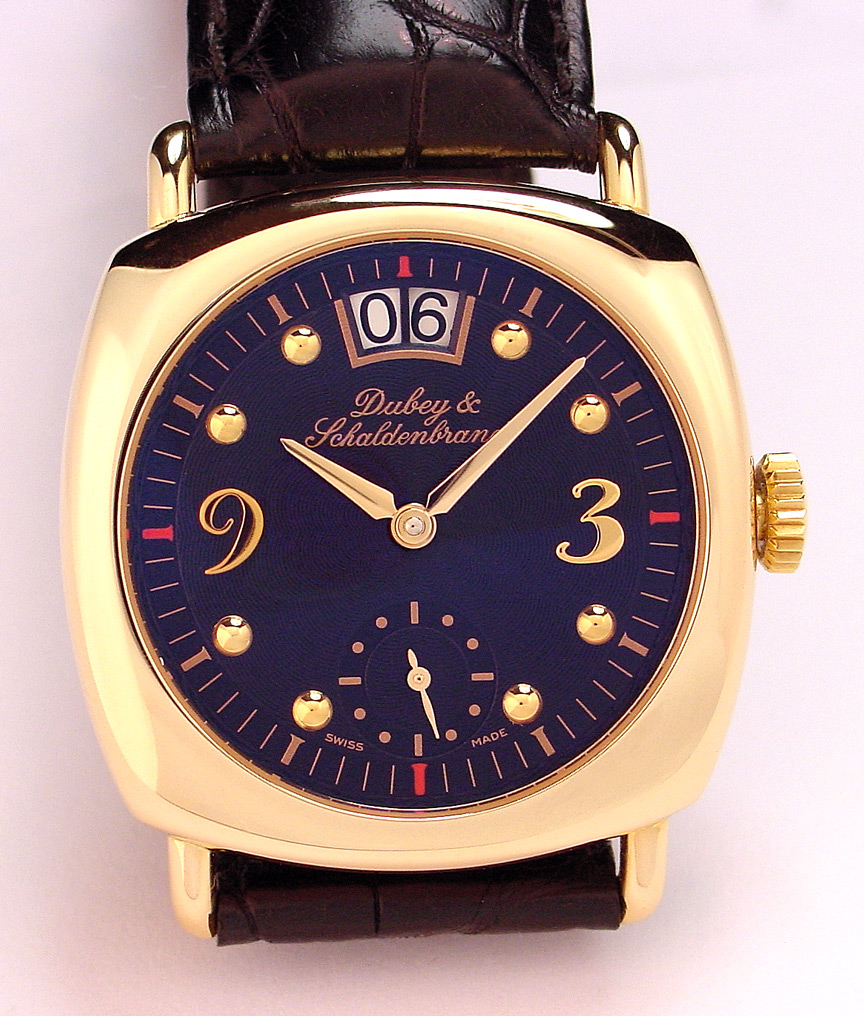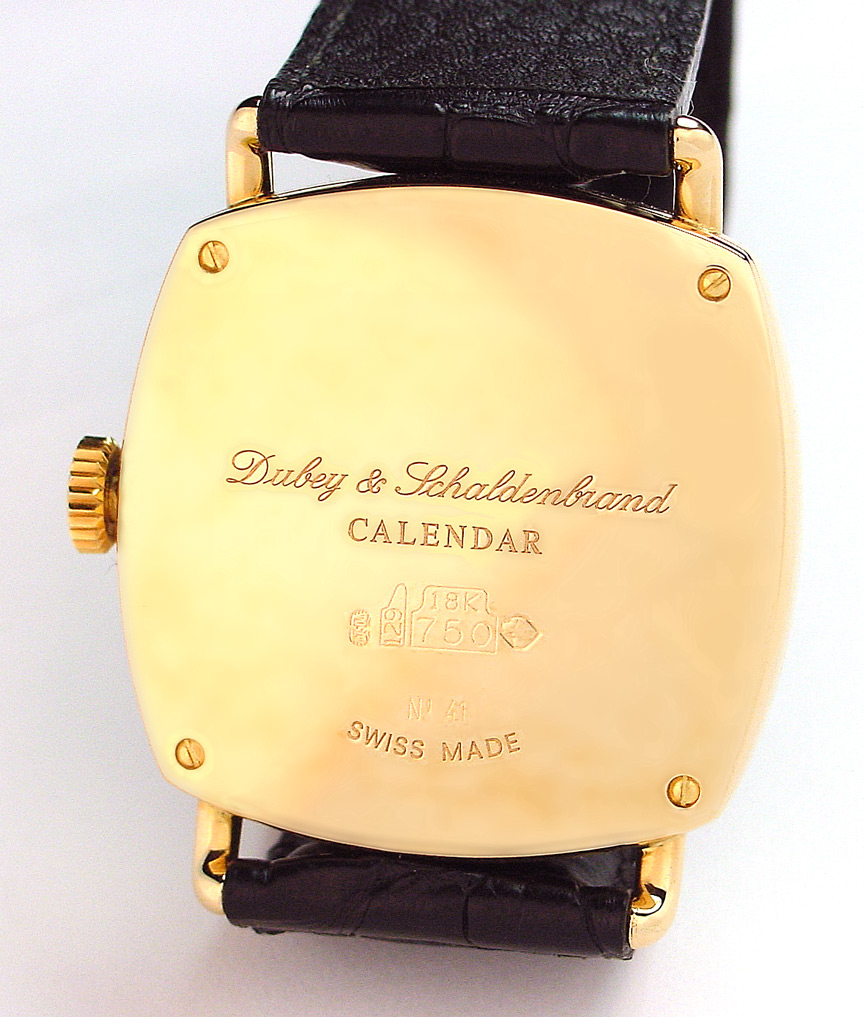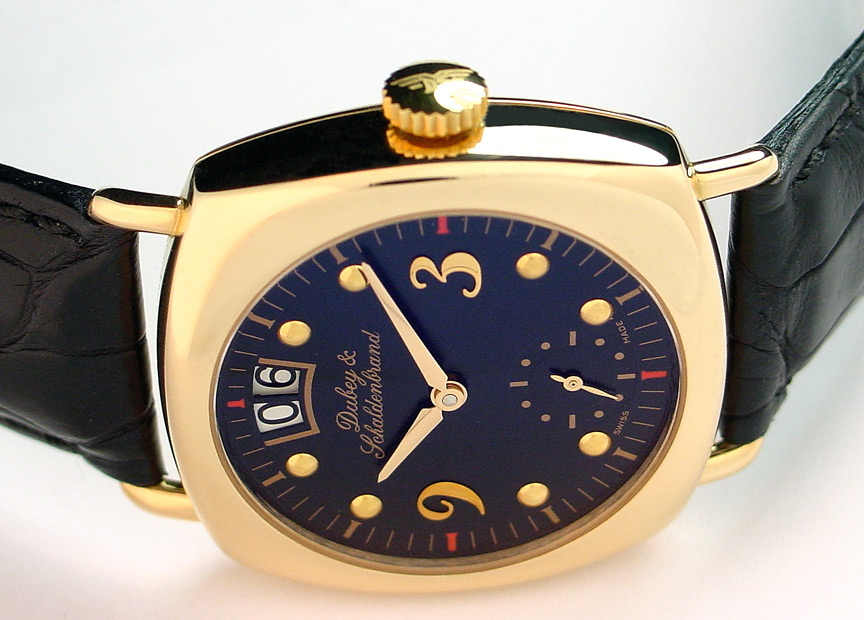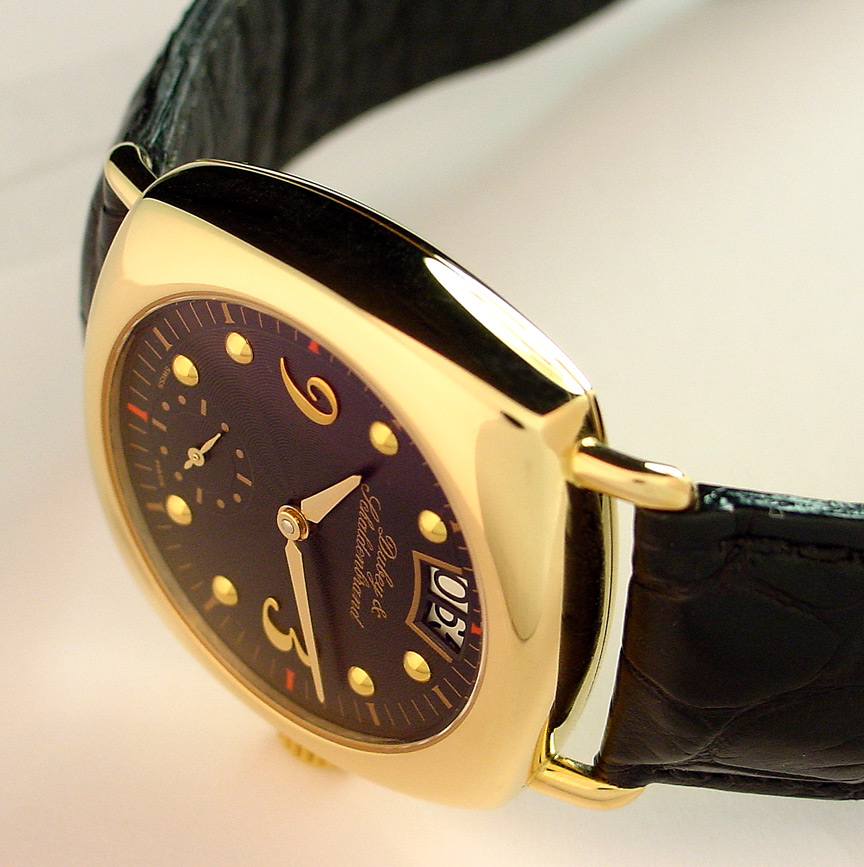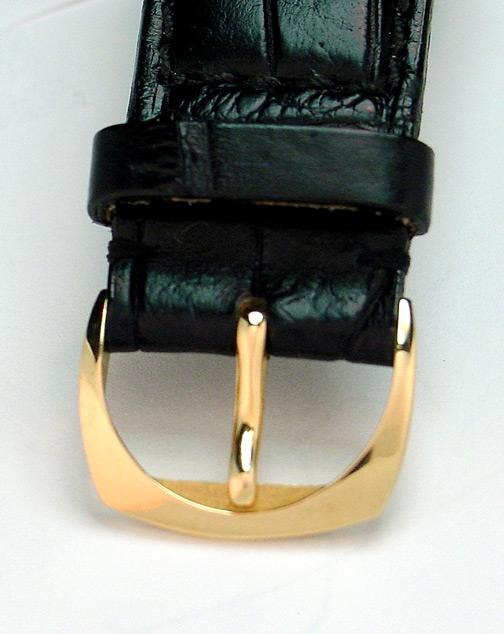 All content Copyright asserted 2003