This watch was commissioned by TimeZone from RGM, and dates to early 1999. As such, it is a rarity within a rarity, because even within its series-production lines, RGM has probably made only several thousand watches since its inception in 1994, and this particular design has been limited to an edition of 50, of which barely half have actually been produced. The "RGM" of RGM is of course Roland G. Murphy, and his situation within the watch industry is truly unique. While the full history of his firm is available at his site, it is worthy of mention that Mr. Murphy is a working master watchmaker producing his watches in a manner which long predates the current industry dichotomy of firms committed to producing as much as possible in-house, and firms whose activities make it difficult to establish that they are actually in the watch business.

Instead, RGM purchases the best quality ebauches, commissions or performs any modifications and complications, and finishes the entire package, movement, dial and case, at their site in Lancaster, Pennsylvania. This is the historic home of highly-esteemed Hamilton watches, and I am confident that, modest company that they are, RGM is by far the best known and regarded actual manufacturer of watches in the USA. The benefit of all this to Mr. Murphy is that he, rather than shareholders, directors, managers or stylists, is in control of his company and its future. The benefit to his customers (and the industry in general) is that he will, for a suitable fee, produce anywhere from a short series down to a unique piece to customers' specifications, and whatever his factory sends out is obviously produced with the personal pride only possible within such a very small firm. By my own experience, I might add that RGM does not conduct itself as a snooty boutique servicer of the wealthy; their watches are, considering their quality, personal attention and rarity, very reasonably priced, and even my very modest business dealings with their watch restoration shop have rewarded me with a couple of conversations with Mr. Murphy himself, and he did not sound like he was patched in from the lounge of the company jet.

The RGM TZ LE (not a watch for the acronymophobic) is a pilot's-style watch in that it has a full set of large, upright Arabic numerals, small numerals along the minutes-track, and luminescent hands, numerals and markers, all against a flat black dial. The onion-shaped crown is well-guarded and the bezel and top surface of the stainless steel case and lugs are very finely brushed, as is the back ring. At 39mm diameter and 7mm thickness, it is contemporarily a medium-sized, but rather thin watch of its type, although considerably larger than RGM's own model 107 Pilot watch. I find this configuration very comfortable, and its thinness and restrained design make it a very versatile watch, and I wear it often. Like every RGM watch I have seen, it has been meticulously detailed and perfectly finished.

The movement is a relatively rare Lemania 8815 automatic, using 2 barrels for exceptional isochronism and a power reserve of approximately 40 hours when fully wound. I will not recount further details of this fine movement here, partially due to lack of qualification, but also because the entire history, engineering, and functioning of this particular design are currently being chronicled far more ably than I could ever hope to in a series of articles by Ei8htohms and ThomasM. Allow me to say simply that based upon its reputation, this is one of the finest movements currently in use for this type of watch, regardless of price.


Click the pictures for even larger!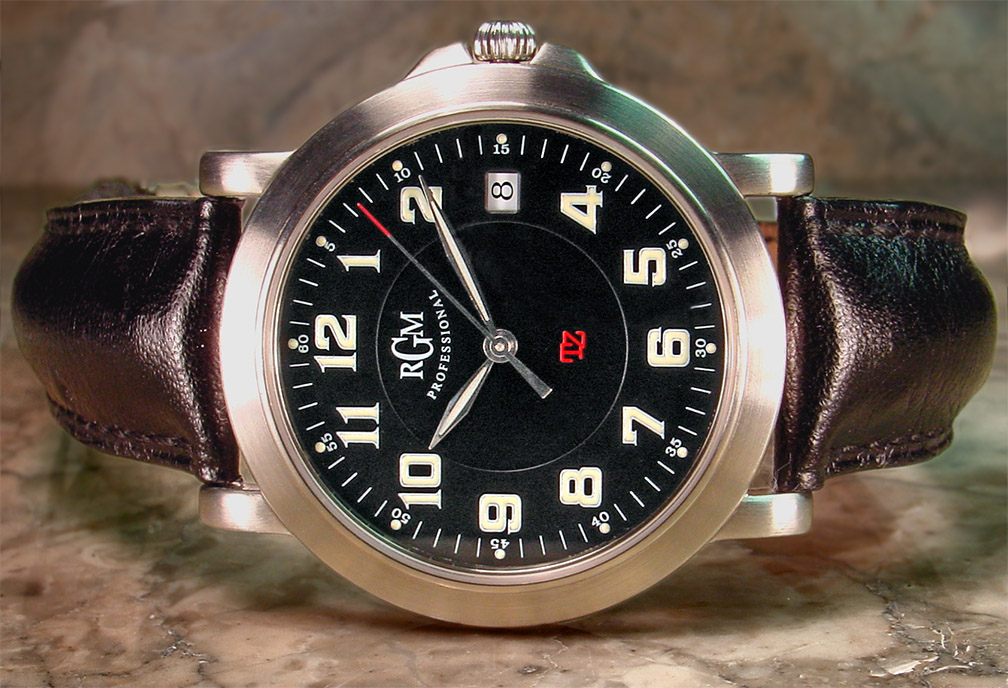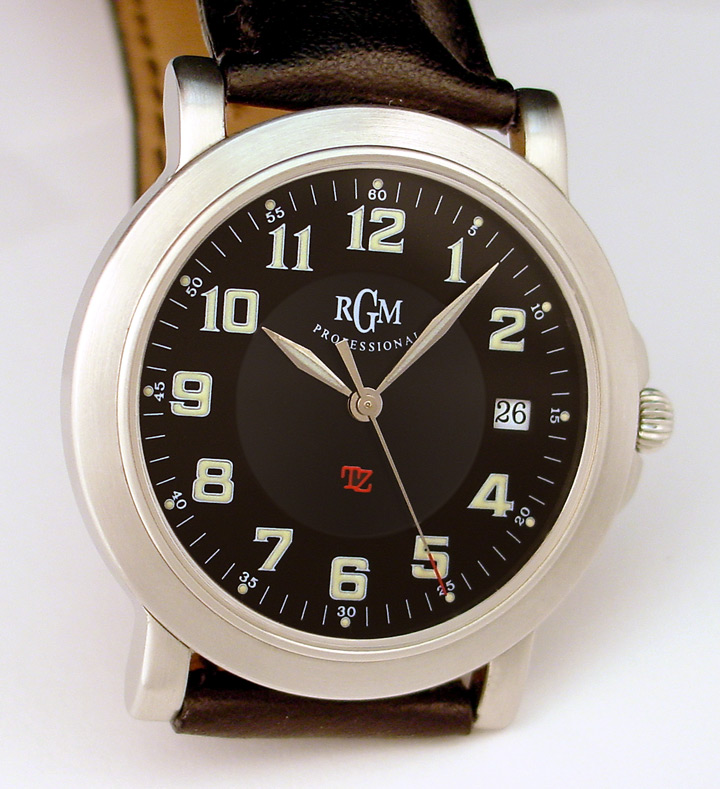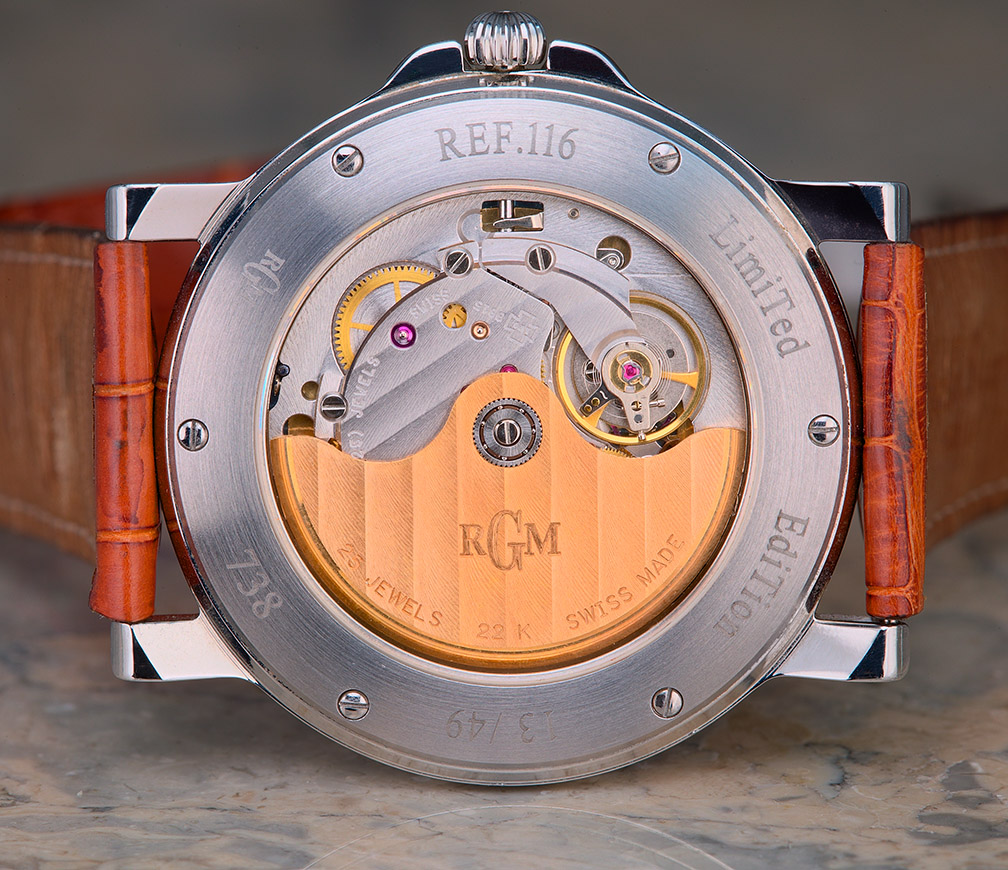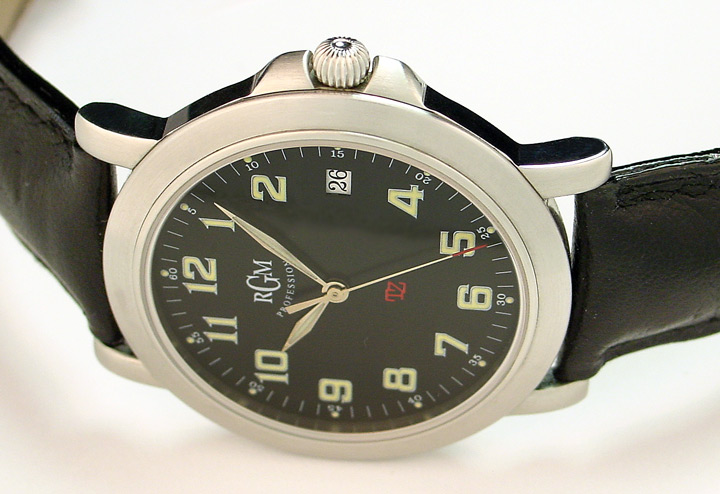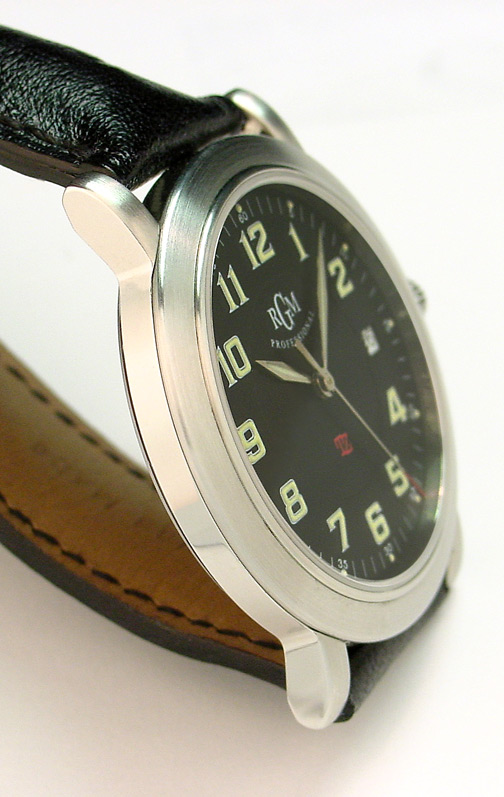 My watch has just returned from RGM after being fitted with a deep blue, perlaged dial. Now it looks like this: