Roger Dubuis Hommage Condottieri

This watch has turned out to be just about the oddest of the watches I have accumulated. To begin with, the Dubuis line is one I am uncharacteristically familiar with, as during our trip to Manhattan last November, my wife and I spent a couple of hours in Cellini, and while she was occupied with various ladies' JLC's, I was given a reasonably thorough tour of their Roger Dubuis' stock. My feelings were that although I had great admiration for the designs of the Sympathie line, when I actually put one to wrist, I found the case shape ultimately distracting. Not, unfortunately, hypnotic, captivating and beautifully distracting, rather it looked like (I hate to say this) it was formed by a cookie-cutter. I found the reflections most odd, all the markers and chapters looked misplaced (this predates the latest "round-dial" versions), and while I really, really liked them sitting in the case, I just couldn't warm up to any, not at these prices. The various retrograde displays had a similar affect; while I admire them and recognize that these represent perhaps Mr Dubuis' horologic signature, the closer I brought my eyes, the less sense they made. As far as the the many Mucho Grande Mas iterations go, I can only say that they all smile at me, and if I was purchasing baubles I would not be without at least one. They are charming and hilarious and beautifully cased, but really, in my estimation, deserve to house something more sophisticated than their tiny ladies' movements. Within the round-cased Hommage line, all that was presented was an exhorbitant retrograde calendar chronograph, the first watch I have seen bearing numerals for 1, 5, 7 and 11 o'clock exclusively; 3 and 9 were apparently there, but each was hidden under one of the hands for the retrograde calendar. I hated it.

(not this watch, but with this dial)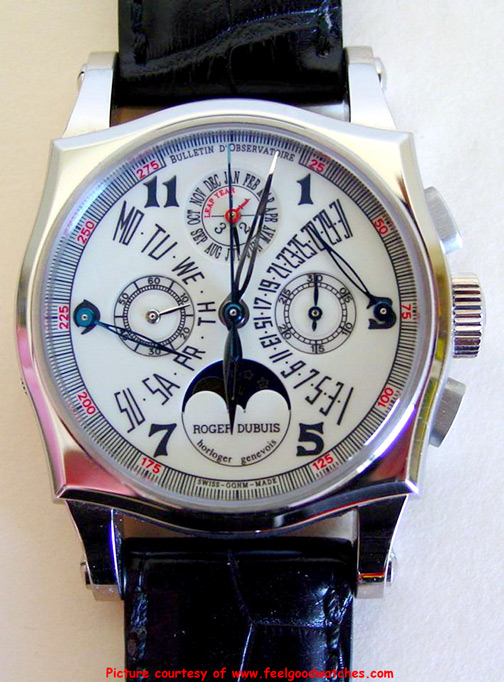 So, when I received this watch, I was frankly a bit shocked, besides being totally smitten. It had, it seemed to me, all the best parts of Mr Dubuis works, excluding the schtick. The case is generously formed and perfectly finished, with just the sides and area between the lugs brushed, and the Dubuis "gray gold" is unplated and resembles platinum, without the characteristic blueness of most white gold watches. The most unusual concave bezel highlights the dial beautifully -- and what a dial! It is genuine, ultra-deep enamel, and white, like shiny snow, not like shirts or eggs, and extraordinarily smooth. The numerals and markers are painted, but entirely black and crisp, and just the right size and thickness, to my eyes. I must mention the blued-steel hands. These are, without doubt, the best I have ever seen close-up. They are perfectly shaped and rarely exhibit les than 3 or 4 colors simultaneously; I have tried to capture a bit of their charm by presenting 3 pictures.



Click the pictures for even larger!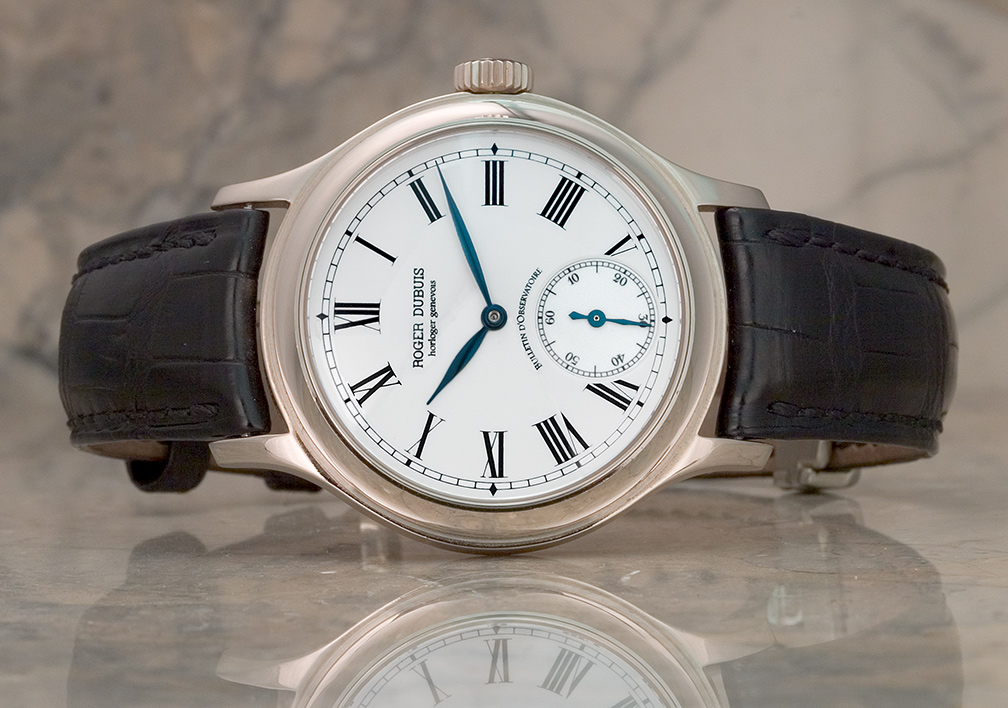 I haven't mentioned yet that this is a really large watch; 40mm diameter and 9mm thick. It is well outfitted with a large crown, because only after 47 utterly silent and smooth turns is this watch fully wound. This brings my story to its most peculiar point: The large size of this watch is not gratuitous, for it houses a movement almost 34mm in diameter (15 lignes). Dubuis refers to this as their RD27, and it is a distinct oddball. As far as I can tell, the entirety of the Dubuis line, excepting this watch, uses house-modified Lemania movements. Thanks to the efforts of TimeZone's Mike Margolis and the good people at Dubuis' North American distributor, Helvetia Time, I have been informed that it started out as a new-old-stock pocketwatch movement manufactured by Tavannes Watch Co. of La Chaux de Fonds (the parent of Cyma watches), known as their Caliber 507, and dates to the 1940's. It has obviously been lavished with much attention, and carries the Geneva Seal. Please note that the initials "rd" are engraved in a swirling pattern on the back crystal. Also, I have been informed that in this context, "condottieri" means
leader, general or brigadier,
rather than
mercenary, brigand or pirate,
as I had thought.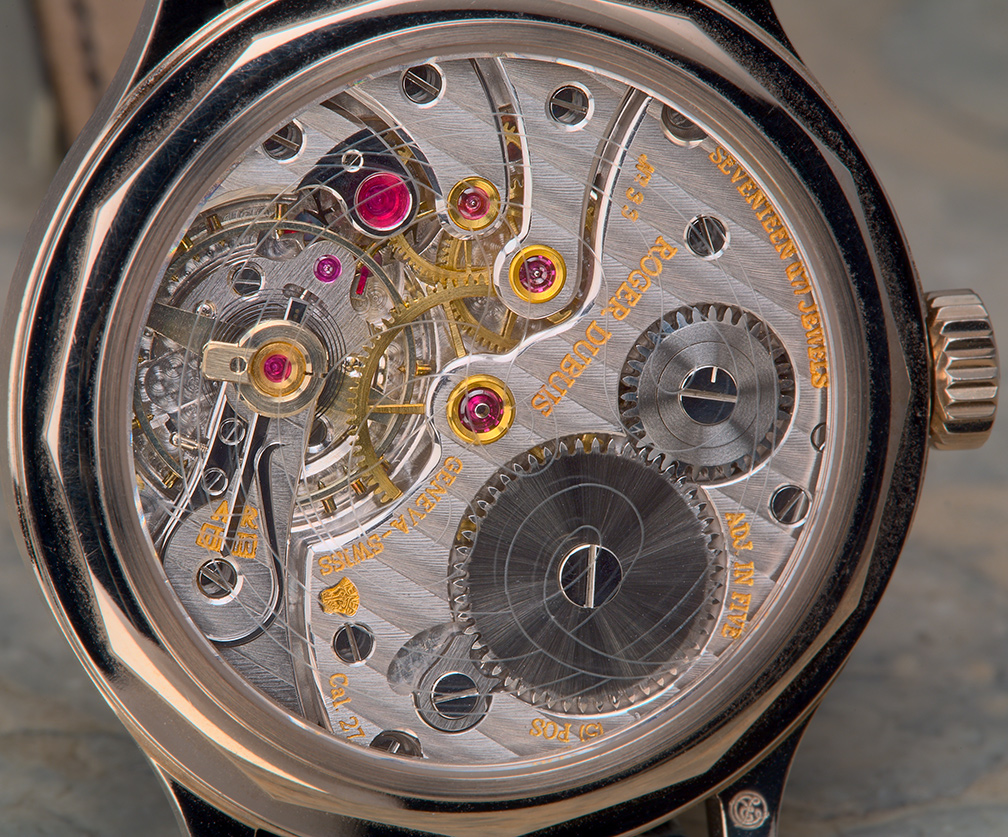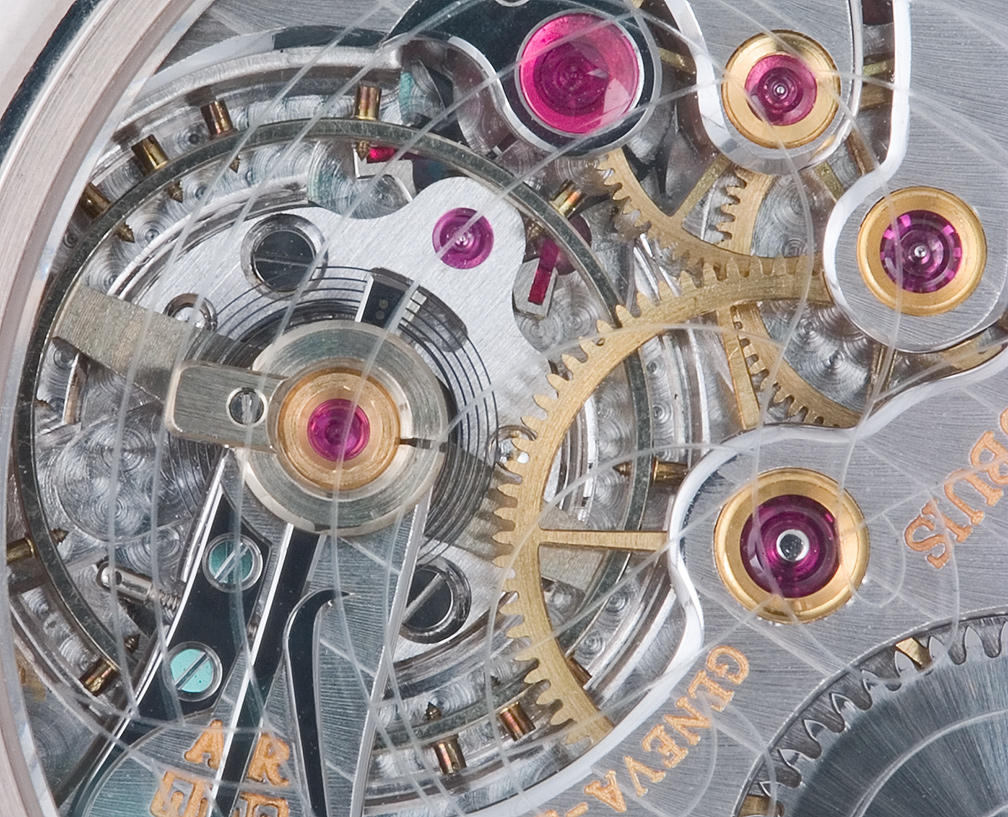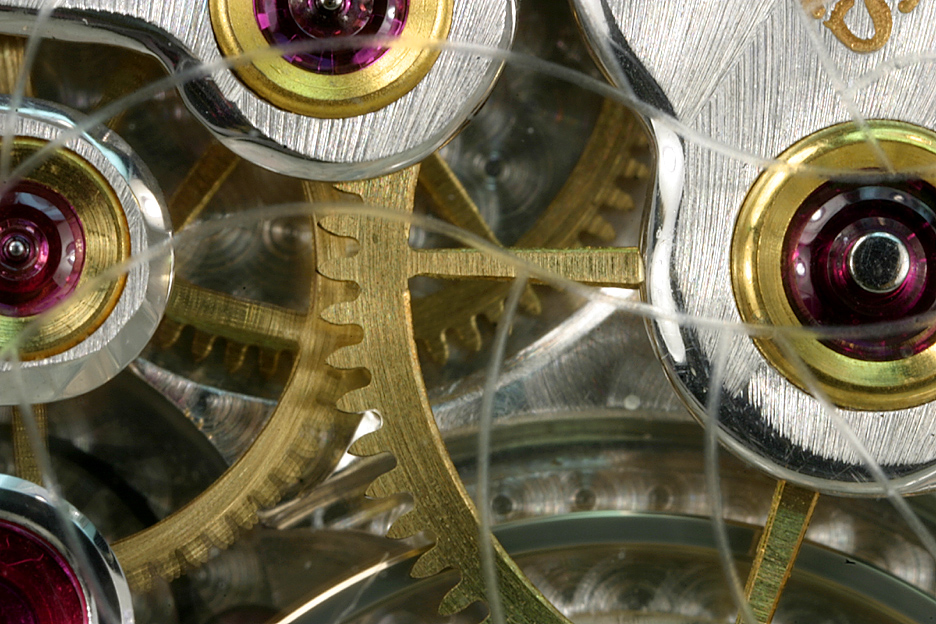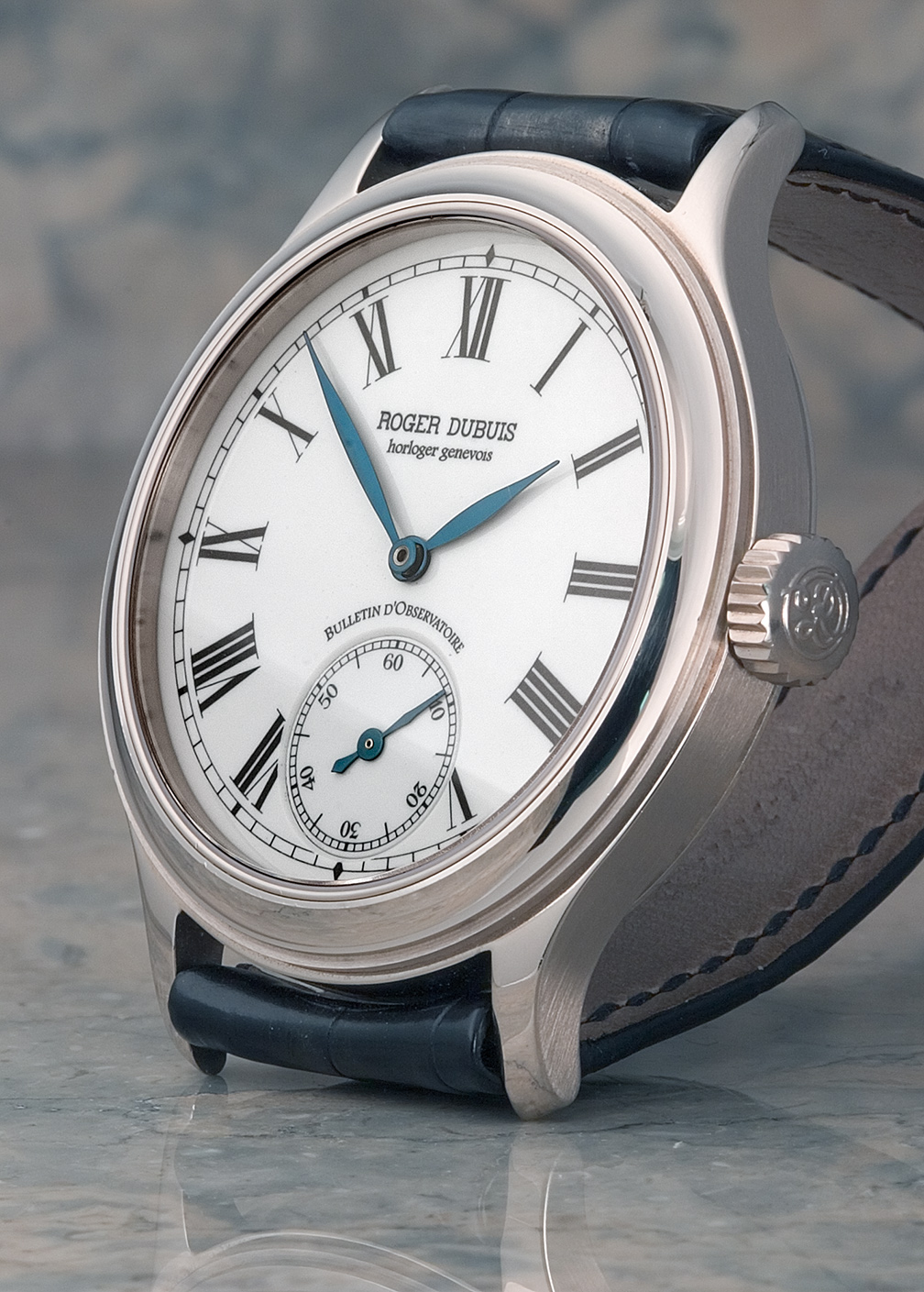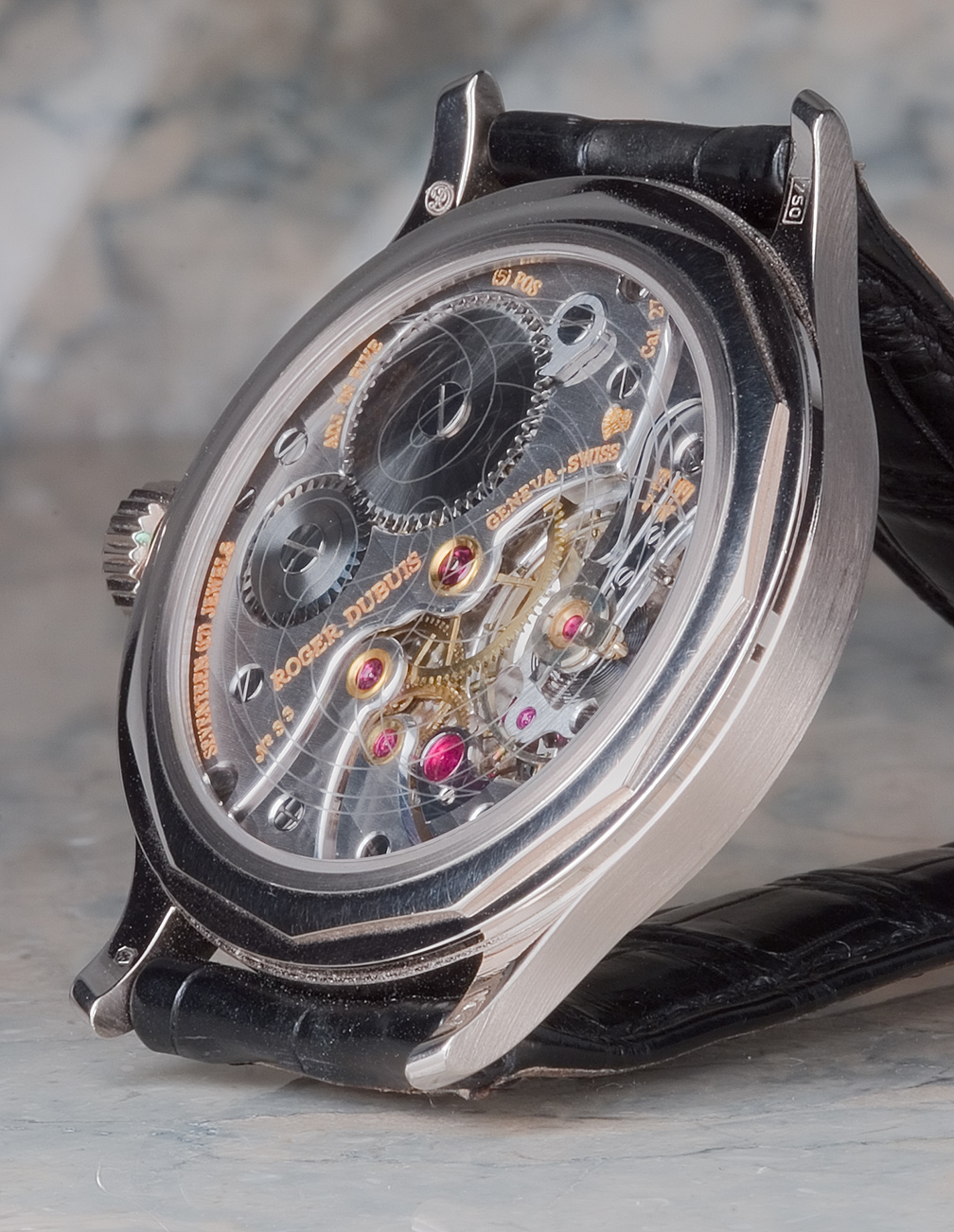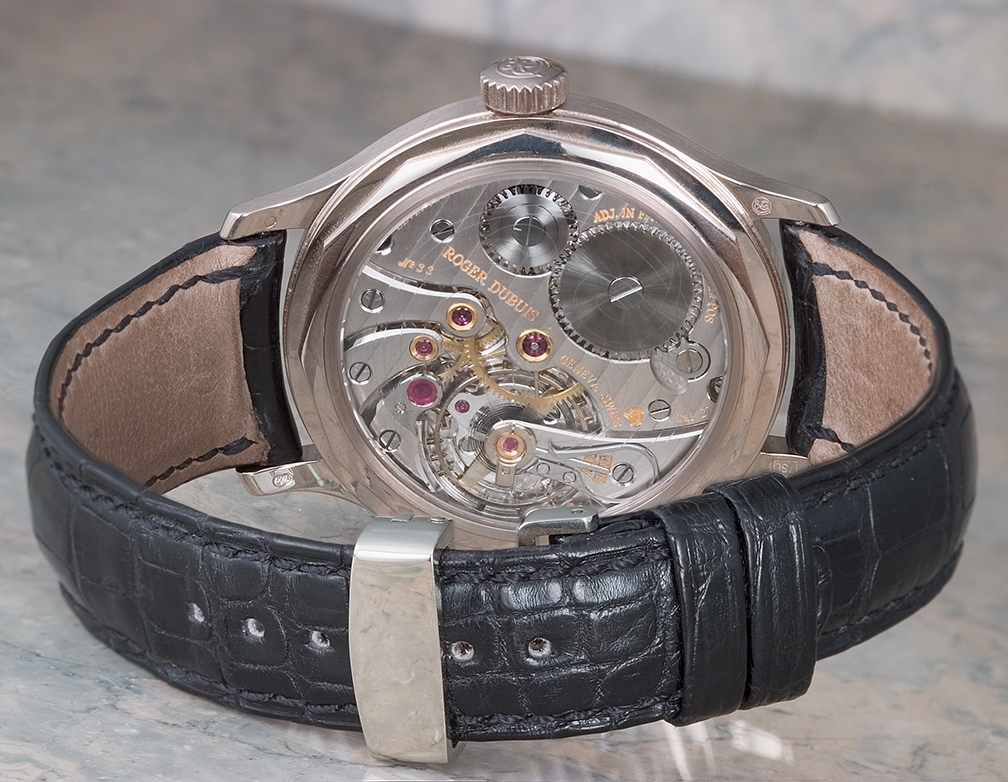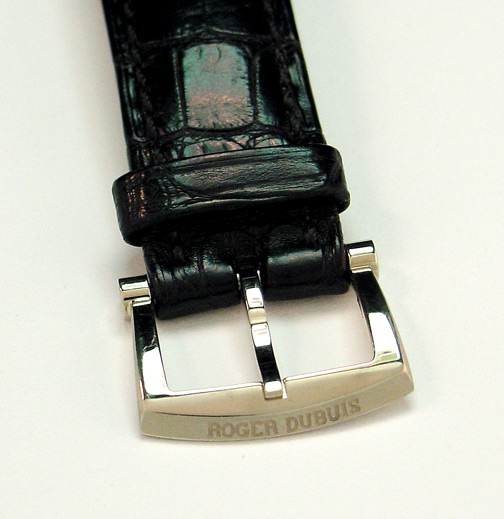 All content Copyright asserted 2003