Since this is a watch many may not have even heard of, not to say encountered, a bit of background:

"Invenit et Fecit" (invented and made) is how Francois-Paul Journe labels the dial of his watches, indicating his firm's intentionally traditional approach to watchmaking. Journe's background appears to be from the historical mold, as well. Born of a watchmaking family, he spent some 2 decades in what may be considered "professional apprenticeship", producing unique watches upon commission, and restoring historical timekeepers. Some 5 years ago he began designing calibers for already established Swiss brands, and finally in 1999 he opened his own manufacture, F. P. Journe Invenit et Fecit, in Geneva. It is my understanding that all parts of his watches are designed, finished and assembled on site, with some parts being fabricated to specification by contract.

His first three designs have been produced in from unique to miniscule quantities, and seem intended to establish the distinctive quality of his insight into traditional watchmaking, and his ability to realize his vision in actual, functioning wristwatches. These are exceptionally complex productions, and each pairs a timekeeping approach unique (I believe) in wristwatches with a traditional complication. I shall try to briefly describe them, and please excuse my ignorance of the technical details of these movements, as well as my being unable to attribute their pictures, all of which were gathered from promotional sites, and presumably originate at the Journe firm.

Before I had a chance to examine and live with this watch, I might have kindly described the dial as "functionally mechanistic". In pictures the exposed slotted screws and the manner in which the subdials are mounted seemed a bit amateurish, the layout a knockoff of the Lange 1, and the numerals are as tall as the hour hand is long. Indeed, those hands, described as "exclusive"; well. why not! The truth is, the design is a bit mechanistic, but this is not necessarily unattractive. It is functional, the date and power reserve are (obviously) well-provided, and I have found that somehow, the compact time-telling arrangement is exceptionally readable, even while glancing with aging eyes.
Certainly nobody is going to critizize Journe's bill of materials, a hefty 38.3mm by 10mm platinum case with two sapphire crystals, solid gold dial and 22k gold rotor. The finish of the main dial is perhaps a nod to the way fine chronometer movements used to be finished, being a beautiful frosty matte. The subdials are engraved sterling silver, and that portion which is not guilloched is turned in very fine concentric circles; That the numerals and various markings are so totally crisp and clear testifies to the quality of the printing. The crown provides a unique ropelike knurl for gripping, and sports a pair of small holes for pondering.
The movement is full-sized to the case, with a slightly offset rotor, and runs at 21.6kbph; adjustment is provided by rotatable weights at each of the balance's 4 arms. The decoration is, by current standards, simple and straightforward but thorough. To my amateurish view the functional finishing seems immaculate, edges crisp, surfaces smooth, screws with perfect slots and mirror tops. I like to think of it as calling attention to the quality of the watchmaking, rather than to itself. I do very little rigorous time-testing, but after wearing it for several days straight I found it to be less than 15 seconds fast.
I will sum up by saying that almost every aspect of this watch has exceeded my expectations. It is easy to read, artfully designed and beautifully executed. Several aspects are slightly quirky or odd, but the whole seems to work very well. It seems to me a very masculine watch, full-sized, with wide (20mm) lugs, and a dial that suggests a scientific instrument; totally unique but nicely restrained.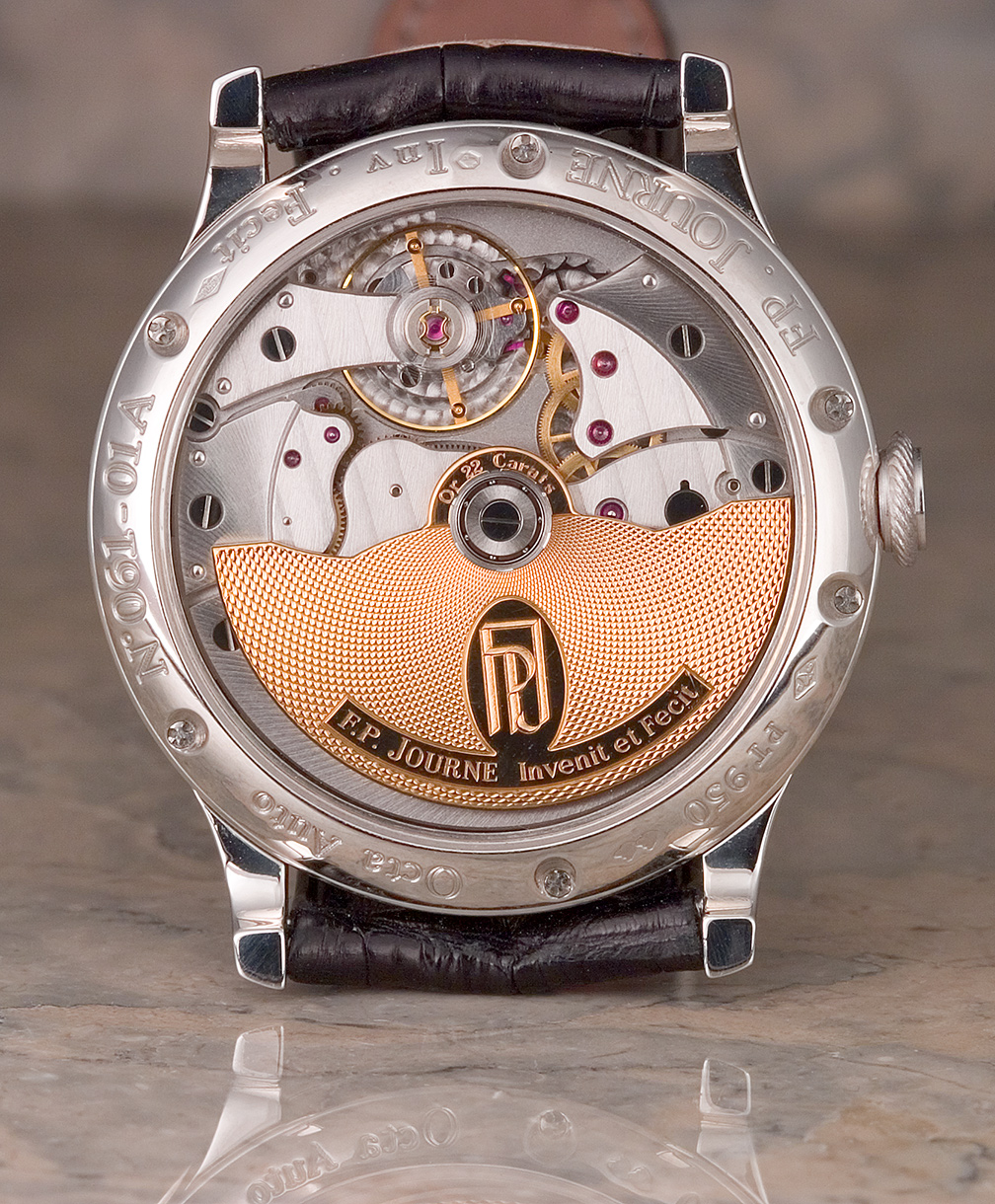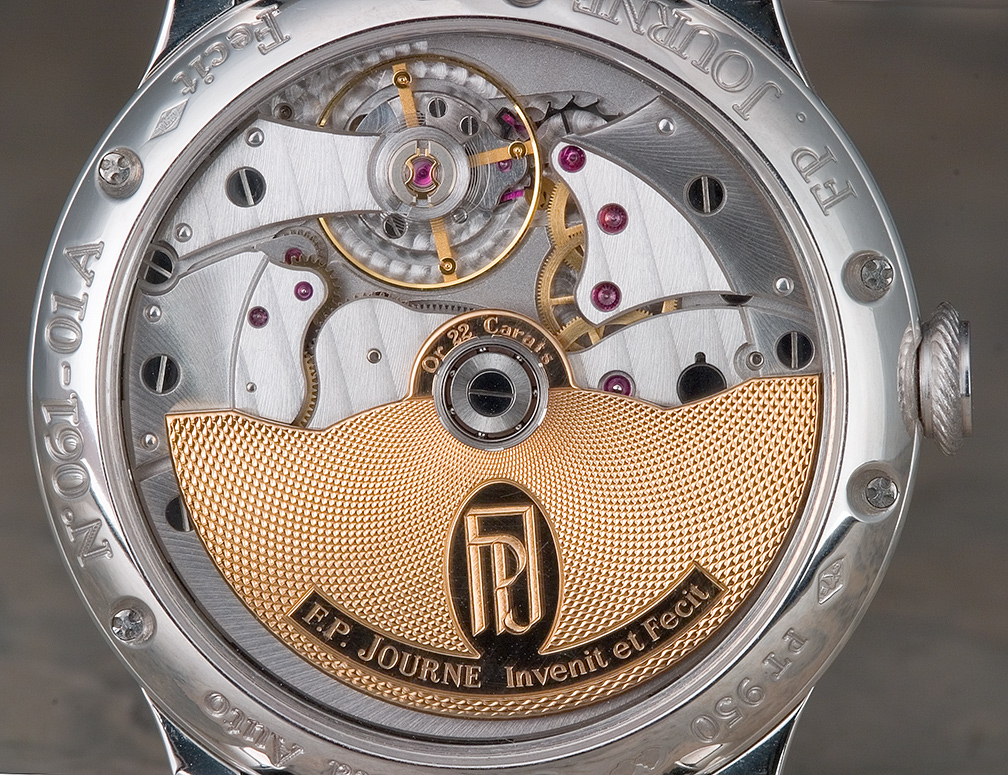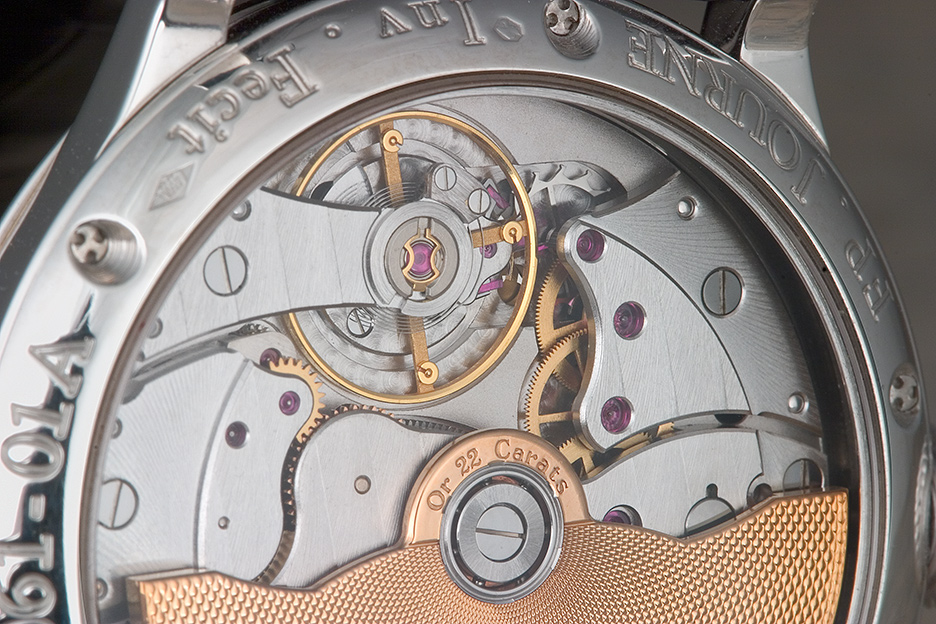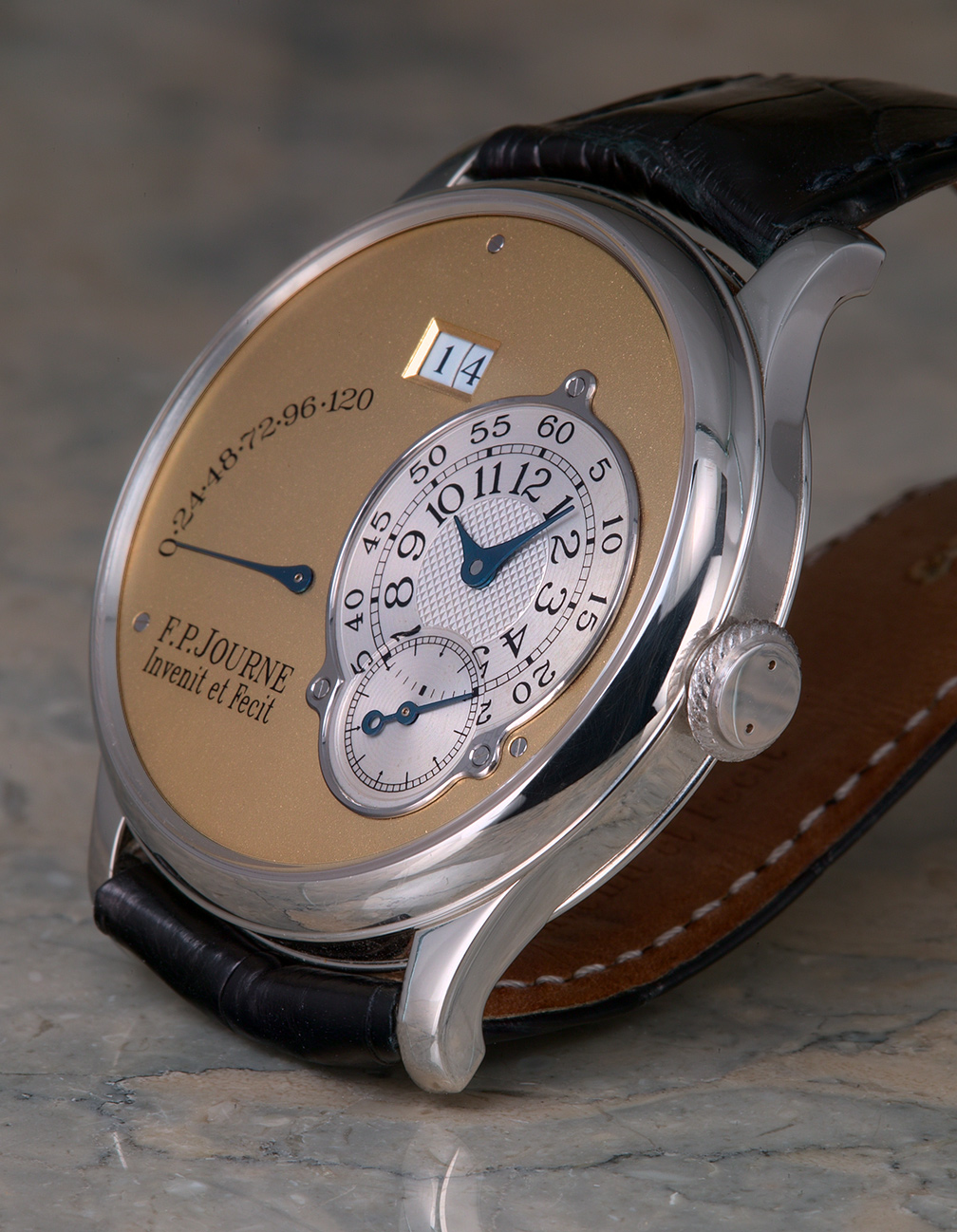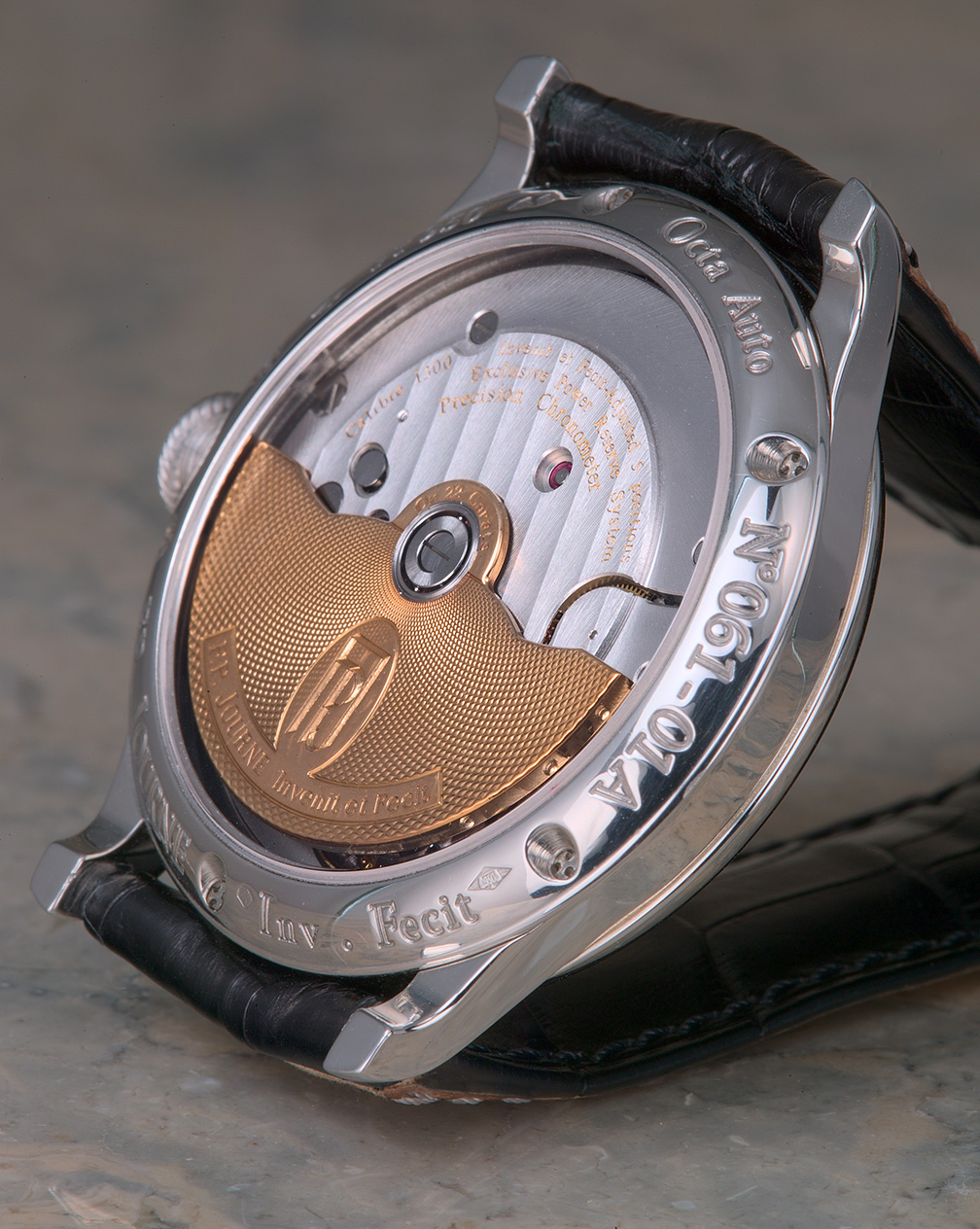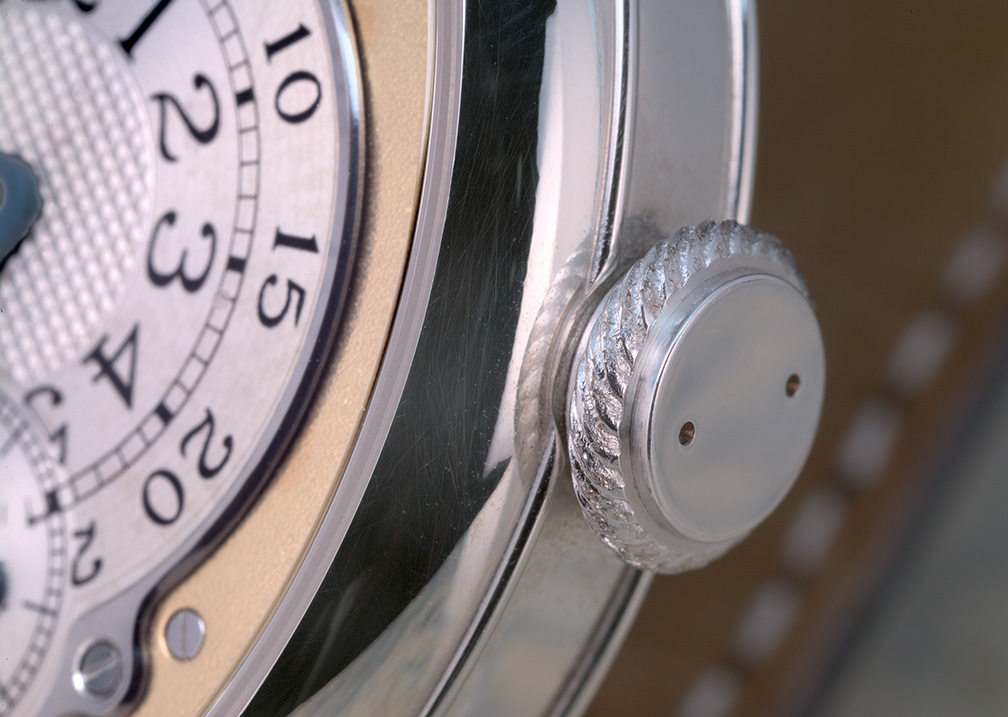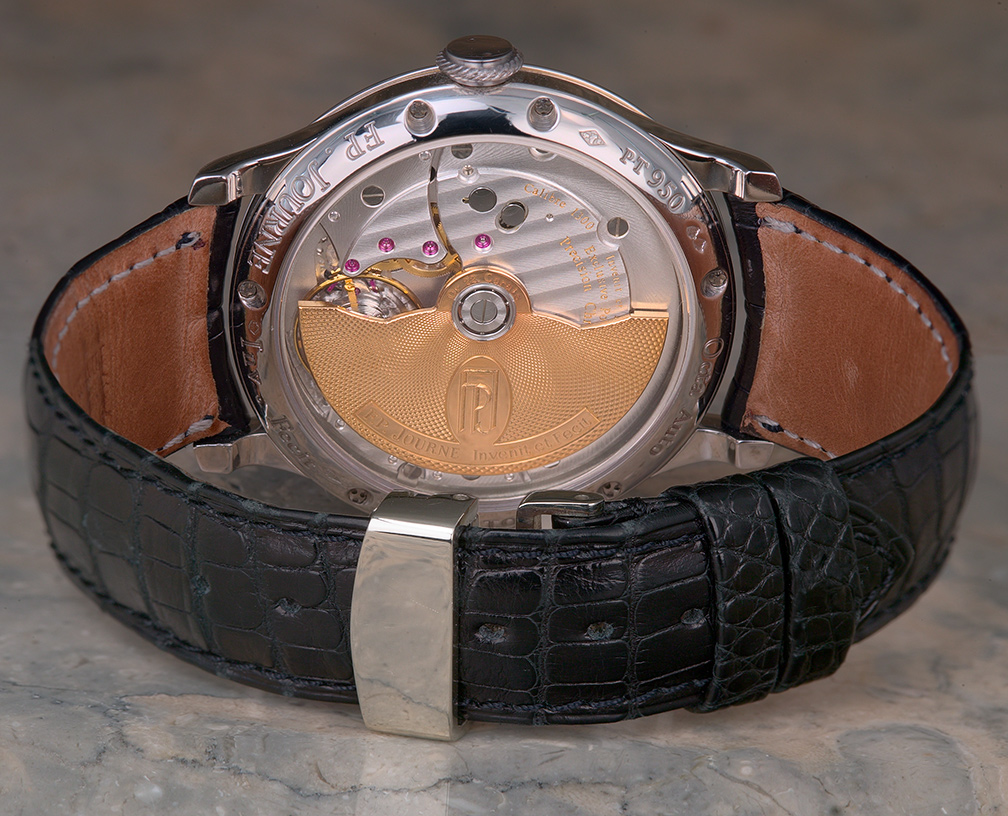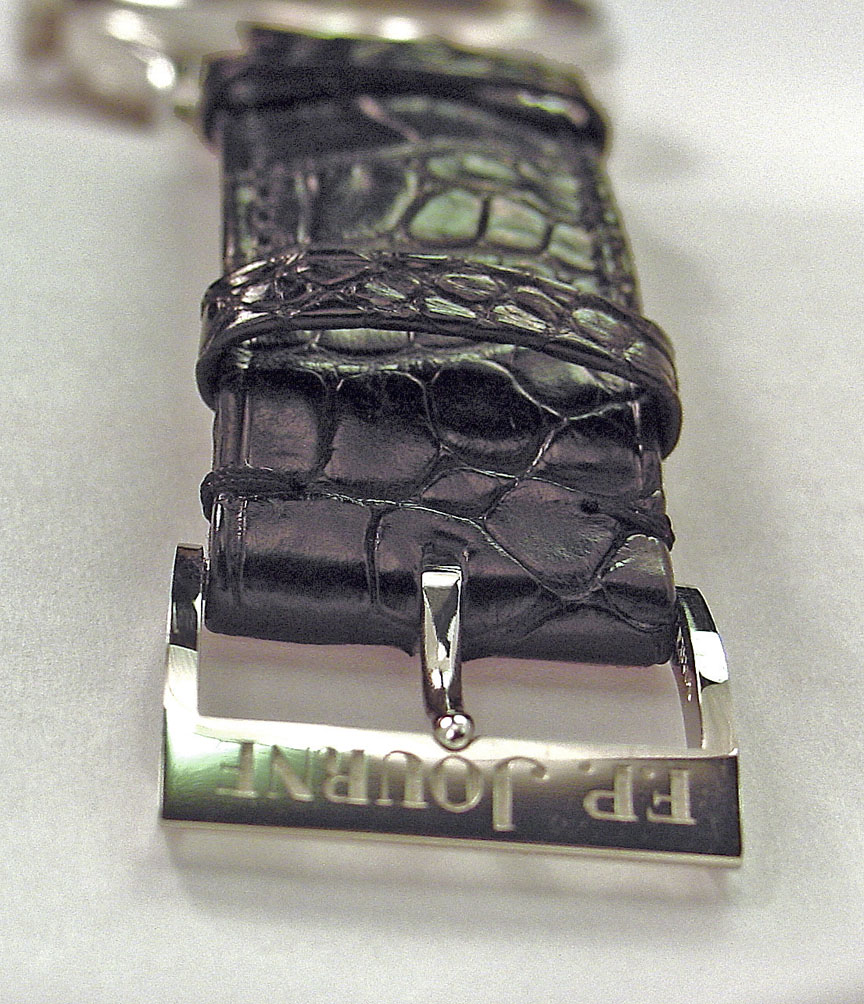 Please check out the rest of my
Watch Articles and Pics
I hope you enjoyed this!
SteveG
September 13, 2001 & July 15, 2005
All content Copyright asserted 2003