This watch was one of my earliest purchases, and is still a favorite. To many it will seem a rather obscure watch, but its historical place is entirely secure. We now know its maker as Nouvelle Lemania, that is, the movement manufacturing arm of Swatch Group (now) almost exclusively supplying sister company Montres Breguet, but the company has a typically convoluted history. Founded as A. Lugrin in 1884 in Vallee de Joux by Alfred Lugrin, they were a dedicated movement house supplying high quality complications such as repeaters and calendars, with a special competence in chronographs. The tradename Lemania was adopted in the 1920s, and was branded onto watches from the 1930s into the 1960s. In 1932, the company joined Omega and Tissot in merging into the current Swatch Group's initial predecessor, SSIH (Societe Suisse Pour L'Industrie Horlogere). With the entry of quartz-controlled watches into the market, Lemania reverted to supplying movements only, and when it was united with Breguet under the Swatch umbrella in the 1990s, Breguet became Lemania's prime customer, and Lemania Breguet's prime supplier.

(most of the preceding courtesy of Kathleen Pritchard's "Swiss Timepiece Makers")
Although never a manufacture of great volumes, during its brief run as an integrated brand Lemania made mostly middle-market but very high quality watches. Among their outstanding products were large cushion-case watches for the Czech air force in the 1930s, their beautiful late 1940s WWW submission to the British Ministry of Defense, and a unique asymmetric-cased hack watch supplied to the Swedish air force in 1957, as well as several civilian and military chronographs based upon an excellent 15-ligne movement.
The present watch is 38mm diameter, exclusive of crown, and about 8.5mm thick. The case is aged 18K pink gold, and with it's cream-colored dial, perfectly-proportioned gold sword hands and applied hour markers and simple sunken and engraved subdials, it is a beautiful watch of modern dress proportions
Click the pictures for even larger!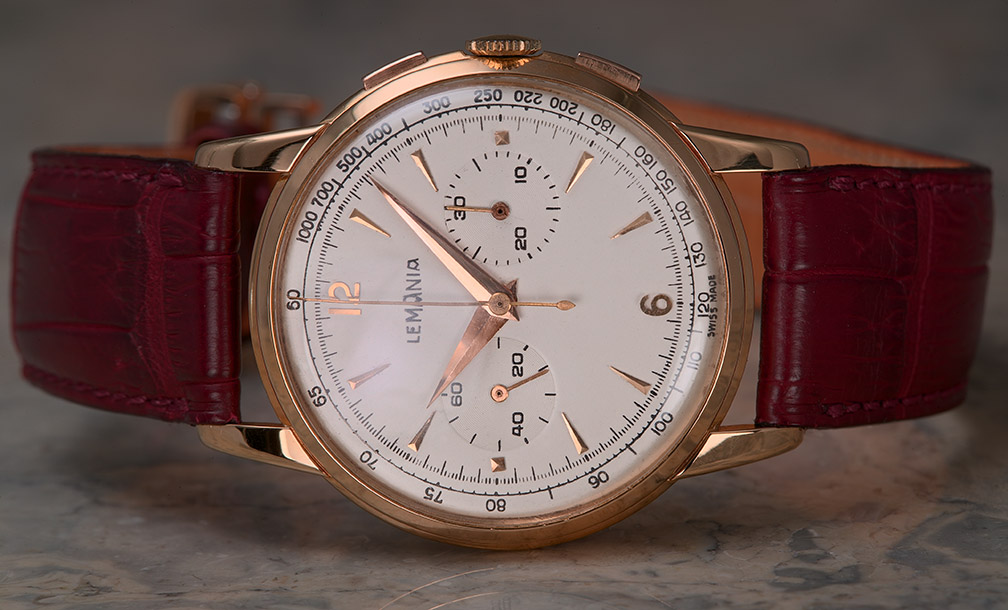 What truly makes this watch historic is that housed inside that elegant case is one of the initial versions of perhaps the most famous chronograph movement of all time, the Omega Moonwatch caliber 321, certified by NASA as rugged enough for space flight in 1957 (amply chronicled by Chuck Maddox and Matwat). This movement was developed with the cooperation of Omega in the 1940s, and is 12 lignes (about 27mm diameter) and roughly 6mm thick in this 2-register format. Omega also incorporated the 321 into certain other models, including this early 1960s Seamaster. Even 60+ years after its introduction, Lemania's 2310 is still such a highly regarded design that it is the base movement for the manual-winding chronographs produced by Vacheron & Constantin and Patek Philippe, as well as it's sister company Breguet!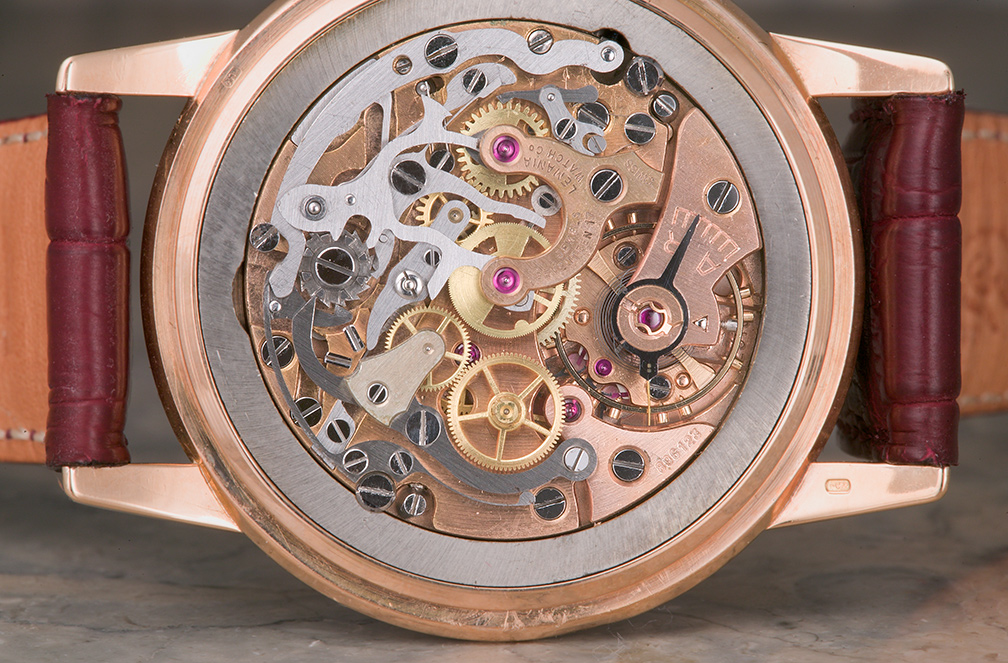 Durable and adaptable, Lemania's Cal. 2310 uses a traditional column wheel control, and levers and springs that are cut and shaped from thick steel sheet, rather than bent from wire. The bridges are plated with pink gold, and the overall finish is to a very high standard, but workmanlike rather than decorative.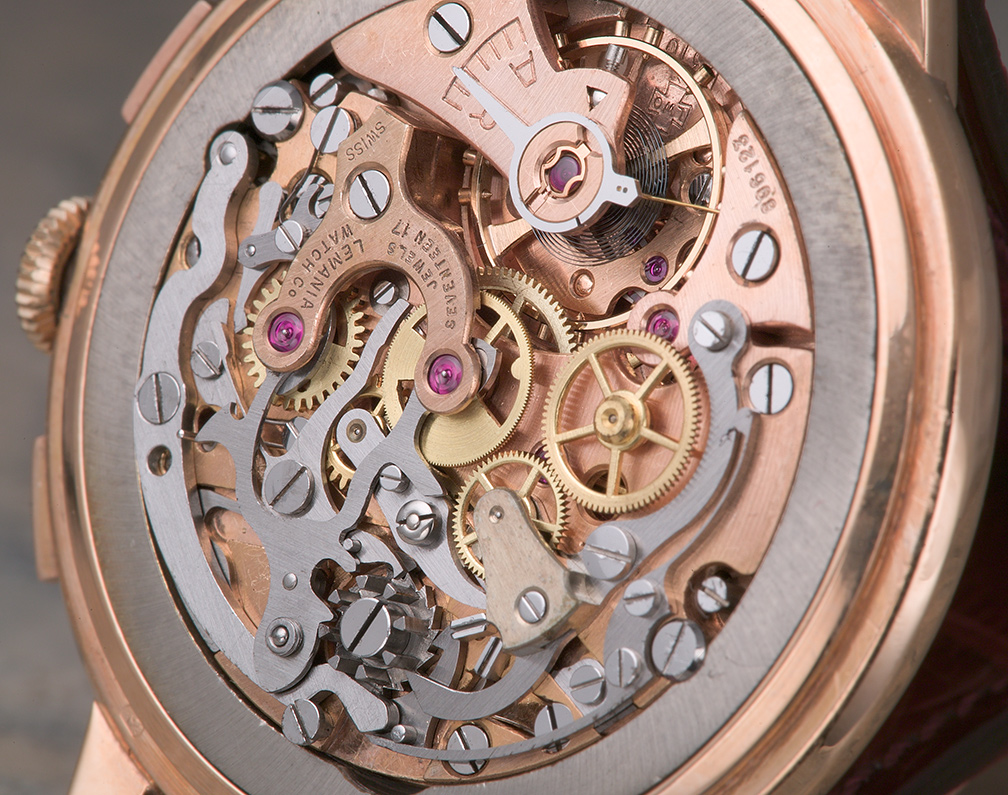 The screwed balance is huge, and is equipped with a blued, overcoil hairspring, and the wheels have beveled arms and teeth which are well-shaped and clean, showing considerable attention.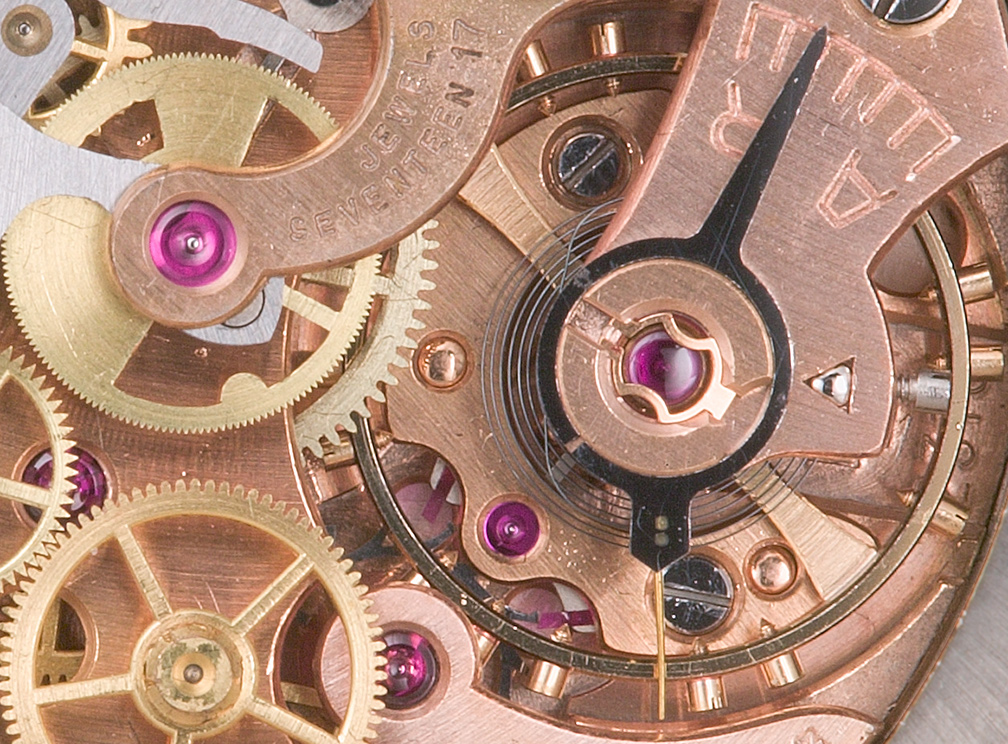 The column wheel and controlling levers are beautifully formed, but plainly finished.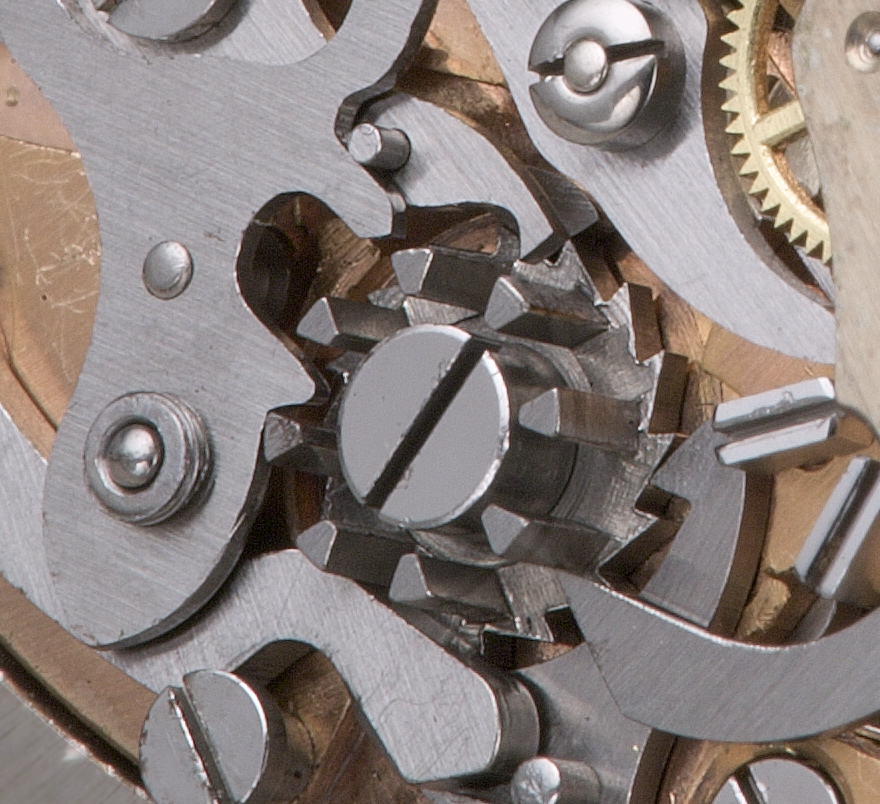 The printed dial features gold hands and markers, and the chronograph controls are subtle flat pushers: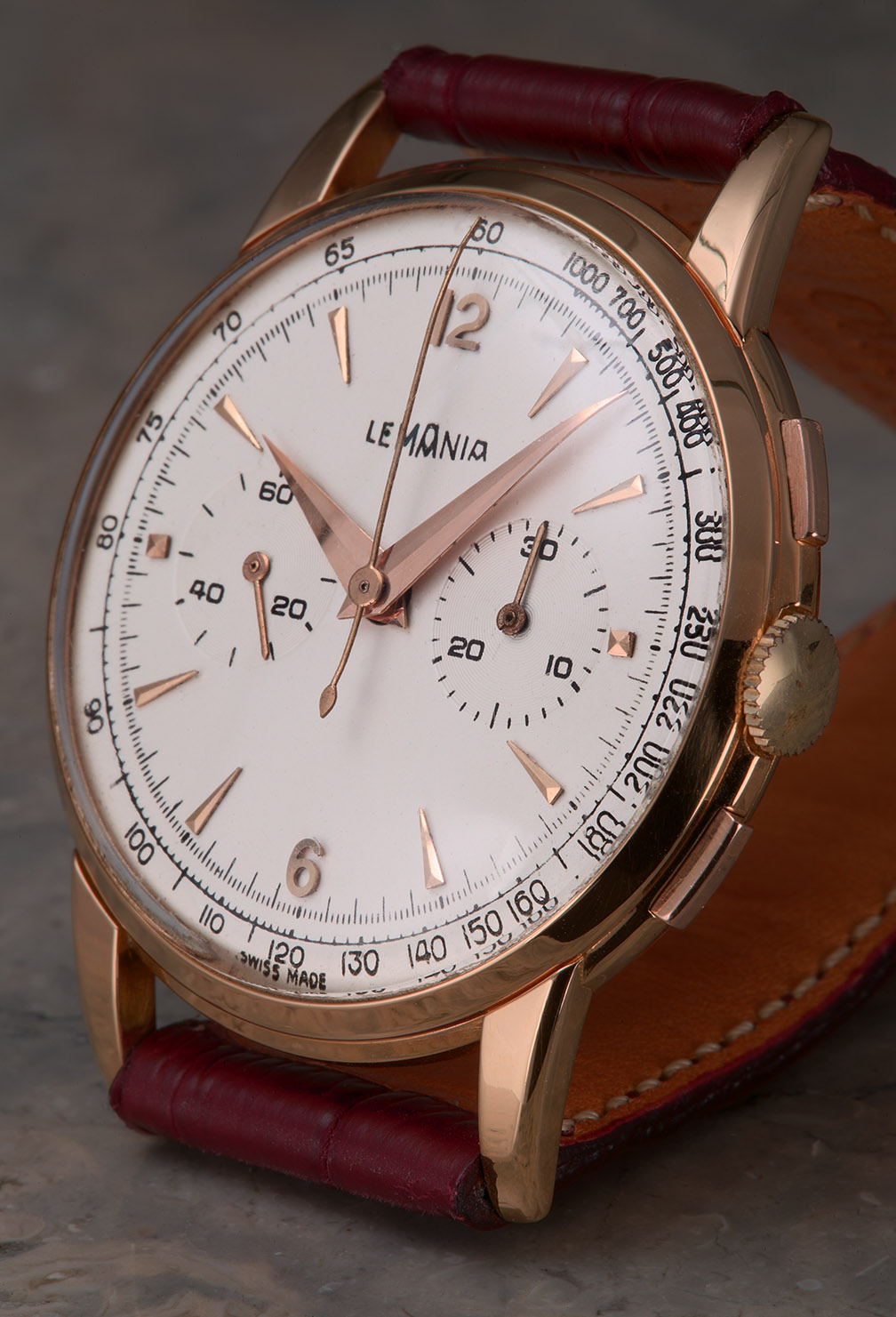 With a smooth caseback and steamlined lugs, this is a very elegant watch!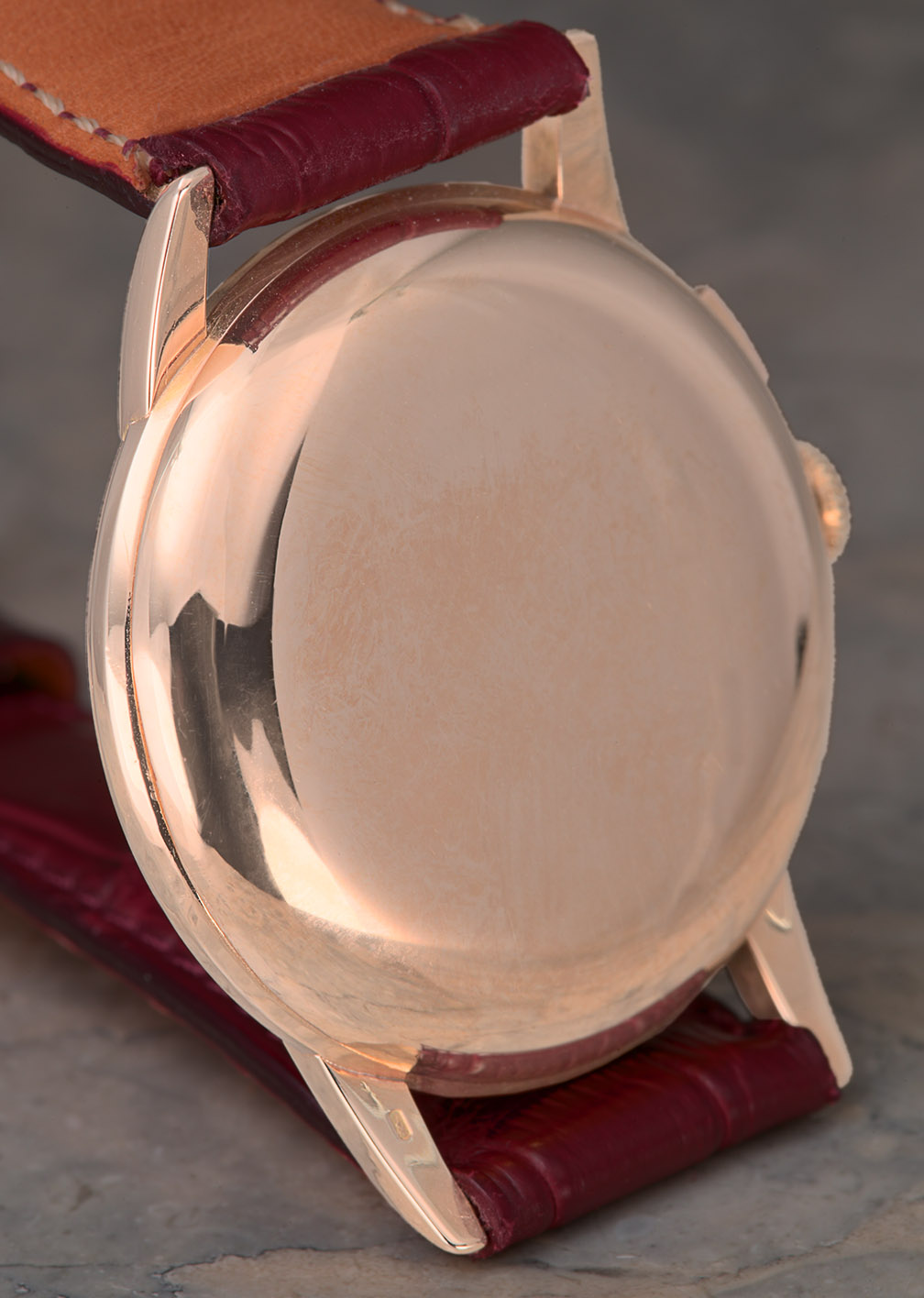 Here are a few recent watches still using this same Lemania ebauche: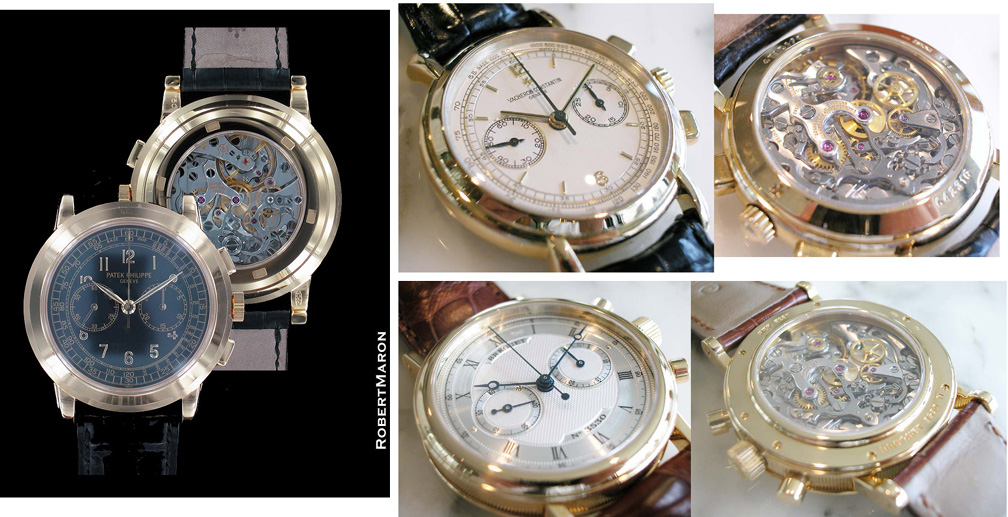 Please check out the rest of my watch Articles and pics:

I hope you enjoyed this!

SteveG
May 22, 2006

All content Copyright asserted 2003, 2004, 2005, 2006