I have been aware of the Lange 1 since long before I knew anything about A. Lange & Sohne, the manufacturer. This happened to me, as it has perhaps to others, because the first publications I picked up when I became interested in watches were the two consumer wristwatch annuals. In leafing through those glossy pages, a bit giddy from ignorance and the surety that I would never need to concern myself with having to pay for any of these wildly-priced mechanical marvels, it would have been hard not to stop at the AL&S pages to examine the only round watch with a small, round clockface offset to the left, and 3 other functions arrayed along an arc to the right.

This was an easy watch for me to dismiss, starting with the very high price, the relatively plain, if quirky dial, the date indicator, which I didn't much care for, and even less so as it was quite large, and the AUF and AB pointer, which meant nothing to me whatsoever, other than suspecting that it was probably something very expensive. Nonetheless, the Lange 1's image stayed in my mind the next 18 months, and was right there when I needed it.

My initial watch purchases were, with one exception, rooted in what I am confident is the most common beginner's philosophy: I bought an "everyday watch" (Limes Nightflight Vintage), a "dress watch" (Minerva Pythagore I, Anniversary dial), a chronograph (Dufeau Aviator) and a rugged "dive" watch (Invicta LE). The exception was my purchase of an AP skeleton perpetual calendar, bought just because I loved it, and really still with me for no other reason. However, the seeds of progress were sown, and my tastes developed. I got a dress chrono, a gold Lemania 2310, which began my interest in vintage watches. This got a big boost when I realized that my small wrist, a reasonably quiet lifestyle and a preference for solid gold all made vintage an attractive choice; the affordable availability of some great, classic movements was a bonus. I collected them singly, and in boxes.

In the last several months, things have taken another turn, and I reached a deeper understanding of my preferences. I gravitated towards Minerva watches, because I liked the traditional designs, pleasingly available with modern dials and casework, and even more modern decorated movement and display back. I realized that I could finally describe the watch that tugged at my heart: basic 2- or 3-hand time-telling, and not much additional complication, good proportions for all design elements, a beautifully decorated (and hopefully, functionally finished) high quality movement, visible from the back, and imaginatively shaped and pristinely finished case and dial and hands. It soon became clear that lovely and charming as they are, vintage watches that satisfy contemporary standards of finish were very rare to begin with, and have largely moved out of circulation. However, although the quartz revolution and continuing industry consolidation have conspired to eliminate many desirable brands and calibers, many remain, new ones do appear, and enormous attentions (and resources) are currently focused on presenting the watch in a beautiful and poetic package.

The result is that I began to pick up favorite examples from most of the better modern watch houses, until I was fortunate enough to fall for this Octa by F.P. Journe.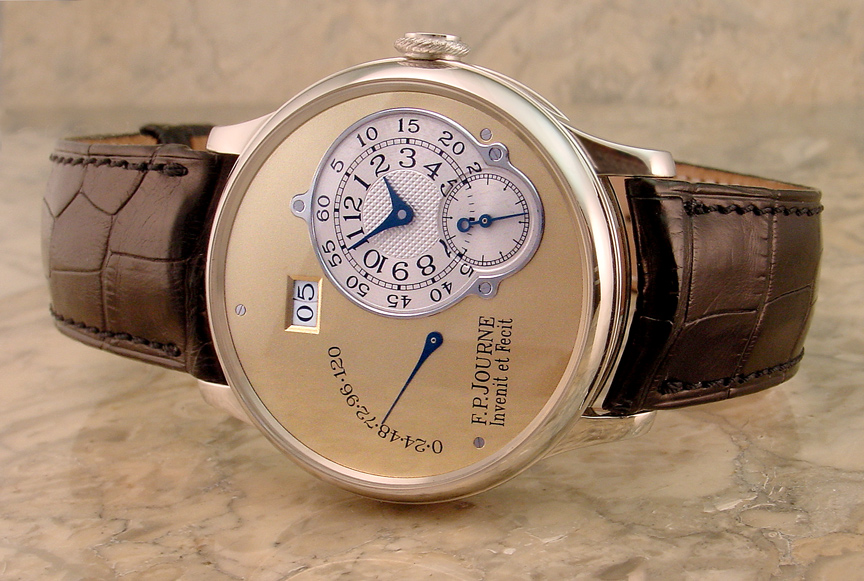 After a couple of weeks with this oddity, I was truly smitten, and suddenly I began to think about the Lange 1 in an enitrely different, and favorable way. However, the cost was significant, and I just couldn't choose amongst the many case/dial combinations (well, I pretty much liked them all). Finally, someone posted a picture of their Lange 1 with an elaborately engraved and polished mother-of-pearl dial, and with white gold case and hands; my decision became Much Easier.

Click the pictures for even larger!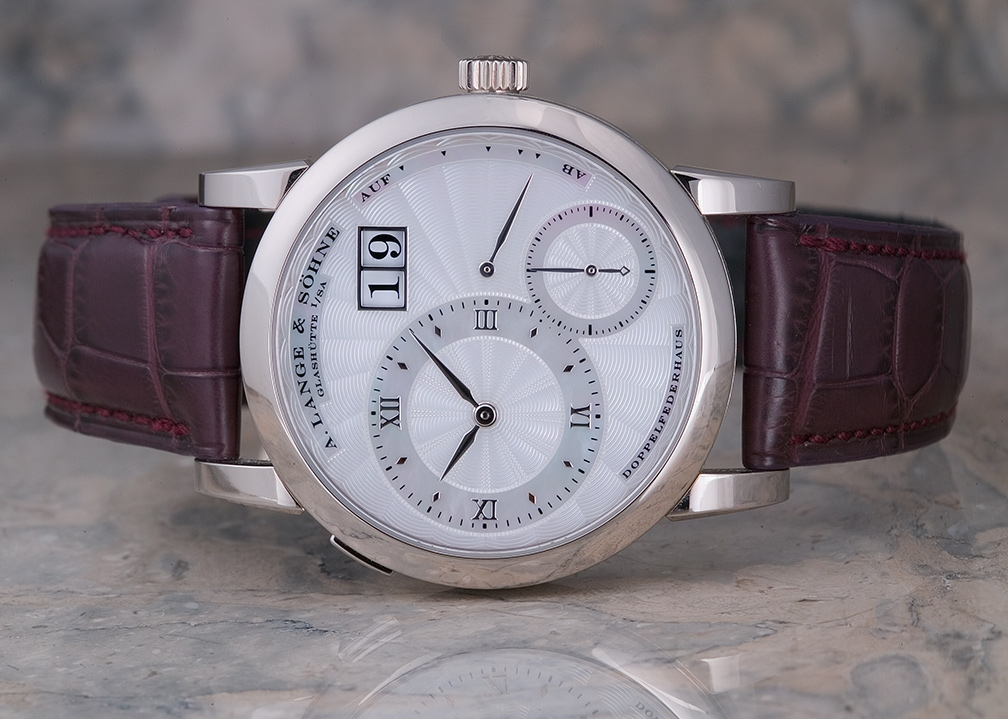 Although the above pictures show the dial very nicely, it really captures just a little of the iridescence. The dial resembles ultra-deep, translucent enamel, is very subtly colorful, and changes constantly with light and angle.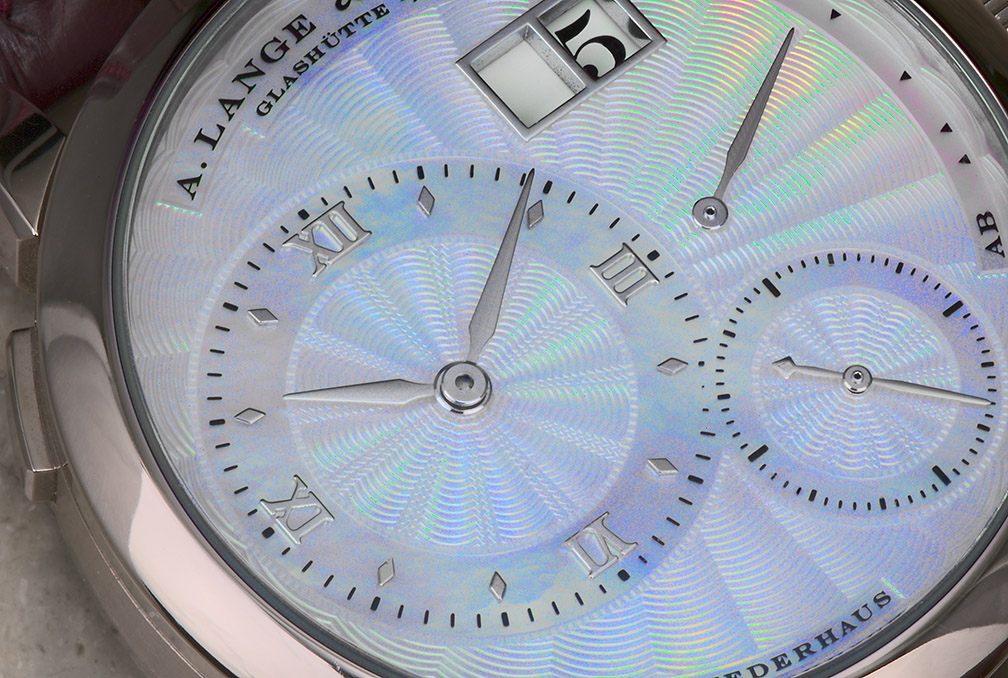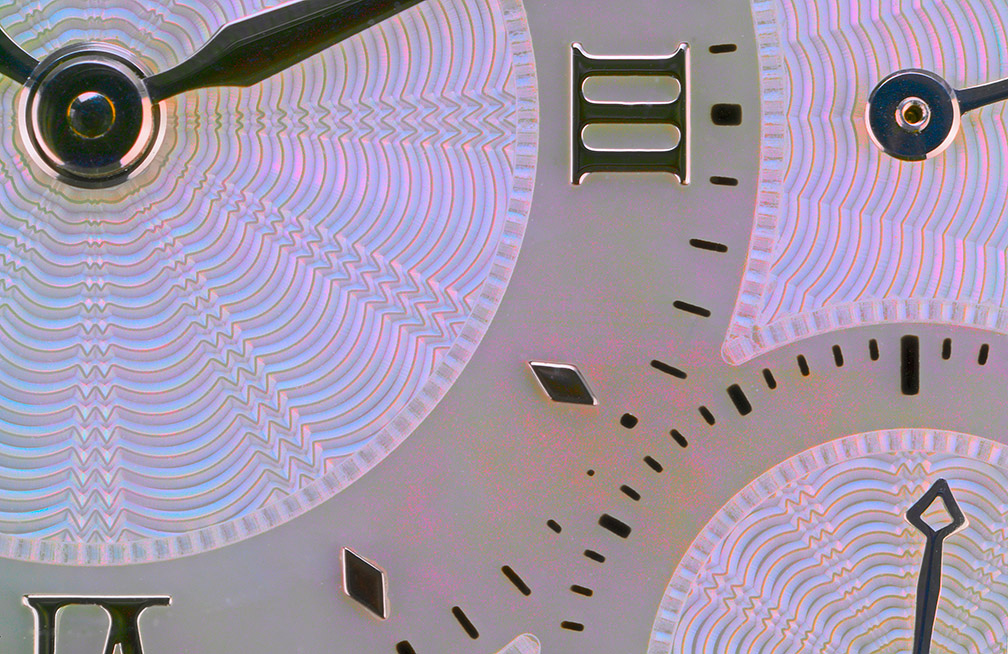 The Lange 1 is 38.5mm diameter by 10.4mm thickness (in this version), and features a large button at 10 o'clock to advance the date. The large date was unique when first presented almost exactly 7 years ago, and uses 2 disks, one with the numbers 0 through 9, the other with 1,2 3 and "blank". After the last day of any month with 30 days, this latter feature allows the date to be advanced from "31" to " 1" with just one push, the mechanism holding the "1" in place while rotating the other disk from "3" to the "blank".
The two-barrel movement ("doppelfederhaus") allows a total of 100 hours reserve when fully wound, although Lange considers this to reflect 3 days of accurate running. When the indicator enters the last 2 segments approaching Ab, one should wind the watch to maintain accurate time. Setting and winding are extremely smooth, the latter producing just perceptible clicks, and pulling the crown stops the second-hand for precise setting. The spacious dial and layout of the movement allow each inidcator to rest undisturbed in its own space, without overlap.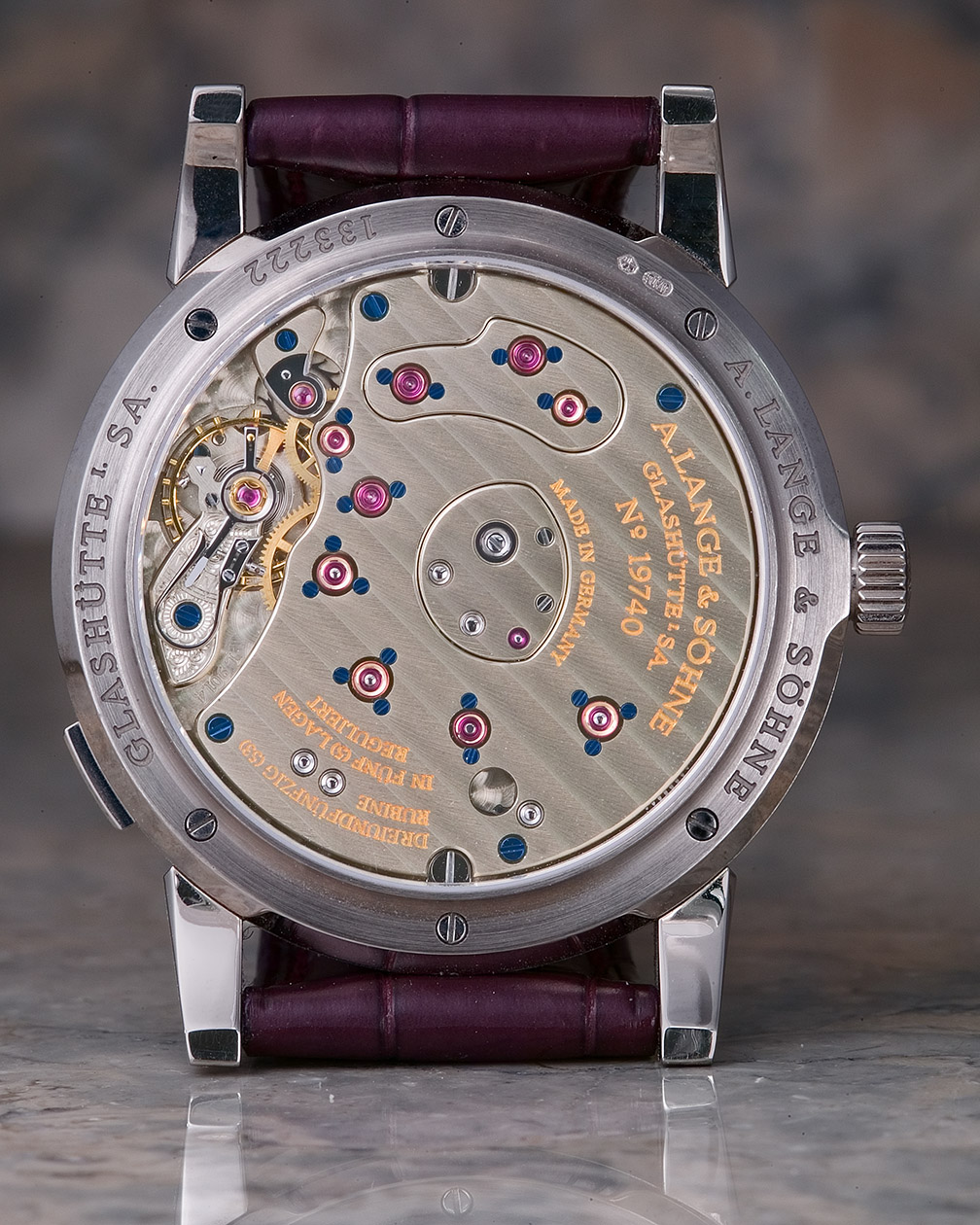 The movement itself is a full-sized 30.4mm diameter and 5.9mm high, runs at 21.6 kbph and features 53(!) rubies. I am not even remotely qualified to enunciate where all those jewels reside, but I think it reasonable to assume that wherever the designers thought friction might be lessened thereby, a jewel was specified. The finish and decoraton is evidently an exceptional refinement of Saxon watchmaking tradition, and features the Glashutte-striped 3/4 plate in German Silver, hand-engraved balance cock with goose-neck adjustment, and a version of the Breguet-curved balance spring. There are also of course those nine rubies mounted in extraordinarily handsome, if possibly totally unnecessary, gold chatons held down by blued screws.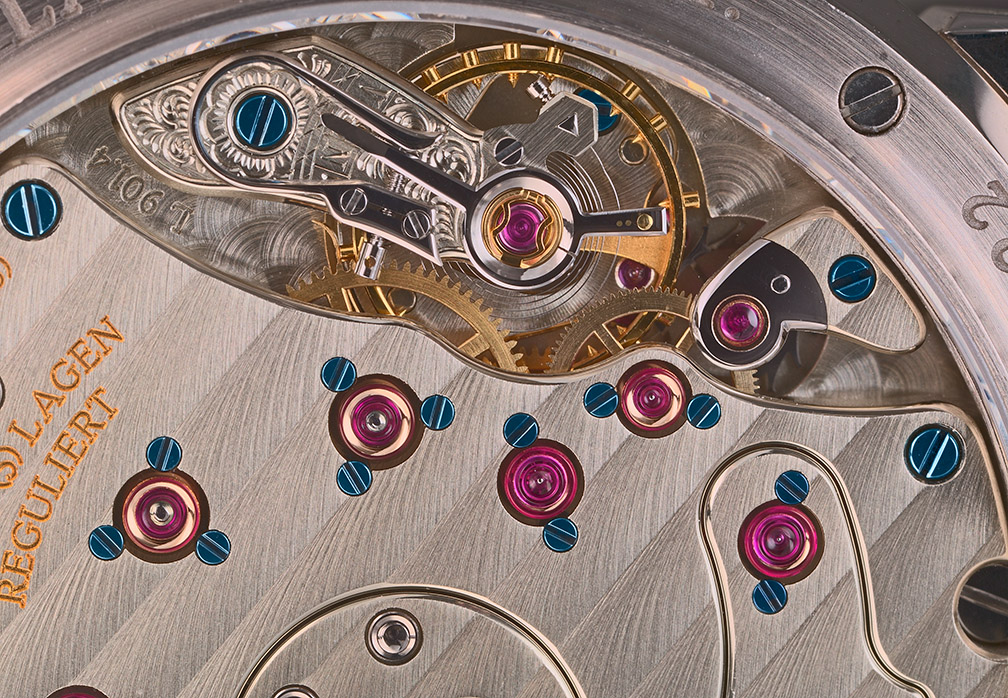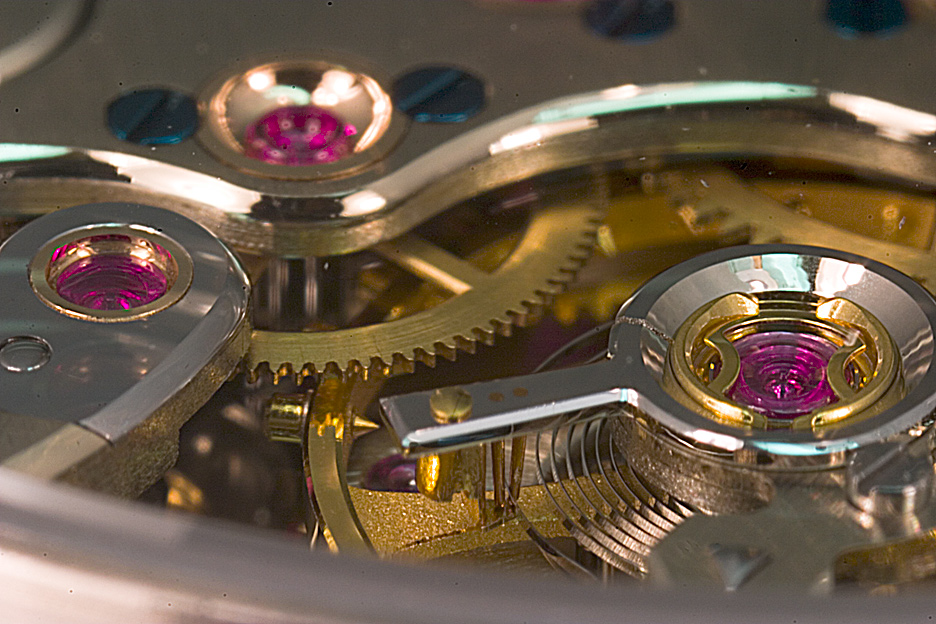 The Lange 1's profile inititated the design now seen in all their round watches, thick, simple curved lugs and beveled bezel, with all parts polished except the main body, which is concentrically brushed.. It is, in my opinion, a design that ages and wears well, is without affectation, and looks just as good on the smaller
1815
as it does here.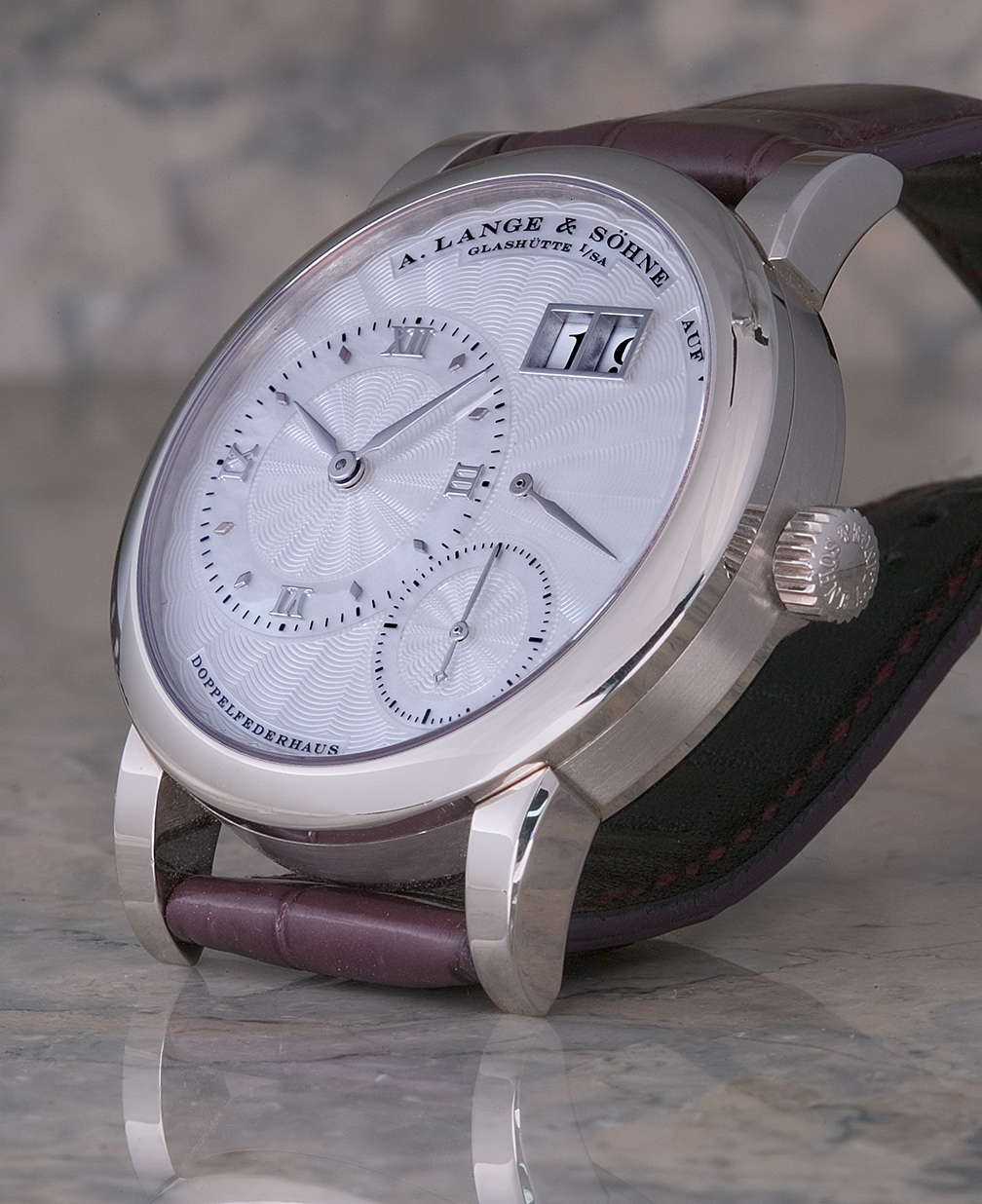 All content Copyright asserted 2003