Minerva 2000 Cal. 49

The Minerva 2000 was released in the summer of that year, re-introducing the caliber 49 (Cal. 48, but with center rather than small seconds) to their offering after a prolonged absence. It was produced in a very small issue (probably less than 200 examples), and all evidence suggests that the new owners of Minerva have no plans to continue its production. Further indications are that Minerva would have followed up with a stainless steel version, some time later, as well. Instead, with the sudden change in management, the 2000 became the last regular-production model introduced by the "old" Frey-era independent Minerva, followed only by the TimeZone LE Cal. 49.

The 2000 case is identical to that of the Pythagore 1, at 34mm diameter, excepting that the case thickness is 8.9mm, rather than 8.5mm, to accomodate the extra wheel and cock for the center seconds. All 2000's are fitted with the swan's-neck regulator, which is optional on the Pythagore. The 18k gold used for the case is a very light pink, shading more towards the white than the yellow. It is, to my eyes, a beautiful color, most unusual, and the case is immaculately finished, as one should expect. The slender hands and semi-spherical markers for the secondary hours are of the same gold, while the Roman 3-6-9-12 are flush with the dial, being etched and polished in some (mysterious) manner; the dial itself is very subtly vertically brushed to a soft sheen. The strap is equipped with a matching rose gold buckle. Finally, the movement is very nicely decorated in the modern, display-conscious mode, and as a bonus the dial side is also fully finished. As a dress watch the 2000 represents a very good relative value in that the current ranks of solid gold, handwind watches with fully in-house and fully-finished movements is pretty rarefied, and I would be surprised if there is another such watch which lists for much less than twice the 2000's approximately 3200 USD, and very few would so purely represent the efforts of its designer and maker. Further details of the history of Minerva, and of the caliber 49 movement may be found in my article Minerva TZ Limited Edition Cal. 49.


Click the pictures for even larger!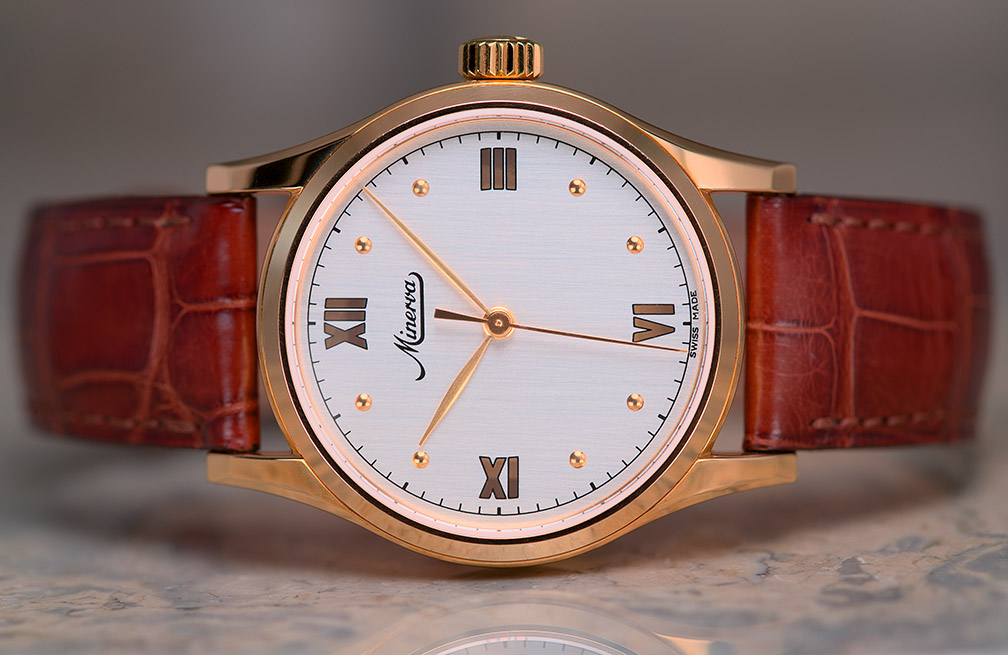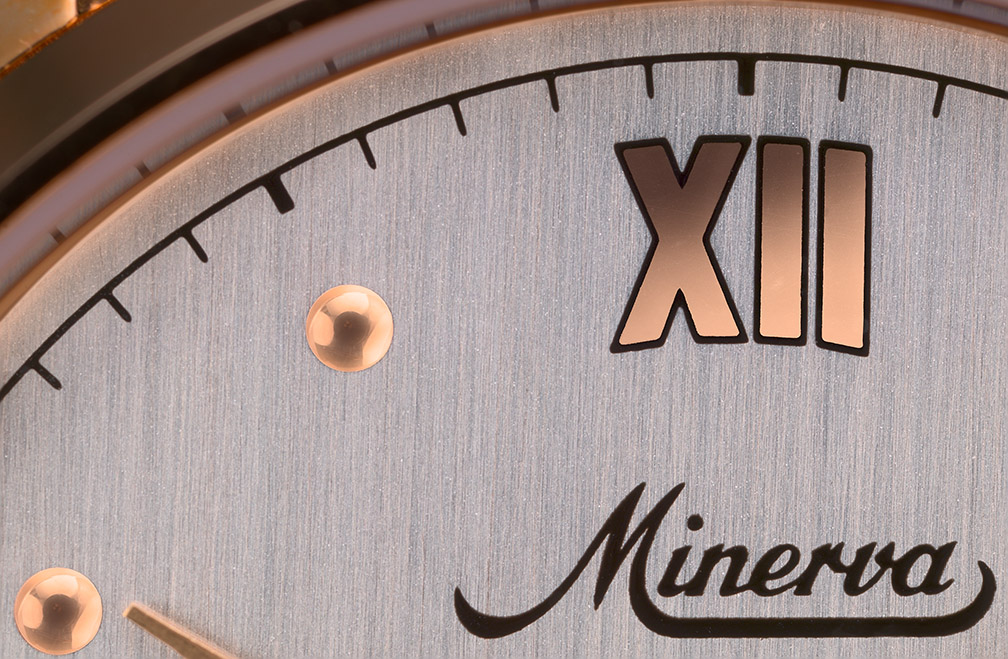 Please check out the rest of my watch Articles and pics:

I hope you enjoyed this!

SteveG
December 11, 2001, pictures updated February 22, 2006



All content Copyright asserted 2003, 2004, 2005, 2006