Hamilton Mystery watch, early 1960's


This watch is the first vintage watch I purchased, in early 2000, and I ended up with a beautiful and interesting watch despite my ignorance. I spotted it while looking through the stock of a popular vintage etailer, and having learned that older Hamilton watches were well-respected, and charmed by the "mystery dial", I took the plunge. Besides, I figured that a platinum watch with diamonds on the dial for not much more than the cost of many an ordinary steel watch couldn't be too bad of a deal.

When the watch arrived, while I was not thoroughly thrilled with its condition, I was not really too concerned because the seller's description and picture indicated that it would need some work anyhow. I sent it to RGM in Pennsylvania, and when it returned the case looked wonderful, not new but well-preserved, however the dial, which had been cleaned at my request, still looked like yellowed paper, and the disks holding the hour and minute "hands" mismatched badly. Here is an older picture of the dial: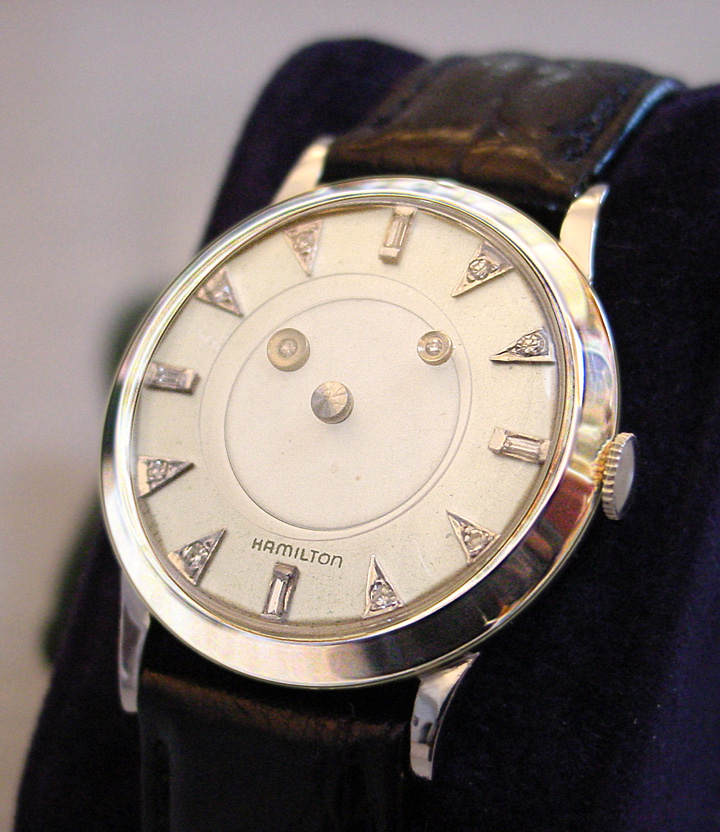 Finally, after many months of simply not enjoying this watch, I decided that the dial just had to be replaced. I spoke with Rich at RGM, and suggested that perhaps I should just accept that the dial and disks had deteriorated too far, and to have a new dial made to my specifications. He wisely counseled me that this was unnecessary, that the main dial and hour-disk could be repainted as originally intended, and the clear plastic of the minute-disk could be polished effectively. I accepted this and authorized the work.

Now that my watch has returned, although it no longer has an original dial, it positively shines, dial and diamonds, as well as case, and I find that I have what I wanted when I first purchased the watch. I have enjoyed wearing it more in the last 3 weeks than in all the time prior, and feel now that it is a unique and beautiful treasure. Although several decades old, it is sized to reasonably contemporary dress-watch tastes, being 35mm diameter and 6mm (9mm including crystal) thick. I have sent my pictures to Rene Rondeau, author of the authoratiative books on Hamilton wristwatches, and he most considerately informed me that not only was the case a custom job, but that he strongly felt the dial was also, and not the work of Hamilton watches. That is, there is (and probably was) no "original dial" for this watch, and I had no reason to hesitate in refinishing an older, worn dial in the first place!




Click most pictures for even larger!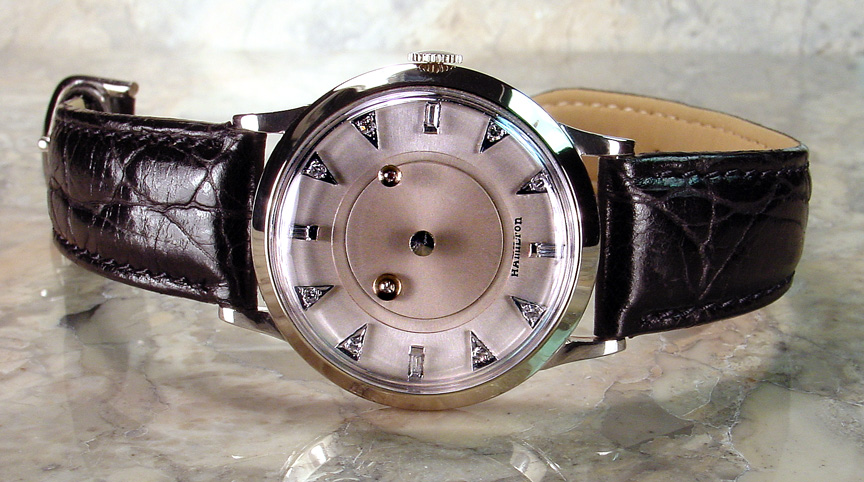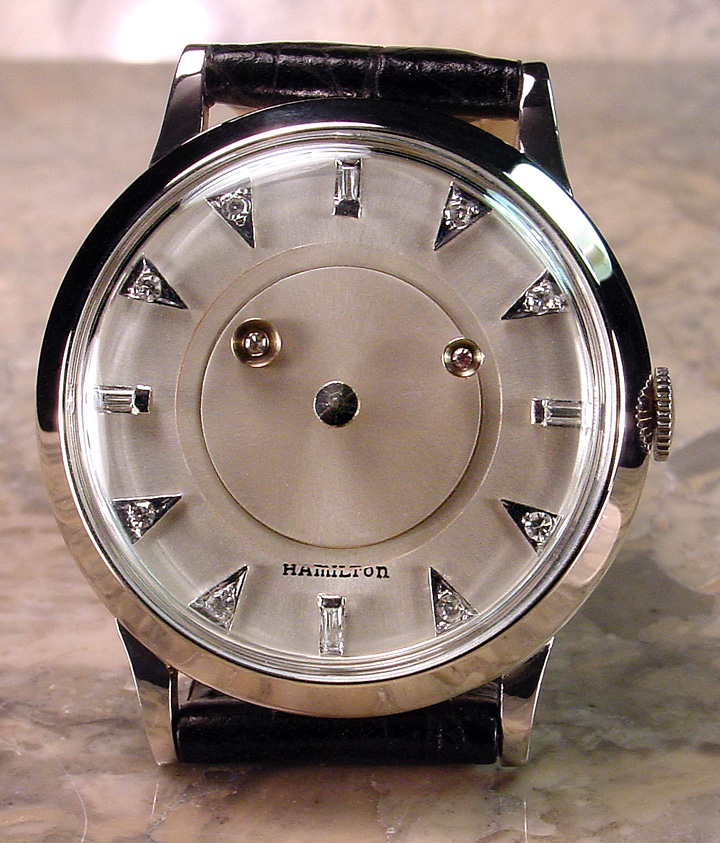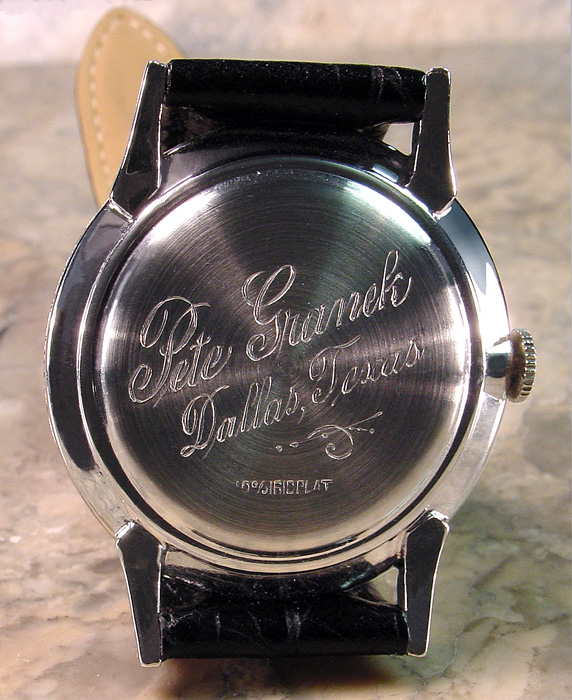 This picture, courtesy of RGM, shows the watch opened up, the bezel and dial face down, and beautiful Caliber 770 movement to the left, and the bottom of the case, back still snapped in place, to the right.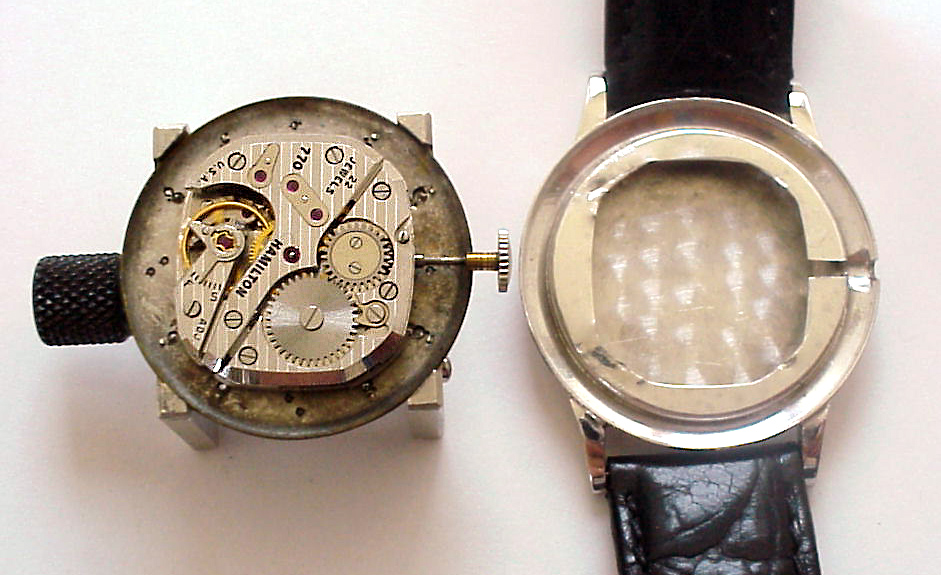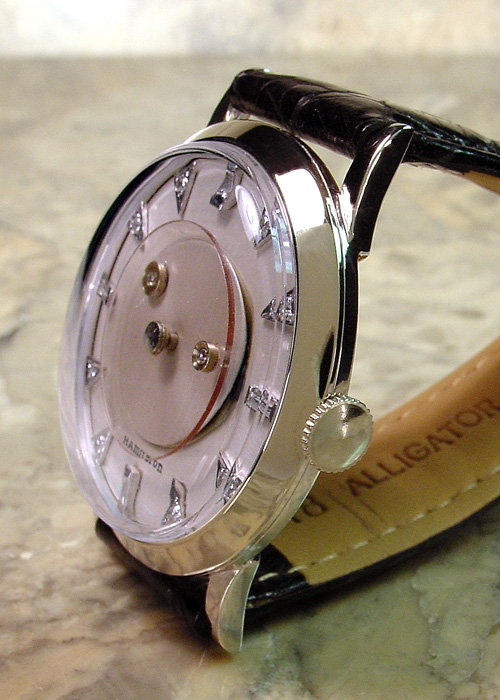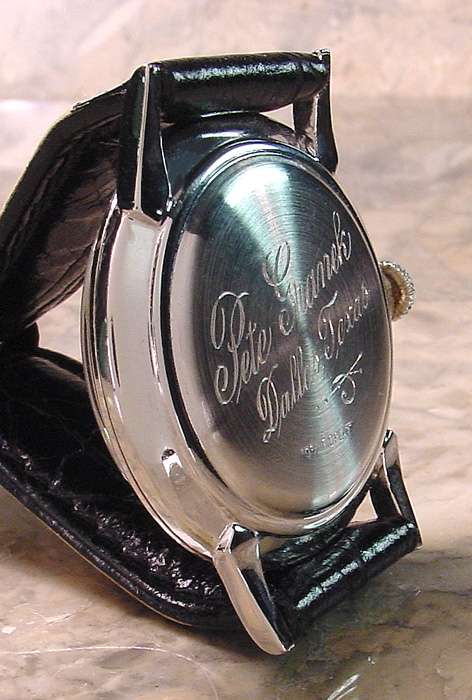 Even though I now know that Hamilton didn't manufacture most of my watch, they did produce at least one Mystery Dial model, this picture from Shugart's: