1948 Omega Jubilee bumper automatic chronometres

Like many manufactures that began producing automatic wristwatches around 1940, Omega chose a bumper arrangement, rather than the eventually-standard full-rotor design. The obvious advantage was that the additional winding mechanism occupied the same plane as the rotor, thus preserving the movement's thin profile. Omega's original automatics were introduced in 1943, as a pair: the 28.10 RA PC and 30.10 RA PC, nearly identical except for their diameters (28mm and 30mm, respectively). Winding in one direction only, and with the rotor swinging but about 120 degrees, Omega's bumper automatics were apparently among the most durable, serviceable and efficient of their type, selling almost a million and a half units by the time of their replacement in the mid 1950s.

In 1948, to celebrate the 100th anniversary of founder Louis Brandt's first assembling pocketwatches, Omega determined to create high-grade chronometre versions of their proud new automatics, presenting them as a beautiful pair of watches. The designs were quite elaborate, and everything, cases, dials, hands and markers, was all formed of solid 18K gold. The smaller watch was a dress-traditional 33mm diameter, while the larger was an appealing 35mm, and each was only 5mm thick (plus about 1.5mm for the domed crystal), truly ultra-thin!. Long art-deco lugs and a smooth snapback completed the totally elegant package. There seems to have been dial variations, and this pair evidently was sold into the Asian market.
Click the pictures for even larger!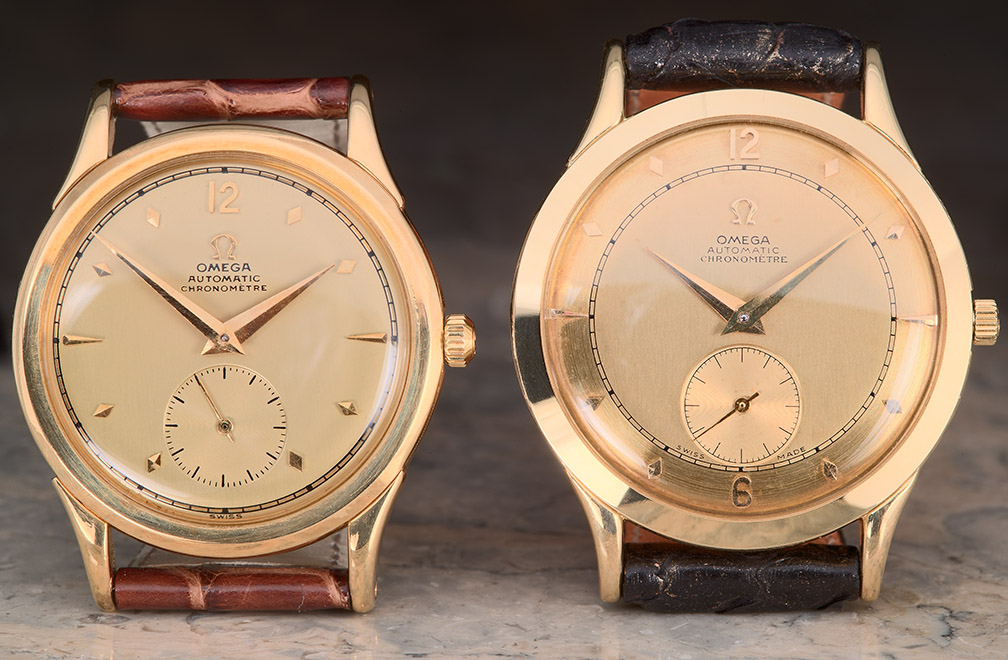 The smaller watch is a simple jewel, a smooth gold dial with applied "Omega" and faceted hour markers, minimal black printing and folded dauphine hands. The champhered bezel is reflected in the uniquely-shaped crown, and the long curved lugs hug the wrist. Despite its 'gold on gold on gold' coloring, it is easy to read, and while small by contemporary standards, this watch has a powerful quiet presence.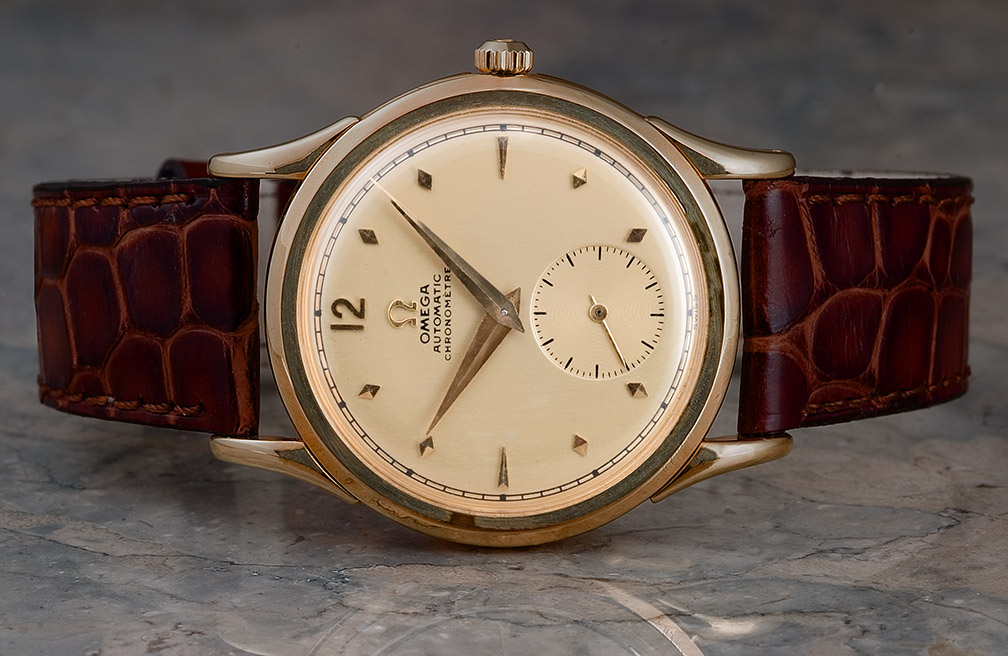 The seconds subdial has traditional concentric engraving, and the applied hour markers are shown in high relief. I think the proportions of this design are near-perfect!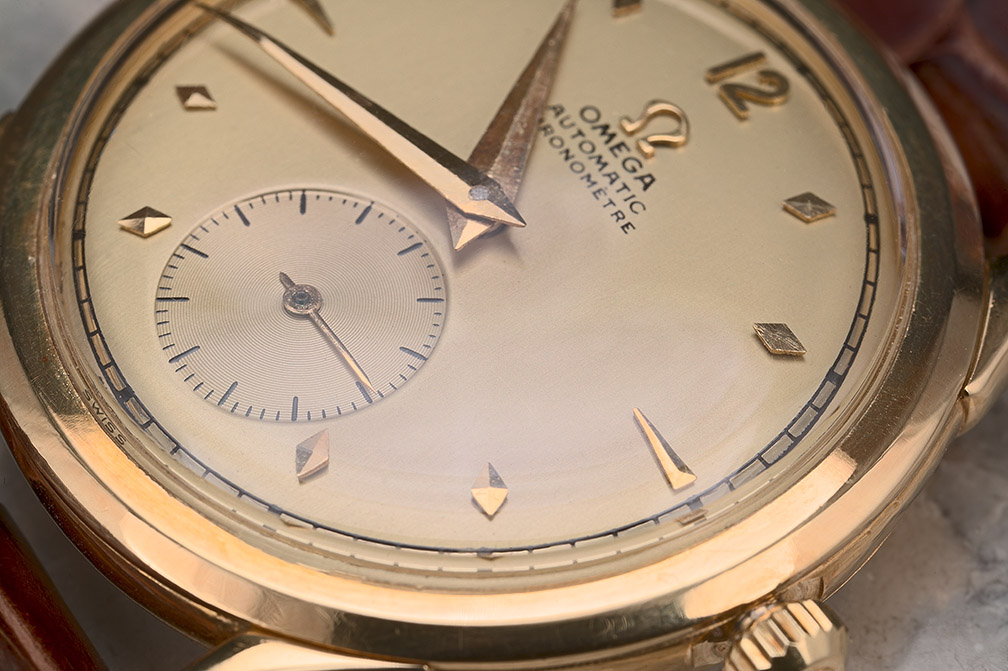 The 28mm (12 3/4 lignes) movement sports Omega's typical pink finish and neat layout. This pair of movements are Omega's first chronometer-grade automatics, the beginning of the genuinely great tradition celebrated by decades of highly-esteemed Constellations and Seamasters. In the transition to chronometers the nomenclature is a bit confusing, but it appears that the 28mm movement is named the Caliber 341, and the 30mm is Caliber 331.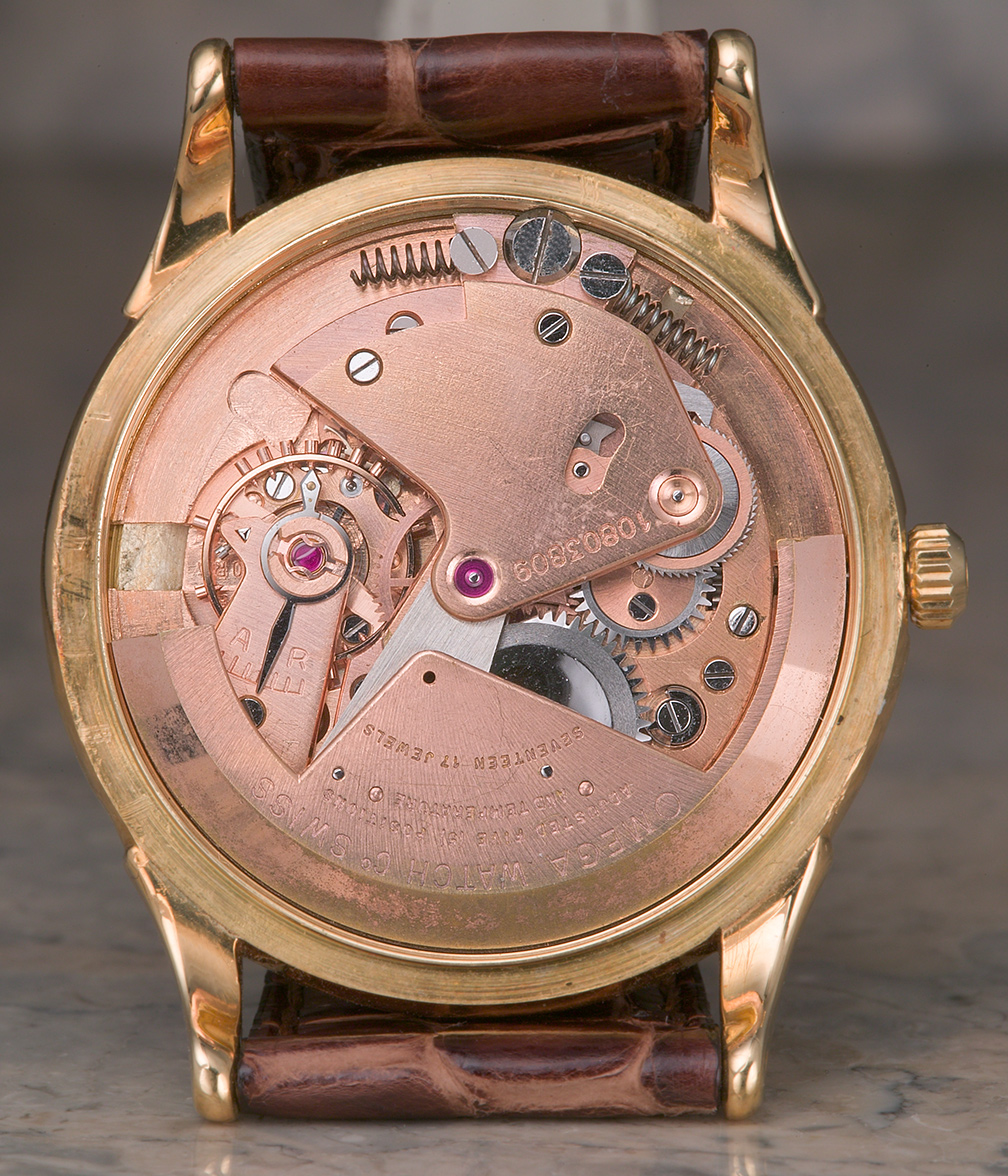 Other than their size, the two calibers are almost identical. Upgrades from the standard movements include this beautifully polished balance and fine regulator:
The steel parts of the chronometres are mirror-polished, and the quality of the bridges' anglage and countersinks is evident despite the movements' age: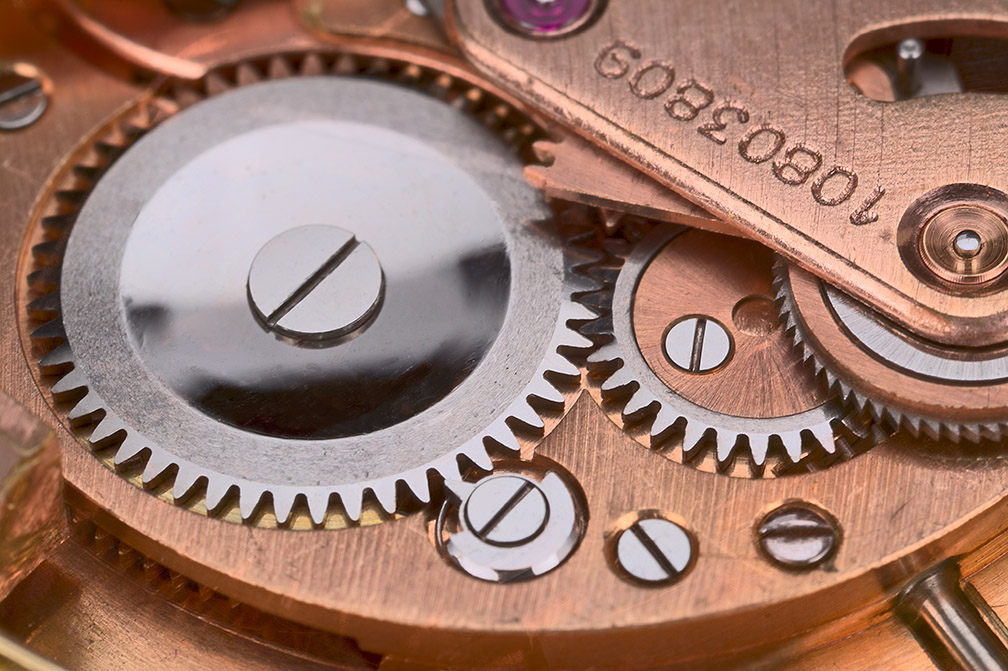 A beautiful profile!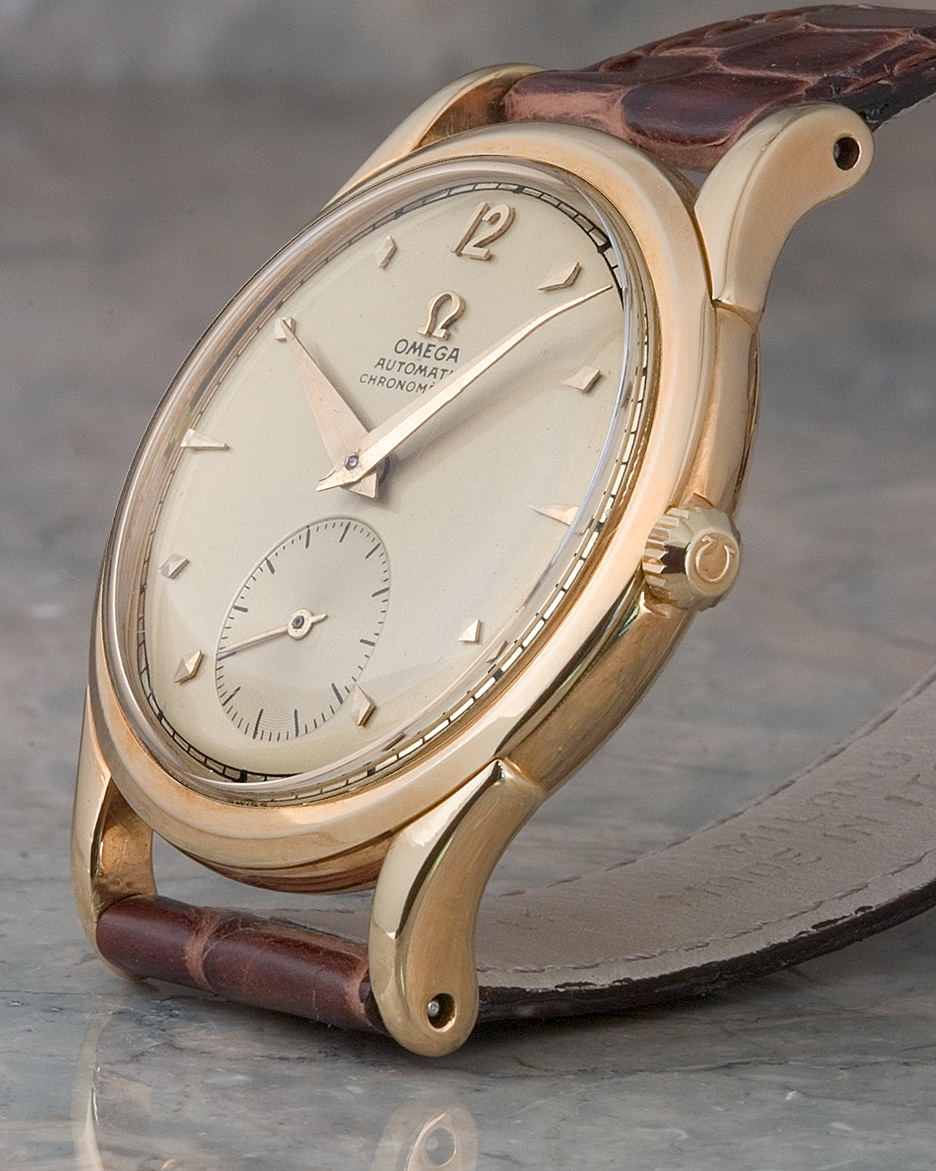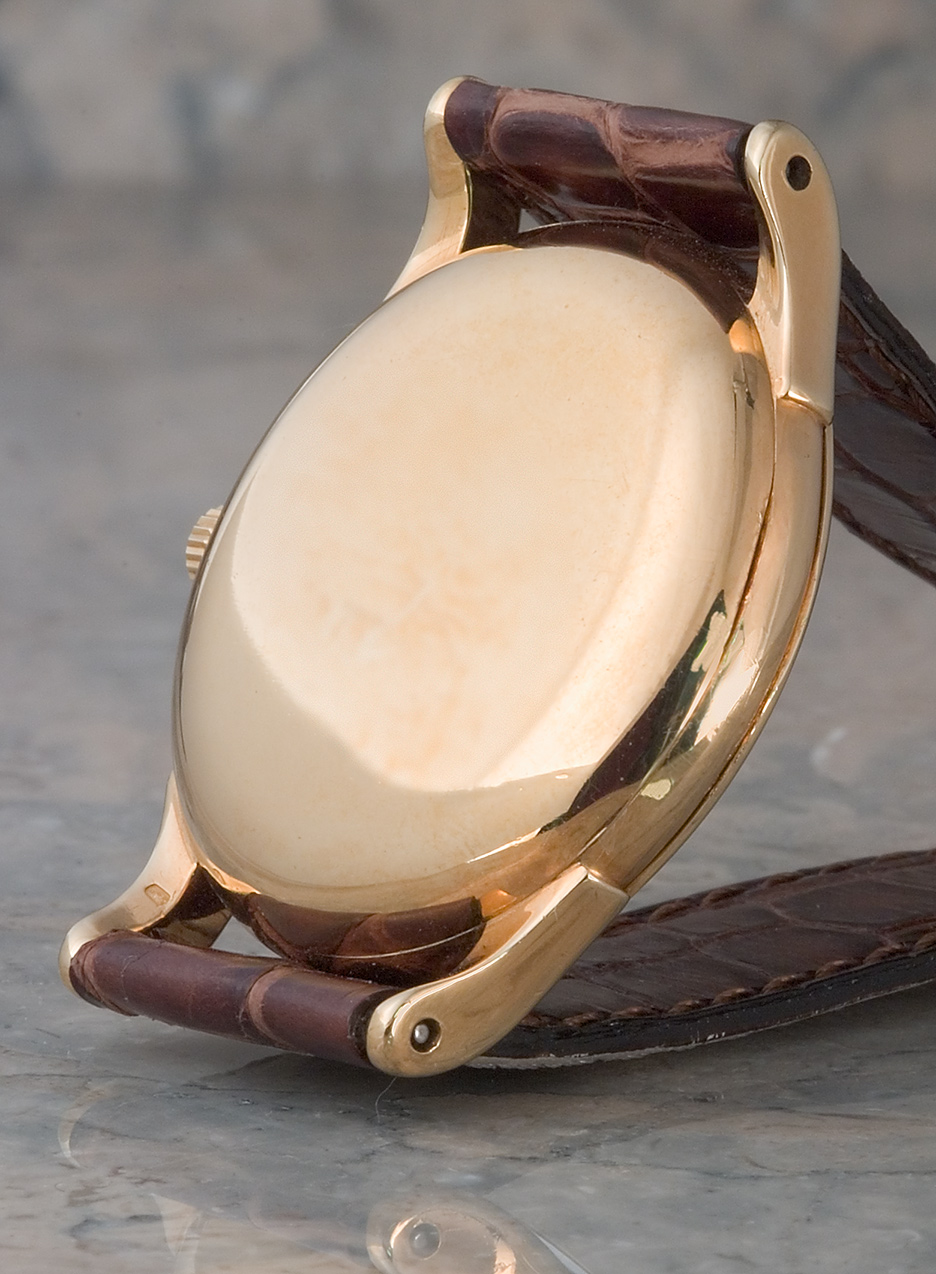 The dial of the larger of these watches is a bit more elaborate, significantly domed, and softly brushed rather than plain, vertically in the center and circular at the perimeter. There is now room for the numeral "6" as well as "12", but otherwise the features are almost identical with its smaller brother's: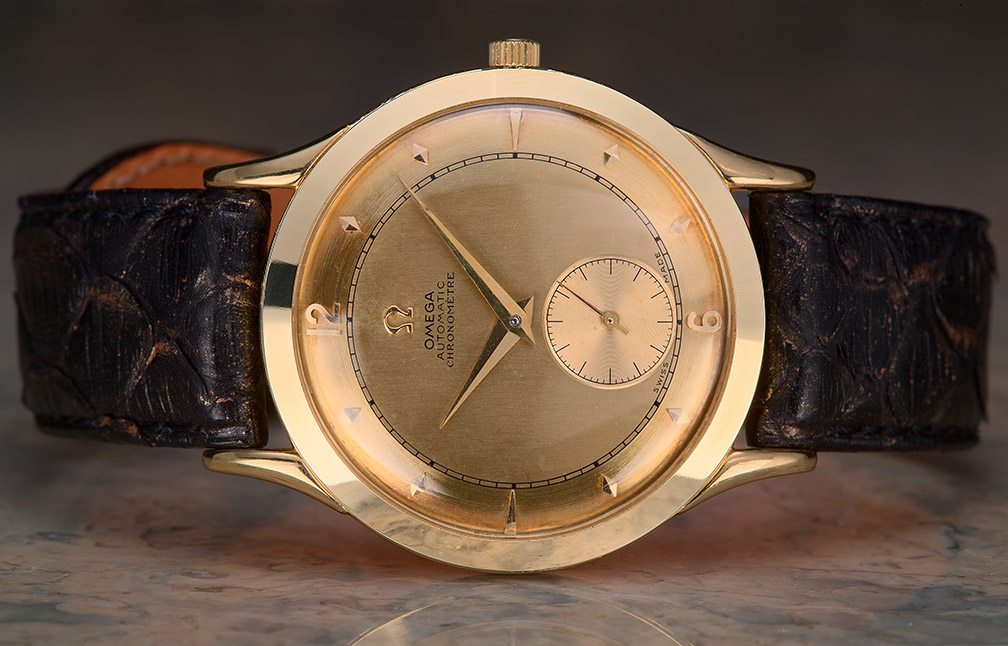 Except for the large rotor, differences with the smaller movement are minimal: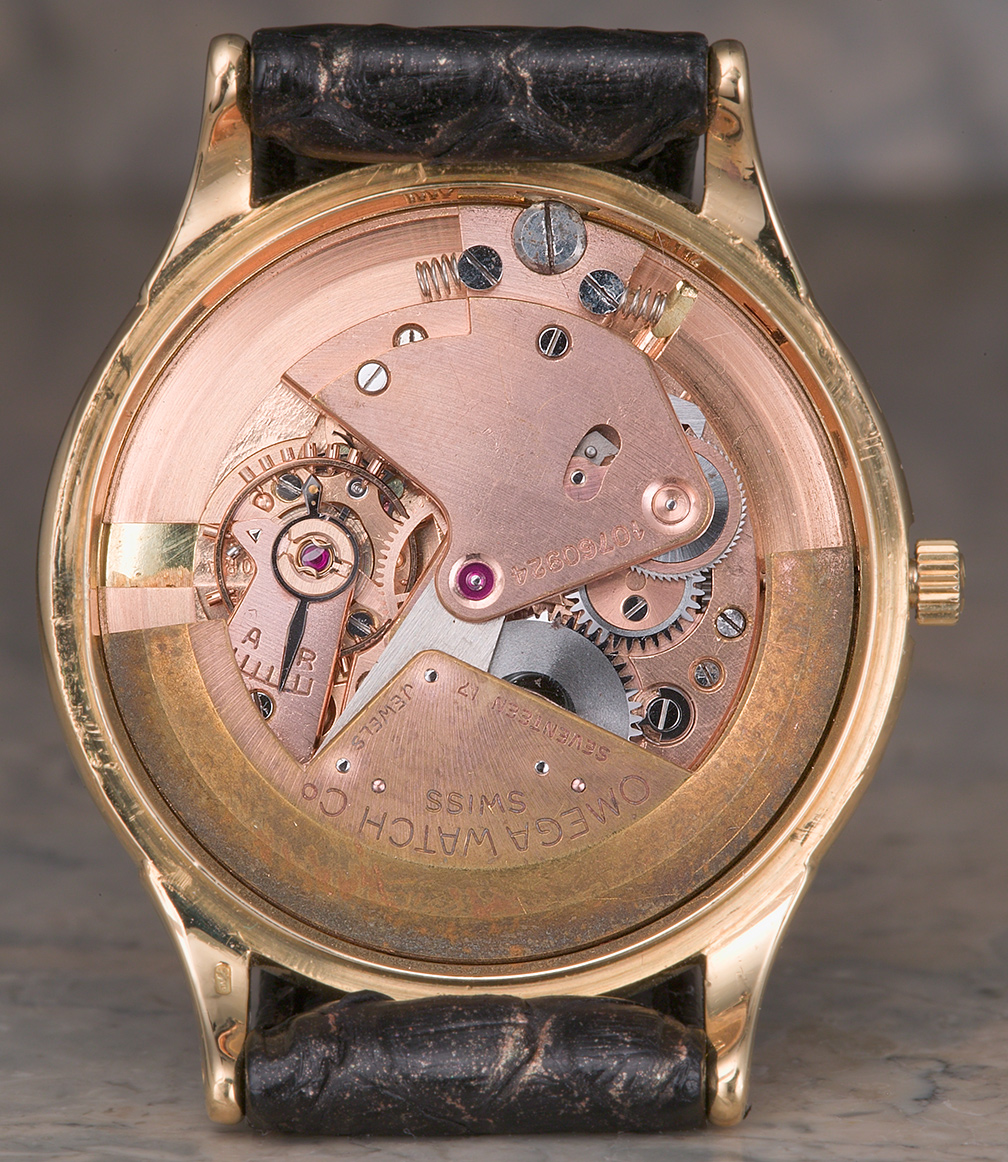 This watch originally had a stepped bezel much like that of its mate, but it seems to have gone astray long ago. While the replacement is not identical, I think it is both fitting and very attractive, appropriately sleek to this very thin and contemporarily-sized watch: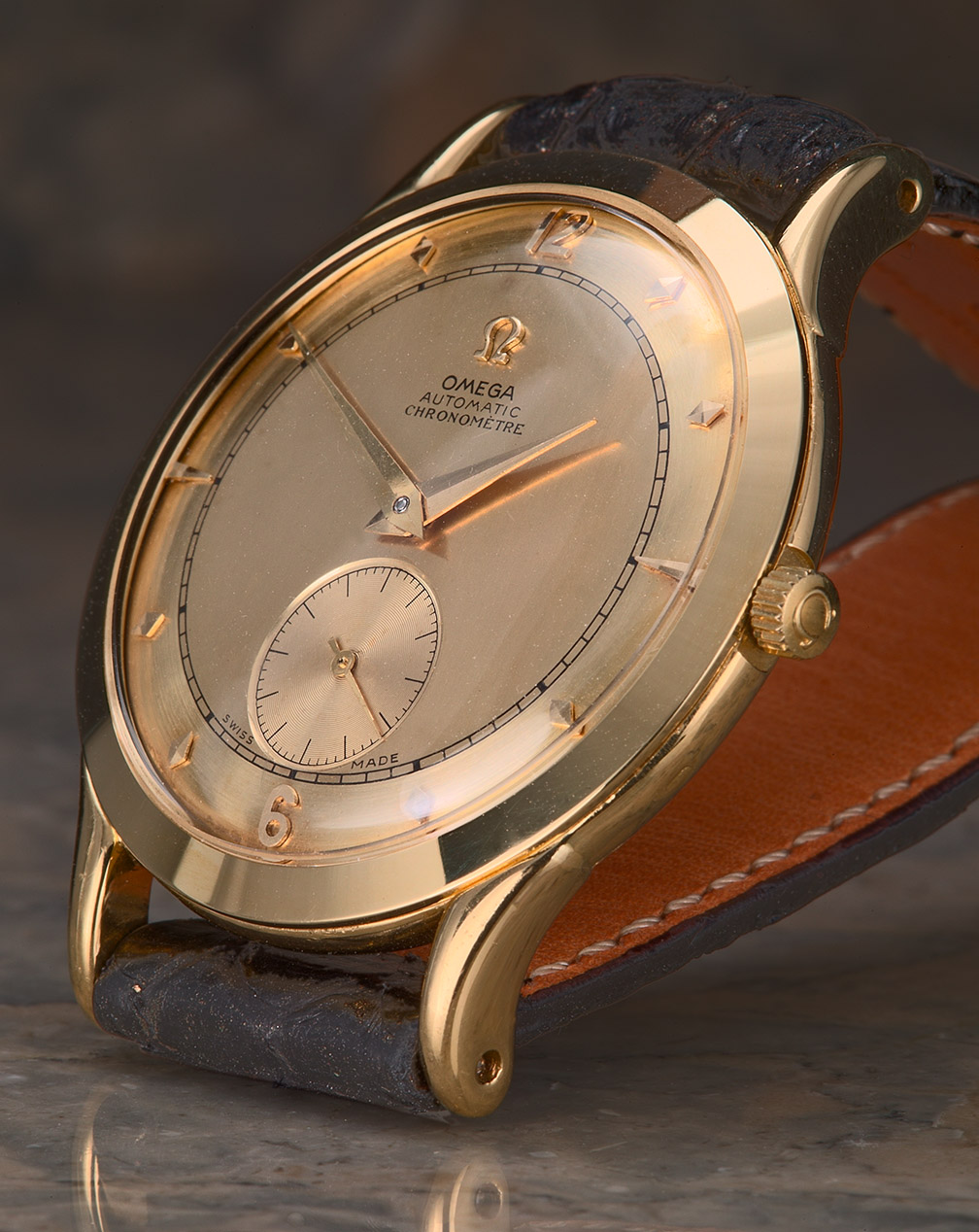 Once again, those long and very elegant curved lugs: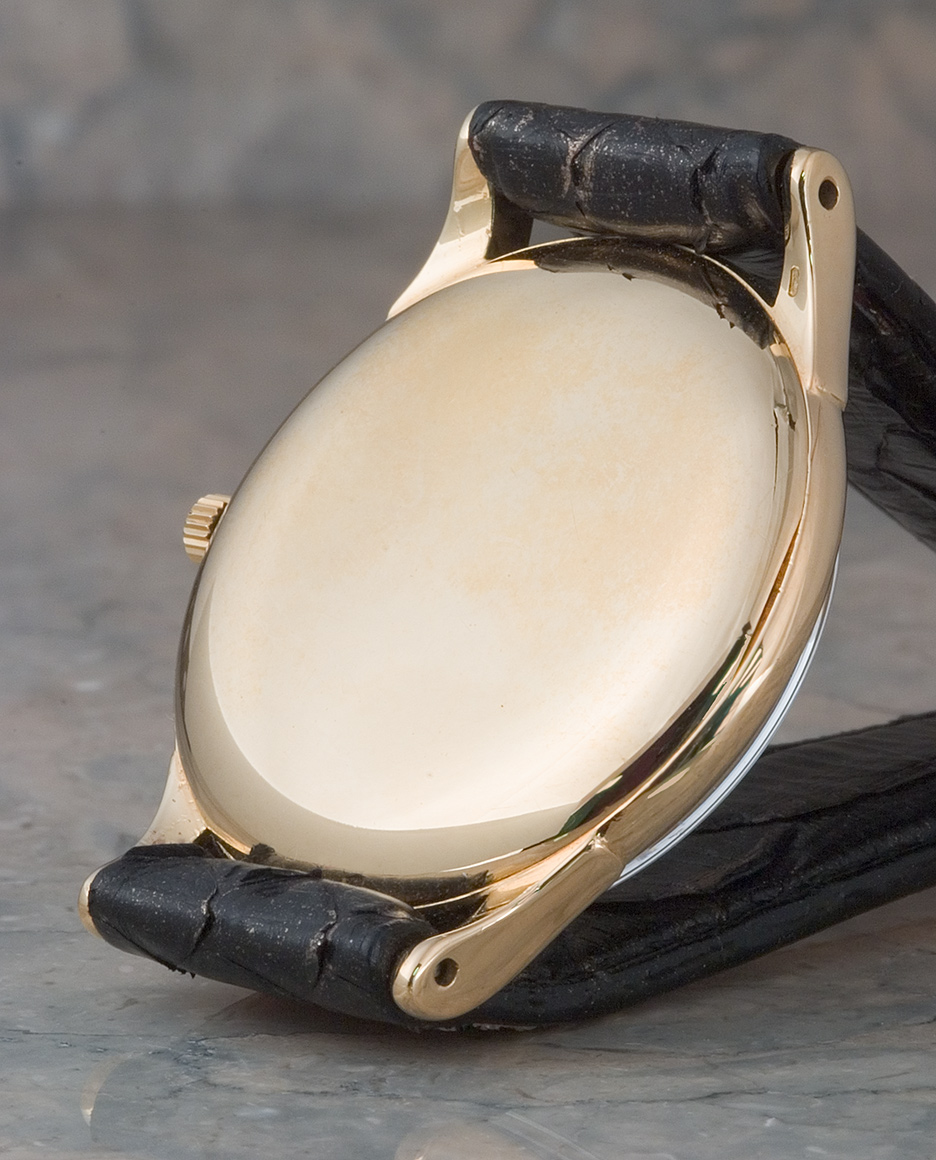 Please check out the rest of my watch Articles and pics:

I hope you enjoyed this!

SteveG
December 26, 2006



All content Copyright asserted 2003, 2004, 2005, 2006, 2007