Seiko Prospex kinetic chronograph

Right up front, it must be admitted that Seiko's kinetic chronograph movement, their 7L22, is no beauty. It is not without interest, however, certainly the dial layout it allows is distinctive, and it displays elapsed time in 1/5-second intervals (just like an 18kbph mechaincal movement) and the minute-counter stops at 45 and flies back when reset. When fully charged the capacitor will supposedly power the watch for 5 months, and will warn of low power reserve by clicking the constant seconds at every other second, rather than each second. Naturally it keeps very consistent time, and the chrono functions perfectly and the buttons are surprisingly pleasant, the starting push being just slightly stiff, while stopping and resetting are soft but certain, almost elegant in their feel. Still, as I mentioned it is nothing much to look at (sorry, I don't currently know the source of this picture):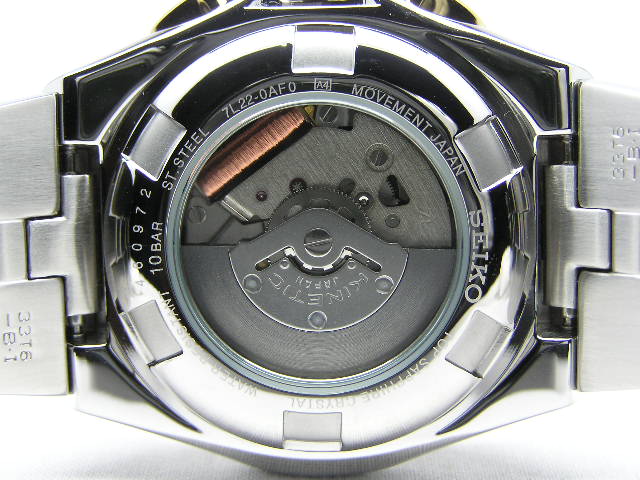 Movement aside (electro-mechanical marvel that it may be), there is much to like about this watch, and it displays Seiko's typically idiosyncratic use of materials and design to make a very attractive watch at a relatively affordable price point. Beginning on the outside, while not enormous by contemporary standards, this is undeniably a large and chunky watch, measuring about 42mm diameter by 14mm thick. Remarkably, it fits even my 6.5" wrist quite comfortably because of the highly curved lugs and a radical strap design which actually hugs the wrist and pulls the watch into place, as shown below: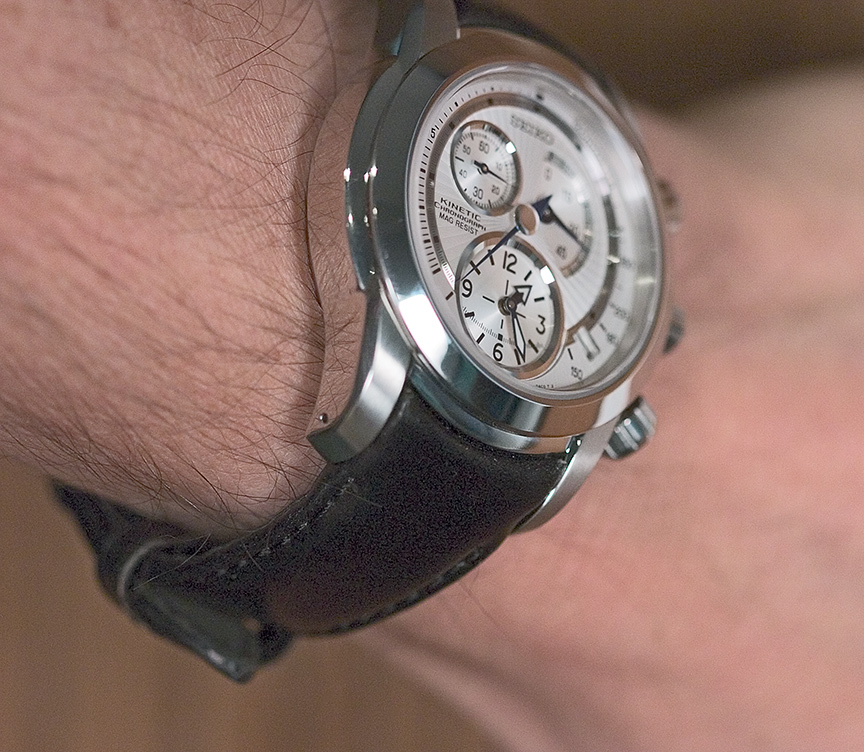 ---
Click the pictures for even larger!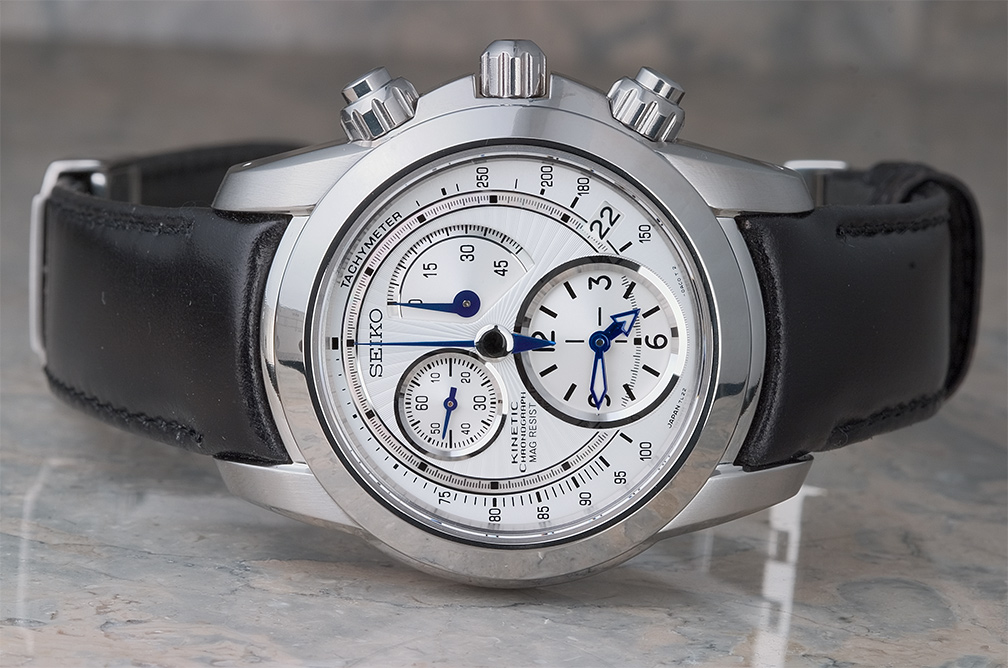 The three crowns screw in to lock, and each is nestled in a little recess which I think looks very sophisticated and somewhat moderates the large size. Also contributing to this look are the lugs which are lightly brushed and taper so that while they are wide enough to blend smoothly into the case sides, they are very soft and unobtrusive at the strap and wrist.

The case itself is titanium, but polished to a mirror finish unlike any I have seen elsewhere, and apparently coated with a very hard protective coating of some carbon compound called Diashield. As a result, this is a very light and easy-to-wear watch despite its large size. Finally, the dial is of course the real center of attention, and while it looks like almost nothing else out there, it seems to appeal to a large majority of the watch appreciators who have seen it (or at least suspends their critical faculties). While it is also available in black with contrasting subdials, I am convinced that this very complex dial looks and reads best in the current combination: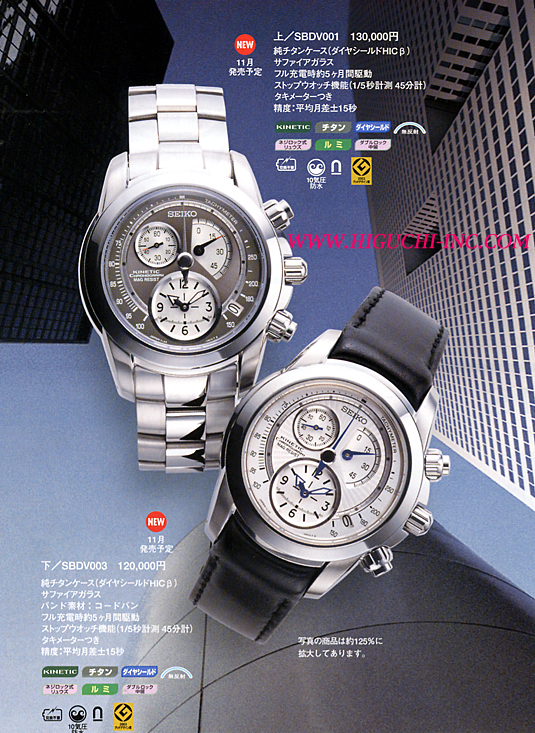 As can be seen below, besides having its own aperture, each subdial is situated in its own plane. Those indicating the traditional time are surmounted by beveled and polished bezels, while the timing minutes are discreetly displayed in an arc at 2 o'clock. All hands are painted (very excellently) blue, and the minutes and hours are also luminous-filled. The center timing seconds hand positively floats in its slightly eccentric orbit, and the associated track is lightly reflective and joins the outer tachymeter scale on a level set above the main dial (which sports a sunburst pattern). While there is a lot to look at within this dial, it is all done with a very light hand and most of the contributing elements are not at all obvious to either the casual glance or in daily use. Apparently some design professionals are also impressed, because this watch won a prestigous design award in 2003. Also enjoyable is Tempus Fugitive's extraordinary in-depth analysis of the dial's arrangements.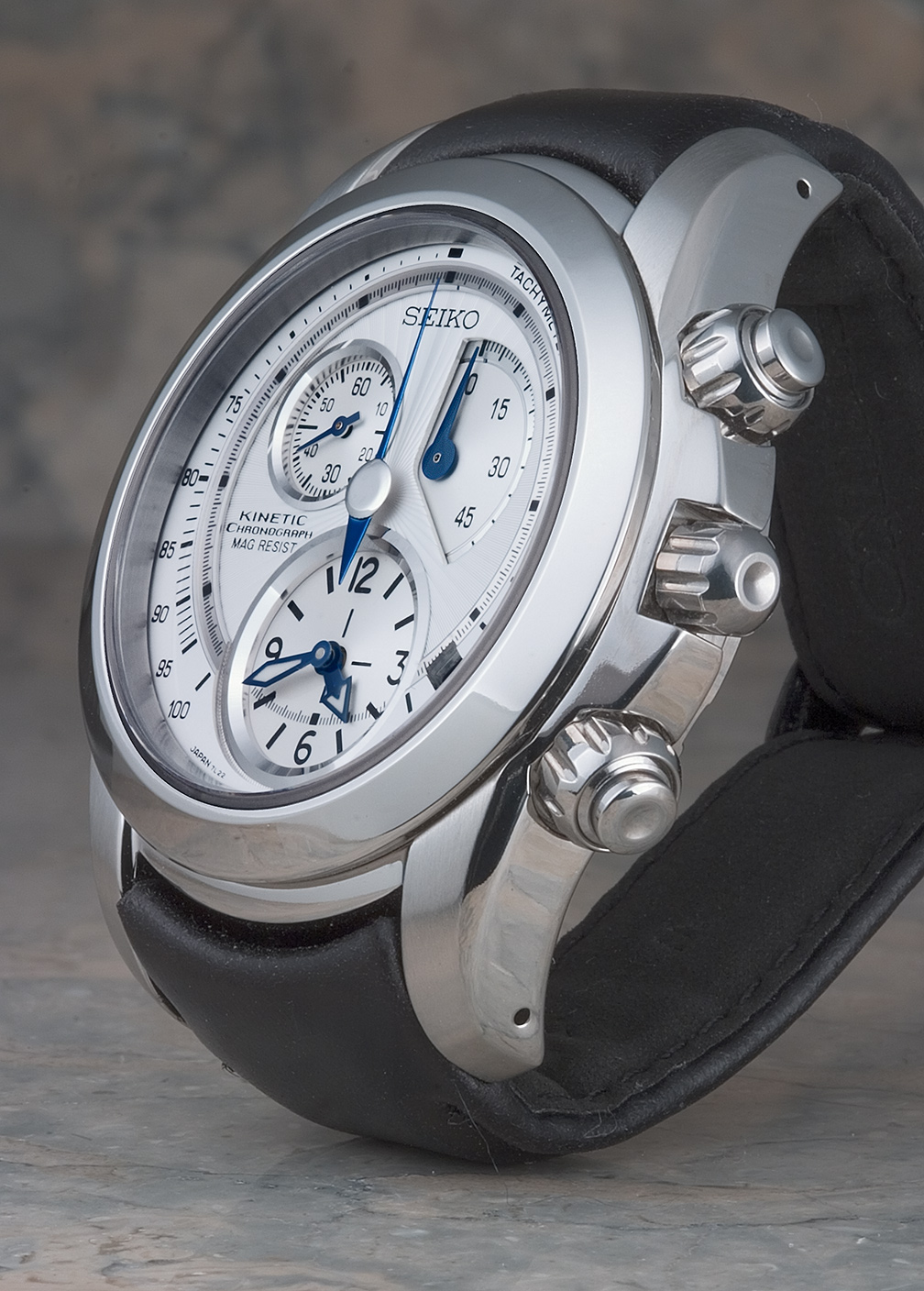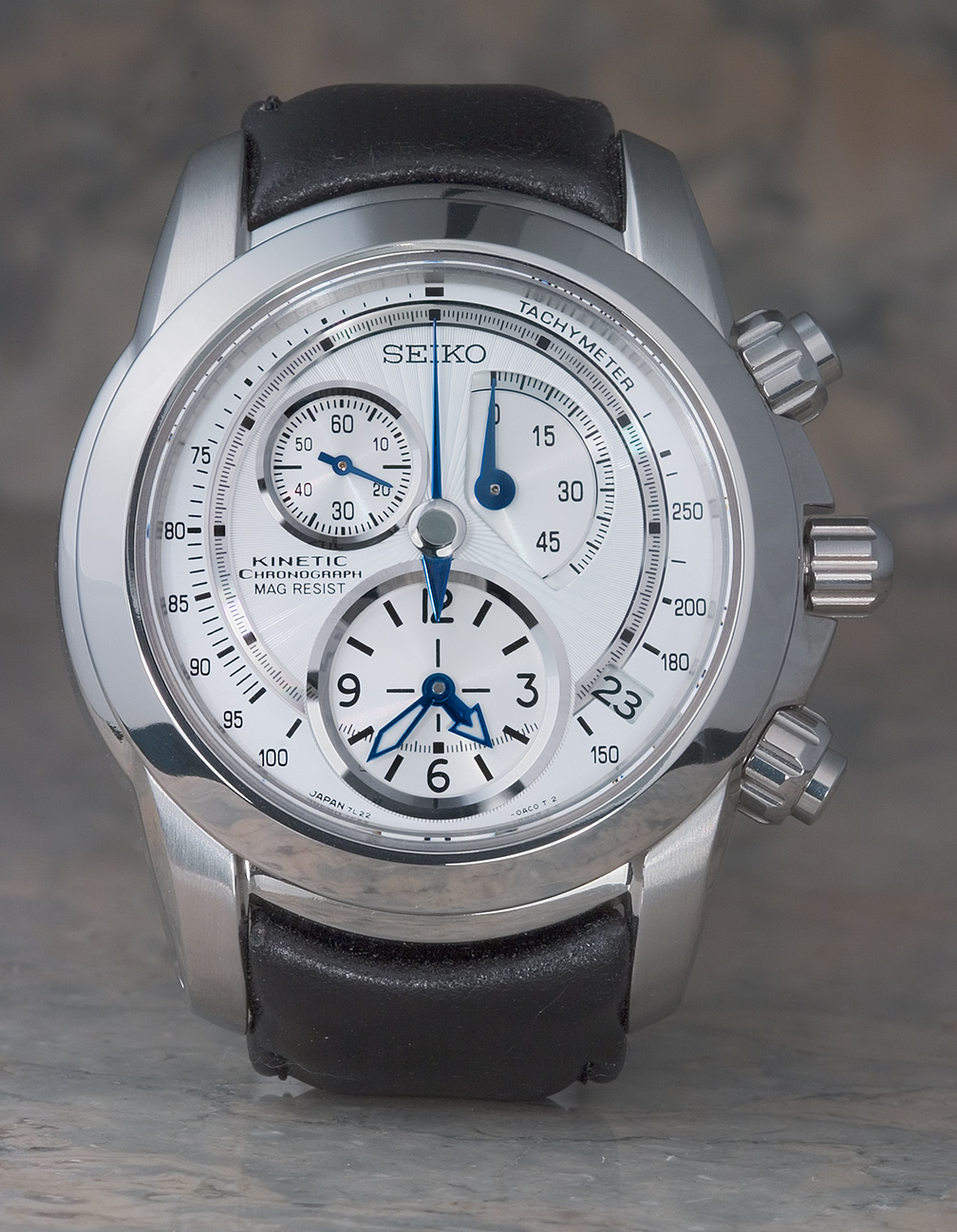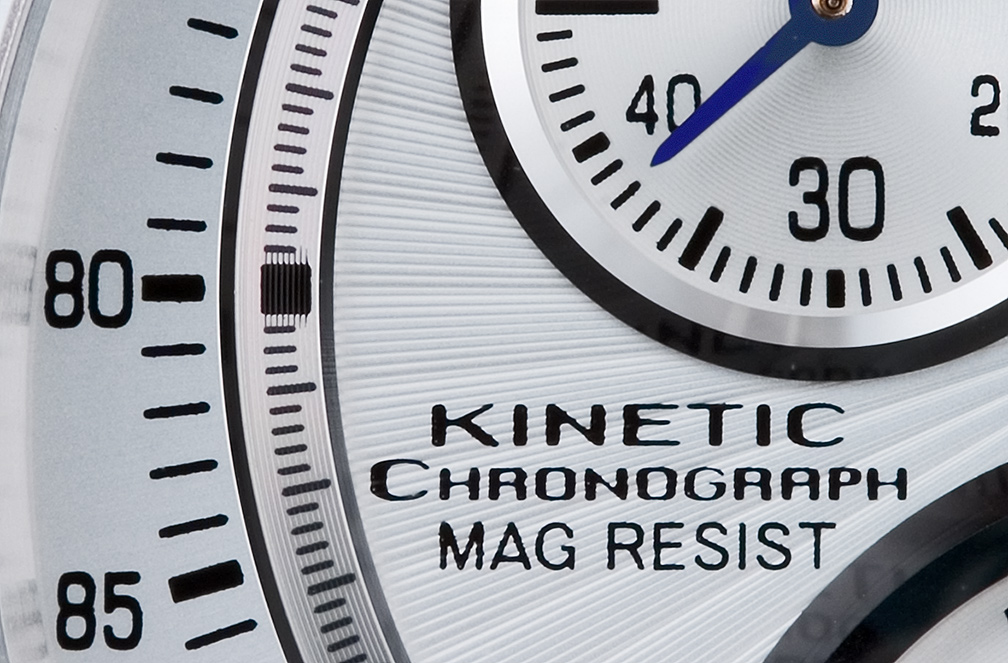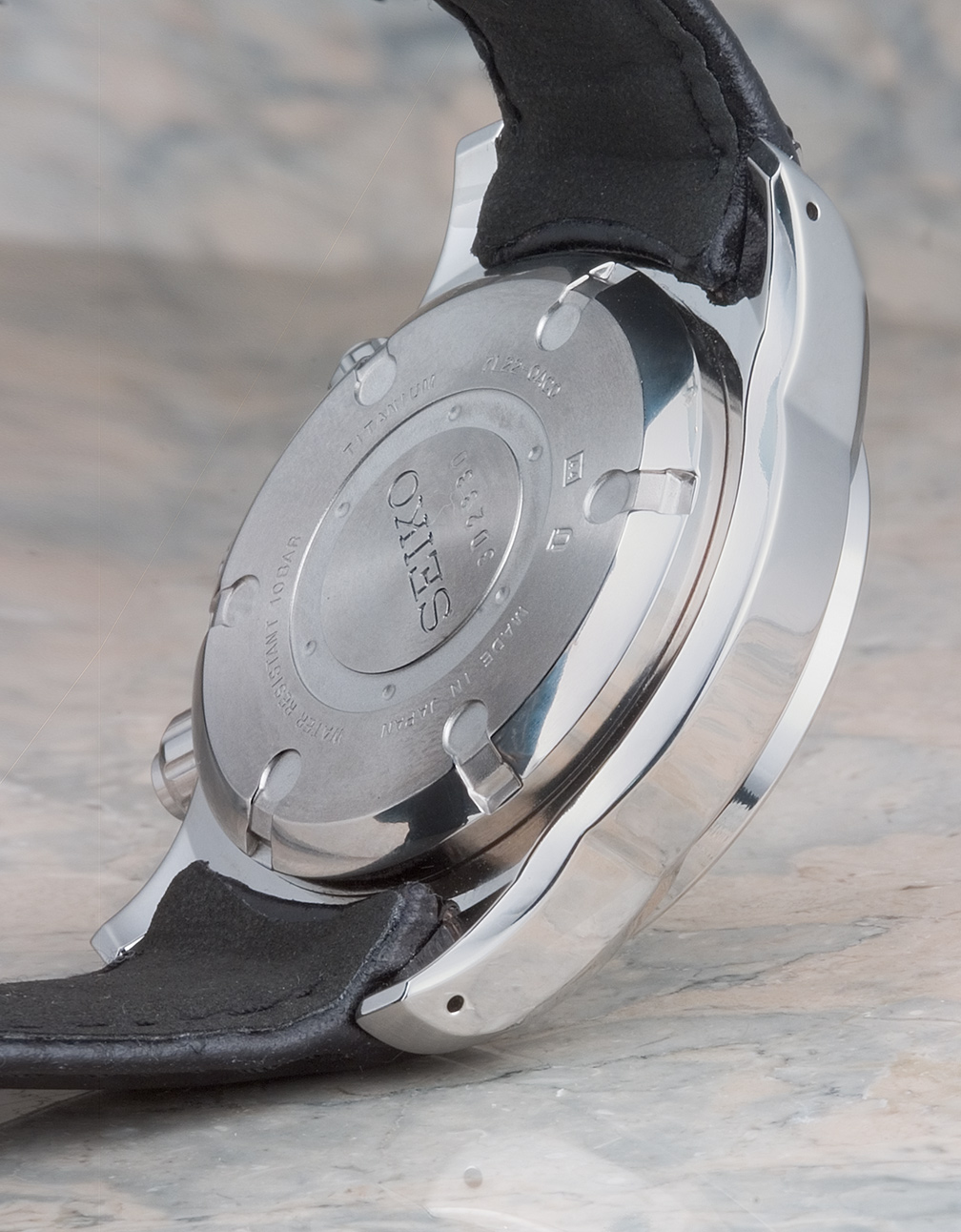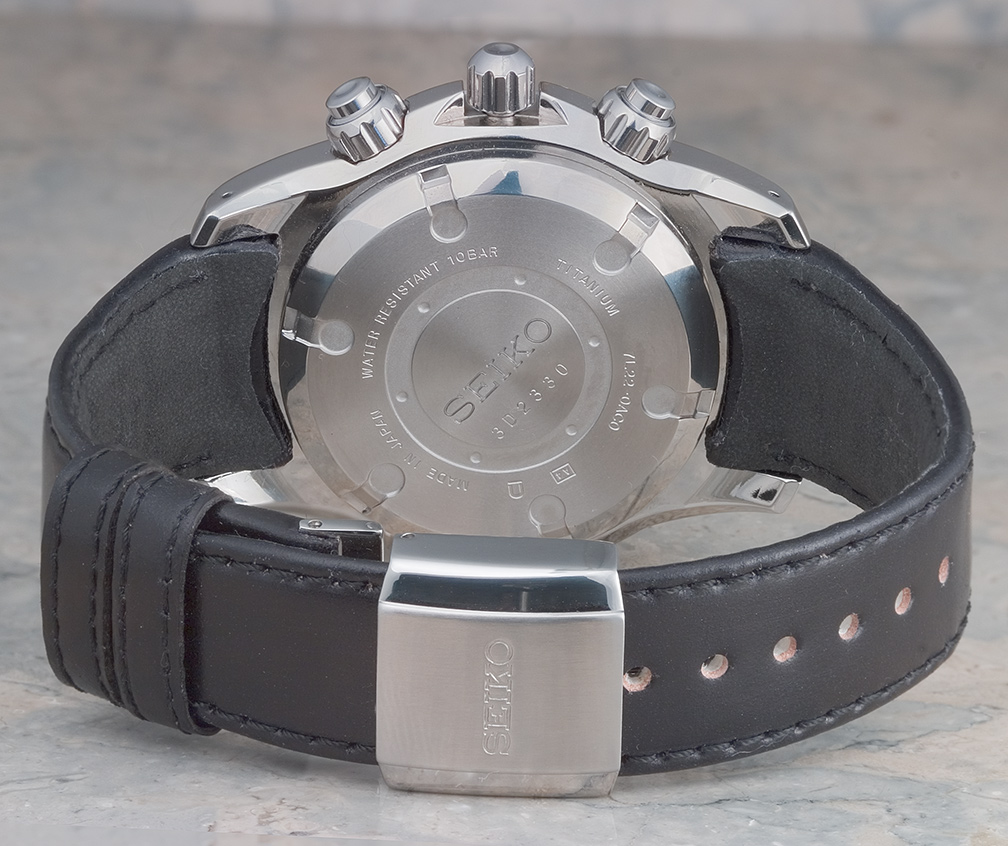 Here it is on its titanium bracelet, the center links are polished, and the balance brushed: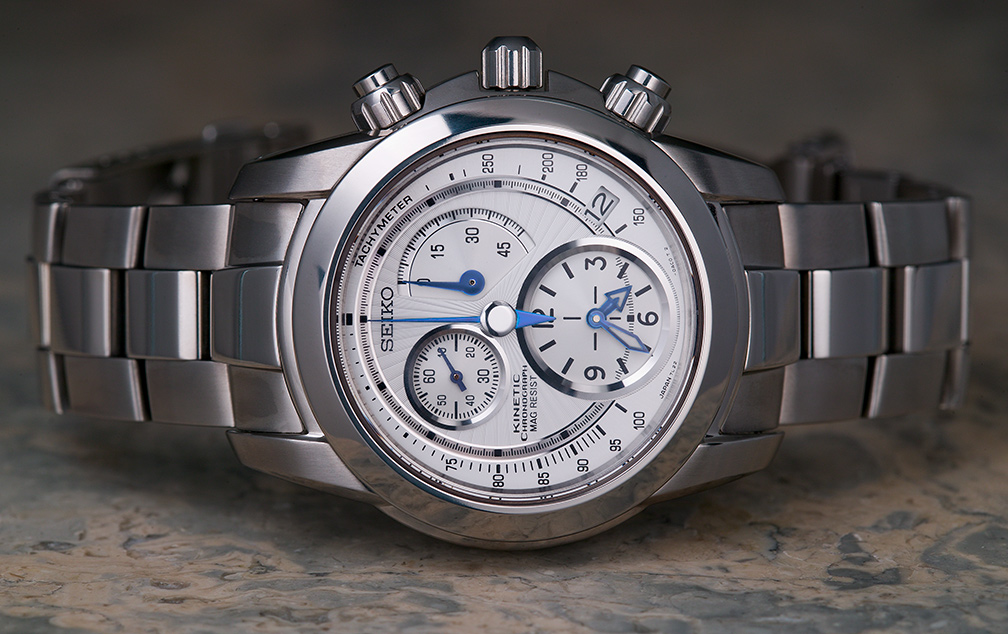 All content Copyright asserted 2003, 2004