Between the two 20th-century World Wars, the Czech Air Force and aviation industry were apparently vibrant and distinguished. The factories produced a series of competent aricraft, and many Czech pilots participated successfully in aerobatics and international flying competitions. Of course, neither the Air Force nor the watch industry had much experience in providing wristwatches to aviators, and the present treasure is one result of their mutual experimentation.

With the generous help of Martin and others at the Military Watch Resource forum, I have found that this Longines has its roots in the 1910s, developed through the 1920s, and (in this particular case) was delivered in the mid-1930s! The specifications of this watch are unique, and besides adding to its already considerable charm, give it a special allure for contemporary use. According to the wonderfully informative House of Longines pages, the frosted gilt movement was designed as a small pocketwatch caliber very early in the century. It is 15 lignes (about 34mm diameter) and 5.65mm thick, with 15 jewels and runs at 18kbph. While not a super high-grade design, it is a very well finished product of a fine watchmaking house, with smooth bevels, beautiful curves and very well-formed gears. The dial's design clearly is for use on the wrist, rather than in the pocket, and it is made of extraordinarily long-lived but still fragile porcelain. Later versions of this watch were supplied with excellent, but to my eyes less charming movements, and with superficially more durable painted metal dials; why this particular watch was not distributed until the mid-1930s is still somewhat of a mystery.

With their old, heavy movements and brittle dials, it seems that these earlier watches would not have been considered quite perfected for their intended duty, but from my viewpoint as a 21st-century watch appreciator, they are magnificent! The overall look and proportions are very much those of a contemporary sporting watch: a matte black dial with military Arabic numerals, blued-steel and luminous-filled cathedral hands, and a 40mm (exclusive of crown) steel cushion case prefiguring the style popularized by the current Panerai offerings. The bezel also rotates an interior marker (shown here at 12 o-clock) to allow a rudimentary timing or GMT function. Because the dial is ceramic porcelain, it is still beautiful and virtually unchanged from its creation 7 or 8 decades ago. The case has wonderful and timeless lines, hefty downswept lugs, and its early (& soft) stainless steel remains unstained. The huge pocketwatch movement justifies the large proportions, and the whole combination just looks and feels great! Of course, it isn't really a rugged sports watch (how many vintage watches are?), but it is great casual watch, has a wonderful and interesting history, and generally costs a fraction of the price of current offerings.


---
Click the pictures for even larger!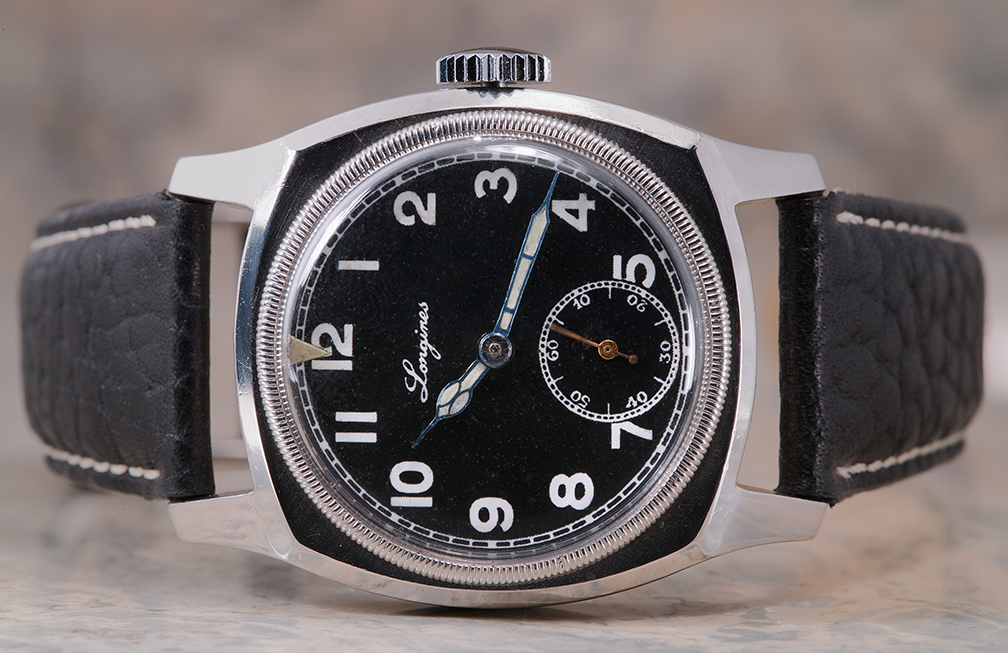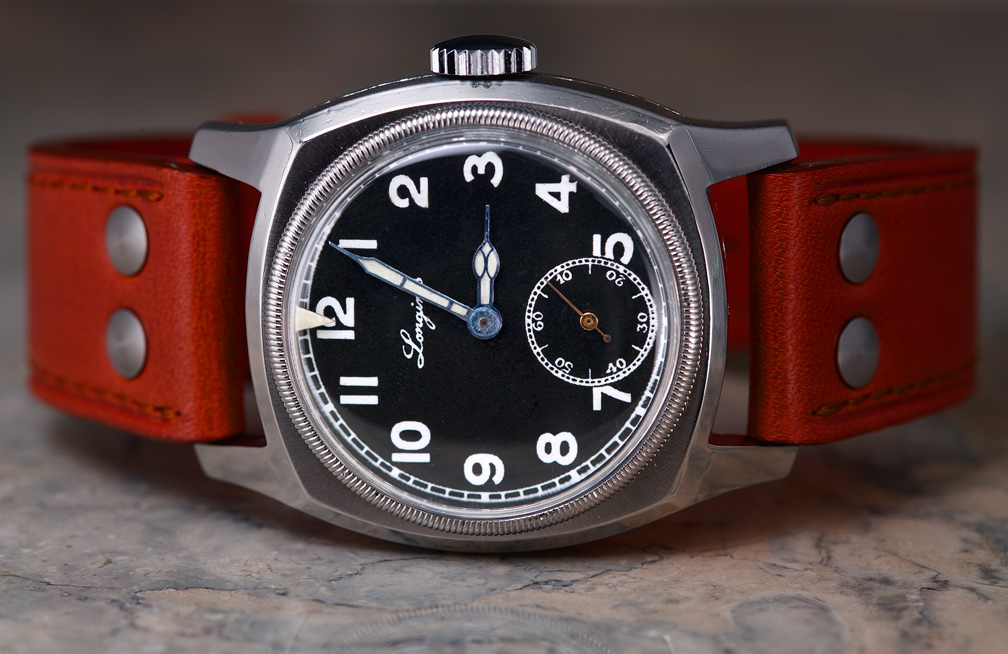 As you can see, the numerals and markings are not painted on, but rather an integral part of the dial: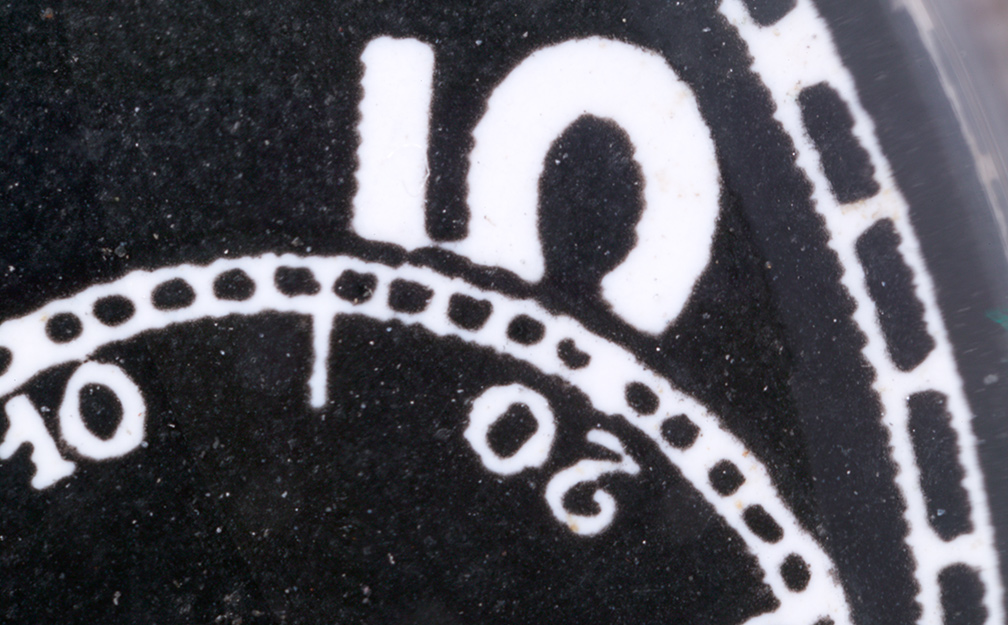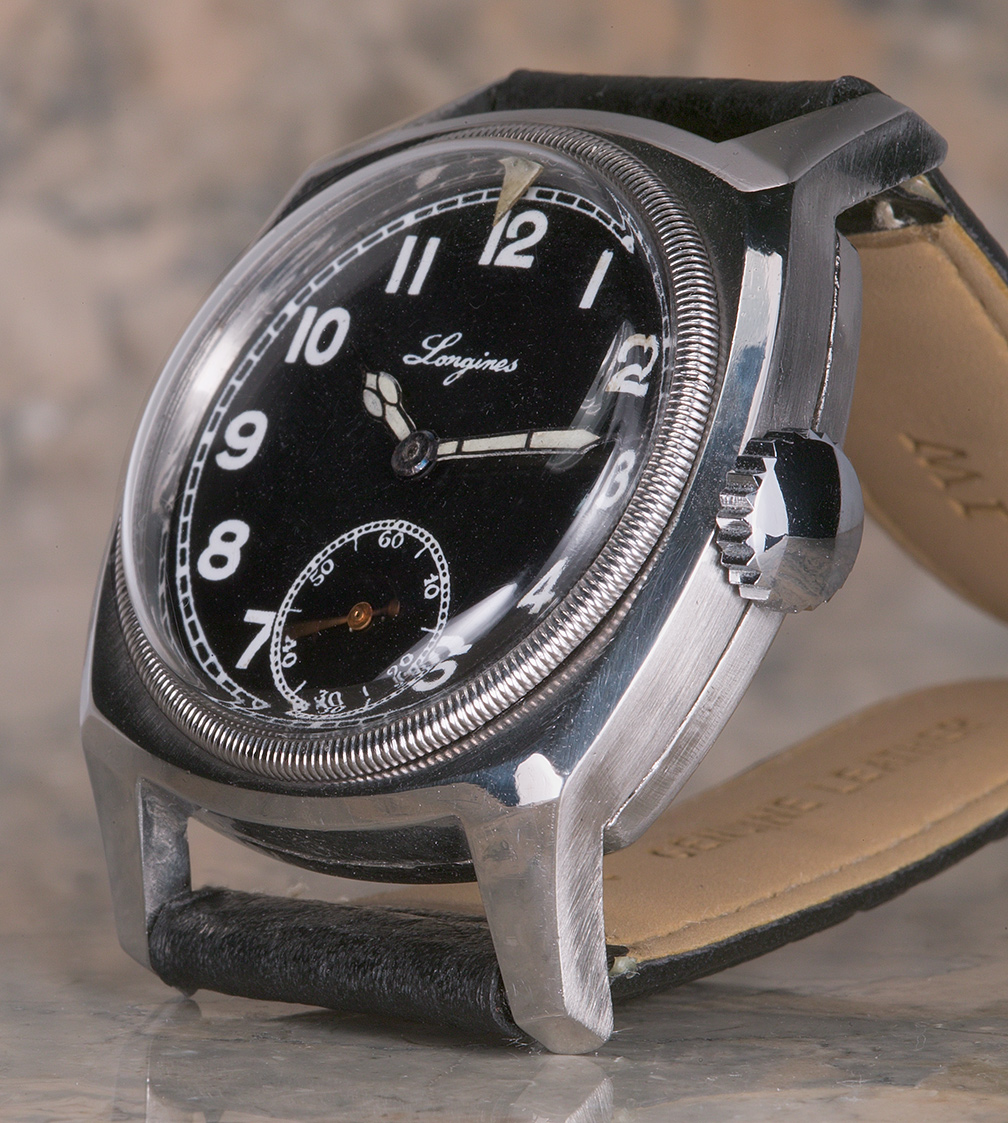 This picture shows the Czech Military markings. The lugs are extensions of the case bent down and inwards, and allow the watch to sit very flat on the wrist: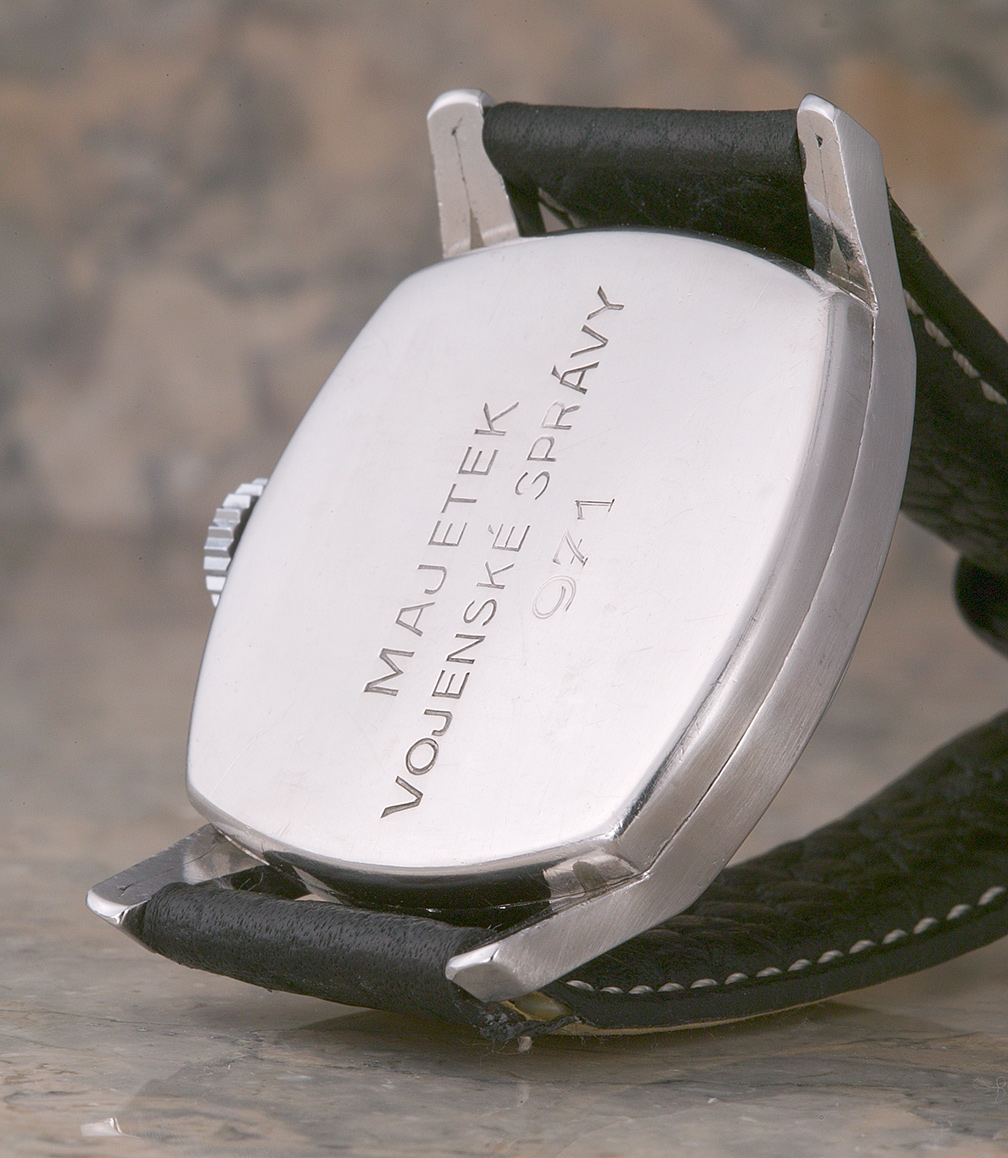 (movement photo courtesy of R. Baugh)







All content Copyright asserted 2003, 2004, 2005