Minerva 140th Anniversary Watch, Cal. 22, "Take 3"

I have been inspired to revisit this extraordinary watch by my reaching 4 years of interest and involvement with mechanical watches. Like many others, the first stop along my journey was at Richard Paige's TimeZone forums, and of course Richard's own articles were amongst the most informative and entertaining. RP had a special fondness for Minerva, the managing Frey family and their unique history and (then) place in the industry. The products of this fondness include 3 limited production Minerva/TimeZone collaboration watches, the (now) somewhat anachronistic Minerva forum on TZ, and of course an inordinately large sampling of people like myself, still enchanted by the nearly defunct (and in any case, forever vanquished) brand and its unique market niche, and the quirky WWII-era movement which enabled their survival until the brink of the 21st century.

I have come to understand that while the vast majority of Minerva's primary "Pythagore" line sported tasteful, classic design and well-produced dials, cases and hands, it's well-appreciated caliber 48/49 movements, though distinctive and genuinely "in-house", were often largely cobbled together from the parts bin, and their decoration would serve as the archetype for "display-back finish" if only it were executed to a higher and more consistent standard. At least they were pretty obviously finished by hand, by wee little elves closeted deep in Switzerland, a feature which is genuinely rare. For the benefit of any readers who may not know what a Minerva looks like, here are a few of mine. This one is from the 1950's: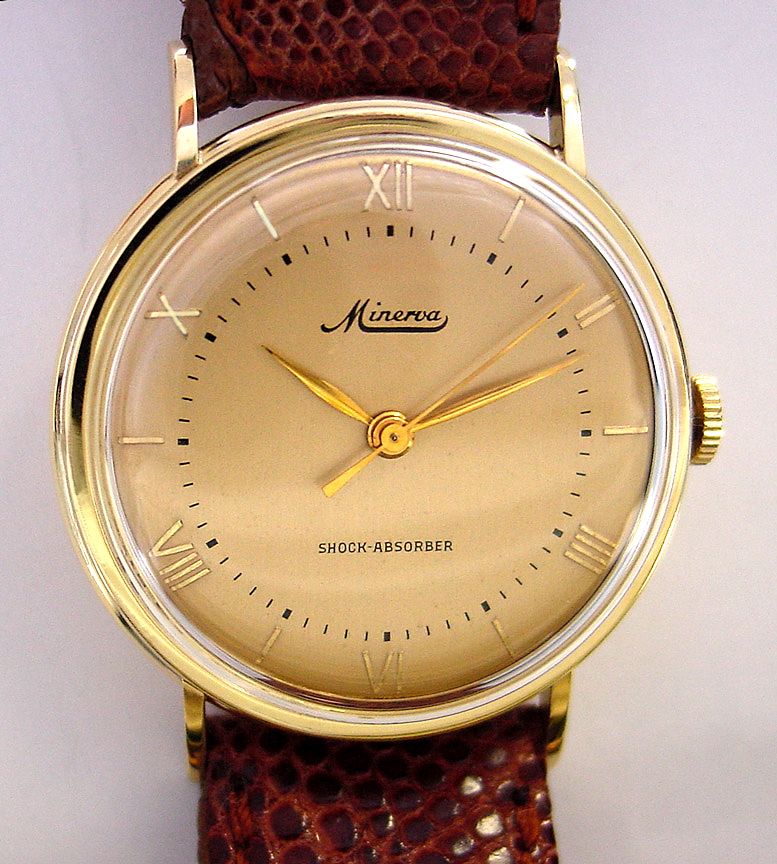 This is the first TimeZone editions: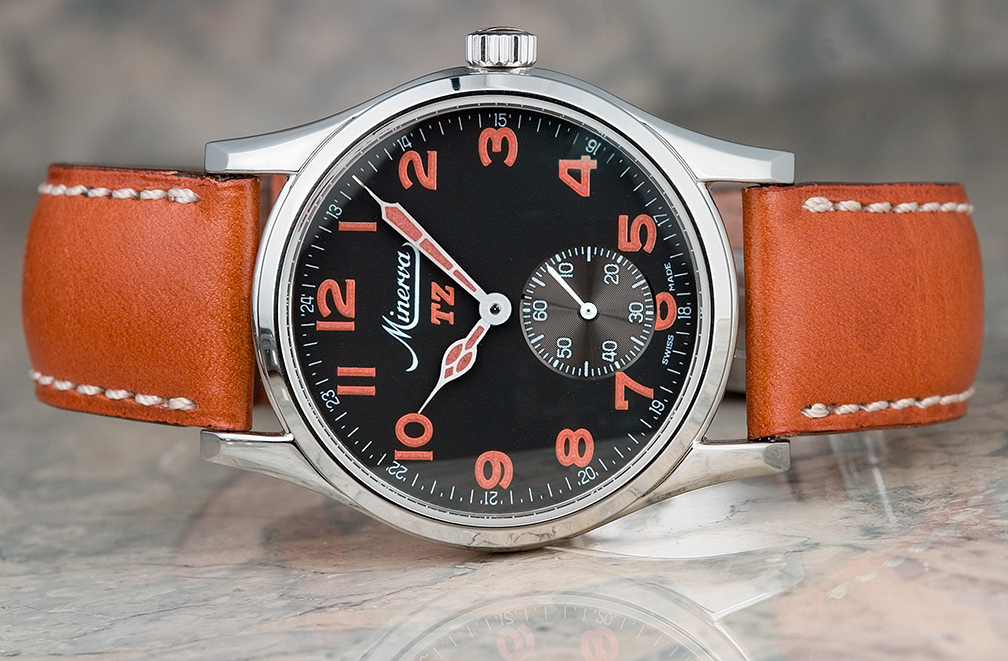 This is one of the second TimeZone editions: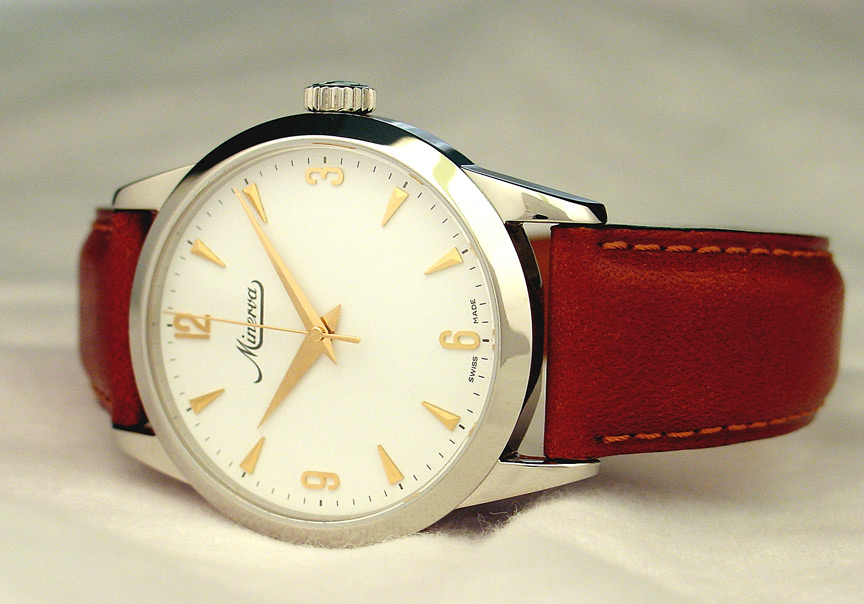 And Minerva's final traditional product: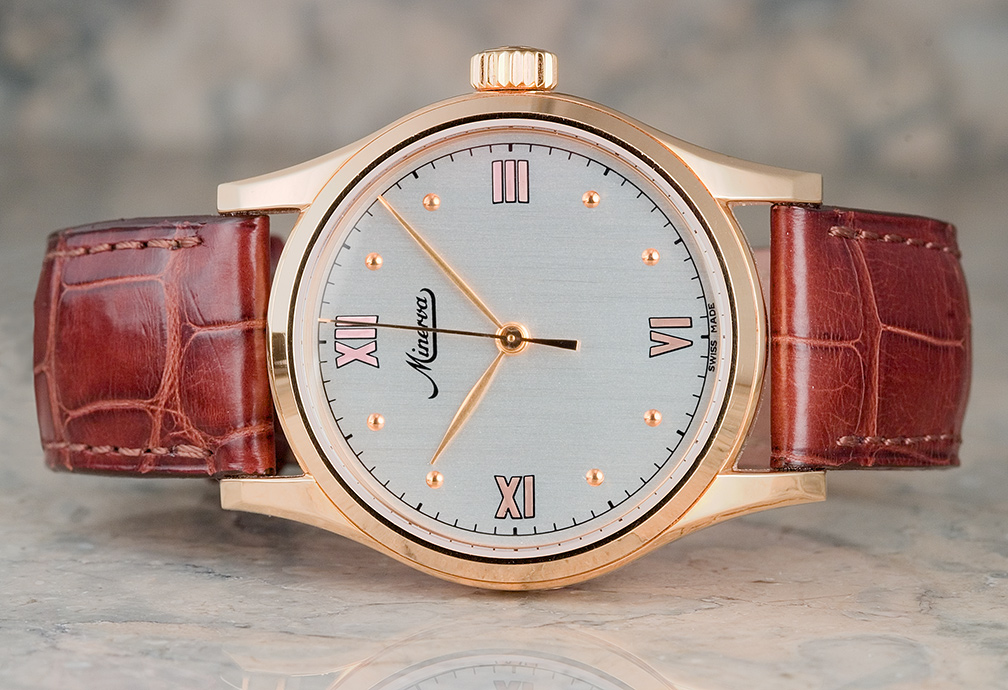 The finishing on this Cal. 49 (center seconds) somewhat looks the part, but is really pretty rough: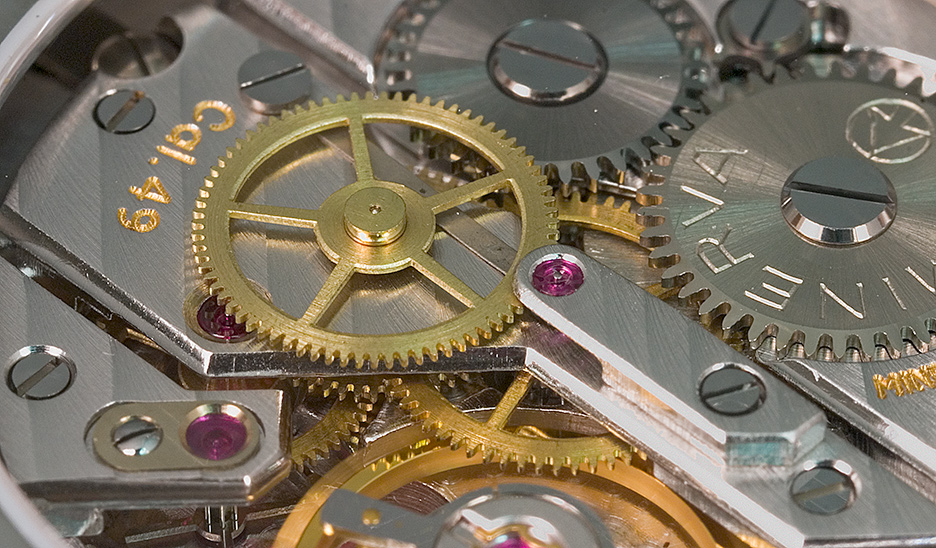 ----- ----- ----- ----- ----- ----- ----- ----- ----- -----



In 1998 Minerva produced an edition to commemorate the 140th anniversary of the firms' 1858 founding. The caliber 22 pocketwatch movement to be used was out of production at least 50 years, and apparently not quite enough new-old-stock blanks were at hand; the last 6 of the 140 were cased from previously decorated and assembled movements. These few feature a chronometer-type cut and bimetallic balance, swan's-neck regulator, gilding and somewhat fancier decoration. The 43mm diameter case barely encompasses the movement, which looks just like what it is, most of a century old, with plain screwed balance but Breguet hairspring, no shockproofing and an elegantly bridged layout. It would be difficult to not try to fit this watch into the context created by IWC's famed Portugieser wristwatches which have been produced in several series over the past 50 or 60 years, originally with movements of similar vintage. Perhaps benefitting from those examples, Minerva wisely outfitted the dial very simply, it is off-white and lightly silvered, the sub-seconds gently sunken and barely concentrically scribed. The leaf-style hands are very traditional and the Arabic numerals as plain as can be, all I believe pink gold-plated. The case is of a thoroughly modern design, just extraordinarily large, with 20mm lug spacing. Because the scale of this watch can be somewhat hard to detect from pictures, I show the 140th below next to the 34mm "Anniversary Dial" Pythagore: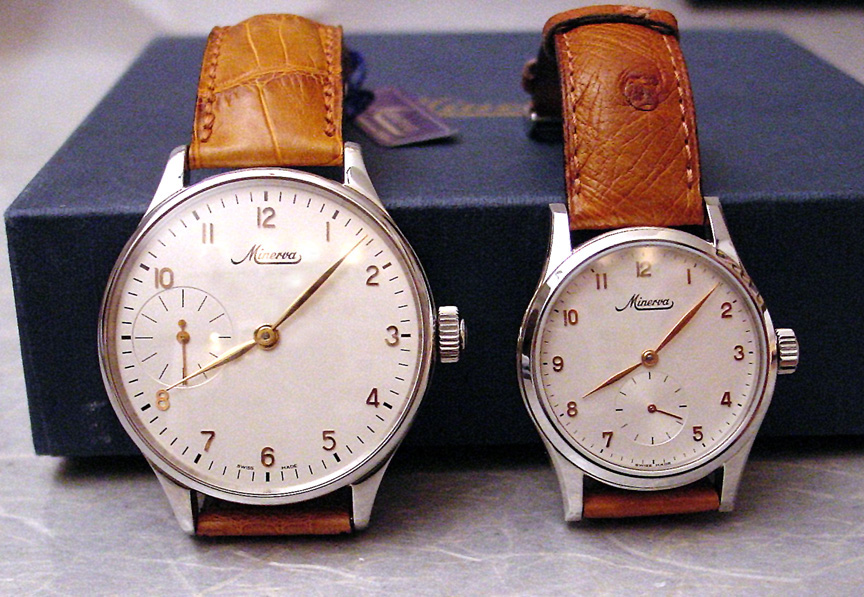 A full accounting of the details of the Anniversary watch may be found at Richard Paige's excellent introduction. This is obviously a relatively rare watch, not often at market, and long ago I posted the possibly entertaining story of my particular watch's journey: The quest for #103 -- 19 days in heck.


---
Click the pictures for even larger!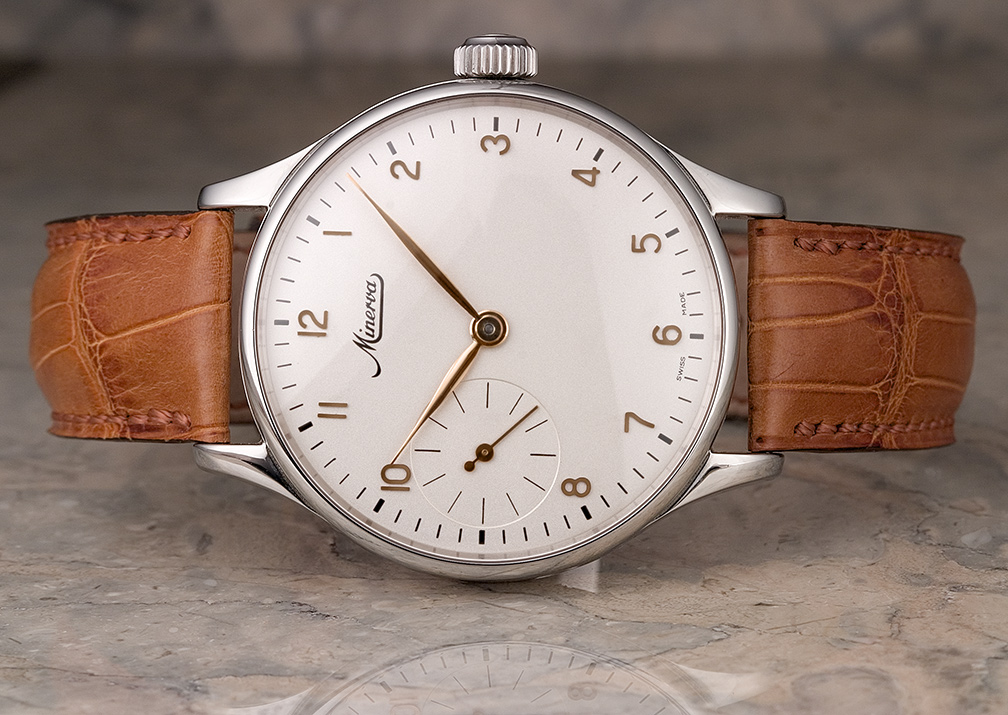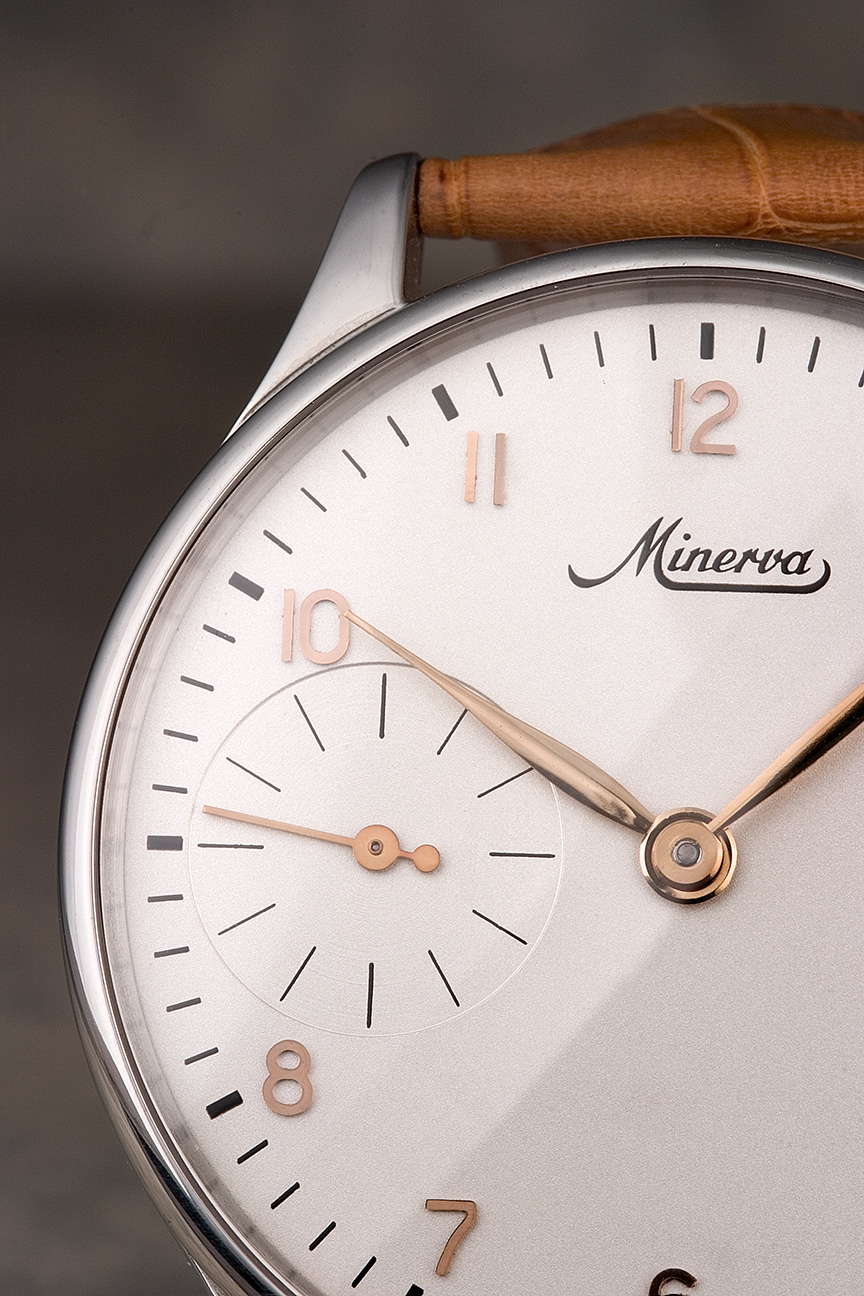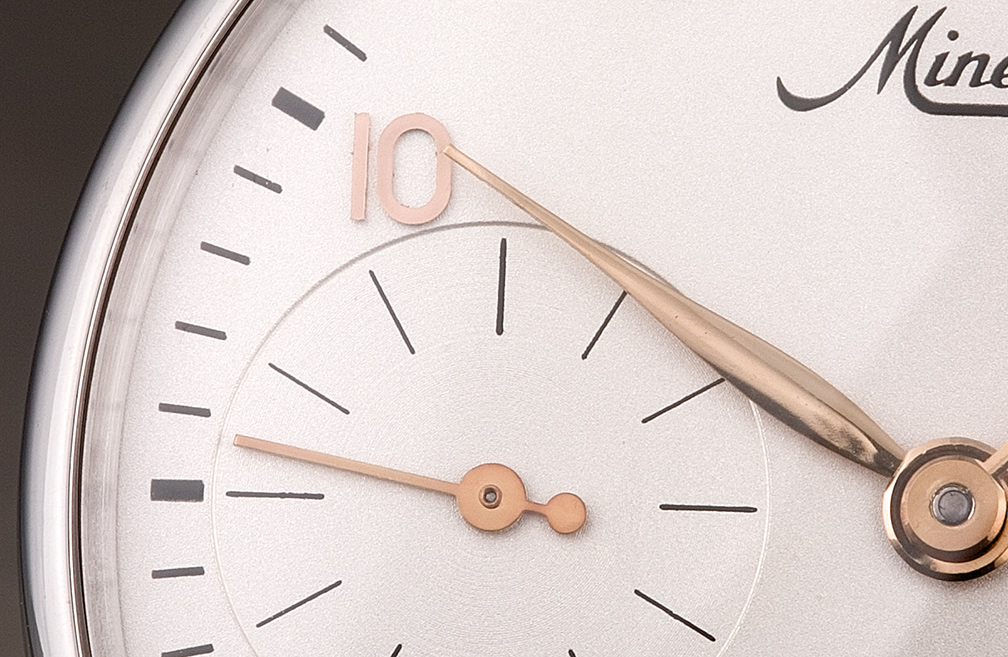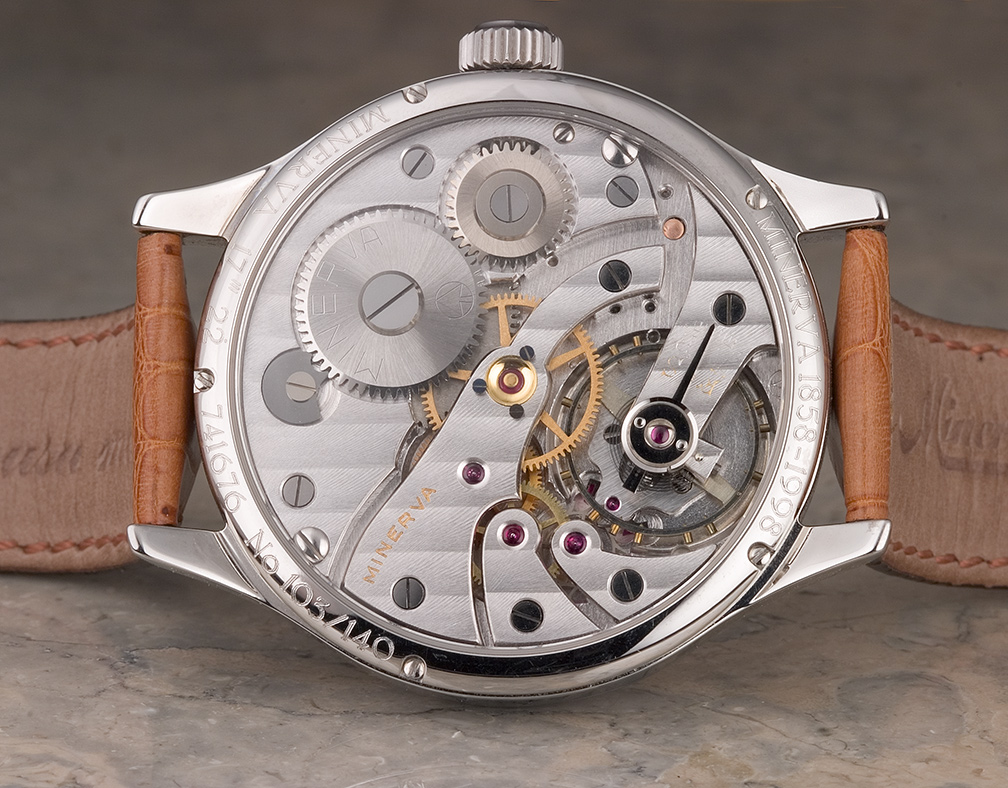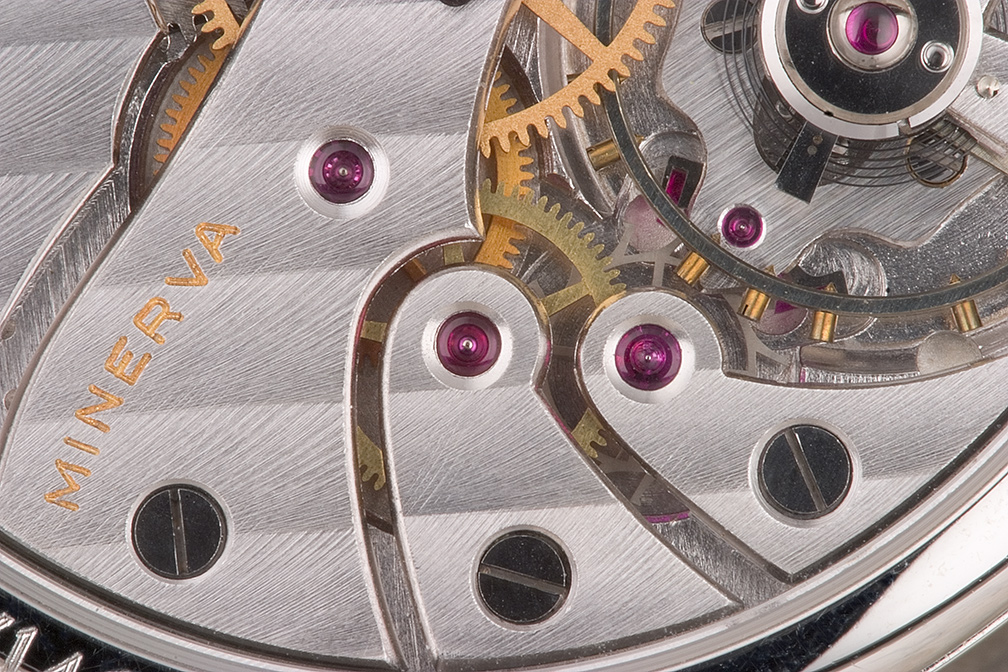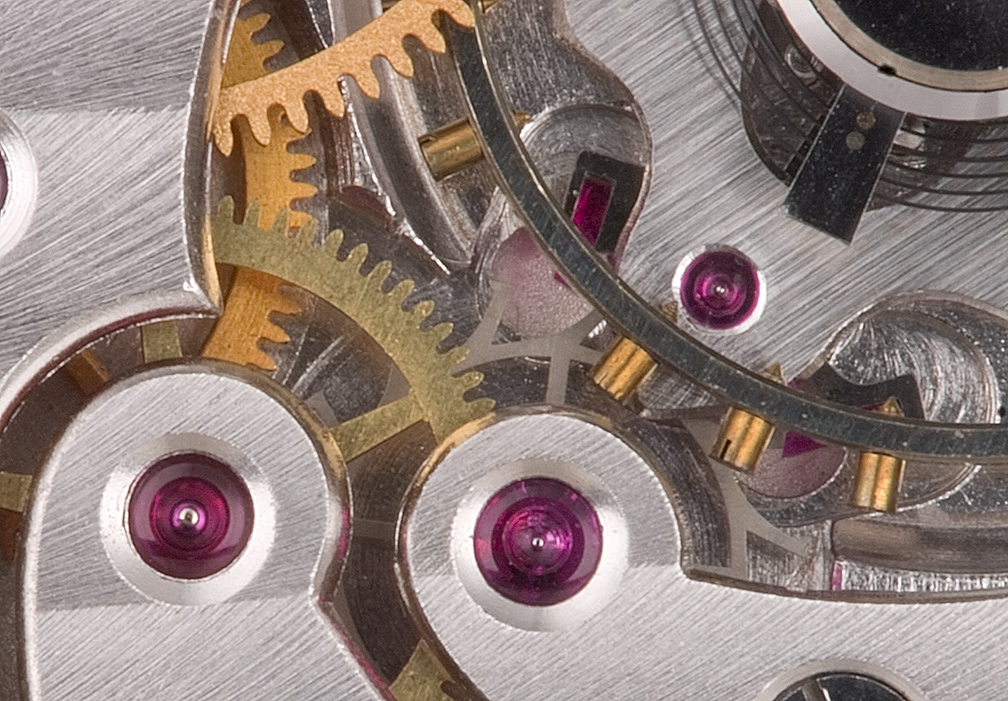 My thanks to Mr. Kohei of TimeZone! He is a fortunate owner of one of the "special 6" watches, and has been kind enough to supply me with several excellent pictures illustrating the exceptional movement: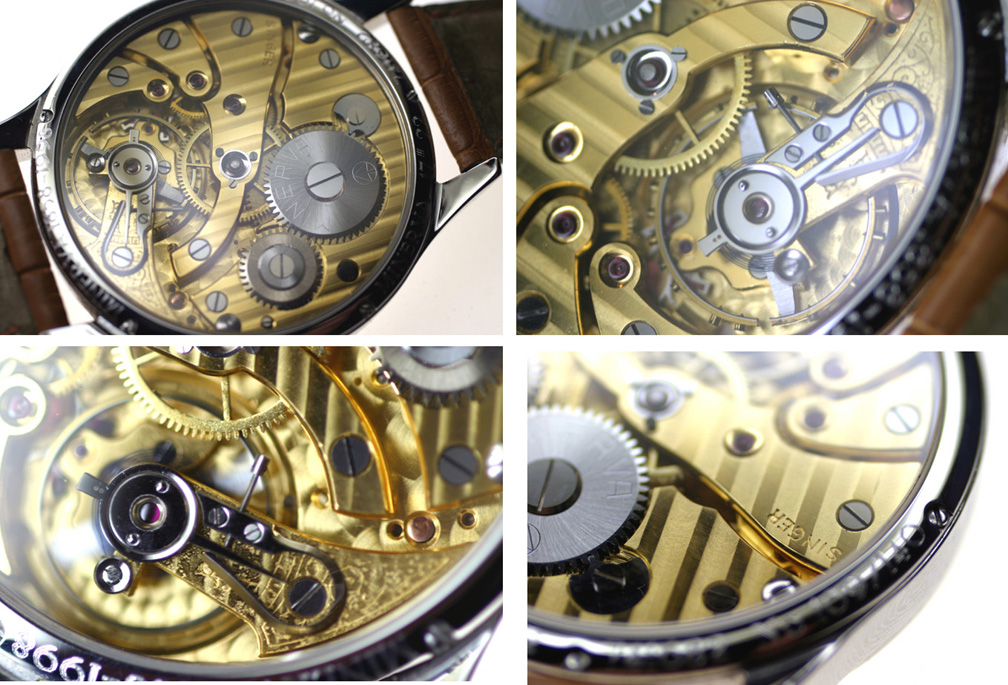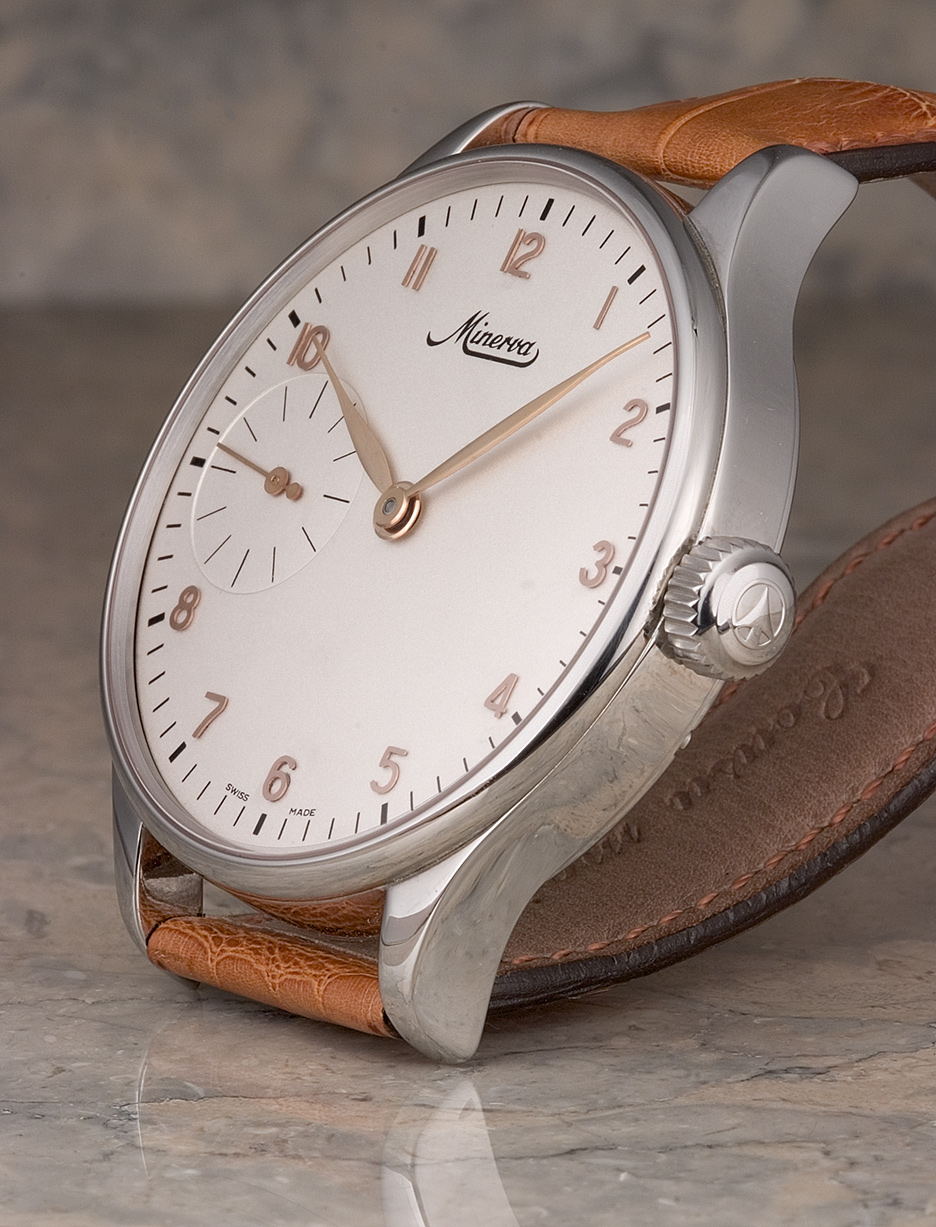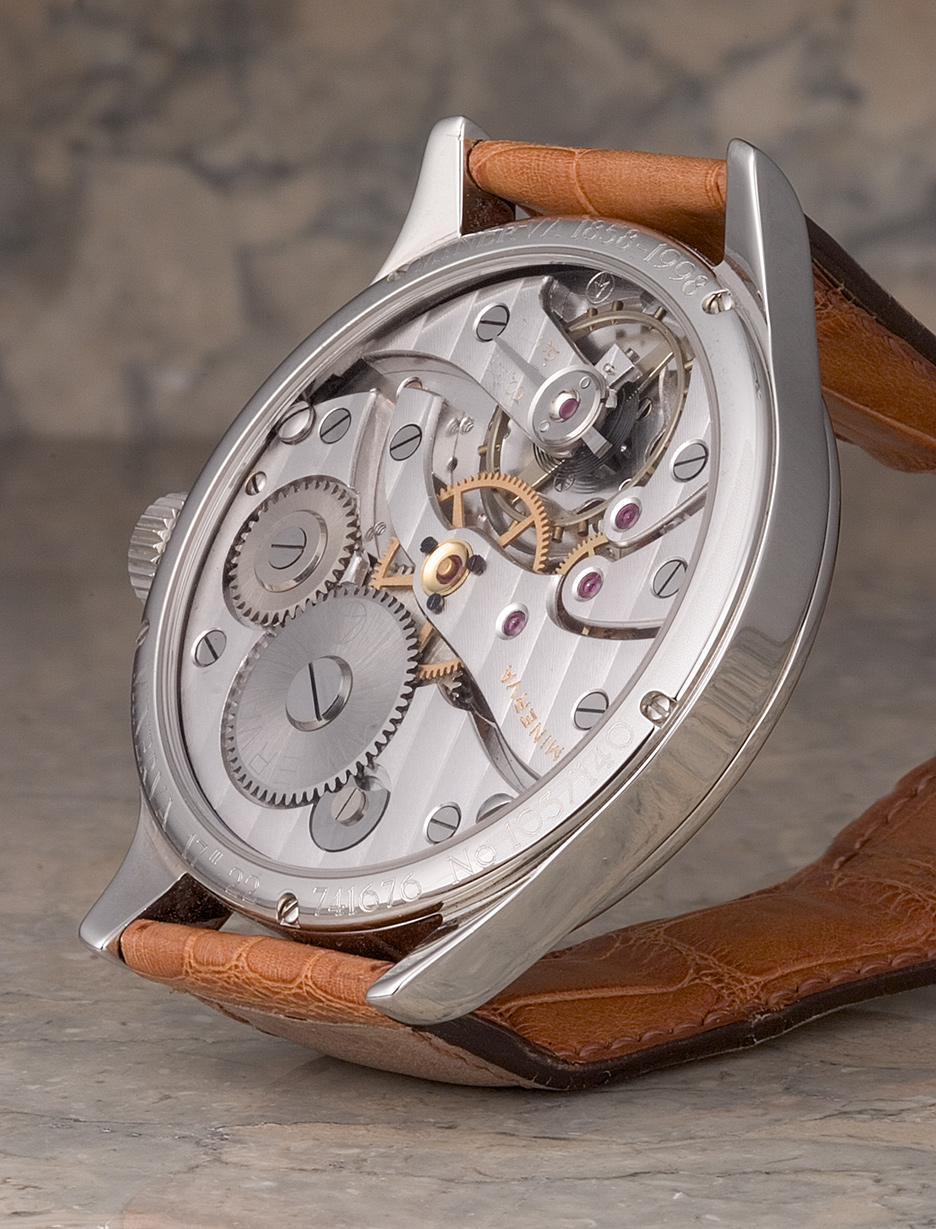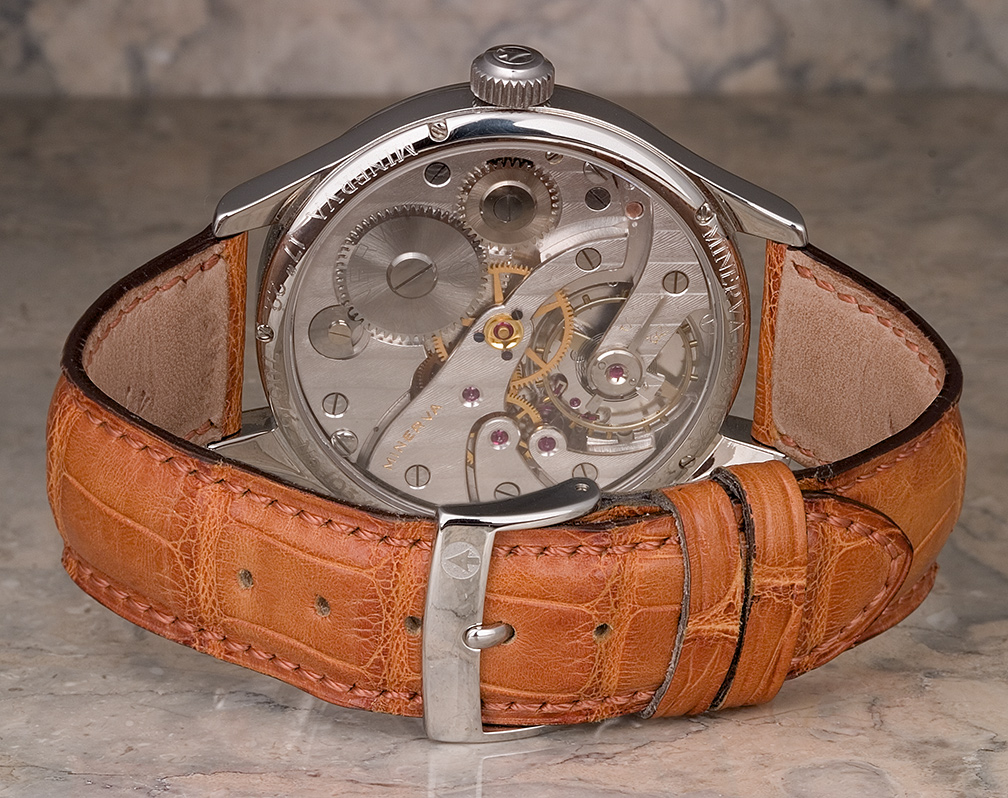 All content Copyright asserted 2003, 2004