Omega 1894 Homage & 1945 Cal. 30T2SCrg



As a lover of classic, time-only watches I find this mismatched pair is truly something extraordinary. The dials are amongst my favorites, sublimely symmetric, yet full of visual interest, uncluttered and easy to read with great precision, traditional but not at all old-fashioned. There are large, applied Roman even numerals and polished globes for the odd numbers, both set against a circular-brushed ring. All the rest of the markings are painted black , including the fabulous outer track which (with center seconds) facilitates even reading fractions of a second! Each watch features simple leaf hands of the perfect length, a boldly blued second-hand and a 'crosshairs' design which breaks up the large central field and further aids reading the time at a glance. The small-seconds design is slightly sunken and concentrically engraved, with its own matching seconds track.

Each watch is 36mm diameter, perfectly reasonable for simple dress, and beautifully proportioned. Obviously Omega feels similarly because in 1994 they elected to create the Homage watch at left, and the changes from similar originals are almost undetectable (slightly larger and longer lugs, and a wider bezel). Amazingly, what's inside these watches might be even more charming than their knockout dials and general good looks!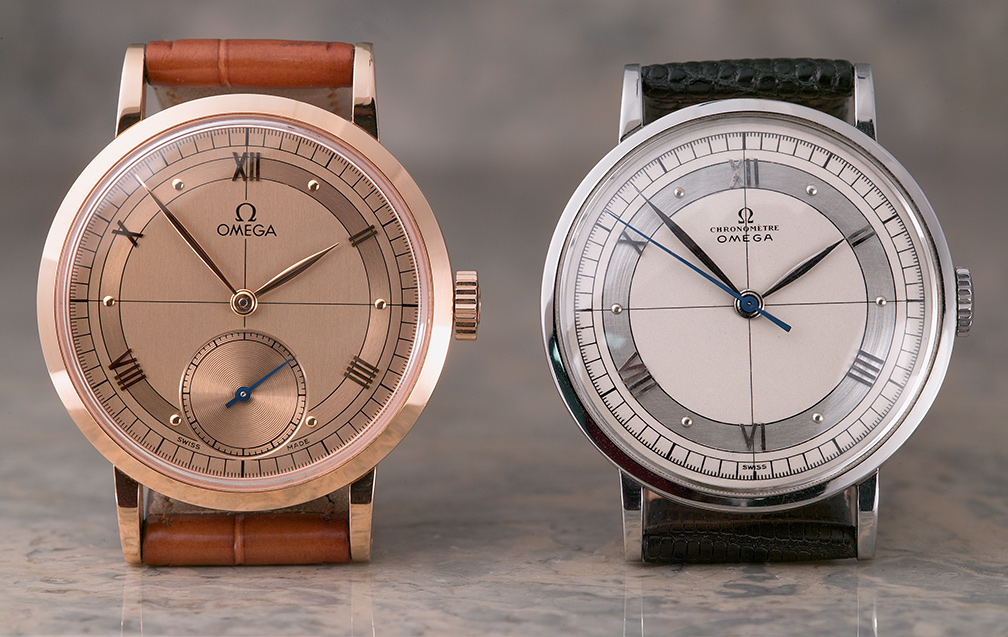 The Legend
In the last years of the 1930's, Omega created the caliber which would become the platform for most of their handwinding, time-only movements for the next 3 decades, the 30T1:






The design is simplicty itself; 2 main bridges, a balance cock, 15 jewels and just small enough to fit into the 33mm dress-watch cases of the day, but otherwise sized to allow the largest possible balance and barrel. It was robust, and apparently so elegantly designed that watchmakers still compliment its servicability, durability and ease of assembly. Within a year or so, it had evolved into the base that would serve so long, now the 30T2, ancestor of more than a dozen 26x and 28x movements, produced in (almost certainly) millions, right up to the advent of quartz-controlled watches. In 1939 a center-seconds variation was added, the 30T2SC, and in the early 40s Omega began to produce a small series of chronometer watches with highly refined versions of this workhorse movement.

These were designated 30T2rg and 30T2SCrg (30mm, type 2, (small & center seconds, respectively), fine regulator). Although these chronometer movements varied by number of jewels, composition and style of balance and overcoil hairspring, and engraved legend, (according to von Osterhausen in Wristwatch Chronometers) all versions were fully adjusted and employed the same regulator, and an overcoil. The balances lacked shock protection, and it appears they have a special clear jewel at the pivot of the anchor, perhaps to check for a drop of oil:






These special movements were designed to be suitable to exhaustive regulation for the Chronometer competitions held annually at the Geneva and Neuchatel Observatories, and typical of their kind, the finish is not necessarily decorative. Rather, each part is elaborately brushed or smoothed, teeth and spokes beveled and burnished, often to extreme thinness and delicacy.



Click the pictures for even larger!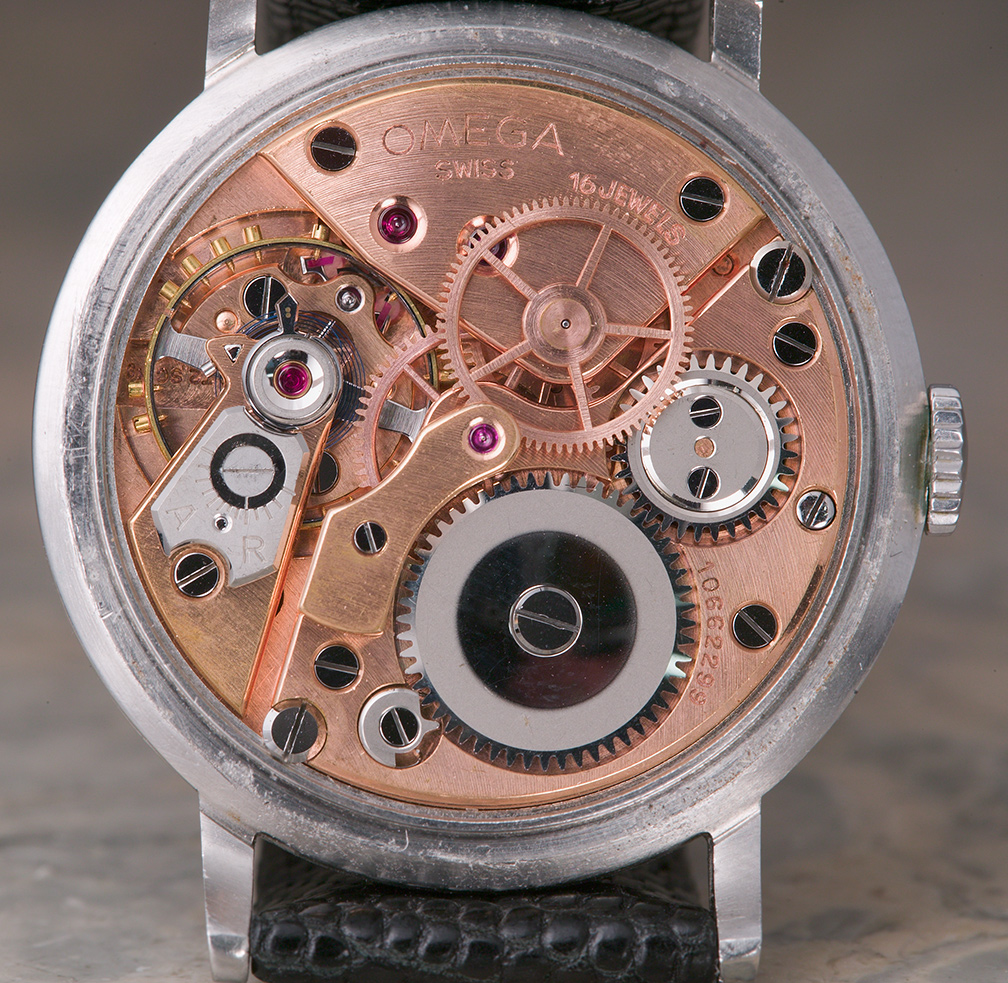 There are variations within the ranks of 30T2(SC)rg movements, and the present example sports a cut, bimetallic balance and blued-steel overcoil hairspring. While lacking fanciful elements such as Geneva stripes, each surface is tended to meticulously, with the intention that the watch will (when properly adjusted) run with great accuracy, isochronism and positional consistancy, and will continue to do so for a very long time. Even though these sober-faced watches do no new tricks, they are truly thoroughbreds, designed to specialized use, and executed with care and handiwork of the highest level. Like stealth racers, only the owner and the uncommonly informed will have any clue that something special is hidden away inside!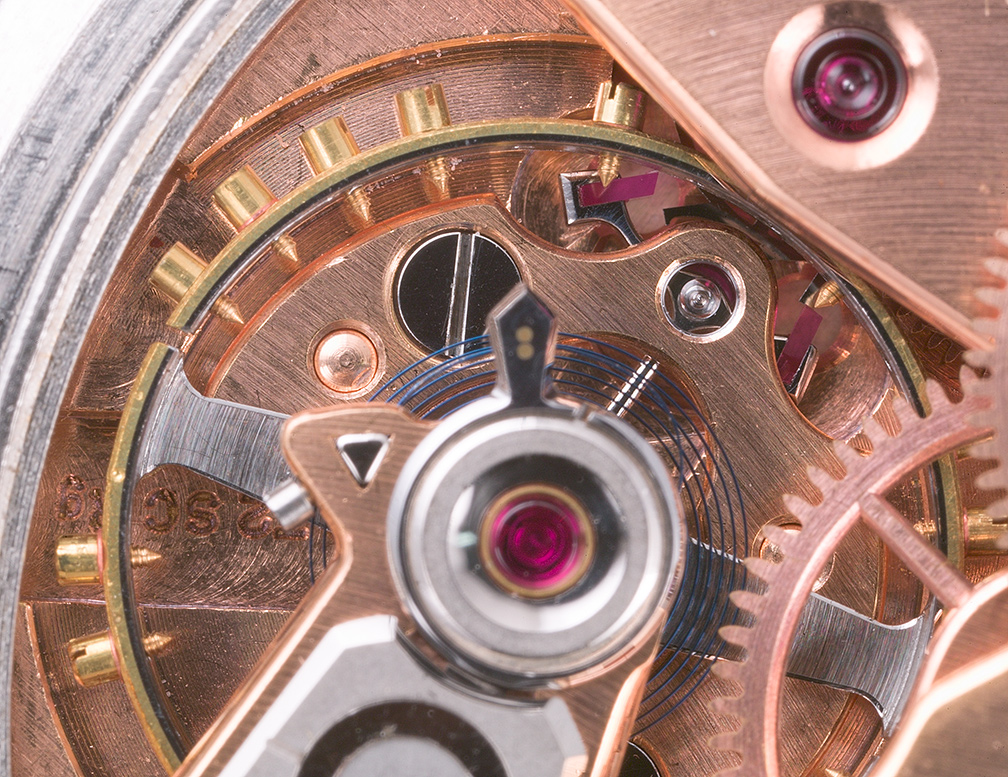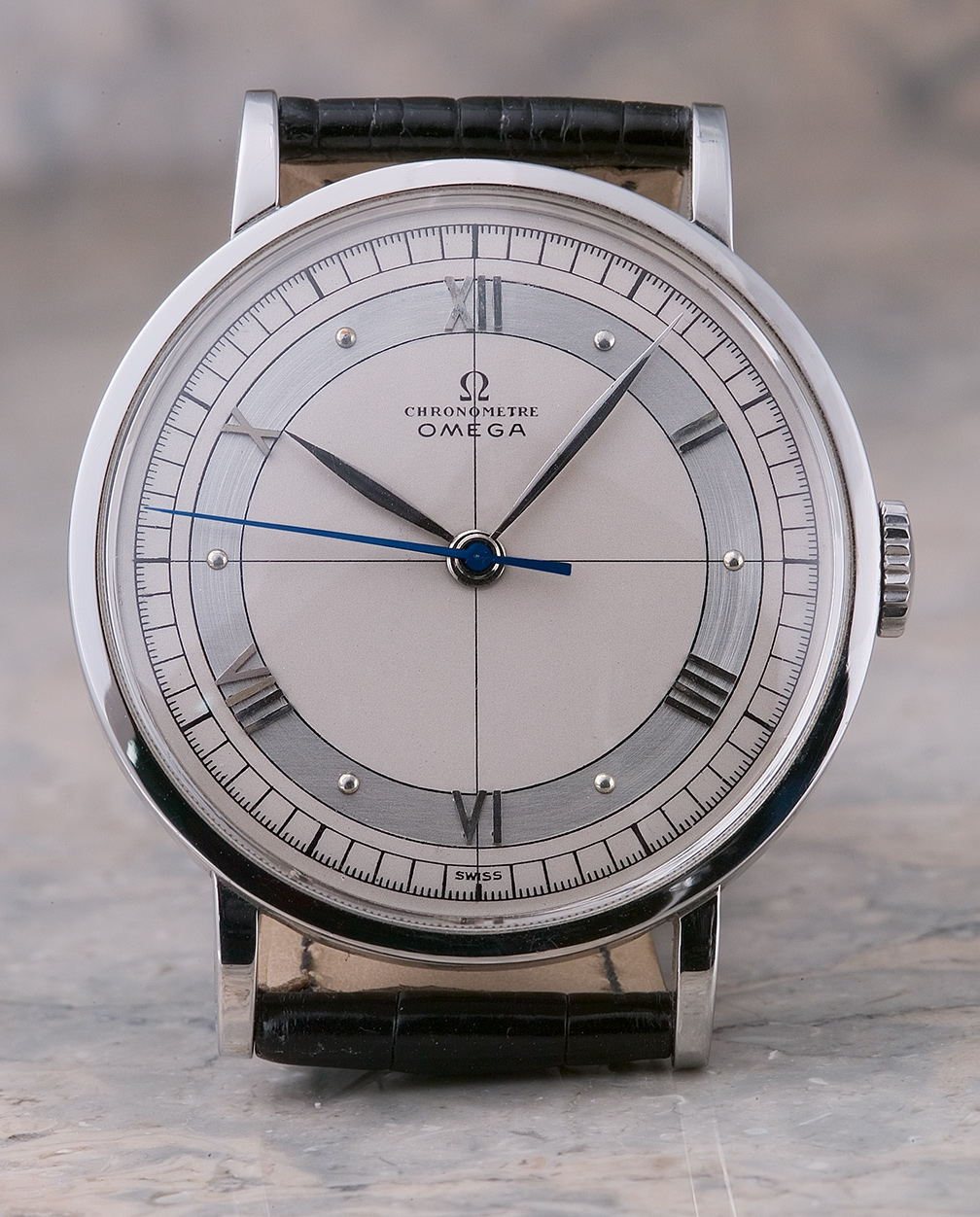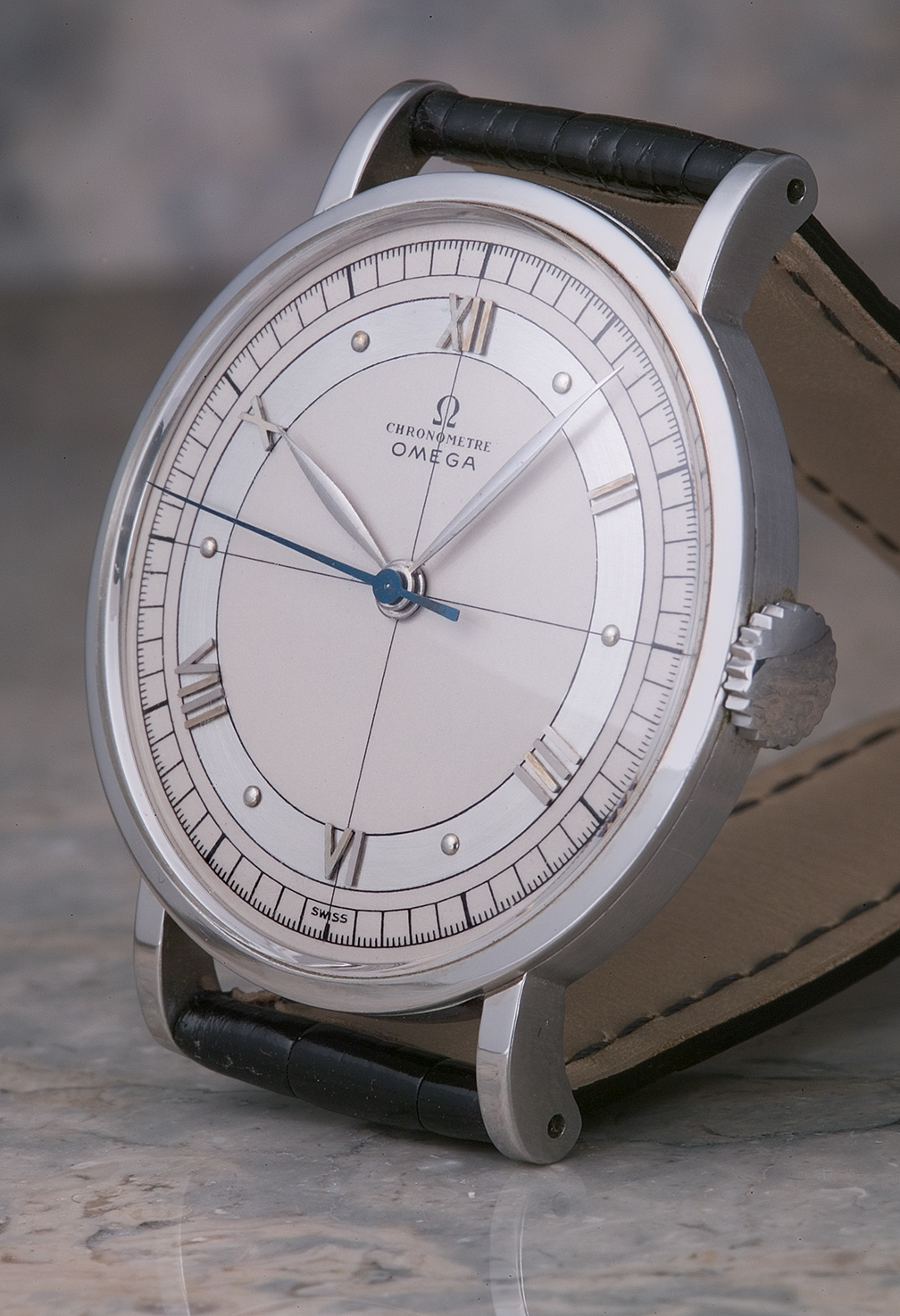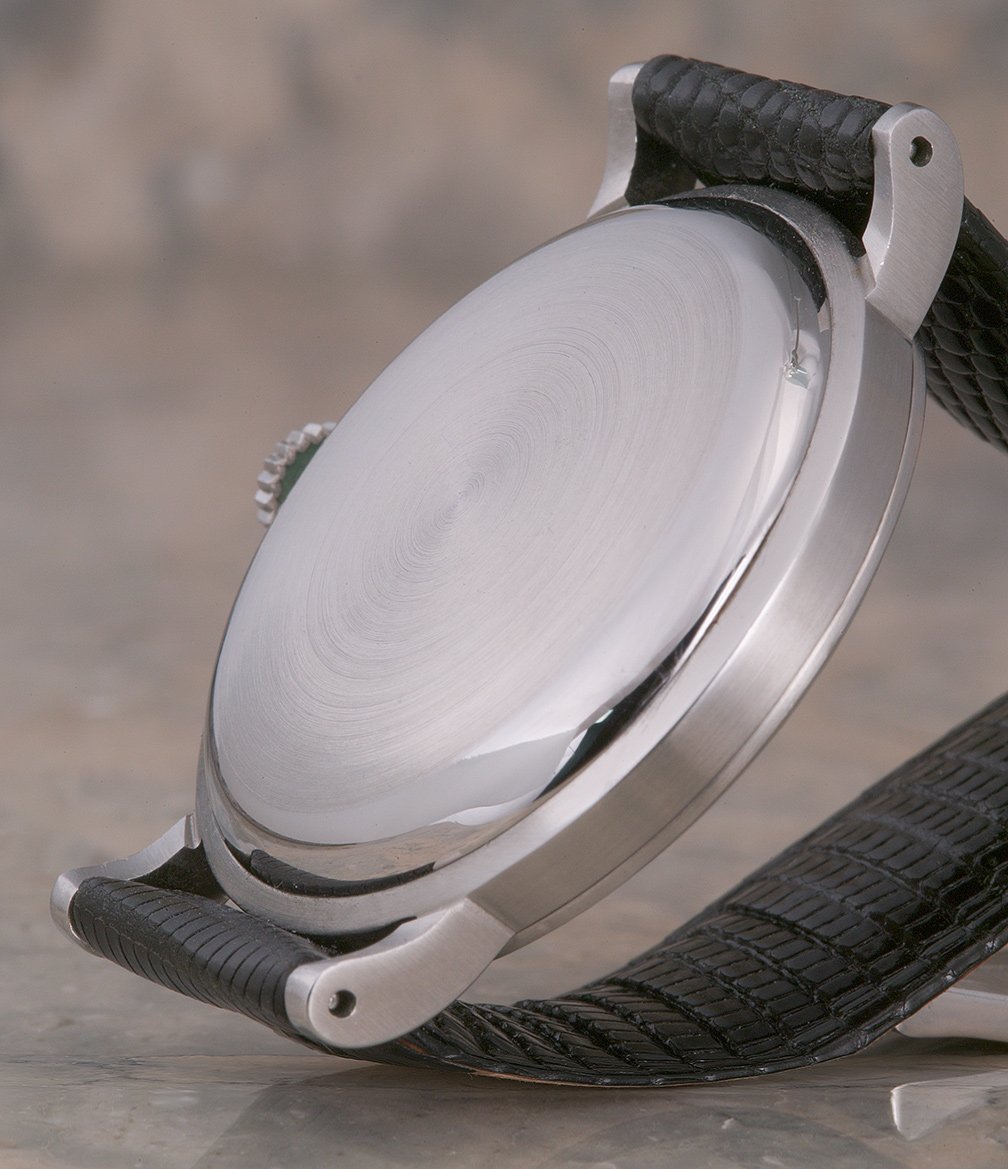 The Homage
Produced in 1994 to commemorate the 100th anniversary of Omega's first series-produced watches, the Homage consisted of 1894 pieces in pink gold, and 100 sets of 3 vintage-style watches: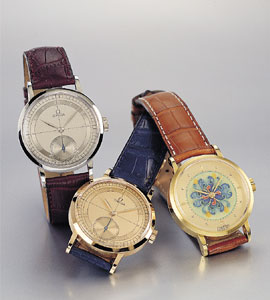 The materials used are thoroughly modern, heavy gold or platinum cases, sapphire crystal and display back, and decently water resistant. Inside, however, Omega installed new-old-stock movements from the 1940's, caliber 286 for the center-seconds, and caliber 269 for the small-seconds. The opportunity to enjoy these great old movements inside a rugged, modern case is wonderful and fun, but also to compare the prosaic with the rarified is simply irresistable!

The Homage's Cal. 269 is a fine movement, and representative of its era. Any brand with a substantial market share produced most or all of their own movements, those from the high end (Patek, Vacheron...) being amongst the finest ever, but even relatively minor brands such as Marvin and Eberhard fitted their watches in-house. In the middle, companies such as Longines, Zenith and Omega manufactured high volumes of truly excellent movements for their exclusive use simply because this was the nature of the then contemporary market. So, it is perhaps fit to define the Cal. 269 (and its very similar housemates) by what they are not: they are neither high horology, beautifully decorative and low production, nor are they inexpensive, stamped & bolted together and throwaway. What they are is designed for long life and ease of service, economic production in excellent quality at large volumes, and adaptability to higher uses. In this they remind me of none other than the current ETA 2892 series, a durable and reliable automatic which is manufactured by the millions and available from the factory in several levels of outfit and finish. While it is perfectly suited to the myriad everyday, sub-$1,000 watches flooding the market, it is also the selected base for many truly marvelous and expensive watches from the likes of Ulysse Nardin and Christiaan van der Klaauw.

Certainly these Omega 30mm movements are quite competent in their standard form, but amenable to considerable upgrading. I am not expert, but compare the winding and ratchet wheels, for example. In the standard version, the surfaces are beautifully but simply brushed, in a sunburst fashion, while the chronometer's wheels benefit from a high polish wherever there is movement or friction, and the teeth are polished almost to black. Whereas the standard screws have polished heads, the chronometer's are also beveled around the perimeter and slots: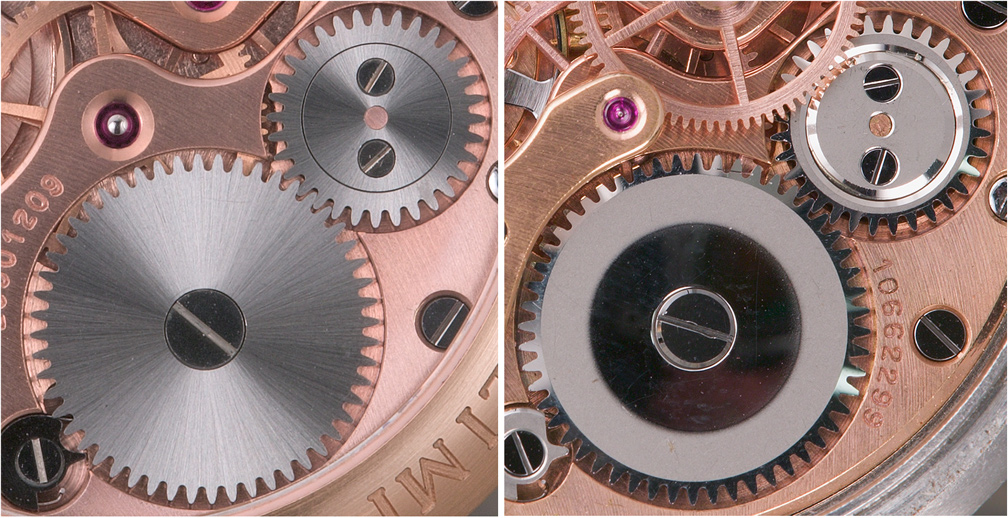 The standard movement's center wheel is very nicely machined, brushed smooth and without visible burrs, but fairly thick and sturdy, a rugged interchangeable part. The corresponding wheel however is clearly a different animal, with beveled whispy spokes and thin rim, and much more deeply cut teeth which probably mesh more precisely but also would require exact alignment: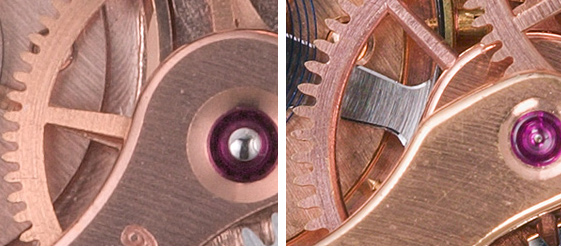 Finally, compare the balance and anchor: These parts on the 269 are nicely finished, brushed or matted without any particular flaws, but in comparison with those of the exotic -rg they are positively pedestrian. On the chronometer the balance, even apart from it's complicated makeup, is much thinner, with most of the weight pushed outwards by the screws, and that anchor -- honed and beveled and polished, and fitted with huge, clear stones. And again one can see how profusely the steel parts are treated, the screw heads and regulator arm absolutely shimmer!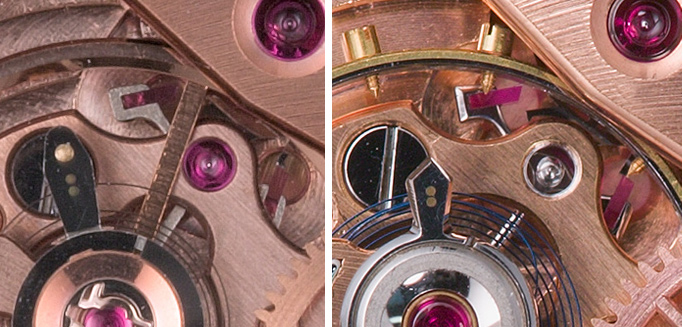 None of this is in any manner to denigrate the standard caliber 269 used in the Homage watch. It was an excellent movement in its day (and still would be), and its straightforward finish speaks more of its use in an era when a mechanical watch was the only sort, and only watchmakers were likely to spend much time examining movements. Keep in mind that even the extreme attention lavished on the 30T2SCrg is strictly functional, just as is the finish of the 269, which remains excellent and charming in its own fashion.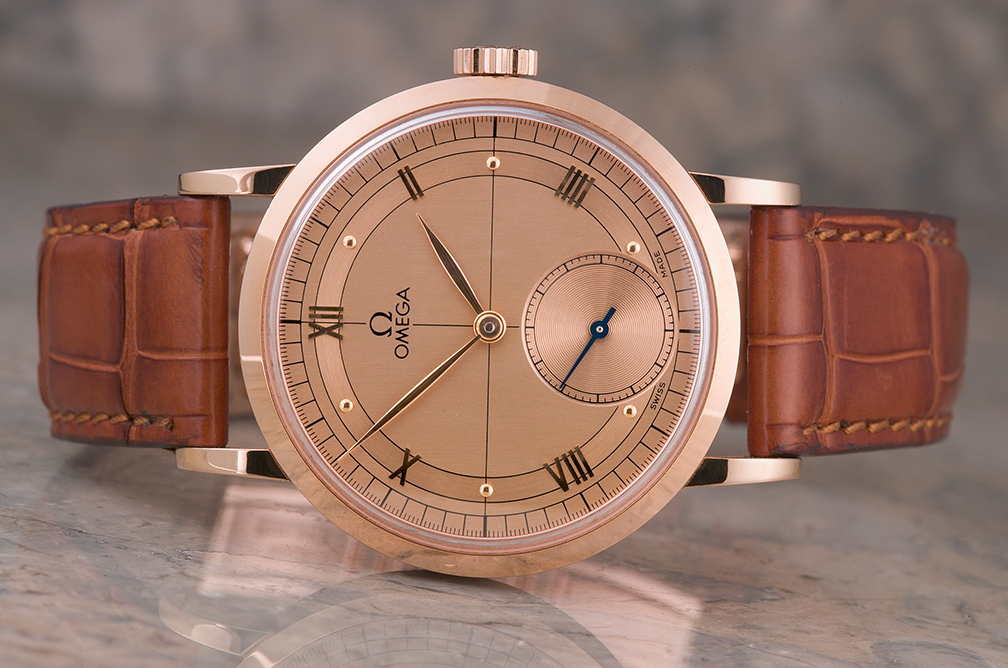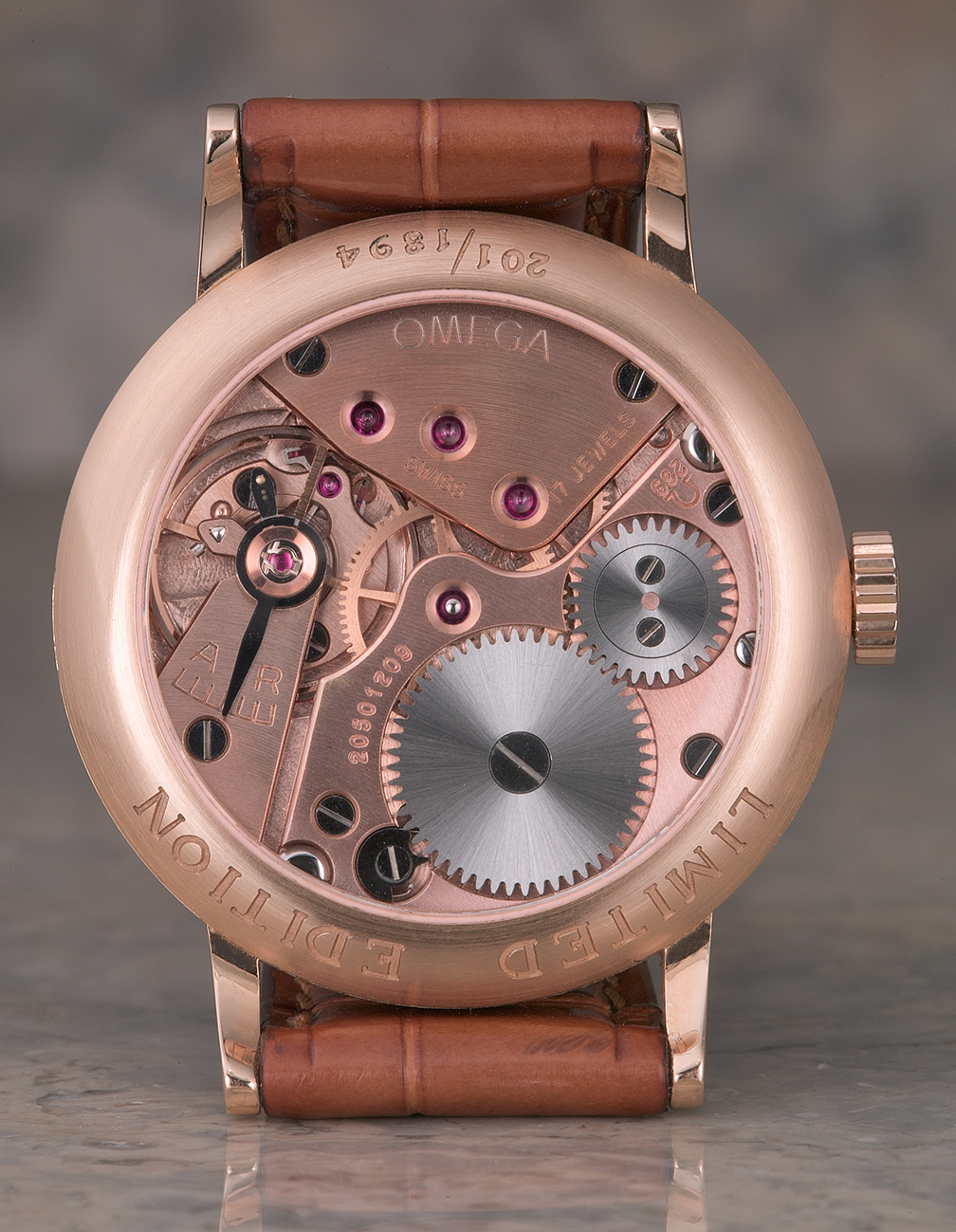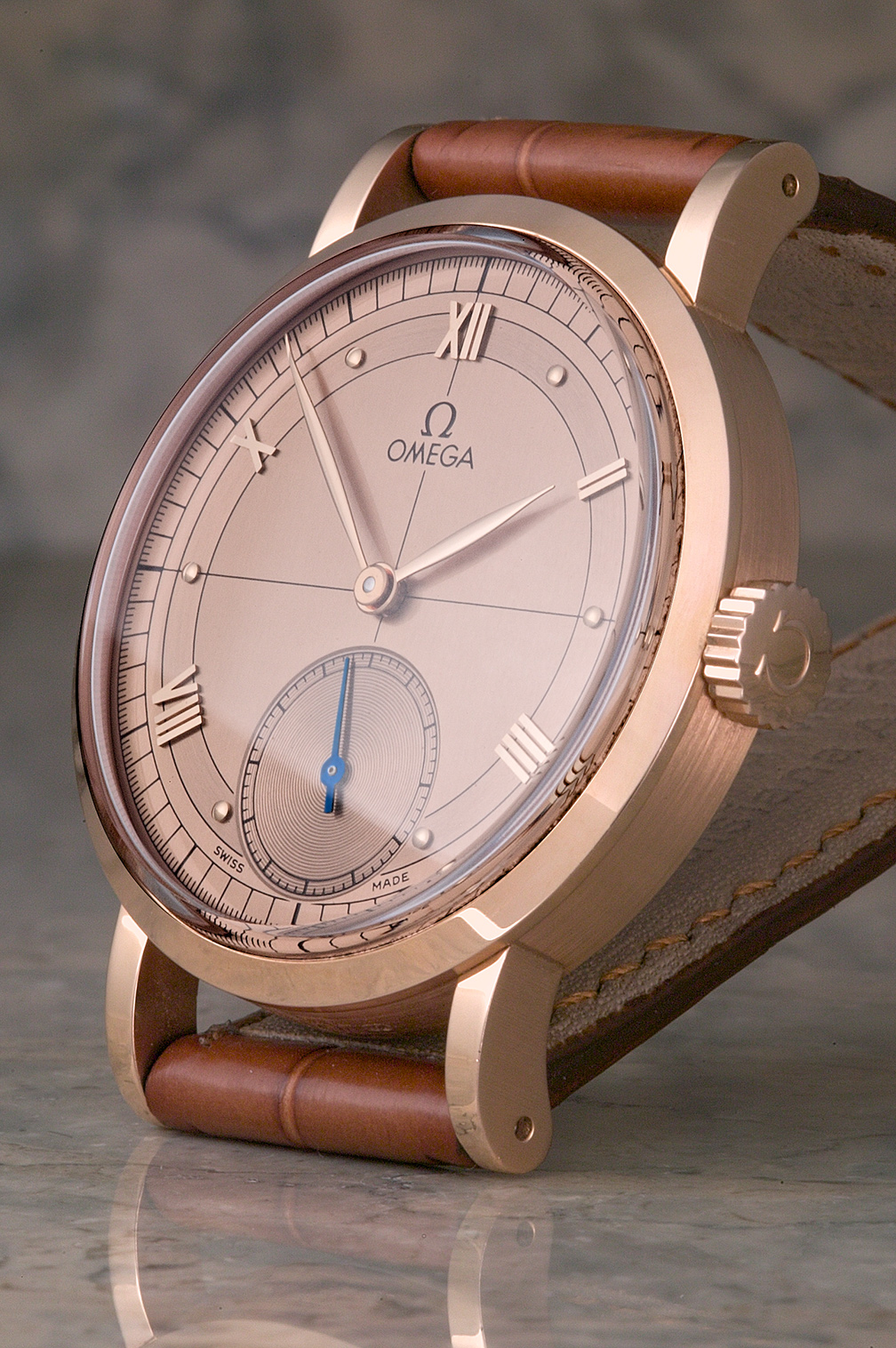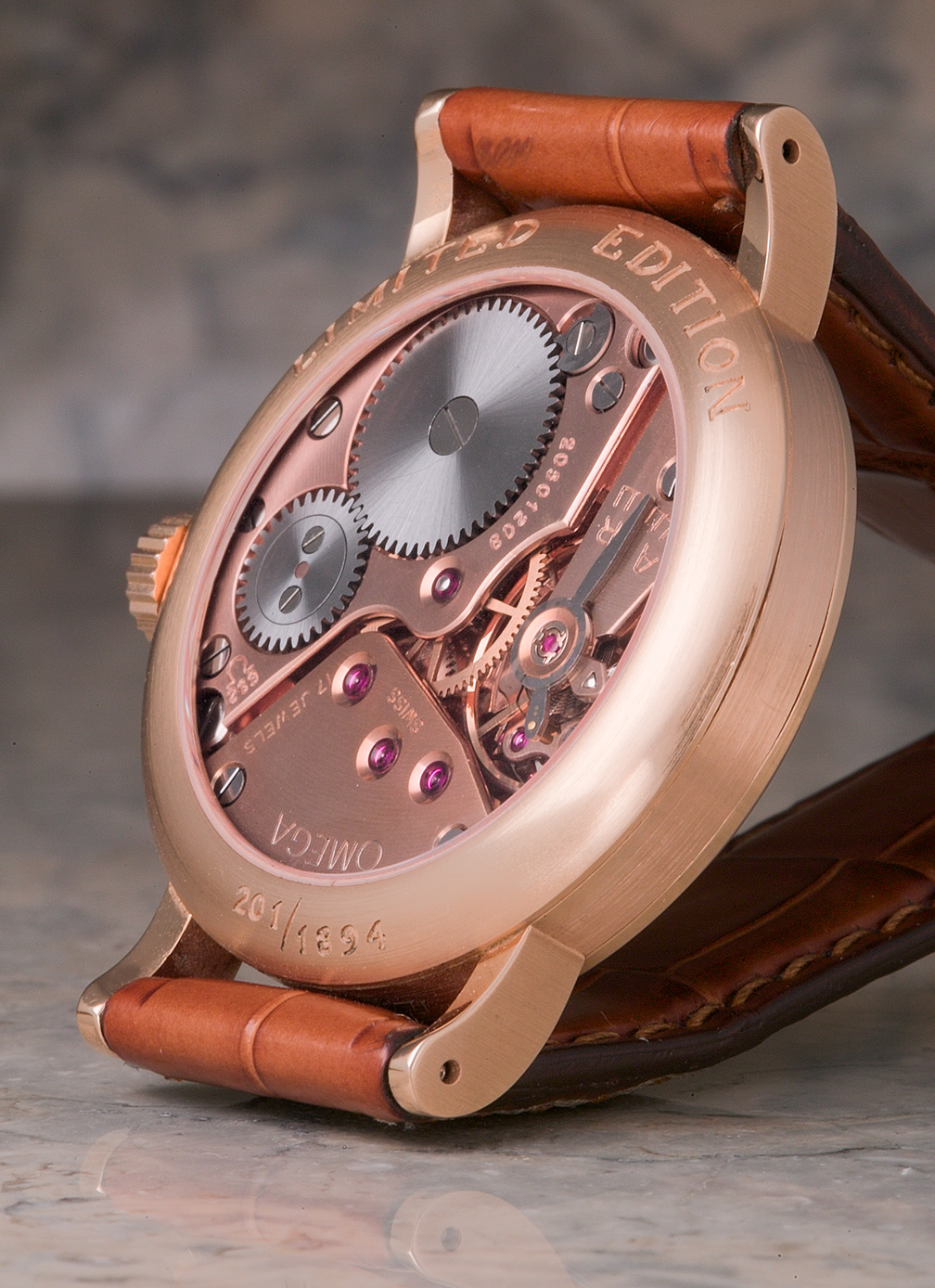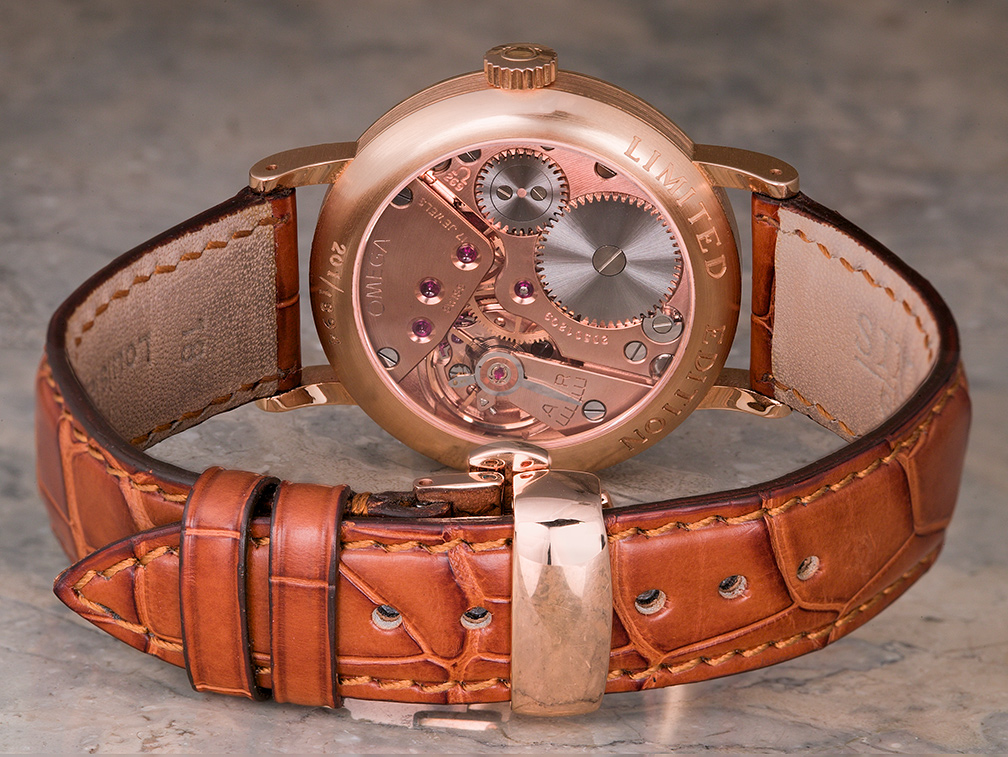 All content Copyright asserted 2003, 2004