It is certainly no secret that the favored size of wristwatches has been getting bigger, apparently mirroring the increasing size of men's wrists, and reflecting secular trends of more casual appearance and active/outdoor life/style...which is to acknowledge that not only are people getting larger, but their daily activities and social requirements are somewhat marginalizing the traditional thin, small and simple dress watch. I am no industry expert, but the reactions to this trend have reached even the oldest and most traditional of watch houses: Lange has compromised the unparalleled balance and serenity of their Lange 1 model with a series of "Grande" watches, Breguet now makes a "Classique" watch in 40mm size, JLC has added a few millimeters to the cases of both their Reverso and traditional round watches, even Patek Philippe's offerings have steadily grown over the past decade or so. All of this means that currently the most elegant (and smallest) timepieces are 34-38mm in diameter, and the 30mm Calatrava (/style) watch is officially a vintage style.

In concert with this, a few companies have begun to service those who are wearing an even larger casual and sporty chronograph or dive watch as their daily timepiece. While these watch appreciators may have never experienced the older and smaller formal styles, they still desire a beautiful and elegant wristwatch, but require that it fit their experience and preferences. Two newer companies come to mind which make solely contemporarily large (42-43mm) and expensive dress watches, Jaquet Droz, and the present De Bethune. Although both companies also offer more complicated designs, the basis of their style and almost certainly the great majority of their production is concentrated on traditional, time-only watches.

The De Bethune DB5 approaches its mission in this way: The 42mm diameter cases are of precious metal, round and smooth, and entirely polished and free of adornment. The ten-sided crown is similarly plain and polished, and just far enough from perfectly round to allow setting and winding as needed. The sapphire crystal is slightly domed and set flush with the smooth bezel, and the lugs...more about them later. All in all, the metal of this watch is as clean and quiet as possible, sheer elegance. Although there are a couple of dial options, they share the same standards: A solid gold dial, silvered to the point of an eggshell, off-white color, and hand-guilloched. Mine has deeply printed black full Roman numerals and minutes' track, and gorgeous blued Breguet hands. The dial is full but not crowded, and while the individual features are very restrained, they are clearly designed to complement this large space. For example, the Roman numerals are rather squat and the lines are wide, but there is a lot of open space between each adjacent pair. If these numerals were transported to a proportionate dial of a more traditional (say, 35mm) dress watch, they would not be too tall, but they would either be too thick or too crowded. Similarly, the minutes' track and maker's logo are perfectly in concert with the numerals, but if placed on a much smaller dial they would be either outsized or hopelessly unreadable (or possibly both). My point is that DB has neither enlarged the features of a much smaller watch, nor simply transported them. Rather they have deployed some very creative design across newly-available space, and have done so with great restraint and elegance. Finally, as you will see, and perhaps most significantly, eveything about this watch is executed with exceptional excellence; DB apparently manufactures only a couple hundred watches per year, and the extreme attention and quality control shows in the details.


---
Click the pictures for even larger!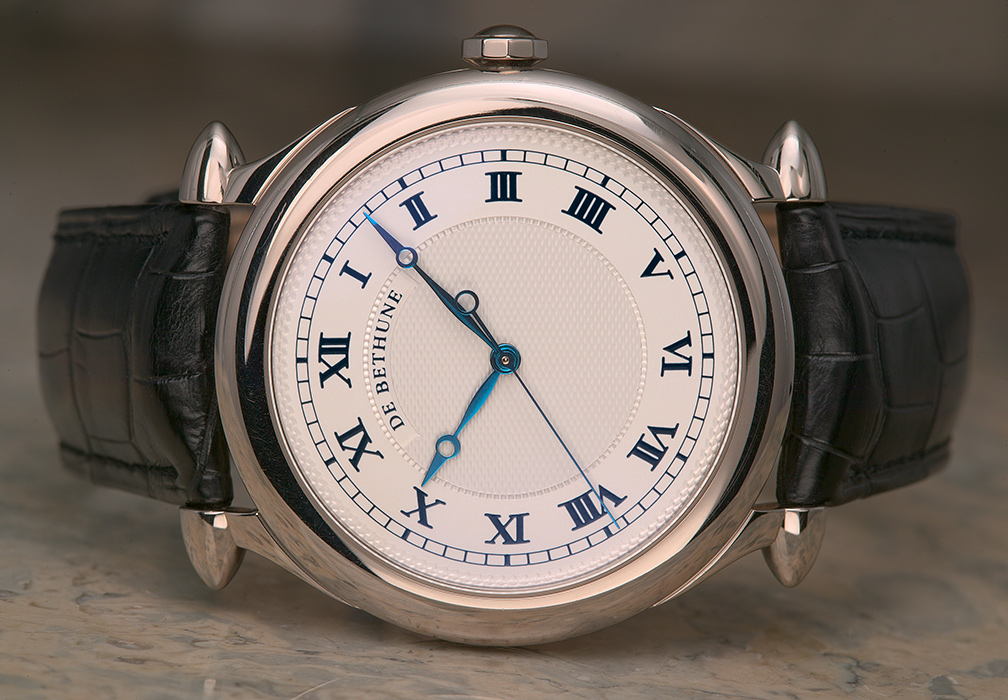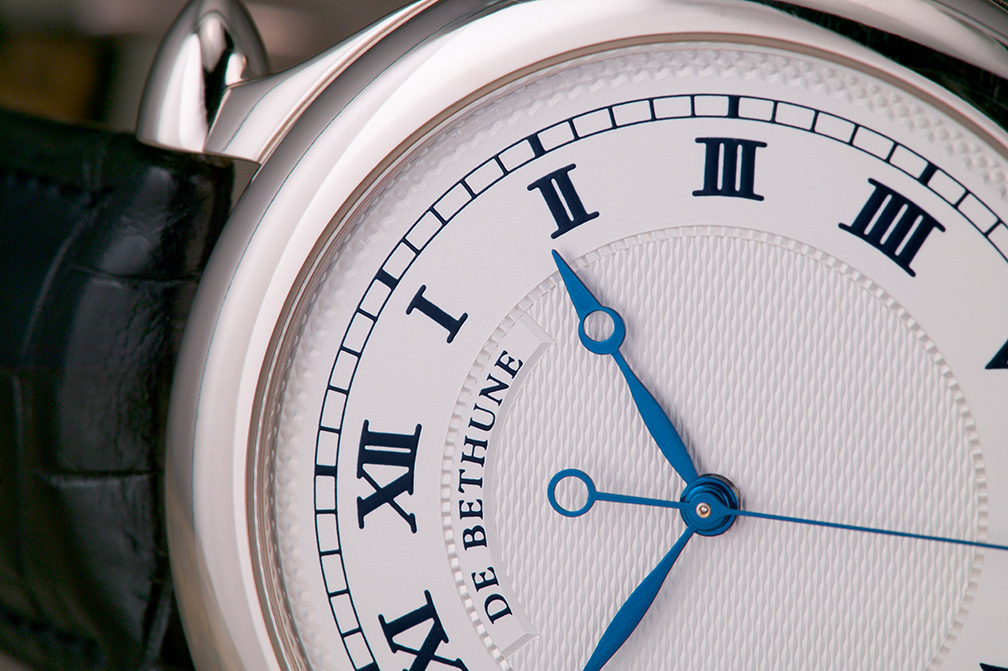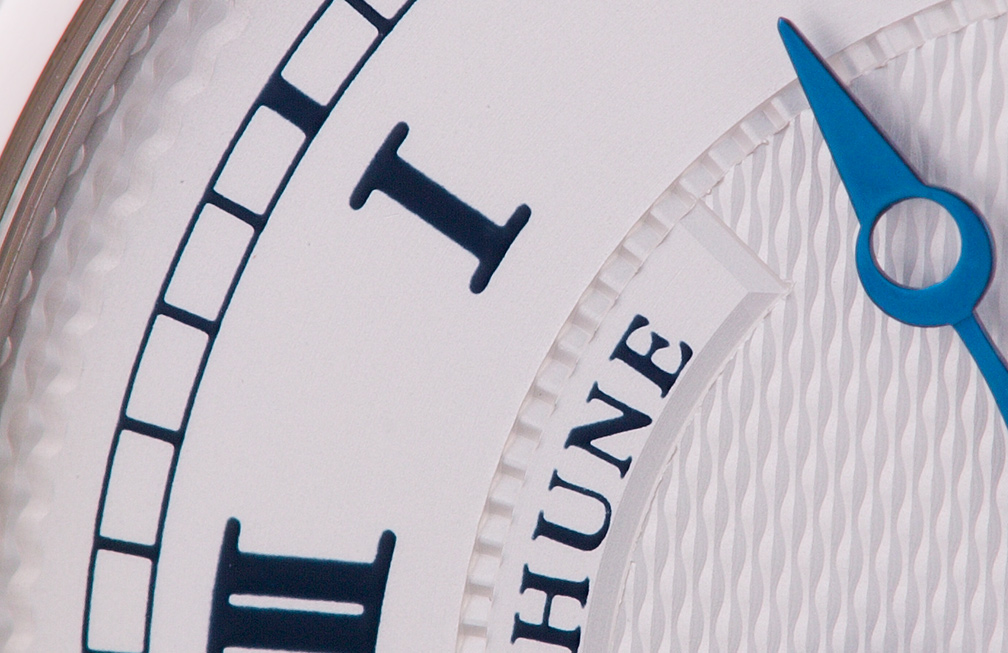 In this picture the several distinct guilloche patterns can be seen, along with the wonderful printing: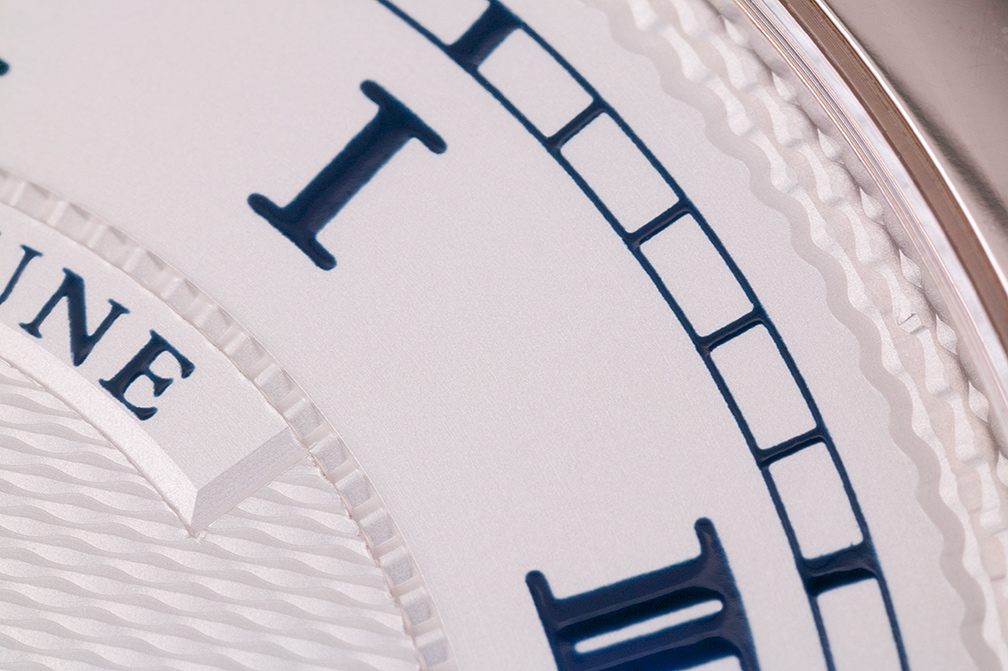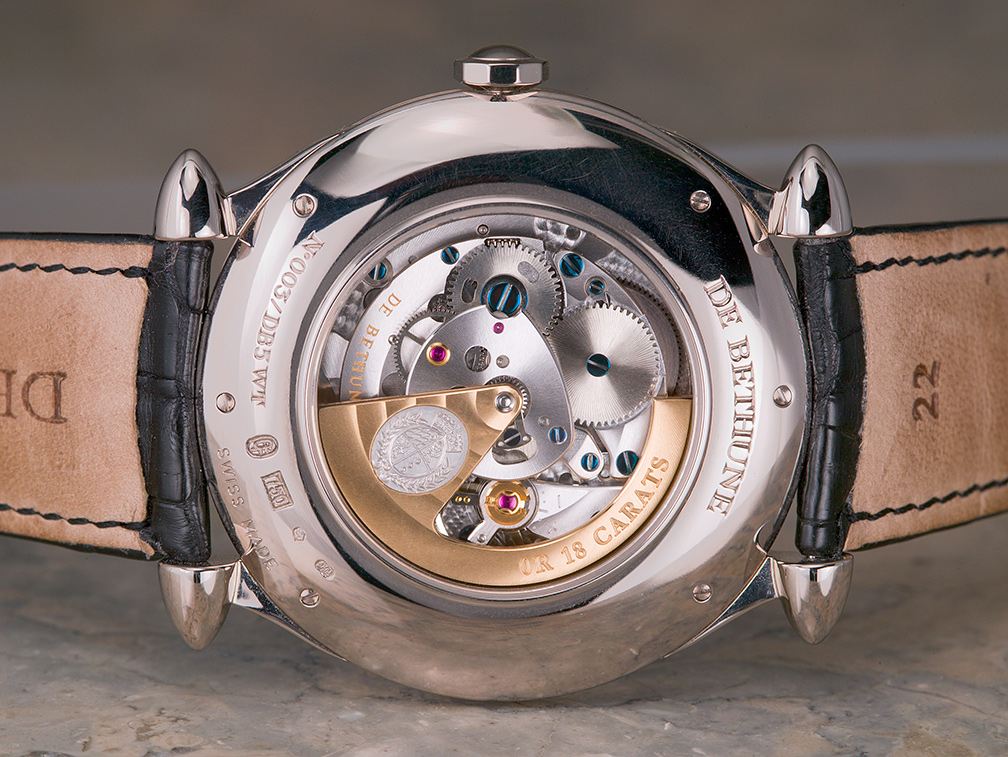 For the movement DB have apparently chosen a vintage A. Schild 2072 automatic. The particulars are, 11.5 lignes, 36 hours reserve, 20 jewels and a rate of 21.6kbph (My thanks to PeterCDE, ei8htohms, Watch Carefully and chris russell for their great help!). While this is not a famous or particularly fine movement, it is perfectly capable, quite interesting and a bit unusual. They have obviously spent considerable attention sprucing it up, and the level of finish is commensurate with the intentions of the watch.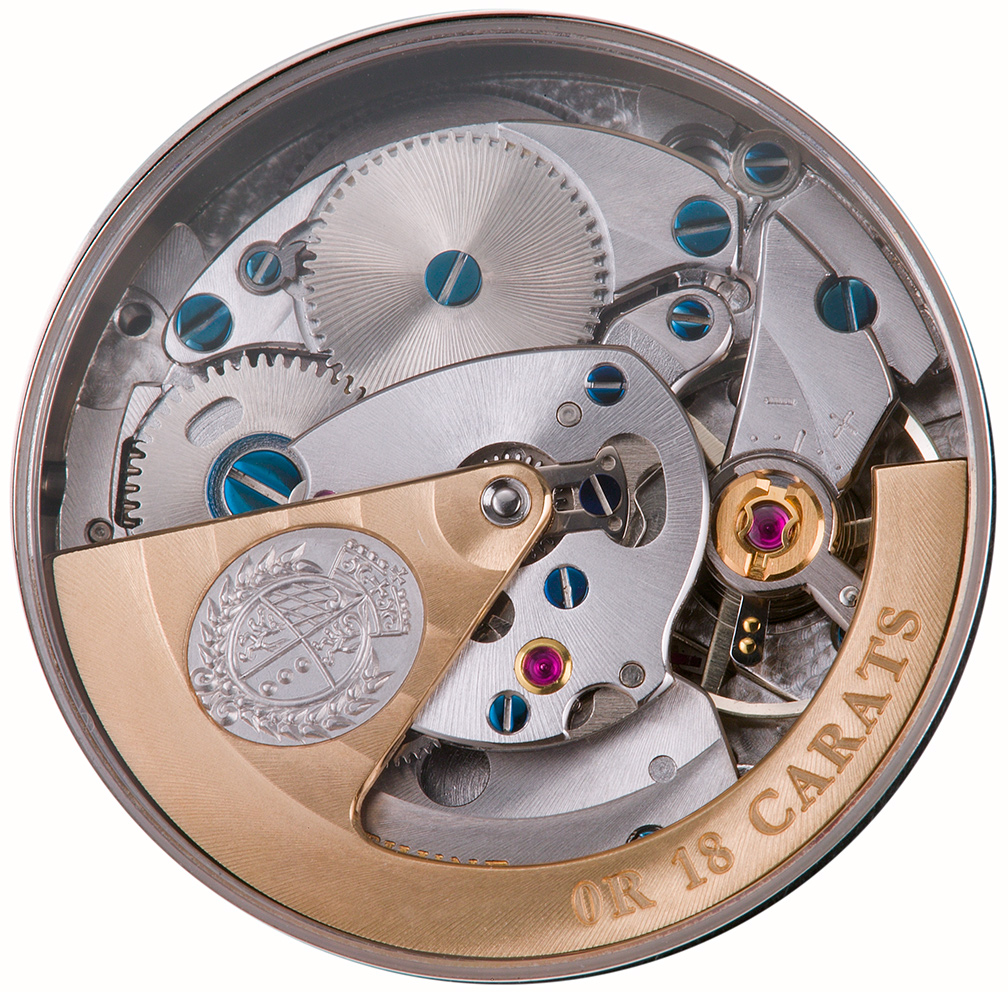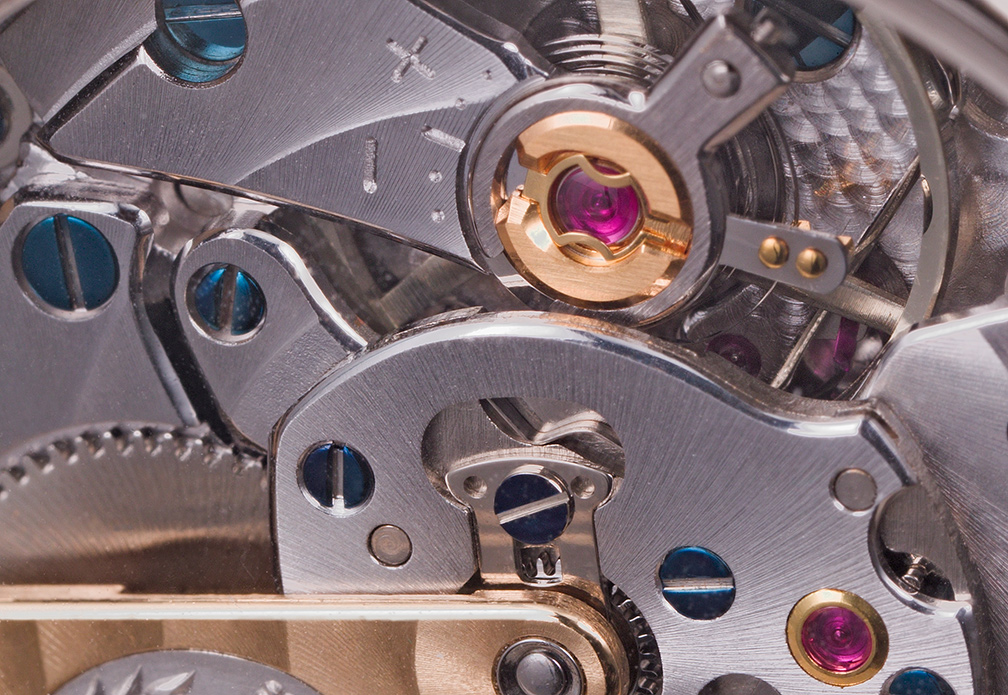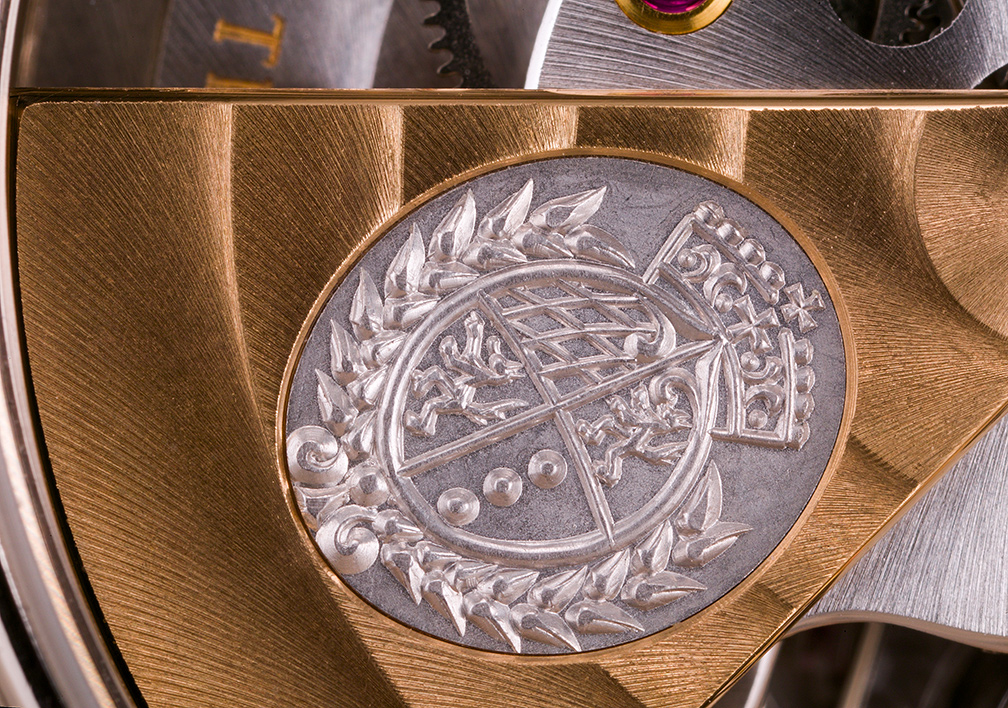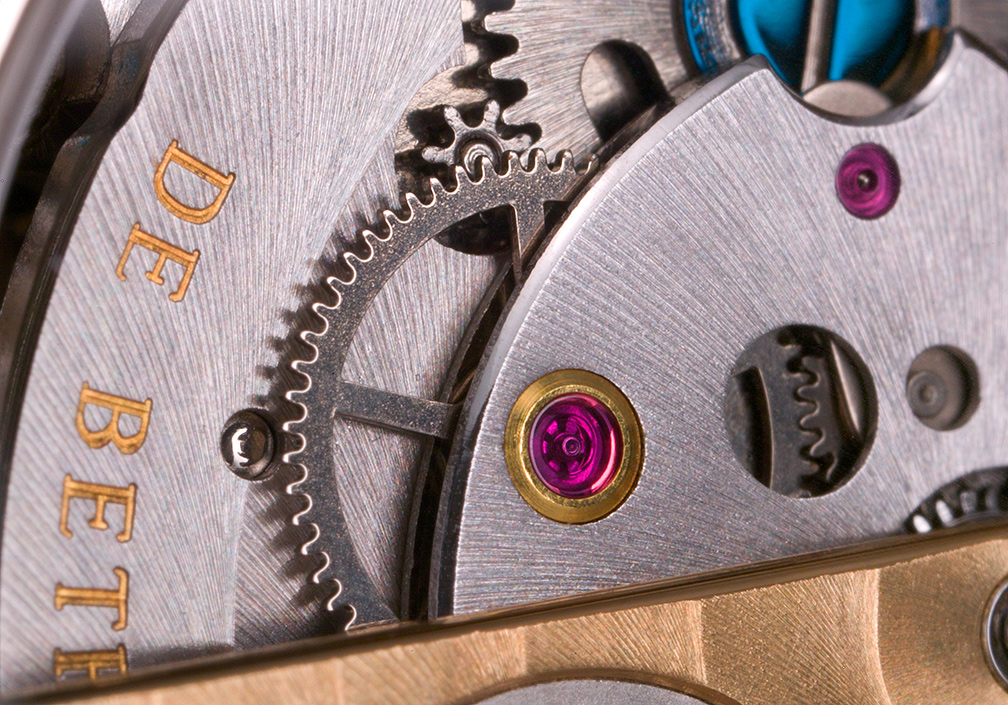 Finally, consider the lugs, perhaps the most distinctive aspect of this watch: Shaped like torpedo-heads, I think they are an extraordinary stroke of functional design. Remember, this is a 42mm diameter watch, and the lugs are spaced at 22mm. Traditional lugs of this magnitude would make this watch positively gargantuan, and hang out way beyond the margins of many people's wrists (like mine!). However, short, squat lugs would look awful. DB's unique design manages to preserve the necessary scale of the lugs proportional to the rest of the watch, while allowing the band to hug the wrist. The use of curved springbars completes the package, smoothly integrating into the tapering lugs at either end.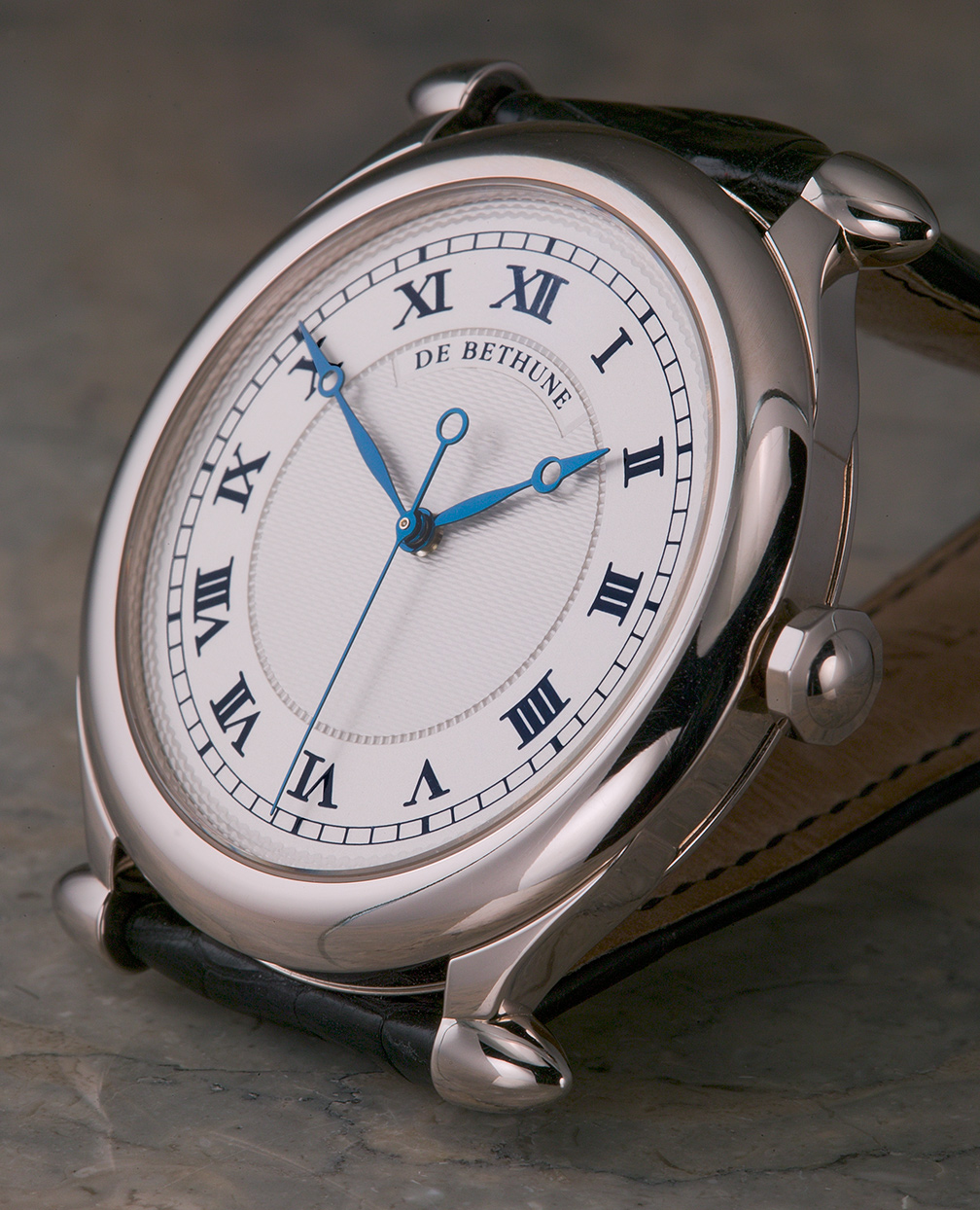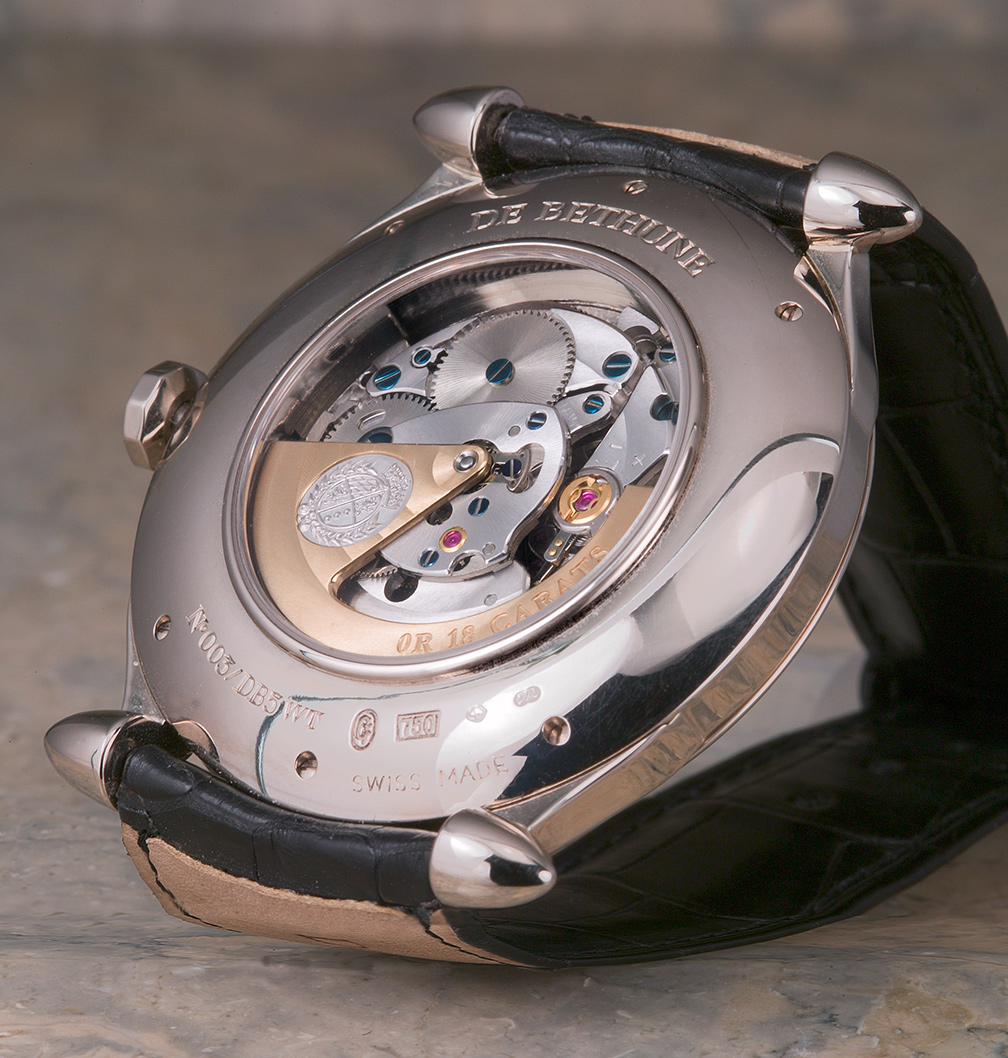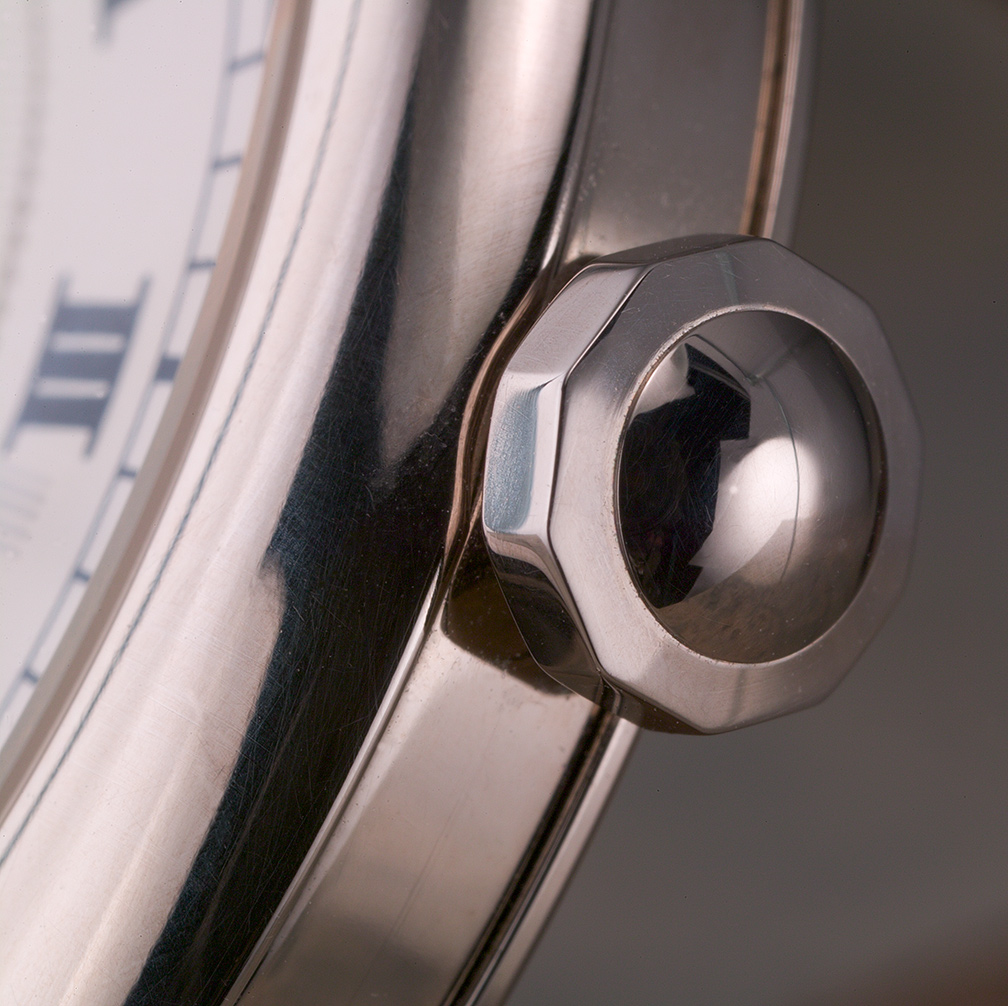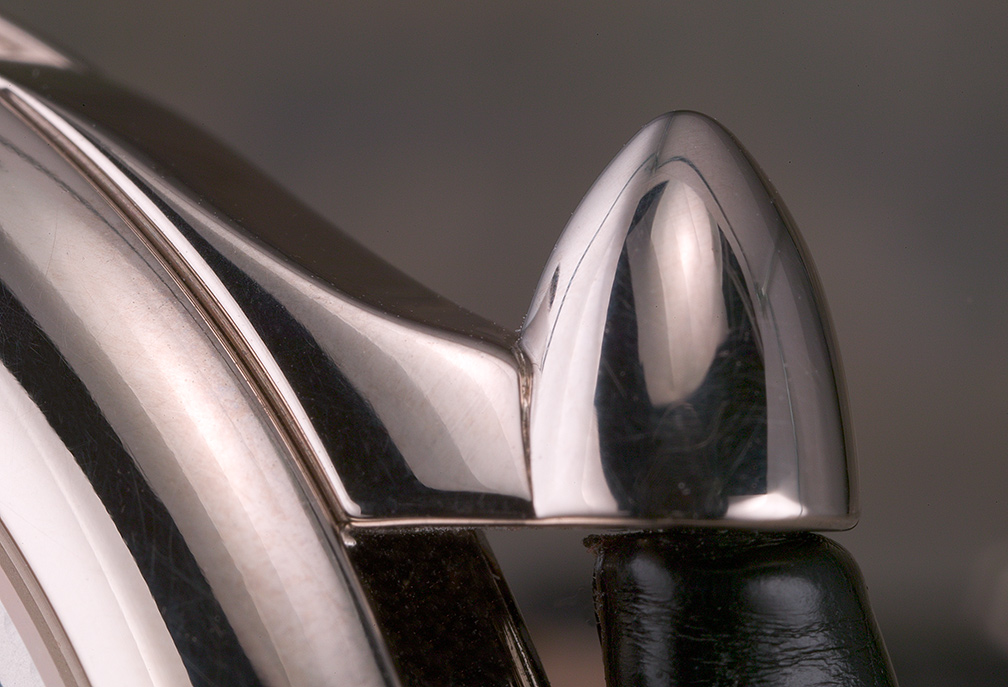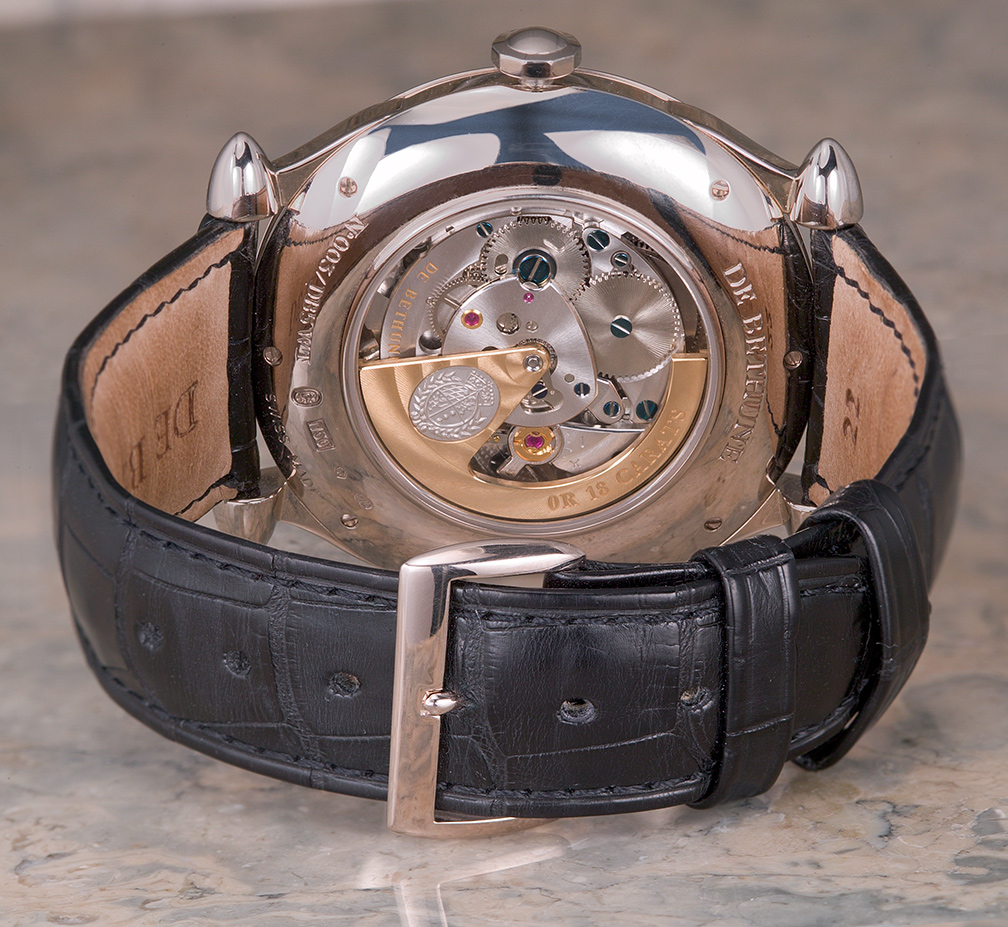 To demonstrate the influence of those special lugs, consider this comparison with the Roger Dubuis Hommage dress watch on top. The RD is 40mm, versun DB's 42mm: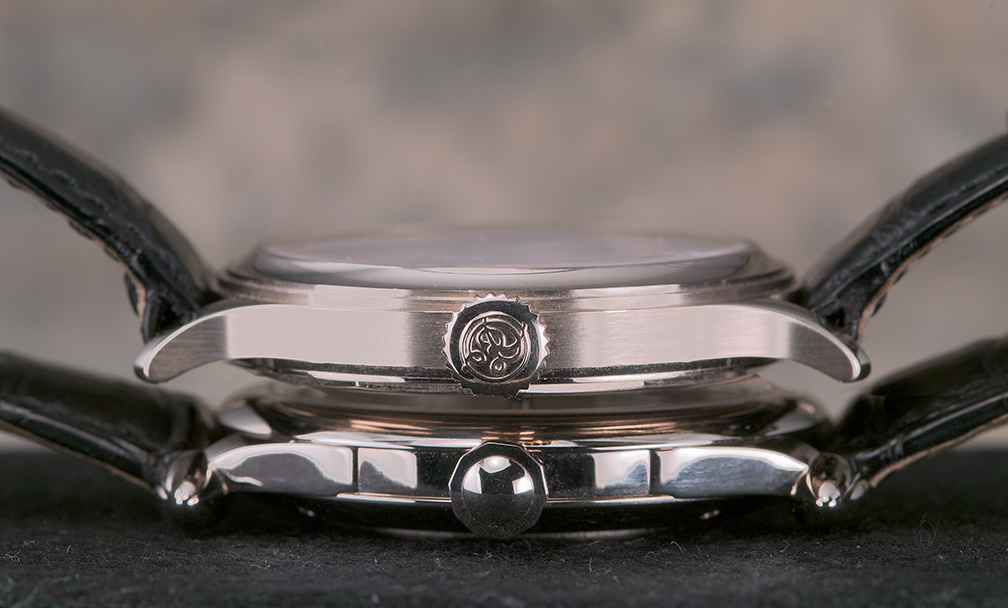 All content Copyright asserted 2003, 2004, 2005