Zenith Special aviators' watch

If you like military watches at all it is hard not to be attracted to some of the very early aviators' wristwatches. They tend to have high quality and historically interesting movements, often wonderful porcelain-enamel dials (which are brittle and prone to cracking, but otherwise retain their beauty indefinitely) and certainly very limited supply. Because they predate the entire concept of military(/style) wristwatches, they probably were actually used for their intended purpose, a matter of special interest within the field. Best of all, in an era when all manner of sport watches mimic original military designs but have been inflated to meet contemporary taste, these large older watches look perfectly at home, but are the real thing. Sized for utility rather than style, the originals are large because they often house old pocketwatch movements, and the big dial is more readable; frequently they were intended to be worn outside a flight jacket.
Perhaps the most well-known such watches are those supplied by Longines to the Czech air force. They date mostly from the 1930s, and though there are several combinations of dial and movement, their large (40mm) cushion-shaped alloy case is easily recognizable, and quite a few have survived. My example of this historic watch has a black porcelain dial and a very early, 15-ligne pocketwatch movement, and is reviewed

Here!-->



On the other hand, several manufactures (I have seen Omega, Helvetia and Eterna, as well as Zenith; there are likely others) produced aviators' watches such as the present one: large and round, with a rotating coin-edged bezel and exagerated onion crown (for ease of use with gloves).
---
This example is an incredible Zenith "Special", the actual watch catalogued by Konrad Knirim in his authoratative "Military Timepieces" on page 373. He describes it as used by the Luftwaffe in the early 1930s, and a significant piece of work. It is 41mm diameter, exclusive of crown, and the bezel rotates to turn a marker underneath the crystal (here positioned at 12 o'clock):



Click the pictures for even larger!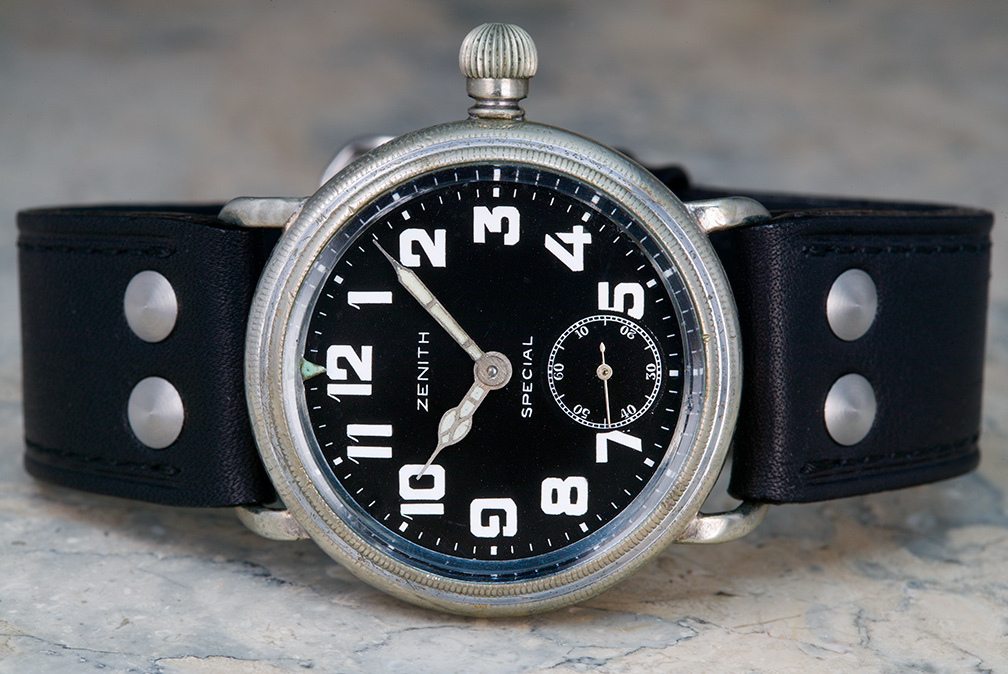 The dial is fired porcelain, and although there is minor cracking it otherwise appears almost as new.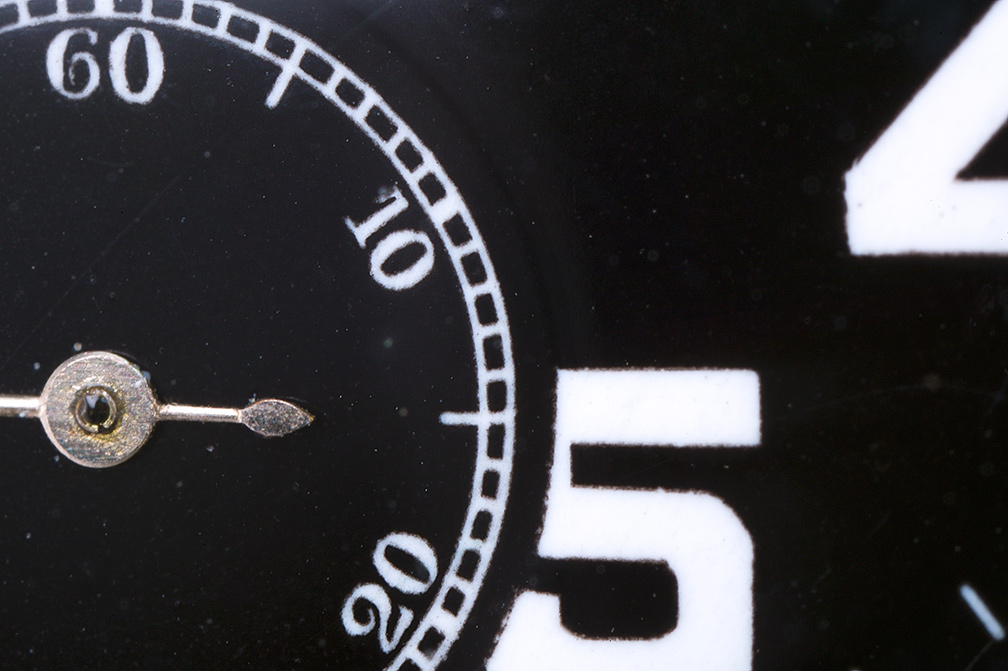 Behind the steel back is a glass dustcover which reveals a beautiful 15 ligne (about 34mm diameter) gilt movement: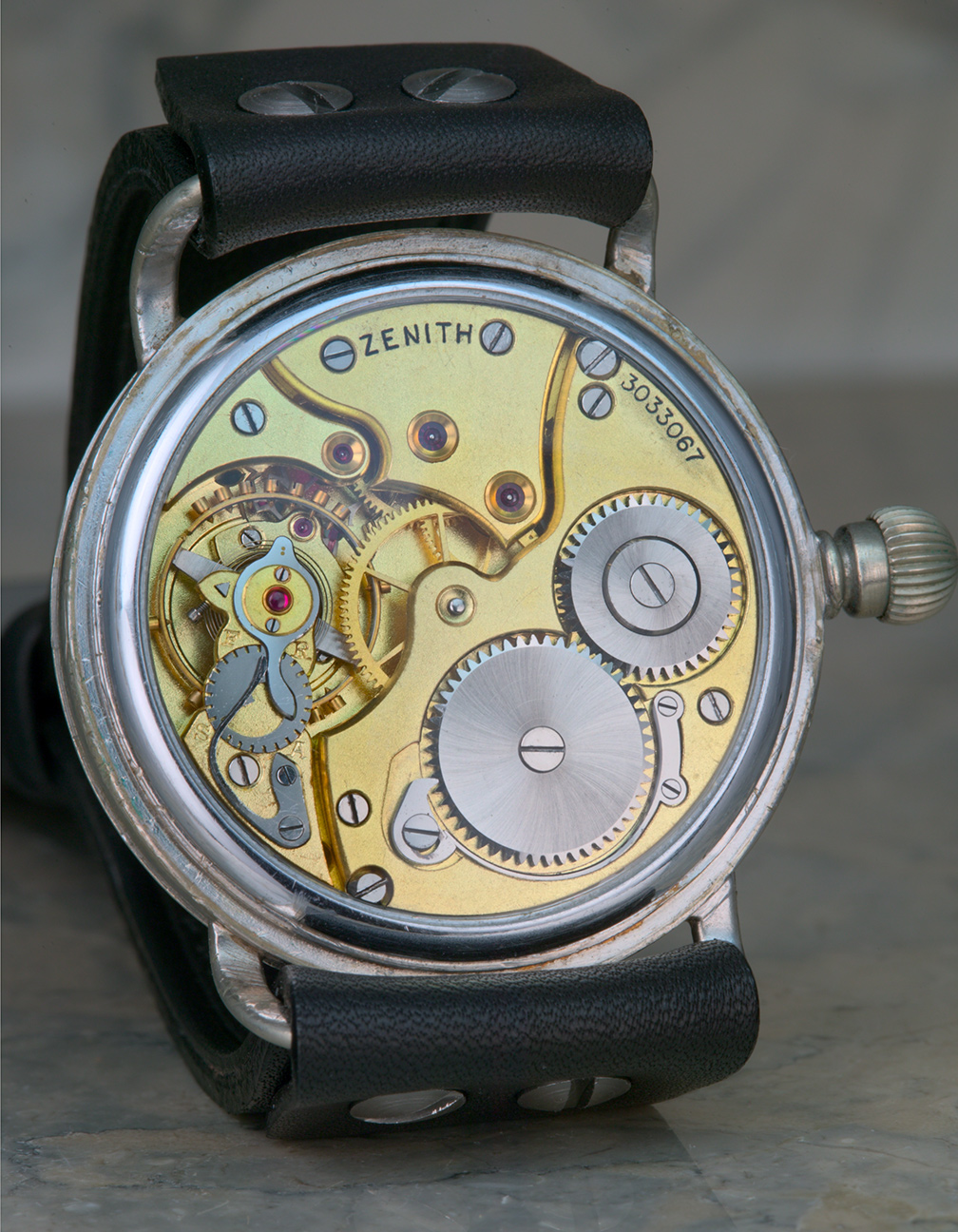 The movement features a screwed, split, bimetallic balance with overcoil hairspring, chaton-set jewels and Zenith's beautiful and unique reverse snail-cam regulator: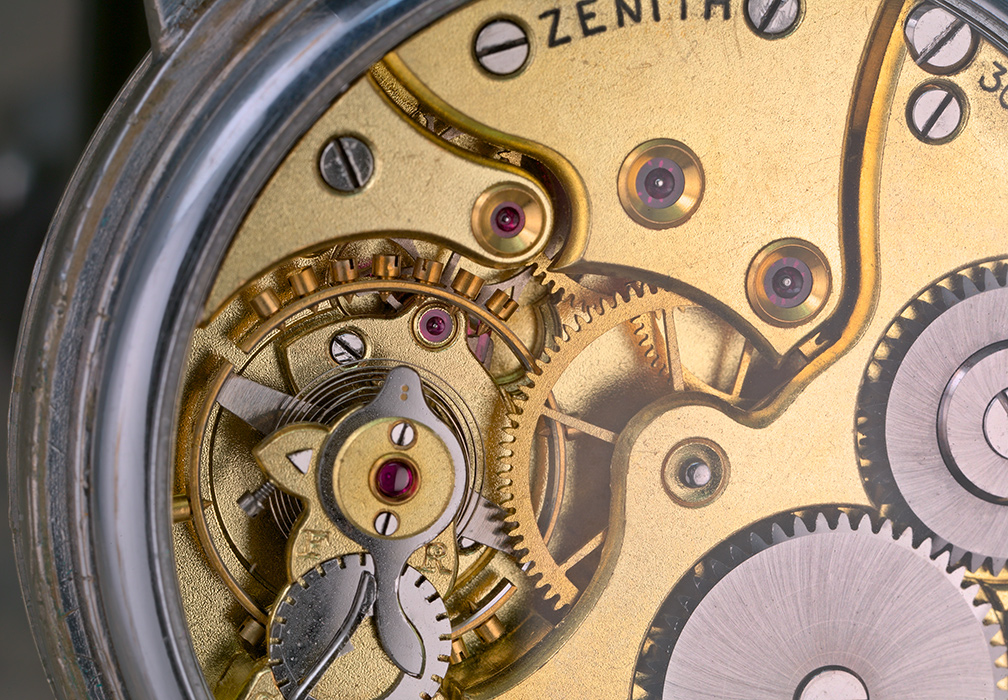 An open-end strap threads through hefty wire lugs soldered to the case. The plain back is knurled and screws in over the dustcover.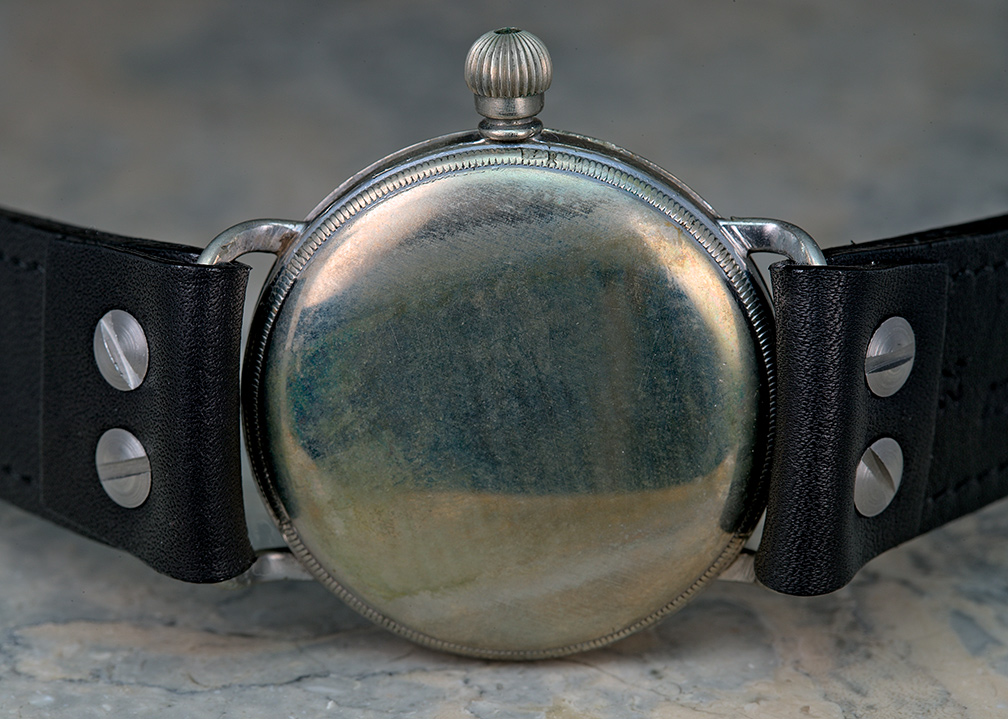 The crystal is a fabulous thick round of beveled glass!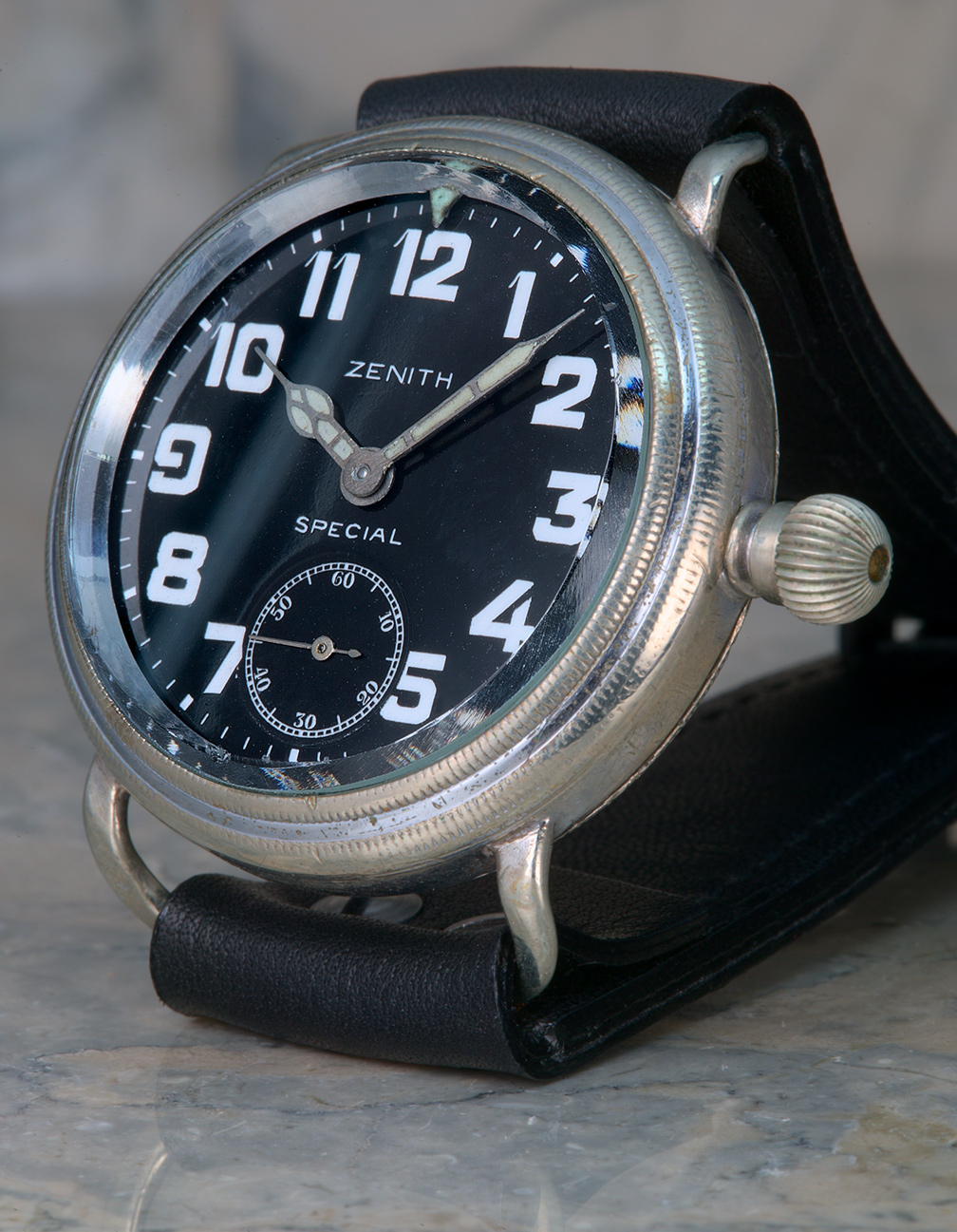 The incredible crown, up close!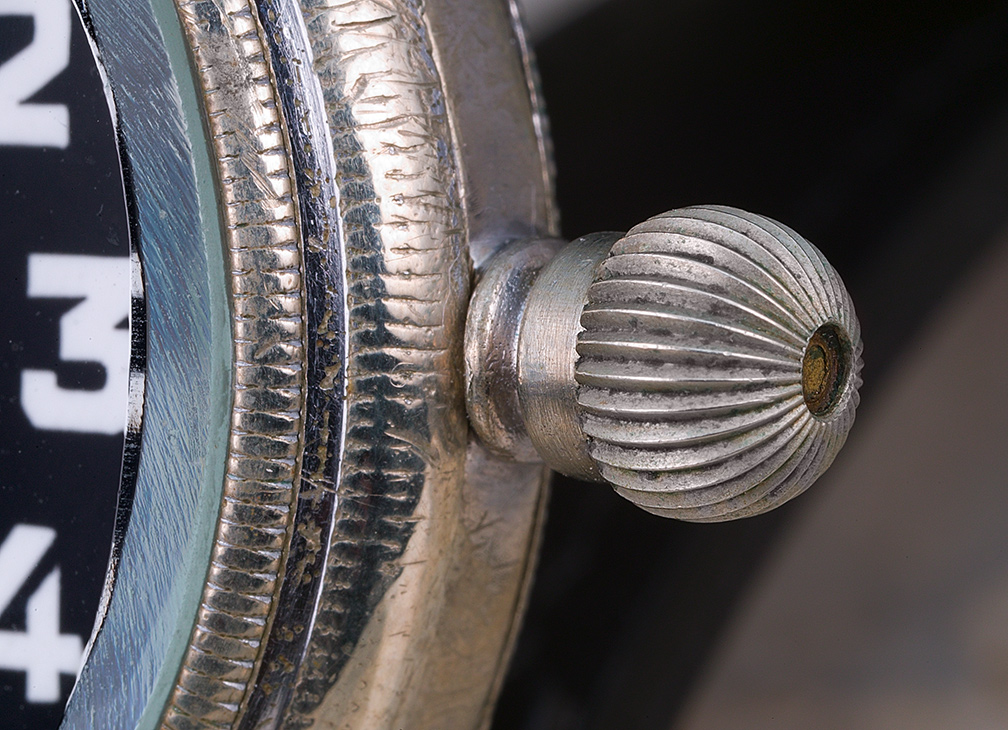 This watch has real wrist-presence!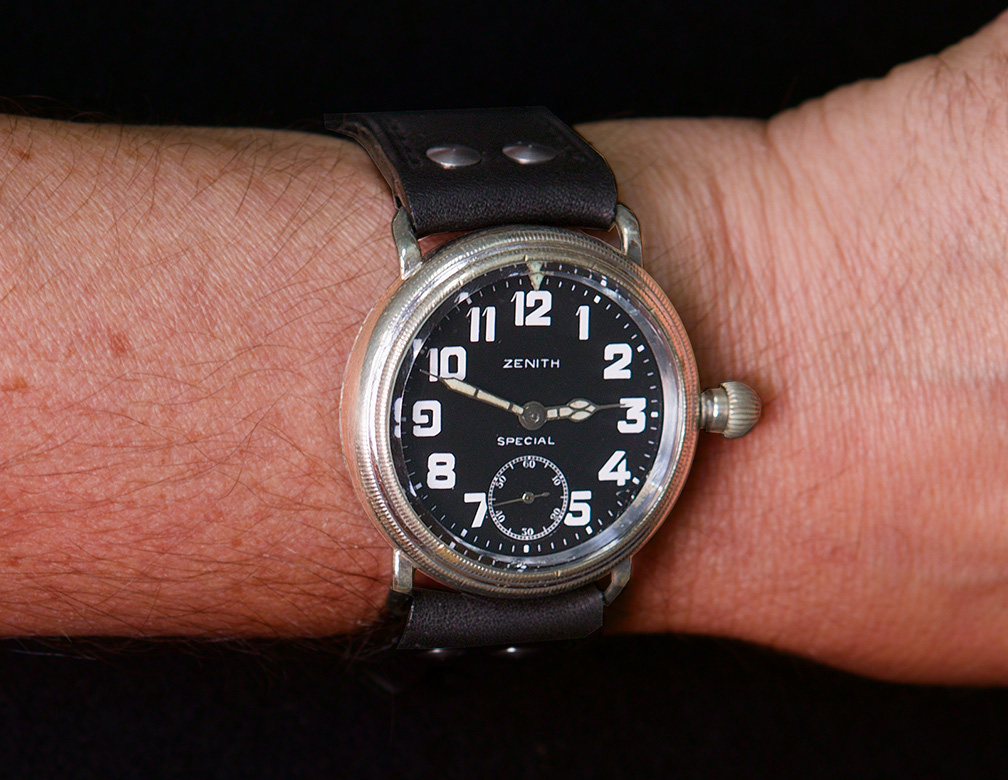 Please check out the rest of my watch Articles and pics:

I hope you enjoyed this!

SteveG
May 18, 2006



All content Copyright asserted 2003, 2004, 2005, 2006