Jaeger-LeCoultre Duo II

I have a special fondness for the Jaeger-LeCoultre Reverso models which highlight the design's unique construction in the function of the watch's reverse side. The present watch is an example from the Reverso Duo(face) line. The Duo provides the classic dial arrangement of time with small seconds on the obverse, and a dial with a full-size second-time-zone display, coupled to a 24-hour indicator (rather than the small seconds) on the reverse. Sometimes referred to as "home time" or GMT (Greenwich Mean Time) function, such watches allow for setting a second hour hand independently of the main time. This is useful for traveling, as one can easily check the time in either of two time zones. Because most watches offer only a single dial, this is usually accomplished by providing a second, distinctive hour hand rotating with the main hands, although in some cases (such as the new Lange 1 dual time zone, and JLC's own Master Geographic) an entire miniature dial showing hours and minutes is used.

The Duo is part of JLC's now-midsized Grande Taille line, and (with carrier) is 42mm tall by 26mm wide and just under 10mm thick, so it is appropriately sized as a modern dress watch. During the decade-plus since its introduction in 1994 and until its current near-obsolescence, the Duo has been produced in a bewildering number of combinations. Cases are available with bracelet or band and clasp, in steel, or in white, yellow or pink gold, coupled with dials which may be silvered, black, pink or charcoal, full or partial Arabic number hour markers, and various shaped and colored hands... There is a version sporting a lovely sun/moon (really, day/night) display on the front, and also related models in the styled Gran'Sport case. However, as you will see below, this particular watch provides a special variety all its own!


---
Click the pictures for even larger!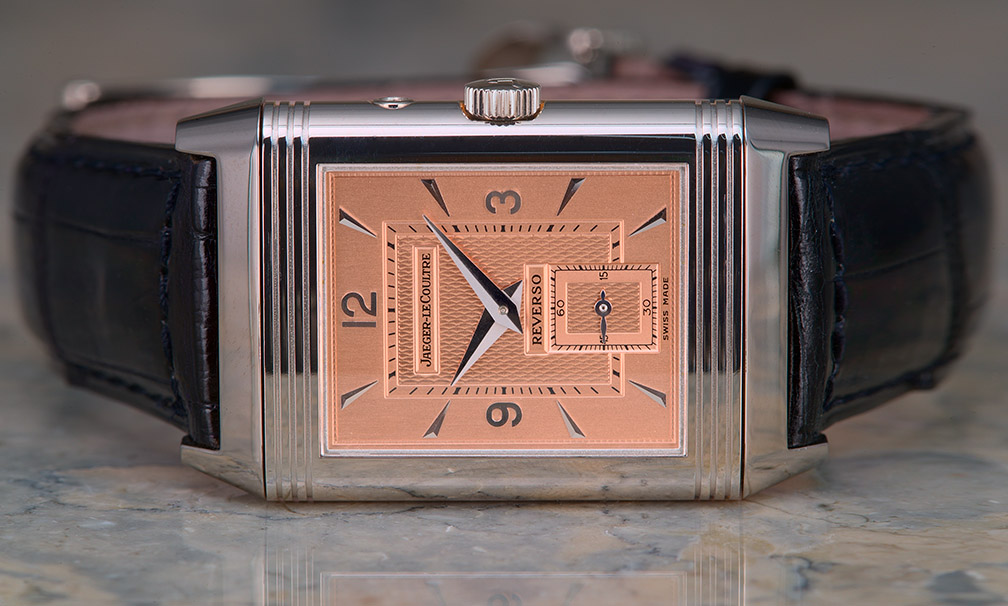 The Duo's (caliber 854 movement) trick is to allot the second time zone the entire reverse dial, adding a 24-hour hand and dial which indicates whether the time shown is at day or night. While this may sound pretty straightforward, the geometry of this arrangement is such that the hands on this second dial would rotate counter-clockwise were they directly driven along with the main hands, so the dial is offset just a bit to accomodate some reverser gearing. Also, when setting the independent time via the button set into the side of the case, a special clutch is needed to decouple the two hour hands.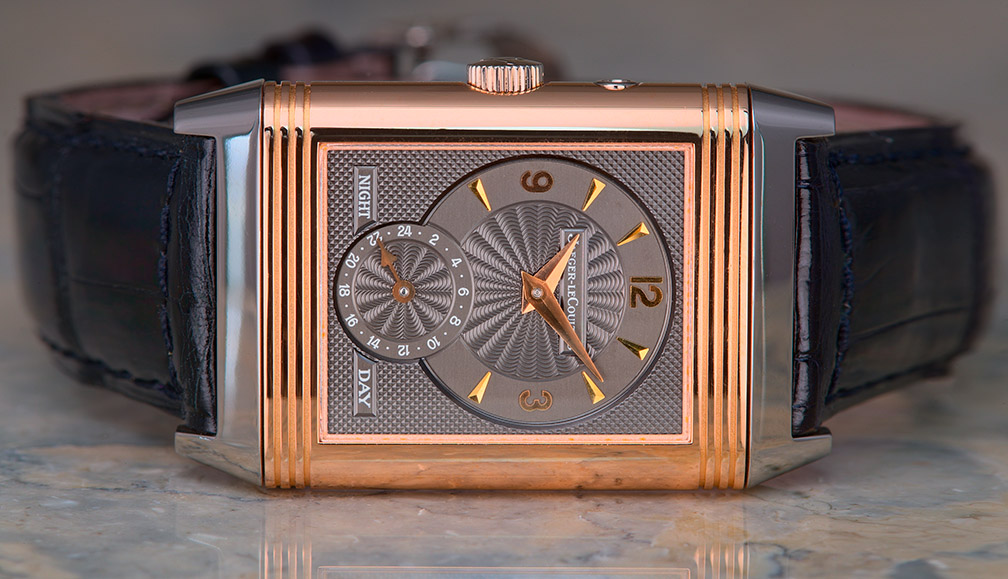 That's right...this Reverso is white gold on one side and pink gold on the other! While two-toned (usually gold/steel) cases are not unique, I have never seen another watch design which can be either monochrome or bicolored; in fact, I had never even heard of this watch until a couple of weeks ago. I think it's a smashing success, due not only to the imaginative adaptation of the unique Reverso design to such a useful function, but I also think that each side stands beautifully one its own, and the pink case with white carrier and charcoal guillocheed dial is sublime!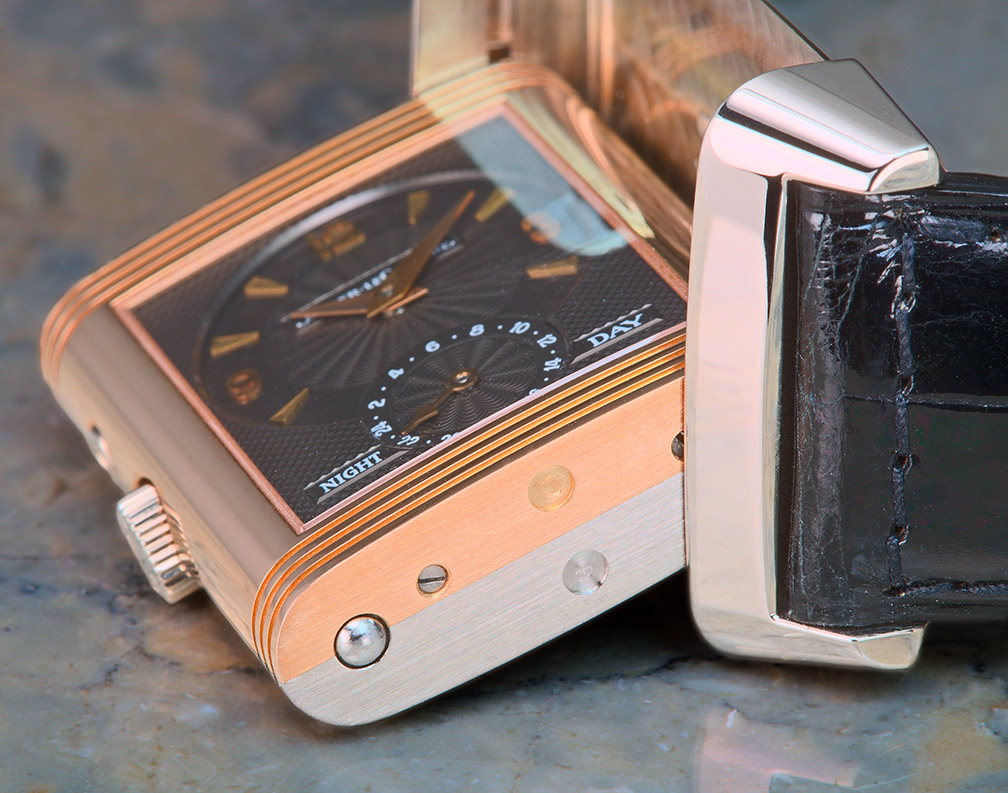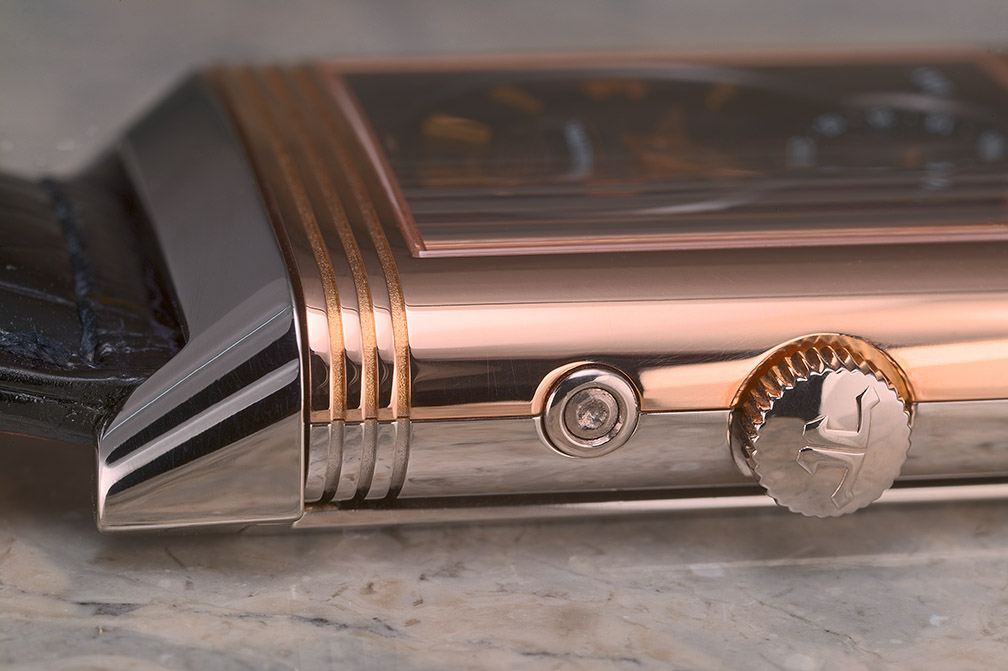 Here are some more details of those gorgeous dials: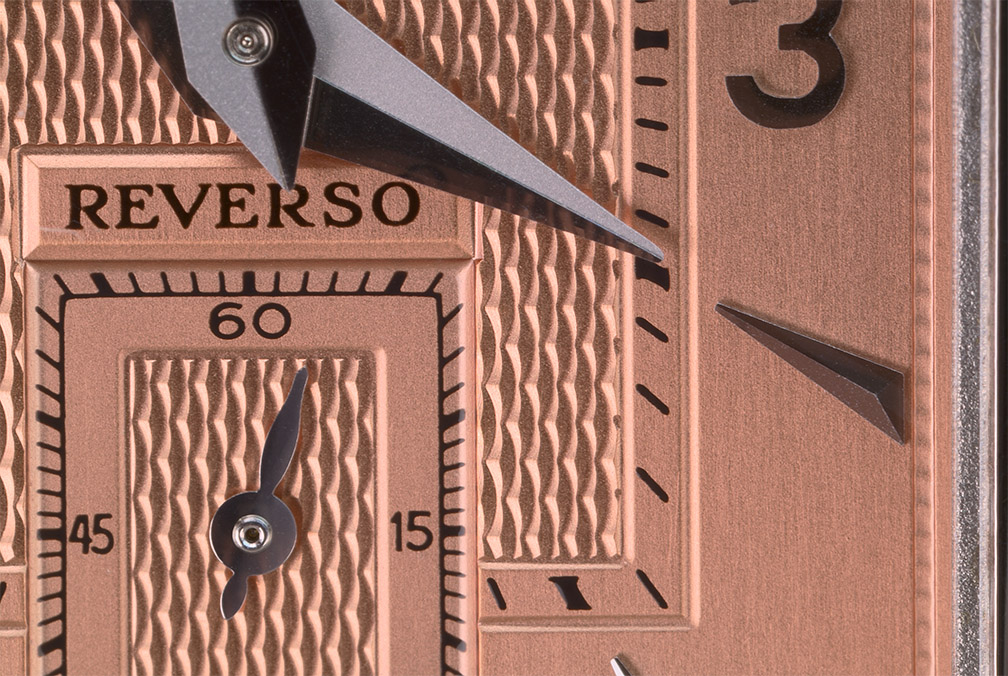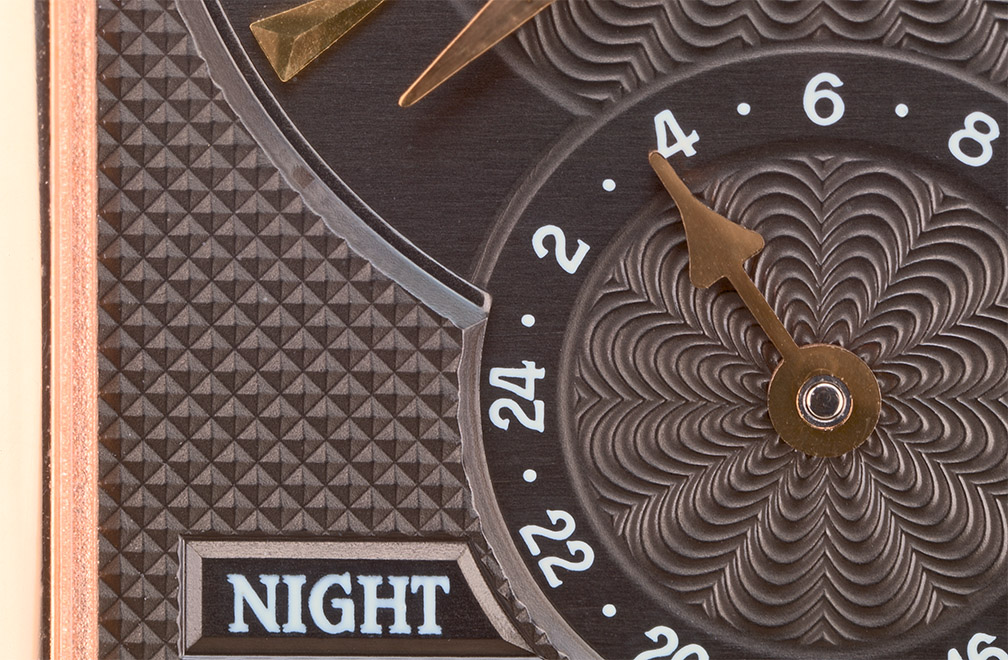 Peek-a-boo!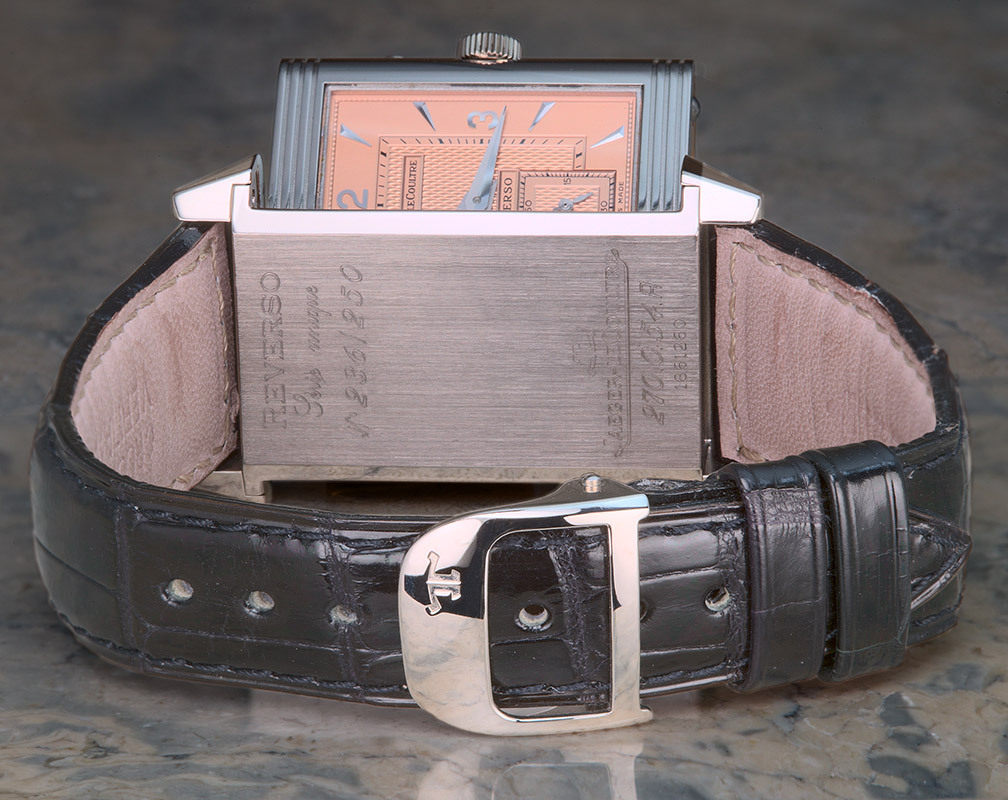 All content Copyright asserted 2003, 2004, 2005, 2006