Wristclocks!

Without really trying, I seem to have gathered a small collection of wristwatches constructed with small pocketwatch movements. I am calling them "wristclocks" to acknowledge the historical progress of miniaturization from huge, public clockworks and smaller domestic clocks, through portable carriage and marine clocks, to personal, pocket-able timekeepers, and finally wristwatches. During this latter transition it is only natural that the adapting of available pocketwatches to wristwear would proceed the development of much smaller and more suitable movements.

While very small watches integrated into elaborate bracelets for ladies date back to the early 1800s, it wasn't until almost exactly 1900 that designs intended for men began to appear. Almost exclusively these took the form of a small pocketwatch supplied either with a second bow (opposite the original, intended for attaching a chain) or sometimes crude wire lugs, through which a narrow leather strap was threaded. By the end of WWI, these early efforts seem to have headed in two distinct directions: smaller, metal-shielded trench watches which eventually morphed into the now-traditional dress wristwatch, and aviators' watches incorporating then-current pocketwatch movements, and intended to be strapped outside the heavy jackets worn by pilots and navigators of early aircraft. This latter persisted well into WWII in the form of the 54mm-diameter B-Uhr watches of the German air force, finally merging into the much smaller-sized general military designs typified by the British Ministry of Defense WWWs, and spawning the huge category of modern pilots/military/sports style watches.

I would not pretend that my little selection of such watches is in any way representative of the category, or that it usefully traces their history, only that having appeared individually over the last few years while accumulating wristwatches, collectively they fill an interesting and distinctly beautiful niche, and individually each takes its place in the development of the industry.


---
My earliest example is this incredible Zenith "Special", the actual watch catalogued by Konrad Knirim in his authoratative "Military Timepieces" on page 373. He describes it as used by the Luftwaffe in the early 1930s, and it is a significant piece of work. 41mm diameter, exclusive of the huge, glove-friendly crown, the crystal is beveled glass, and the bezel rotates to turn a luminous marker underneath the crystal (here positioned at 12 o'clock). The dial is fired porcelain, so while the brittleness has allowed some minor cracking, almost all of its original beauty persists. This particular example even has a glass dustcover for the movement, and hefty wire lugs:



Click the pictures for even larger!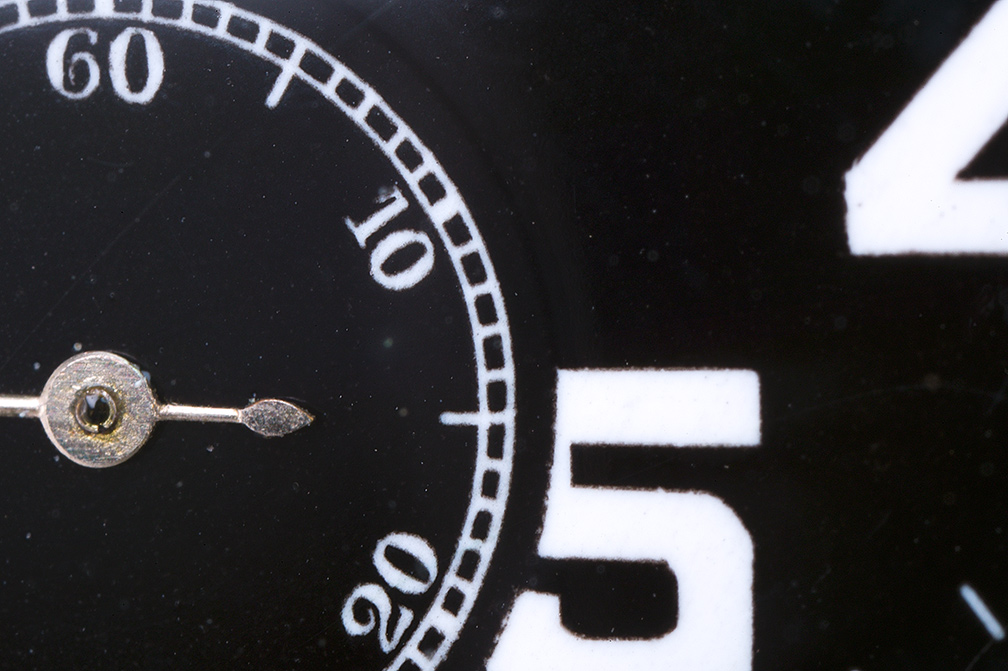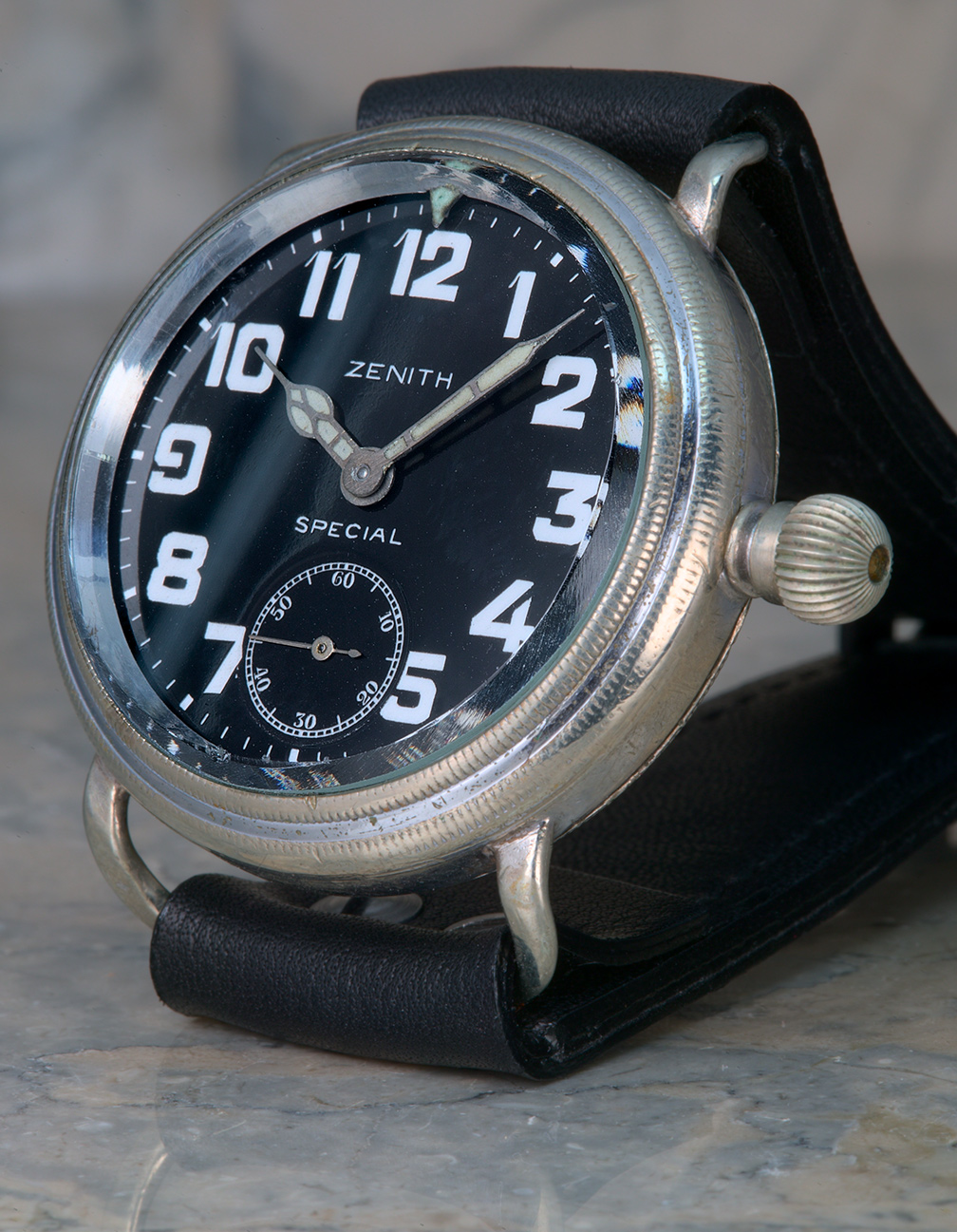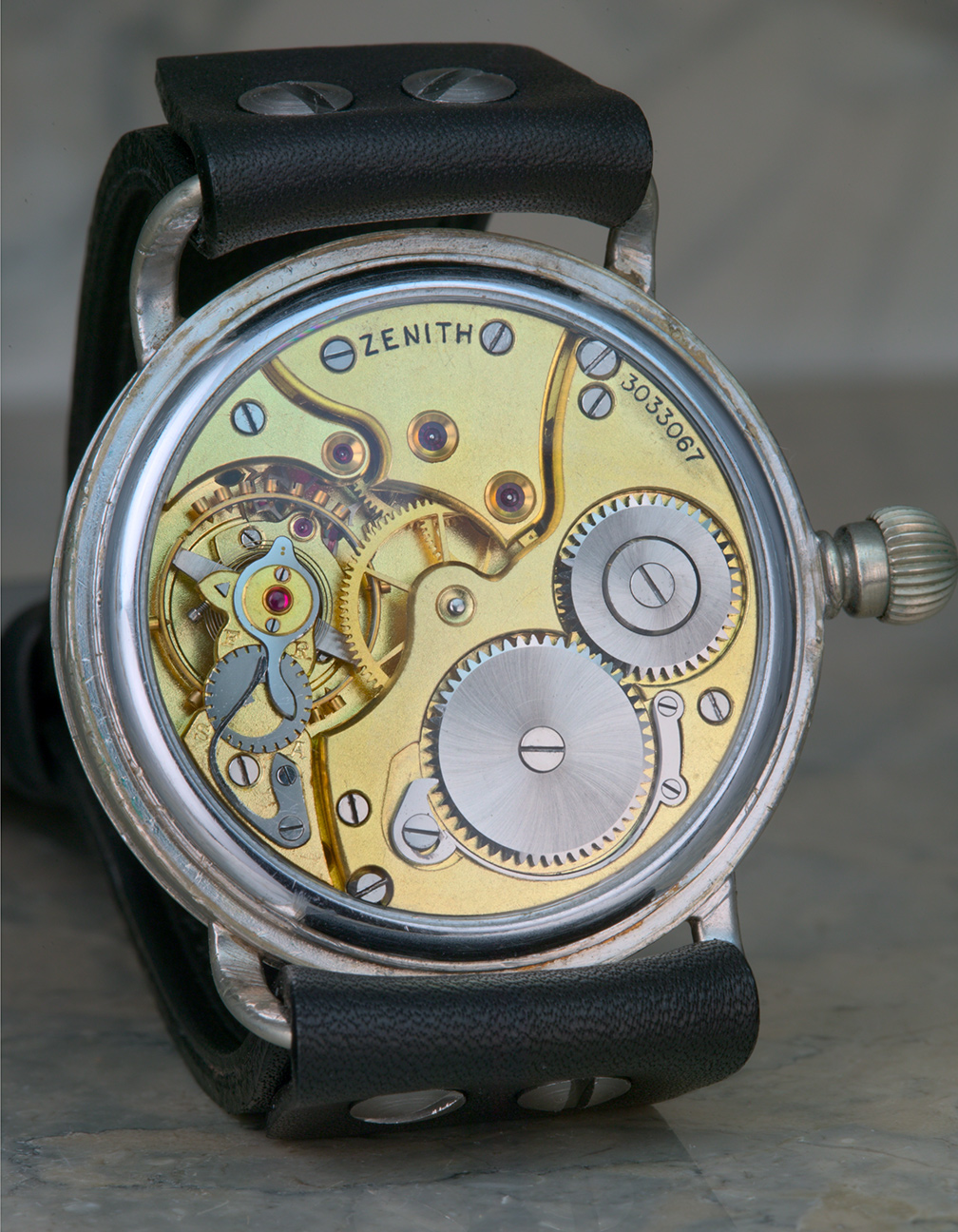 ---
Next up is another aviators' watch, this one a Longines used by the Czech air force in the mid-1930s, but incorporating a 15 ligne (about 34mm) pocketwatch movement from some 2 decades earlier. Many features are similar to the Zenith above, including the rotating bezel and indicator and fabulously-preserved black porcelain dial. While this watch has a more conventional plastic crystal and large, simple crown, the 41mm stainless-alloy case is of a sculptured cushion shape, and incorporates unique folded-metal lugs which sweep down to hug the wrist (or jacket...). The movement used is also beautiful, although it took the watchmakers at RGM to open the case and provide for me a picture (courtesy of R. Baugh):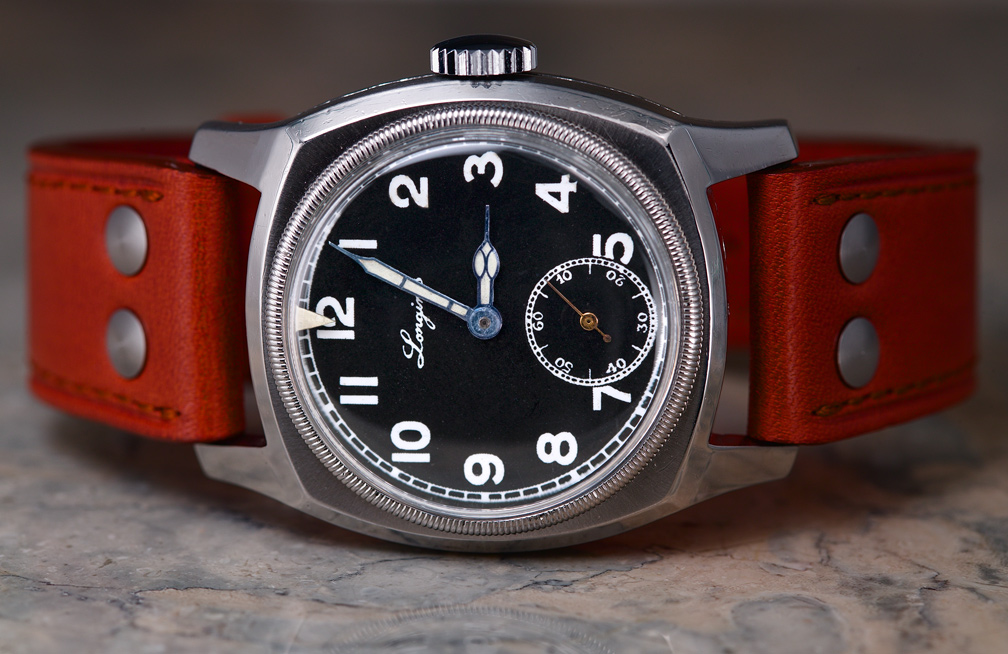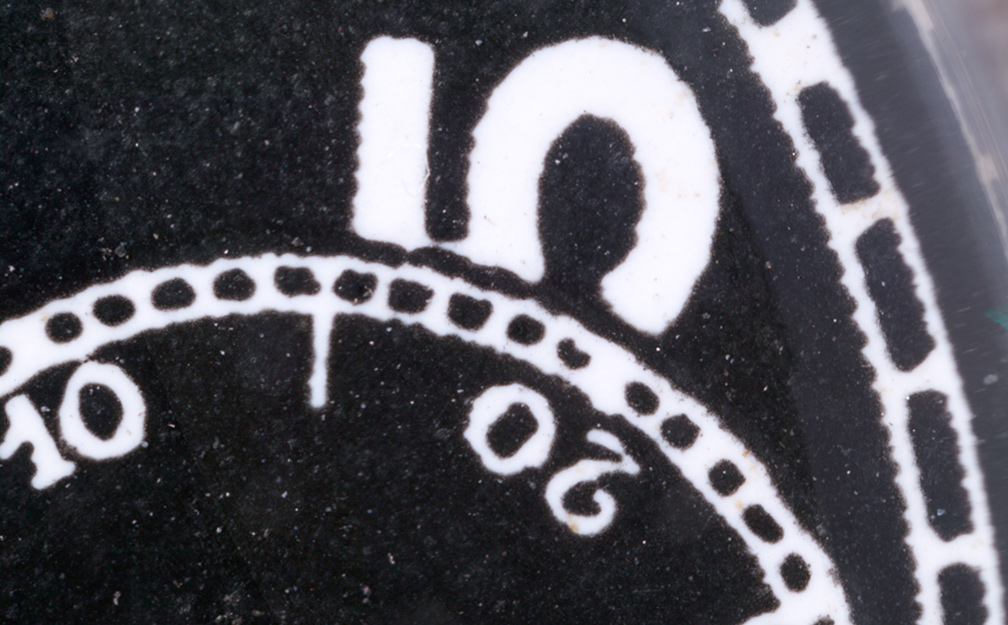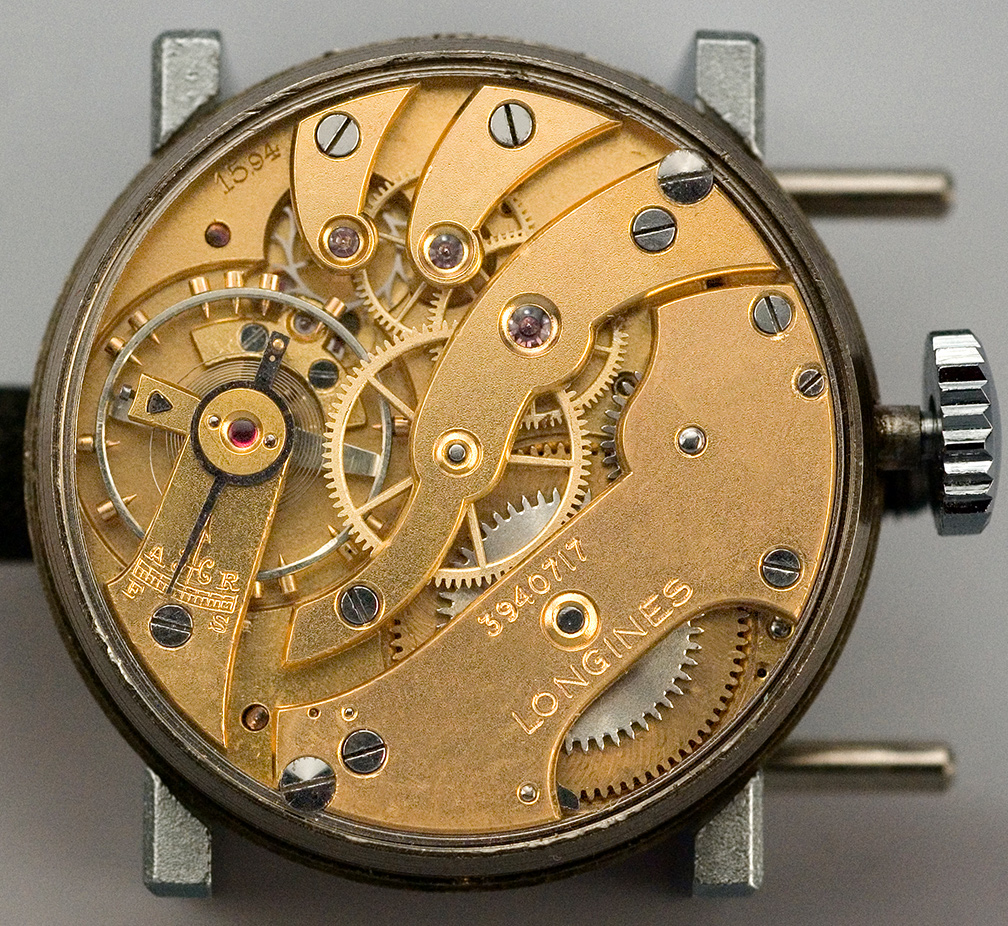 ---
Although a civilian, rather than military watch, the design of ths mid-1940s Cyma is apparently a result of the many WWII shortages, one of which was caused by the diversion of so many current-production watch movements to the military. Cyma/Tavannes filled this gap by digging into their parts bin and pulling out this 15-ligne Cal. 586. The result was a dress watch of a then-outsized (but now nearly perfect!) 38mm diameter with a beautiful and historic handwound movement. The glass back is obviously contemporary (I have retained the original):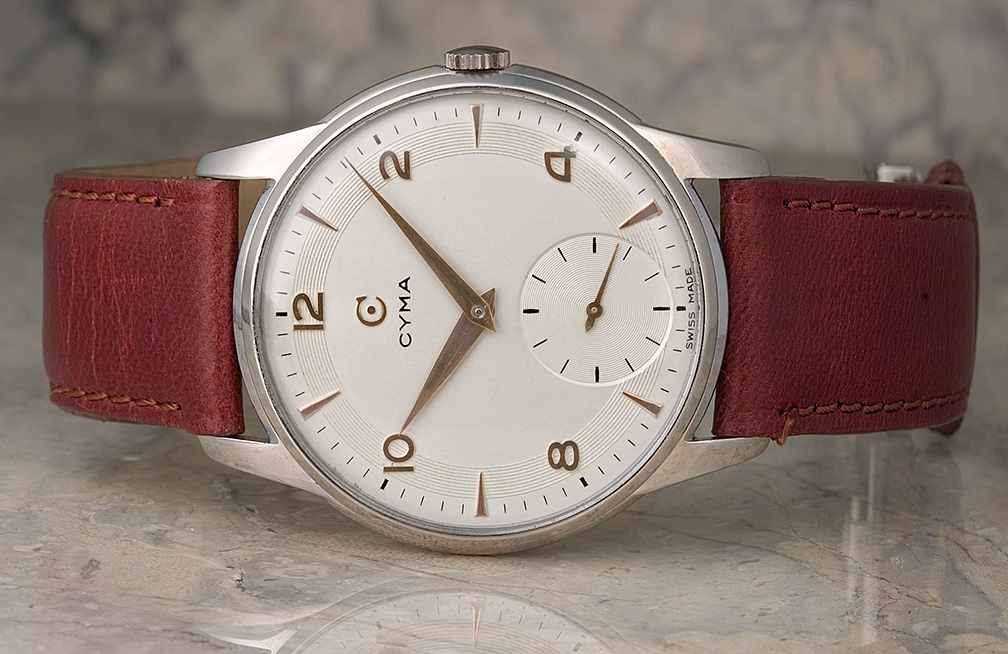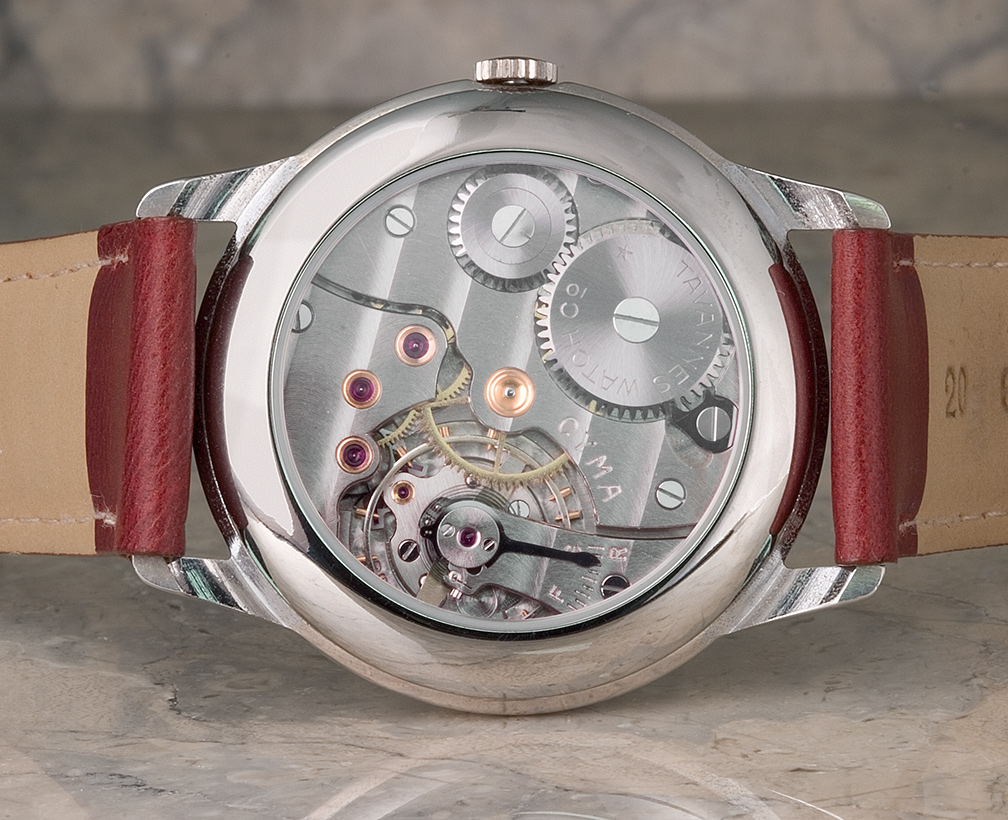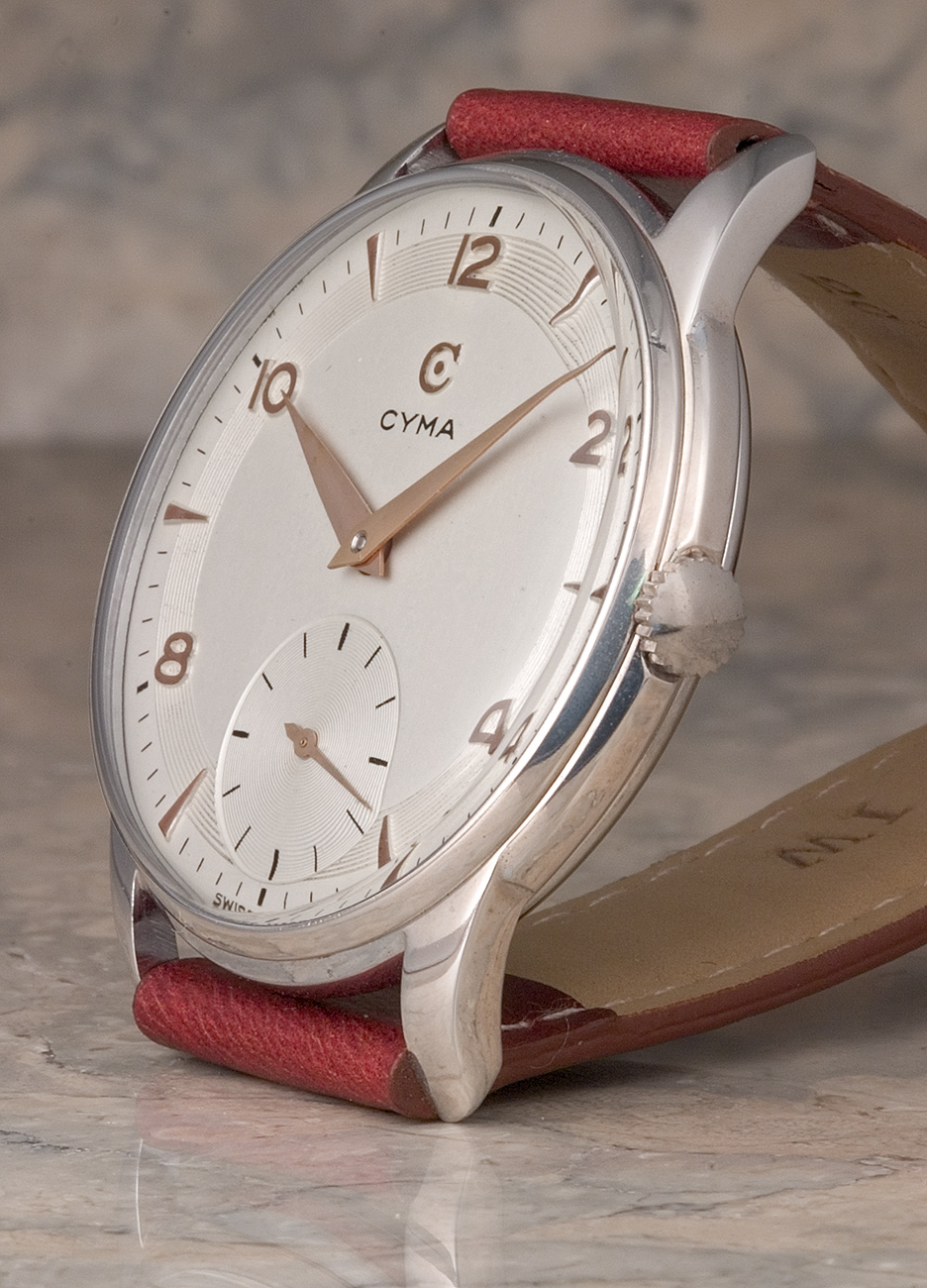 ---
In the early 1980s, as IWC struggled along with most of the Swiss watch industry to find their market during the age of cheap and ultra-accurate quartz watches, among their unique creations was this gargantuan wristwatch. Incorporating their monumentally thin (4.15mm, by 38mm diameter) and historic Caliber 9521, this original Portofino is 46mm diameter, yet features surprisingly thin and delicate numerals, hands, lugs and crown. The white, fired-enamel dial reproduces a classic pocketwatch, and is highlighted by a stunning blue and gold moonphase display. Way too large for me to comfortably wear, this is truly a wristclock!: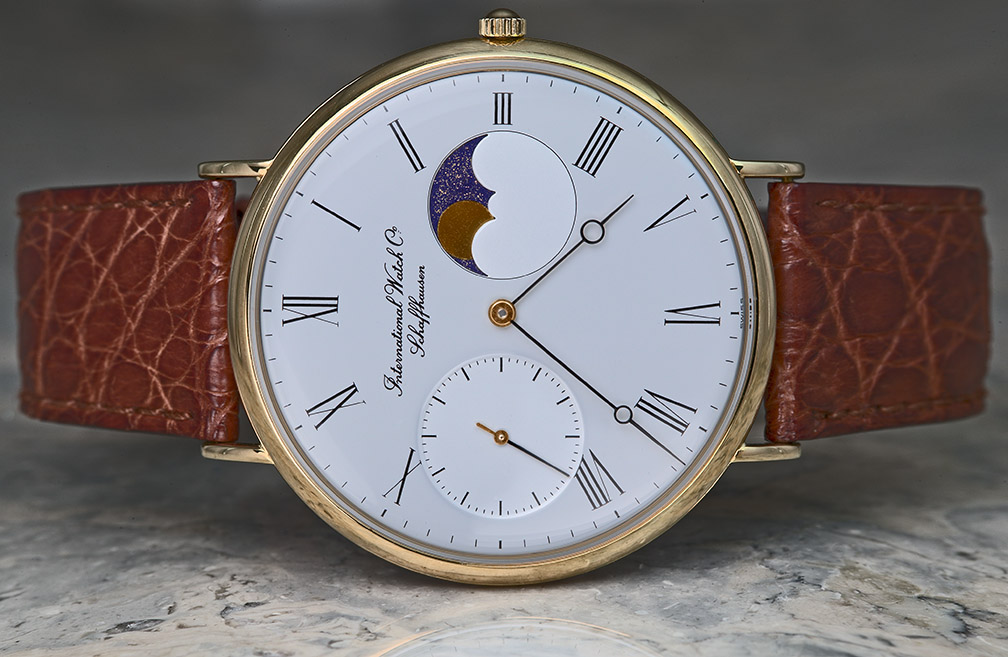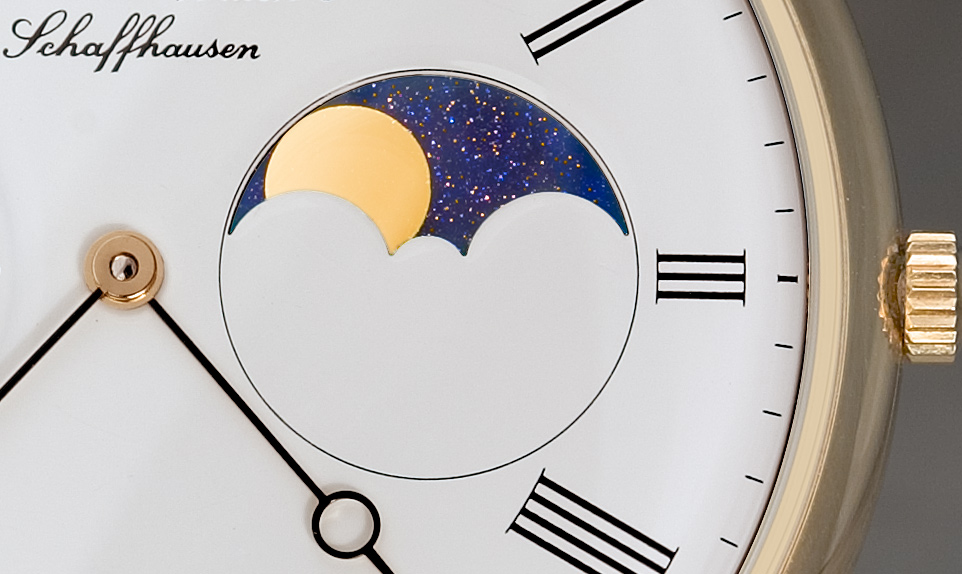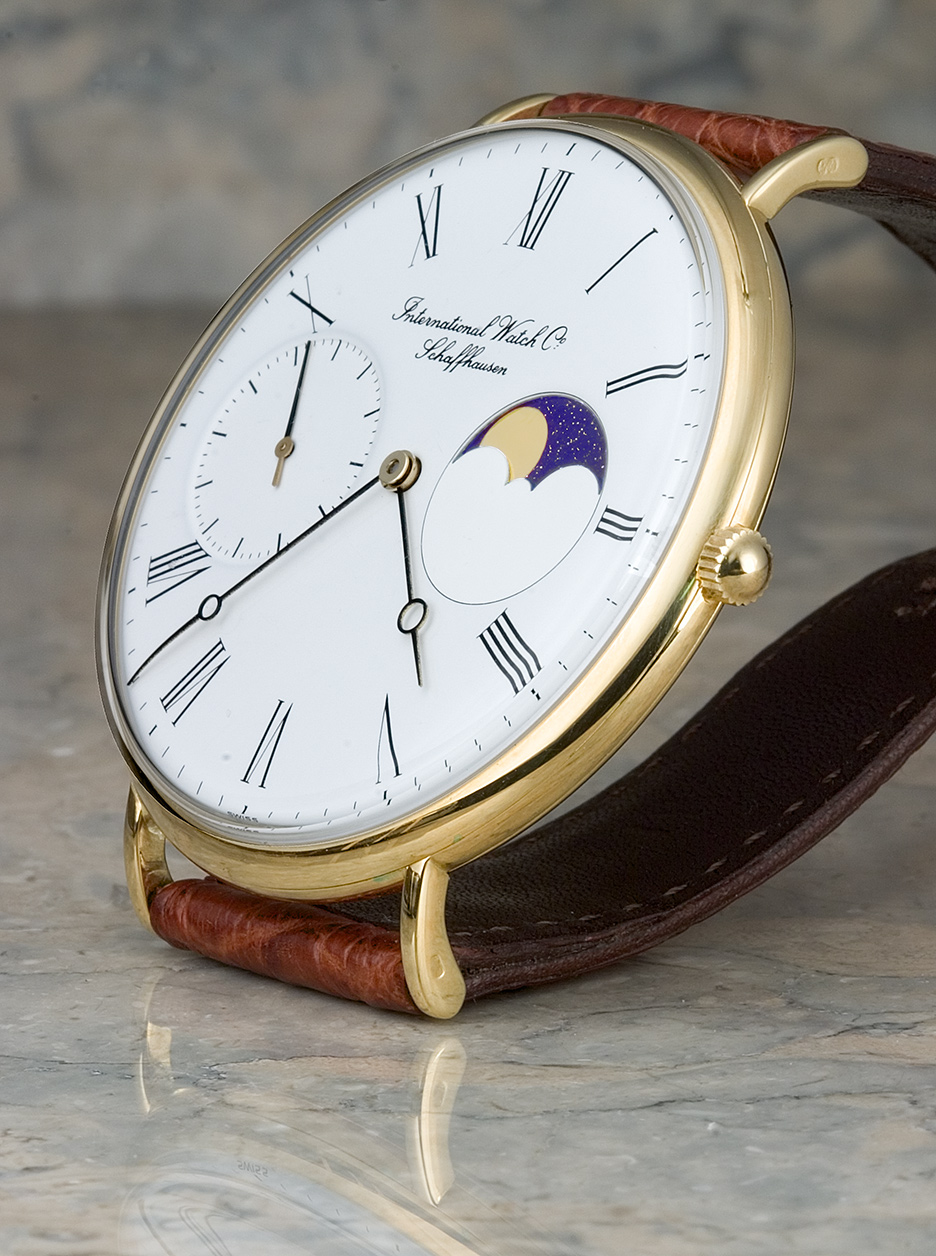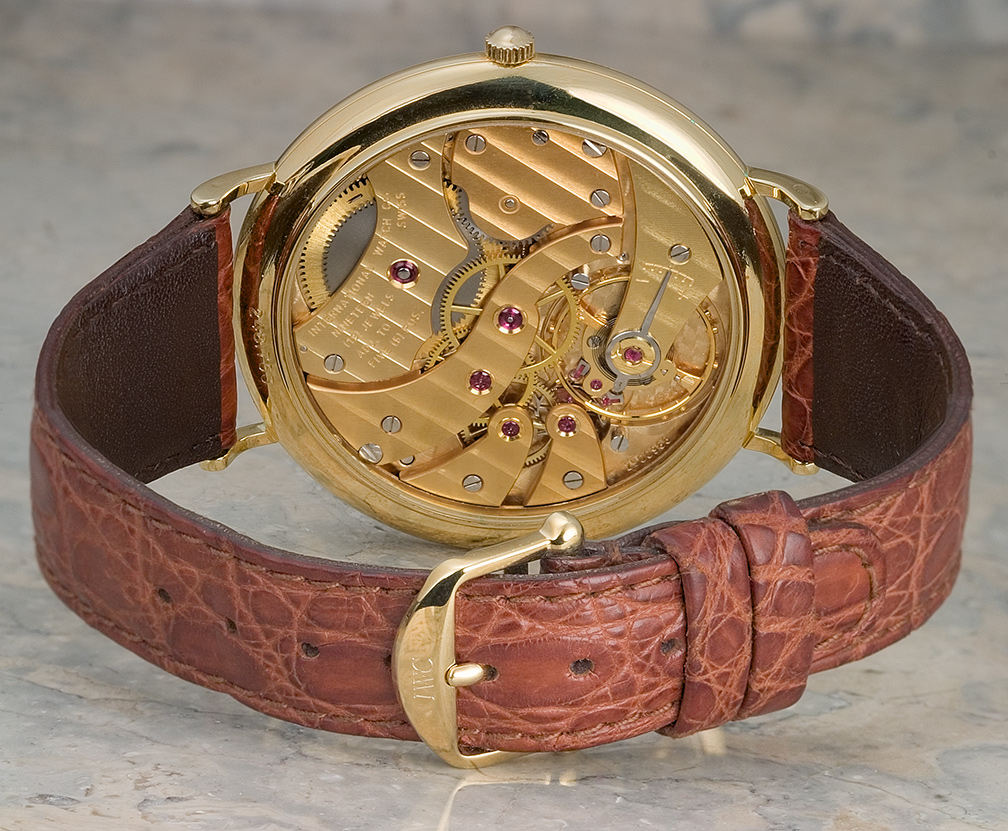 ---
Yet another late-20th-century effort is Minerva's 140th anniversary watch from 1998. This limited edition celebration is 43mm diameter, and incorporates Minerva's 17 ligne (about 39mm) Caliber 22, which was used in pocketwatches in the 1920s and 30s. Perhaps inspired by IWC's historic Portugueser watches, its simple design looks exactly like what it is, a pocketwatch with lugs and a strap. Although Minervas of this era typically sported very nice cases, dials and hands, often the movement finish was only superficially "fine". That of the Anniversary watch is really quite good, a pleasant bonus: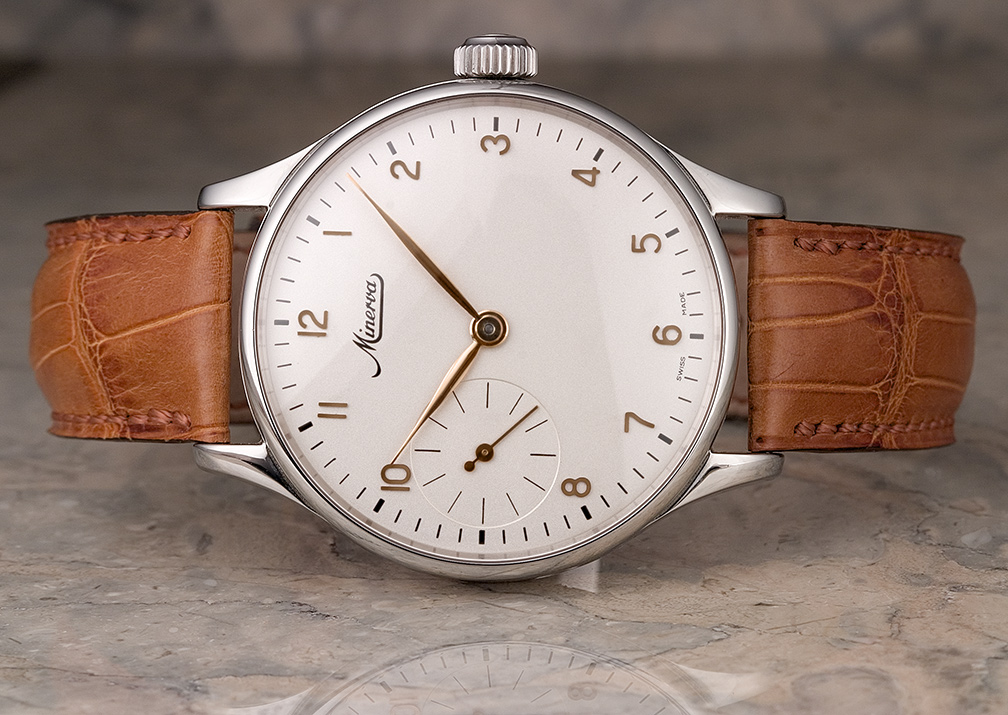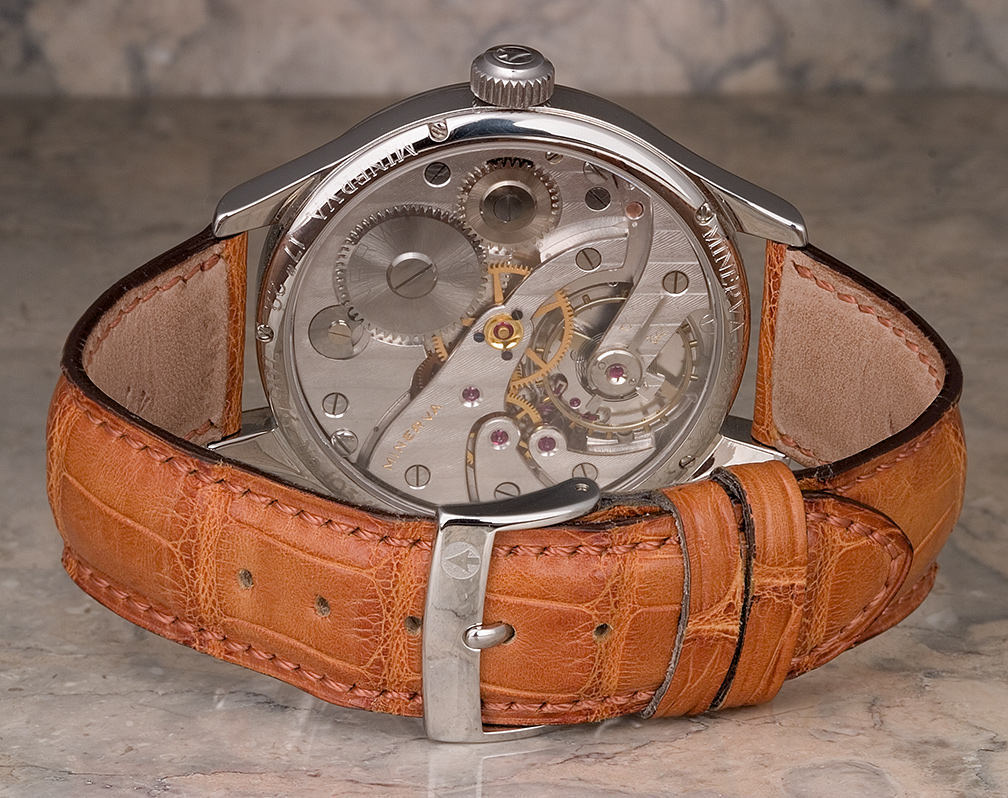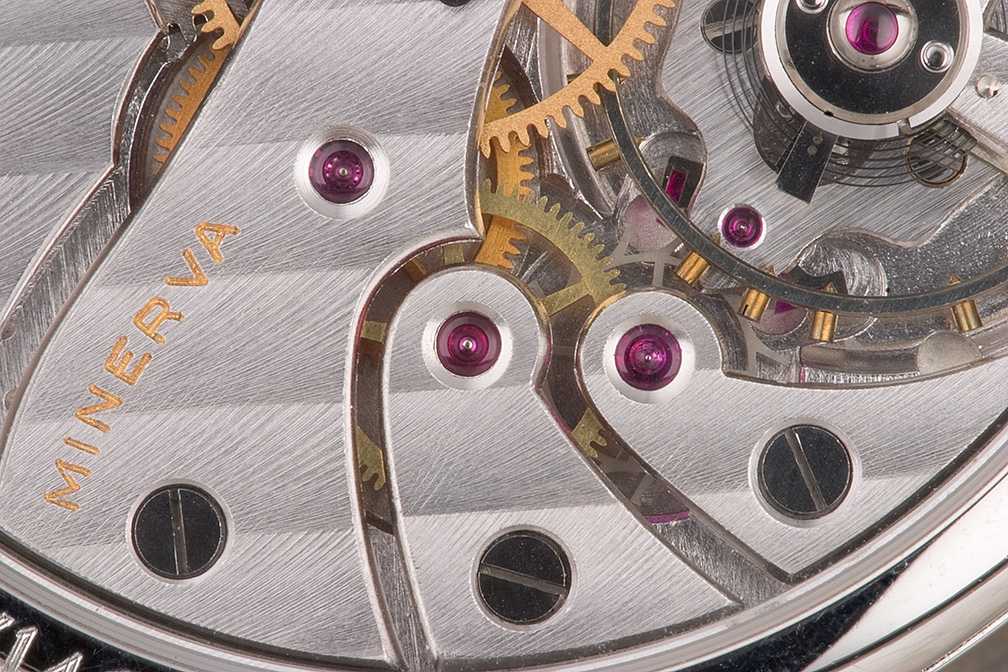 ---
Perhaps my favorite of all these watches, and my longest-standing, is also from the late 1990s. Created by Roger Dubuis when he was serious about his "Homage" watches, this beauty is dubbed "Condottieri" (leader, general or brigadier), and was produced in something less than 40 pieces in white and pink gold. Here RD has used a 15-ligne Tavannes movement from the same series as that in the Cyma (above), and significantly reworked the bridges, wheels and jeweling. Also incorporated are a swans-neck regulator, curved hairspring and black-polished and jeweled escape cap. Apparently individually adjusted, they carry the Geneva Seal, and have earned the Bulletin d'Observatoire (French chronometer certification). The ultra-traditional dial is glossy fired-enamel, the hands are magnificent blue, and the case is a just-barely-dress 40mm diameter.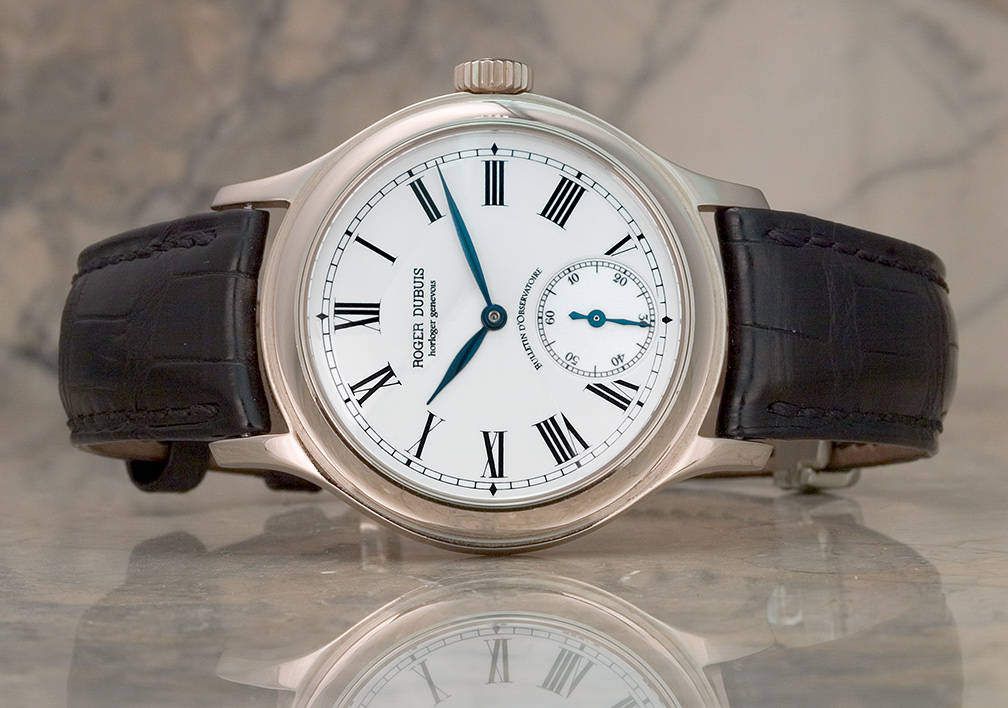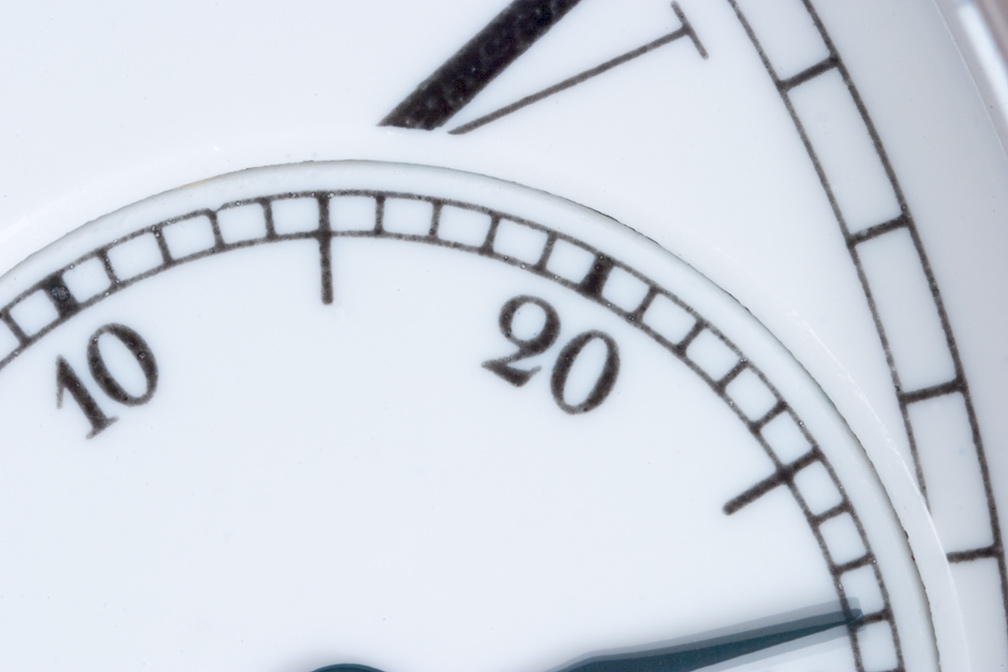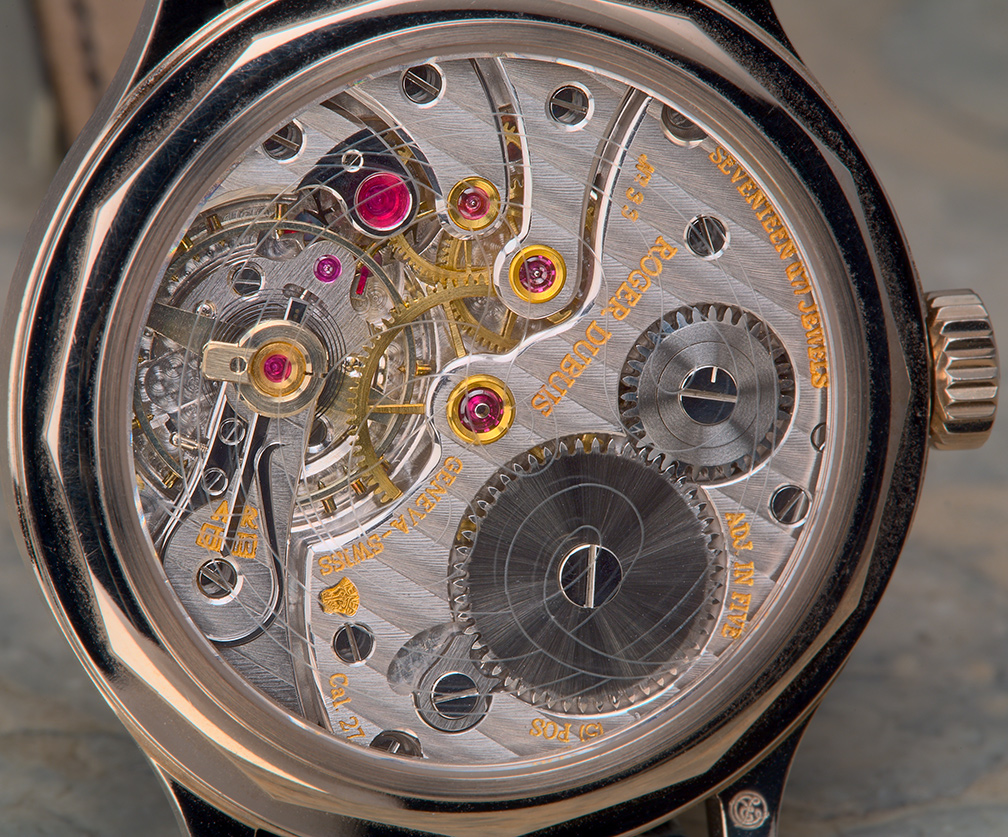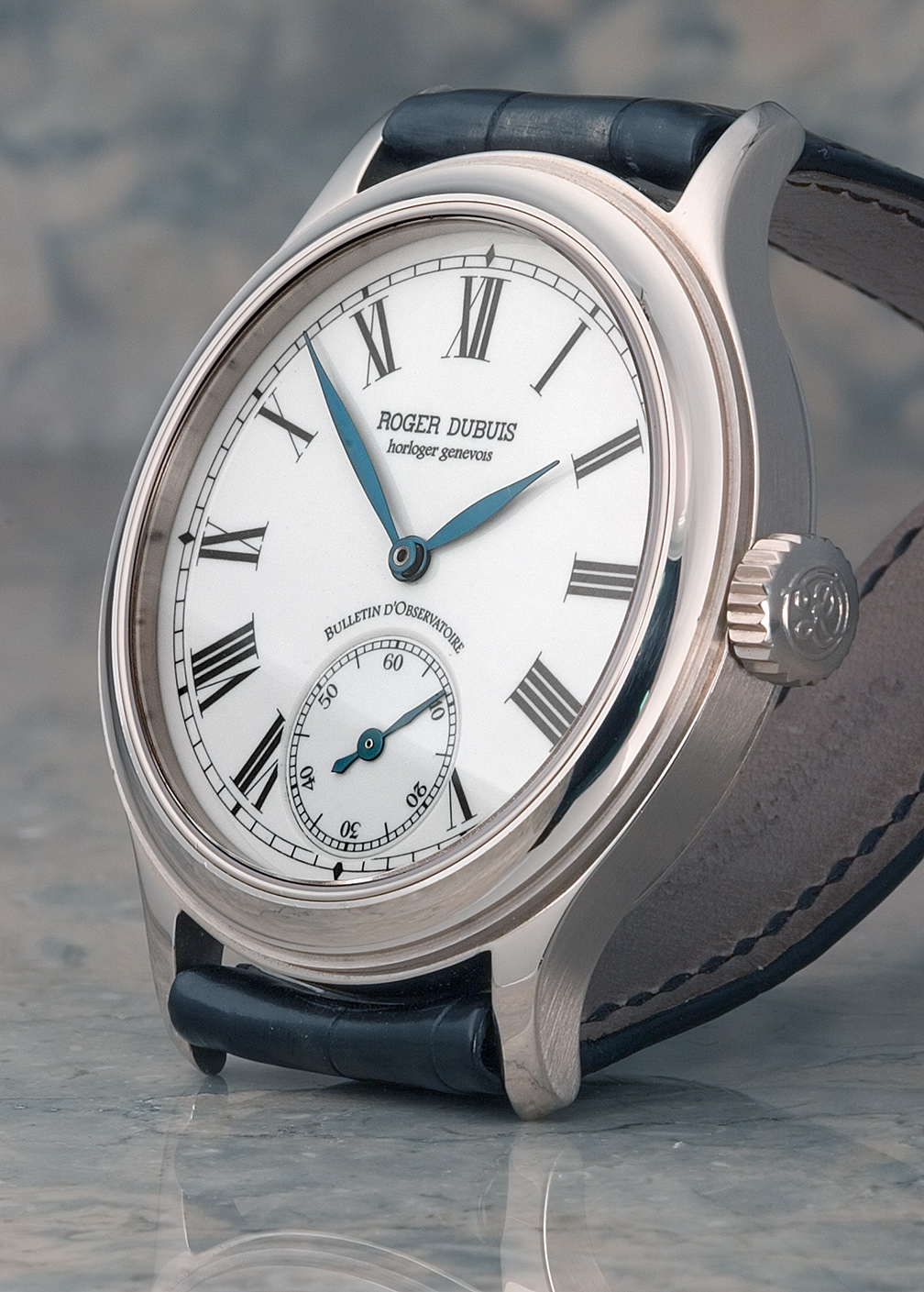 ---
IWC's first 21st-century watch and movement, the Caliber 5000, of course really does not use a pocketwatch movement. Rather, it is the unique creation of the company with by far the deepest roots in this corner of horology, the creators of the modern wristclock, the Portugueser. The world's only automatic pocketwatch-sized (38.2mm diameter, and 8250 cubic mm!) movement, its features and accomplishments make a lengthy list: 7-days autonomy at a traditional 18kbps, innovative Pellaton autowinding arrangement, beautiful screwed balance with adjusting weights and Breguet hairspring, boat-anchor rotor... The rest of the watch is similarly respectful of its history, a black painted dial with embossed Arabic numerals, polished and blued hands, plastic crystal and a substantial crown; 42mm diameter: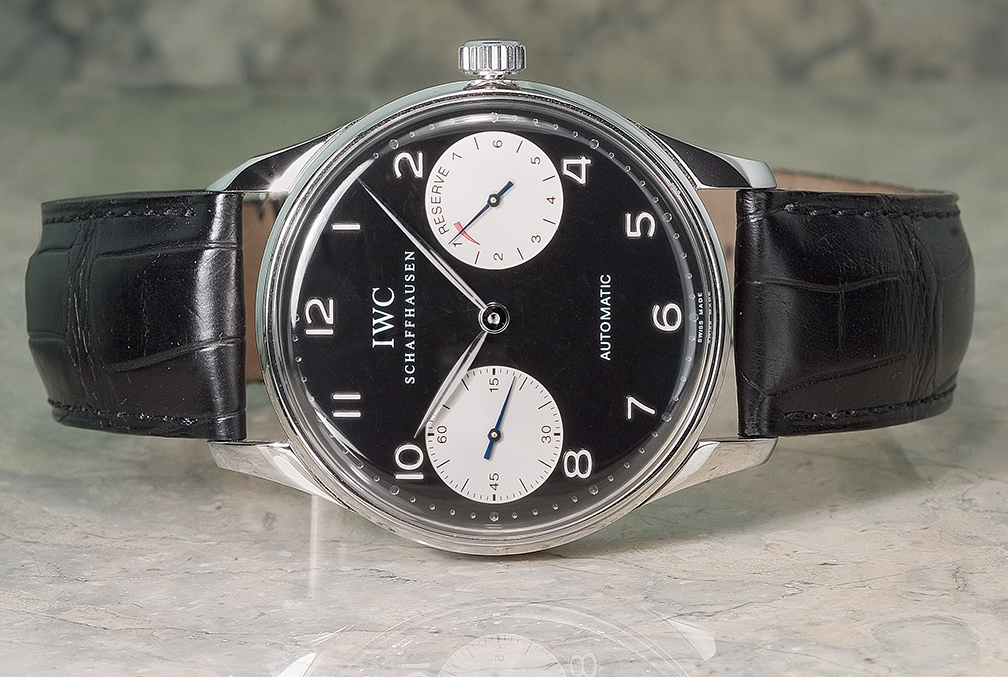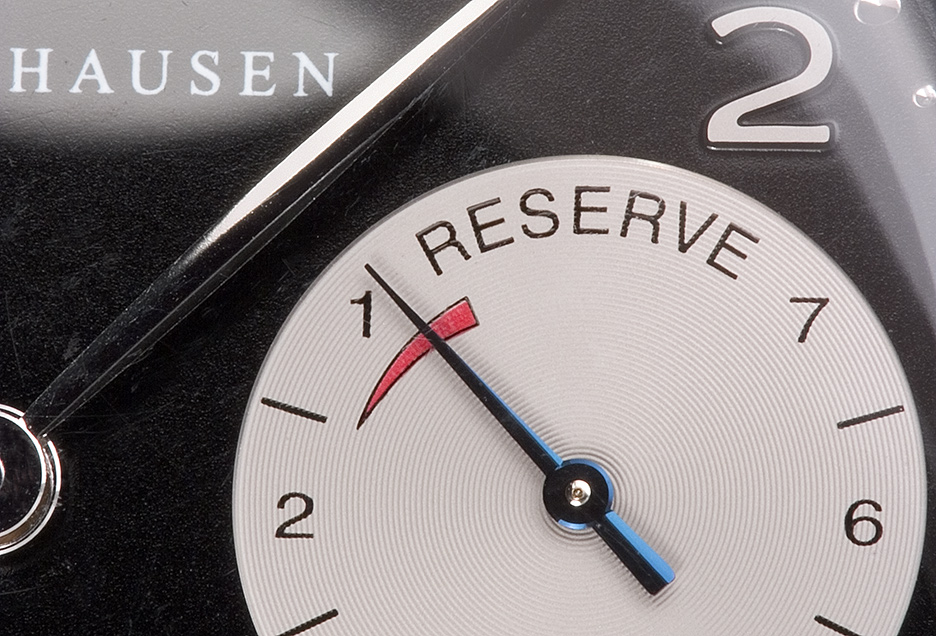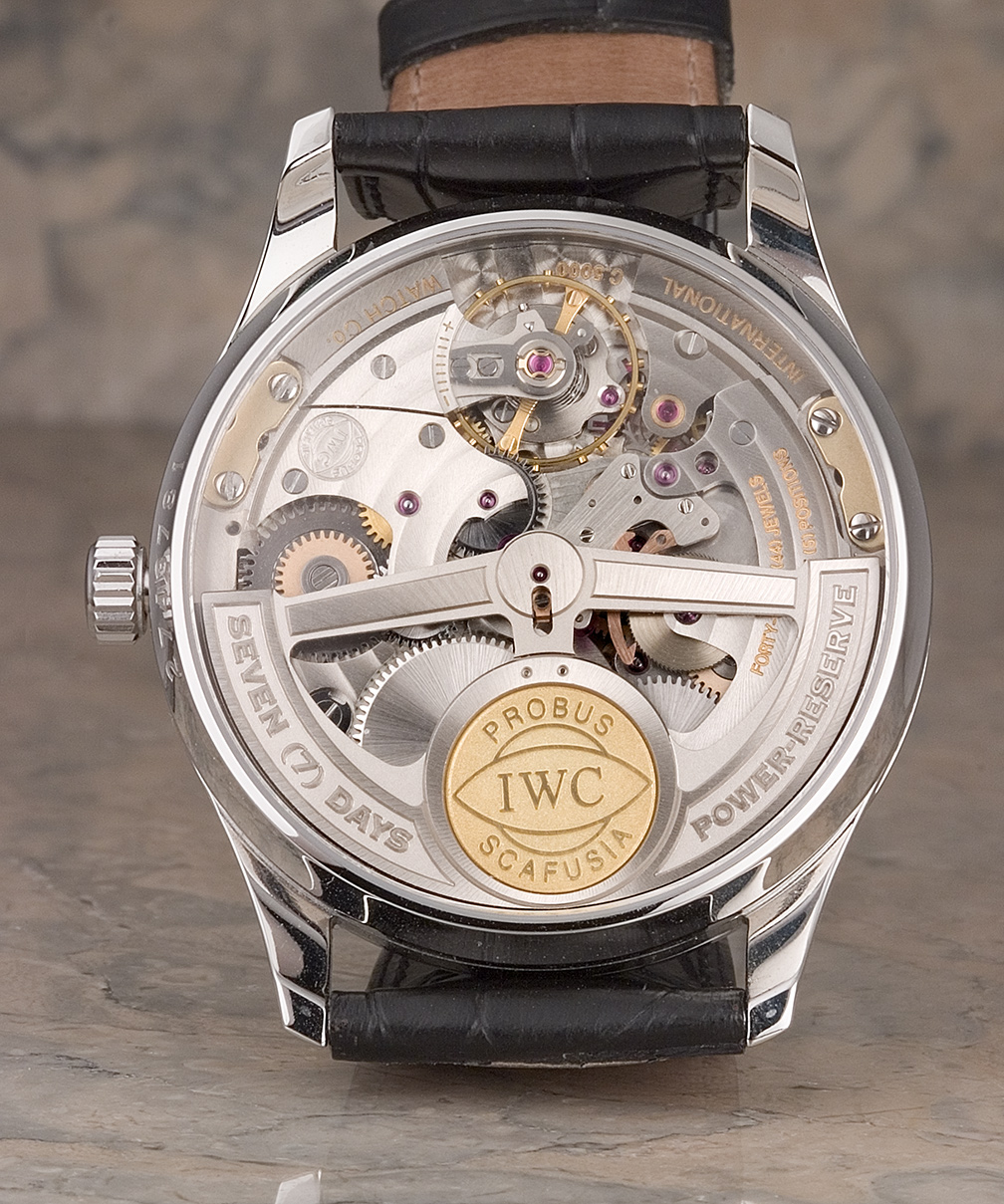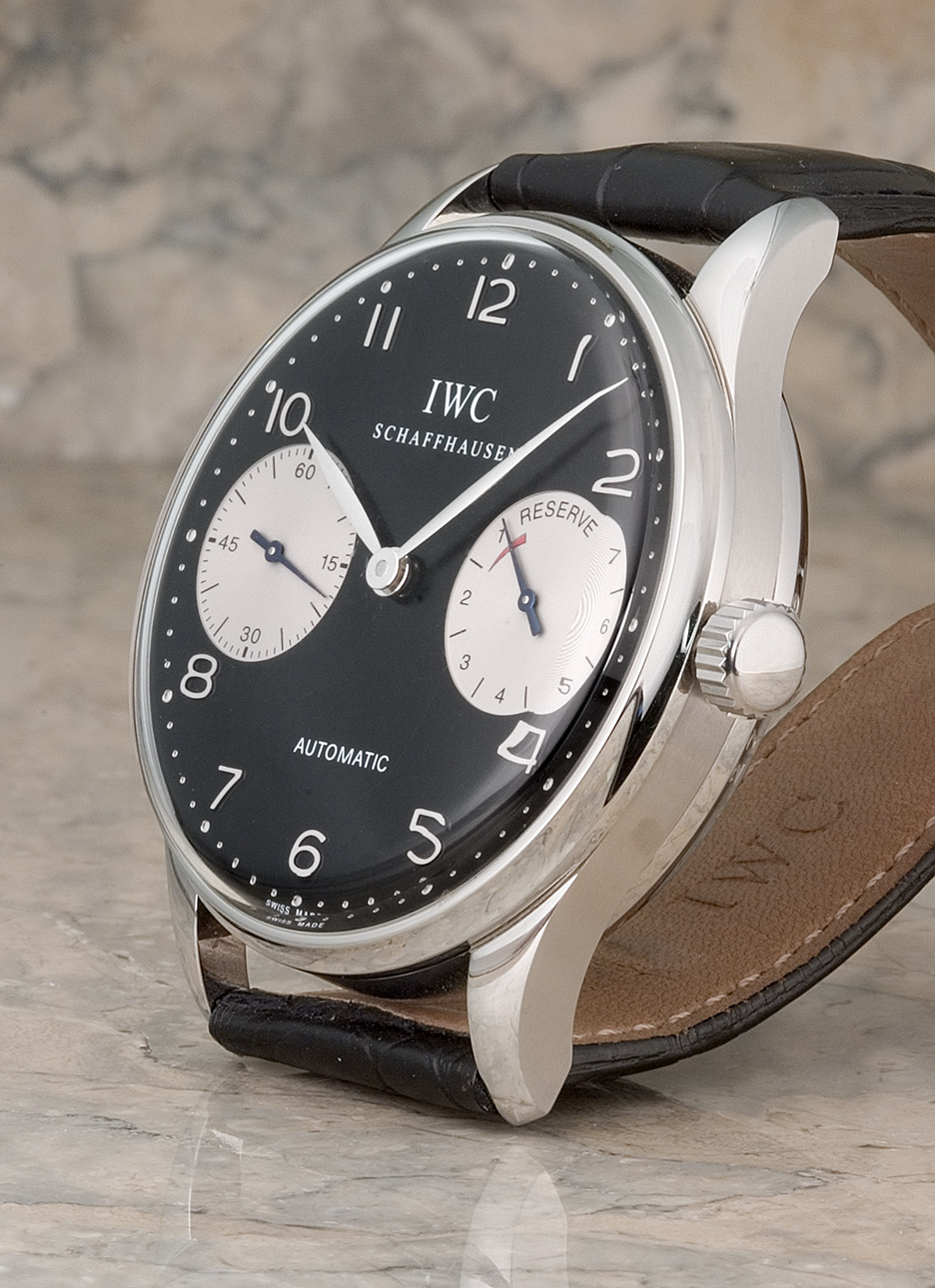 ---
Finally, we arrive at the only American entry, RGM's brand new Model 222, which incorporates a 10-size (about 38mm), 21-jewel Hamilton pocketwatch movement from the mid-20th century. Prior to 1960, Hamilton watch movements were amongst the finest in the world, and their pocketwatches set a very high standard for series production. The Caliber 921 is fully adjusted and beautifully finished, with black-polished winding wheels, chaton-set jewels, elegant regulator and a huge screwed balance. The bridges are finished with circular striping, and the wheels are carefully wrought. RGM has provided a very modern, slightly chunky 41mm case, and a minimalist but elegant dial with traditional blued hands. This watch is like nothing else on earth!: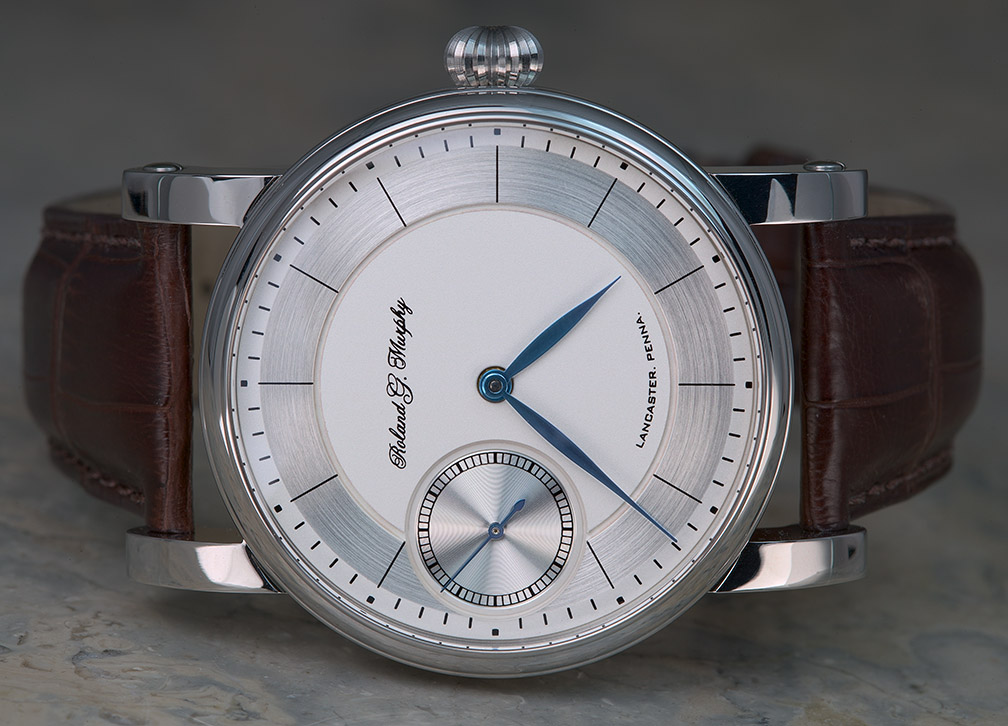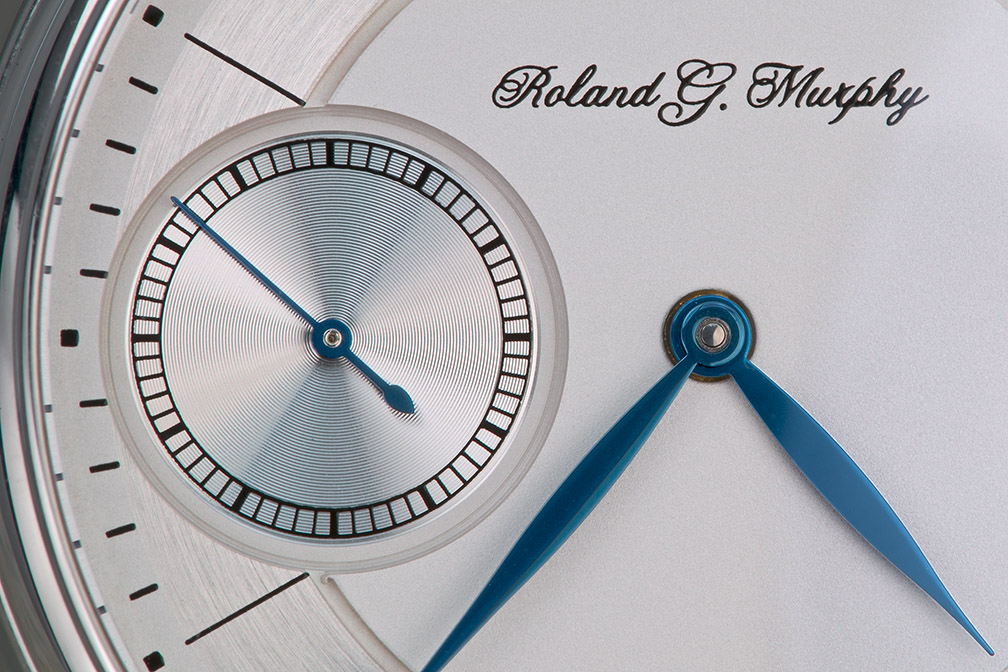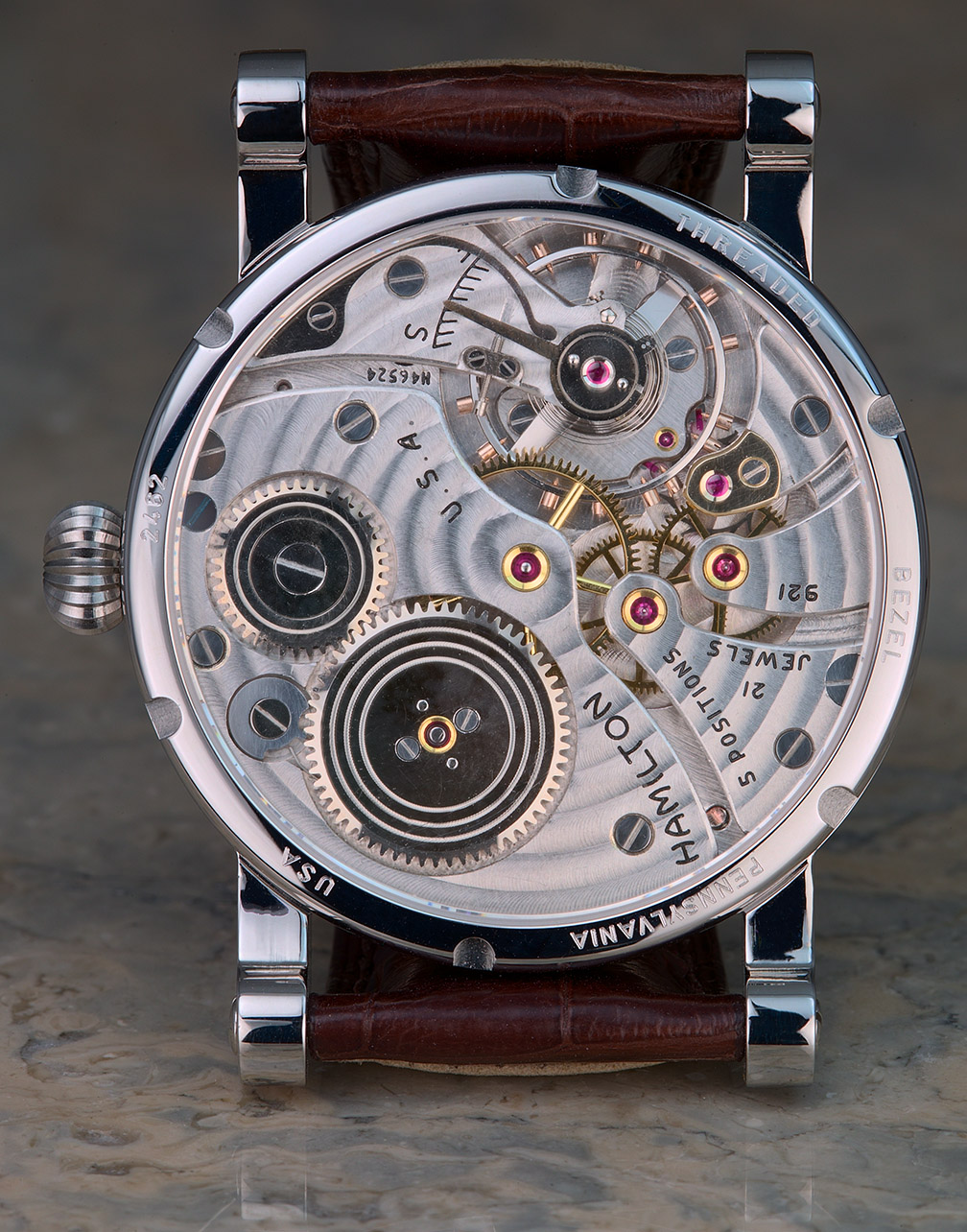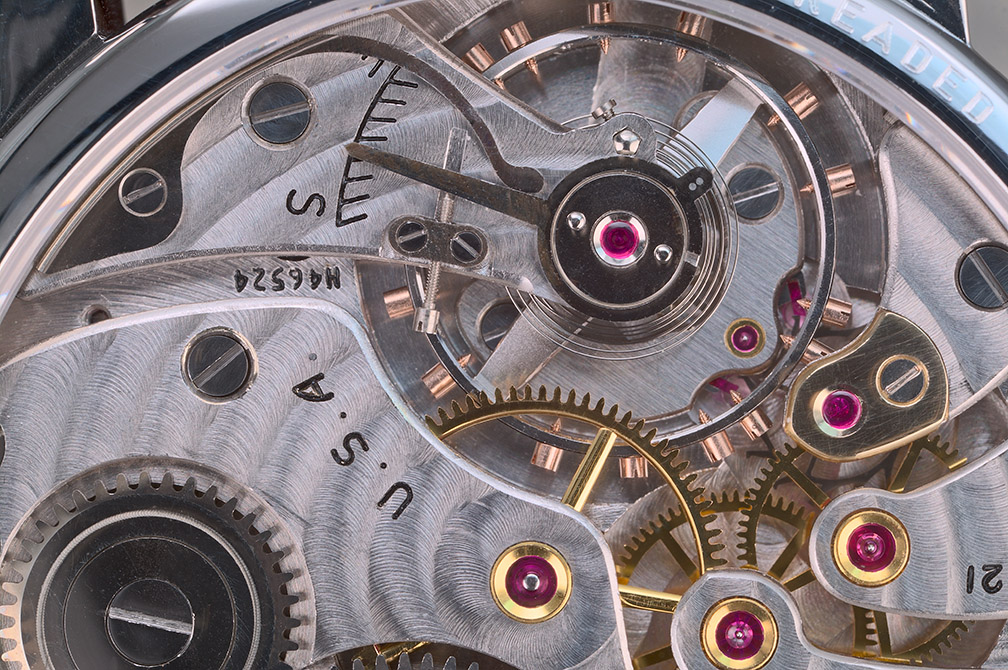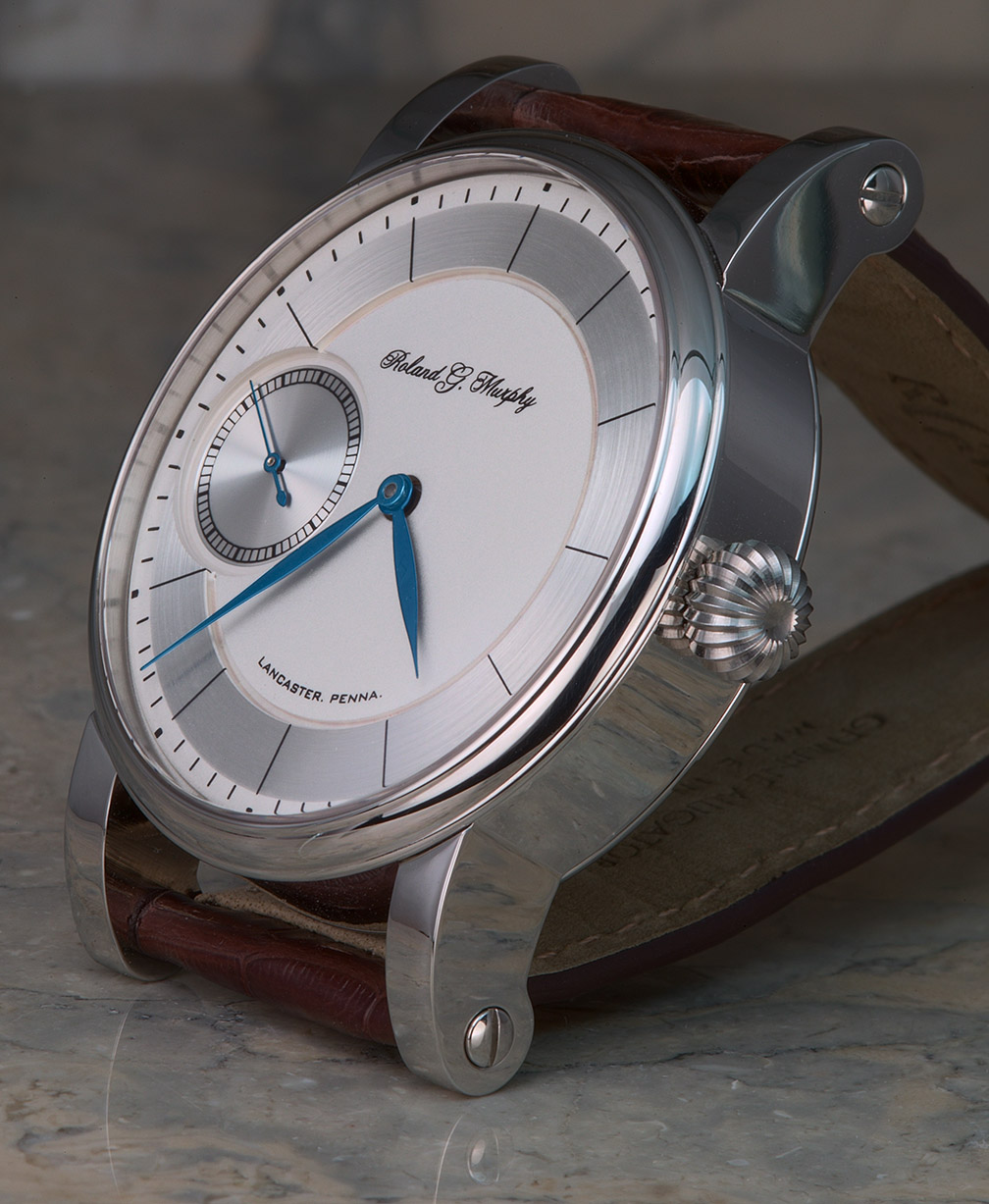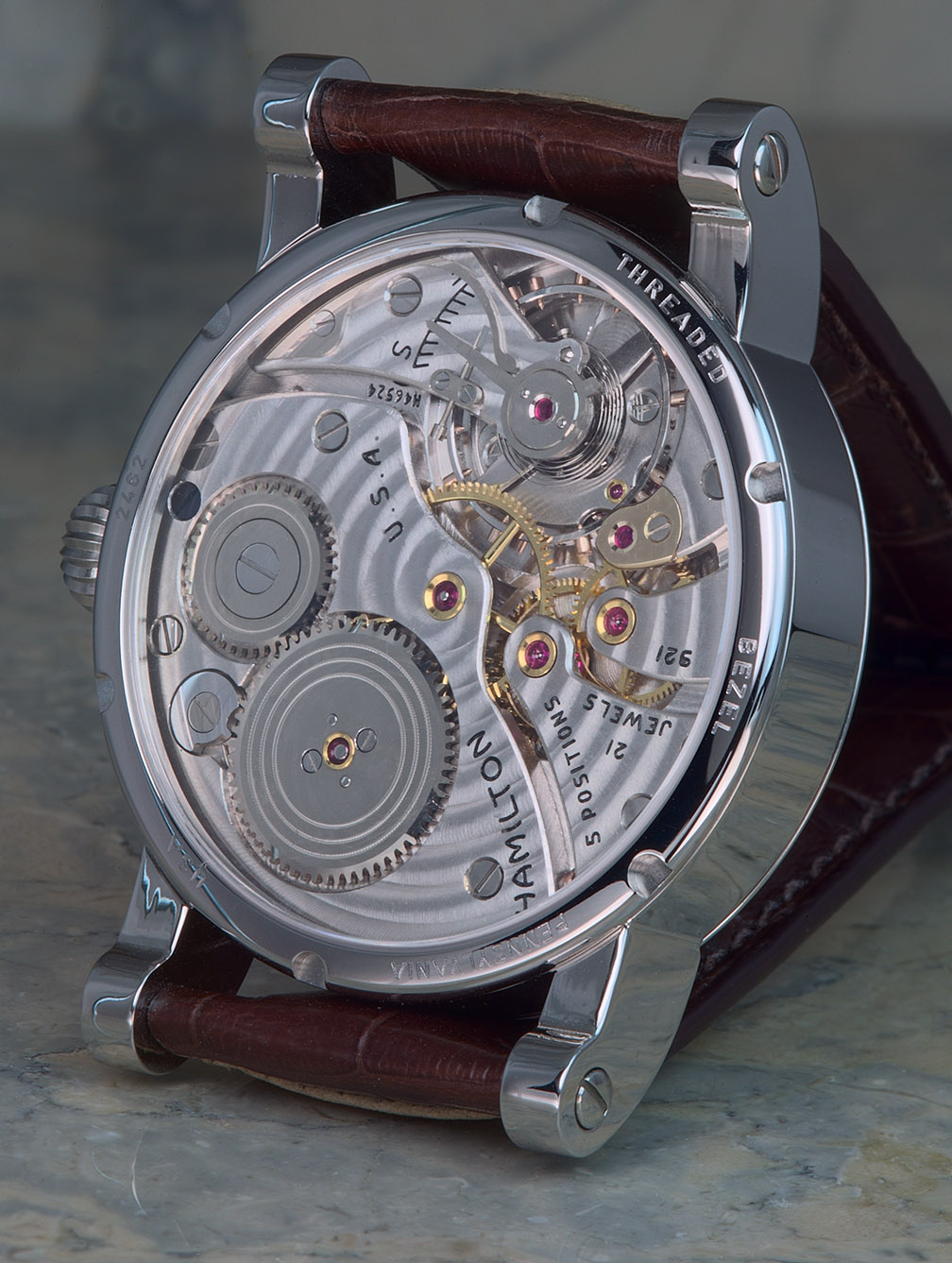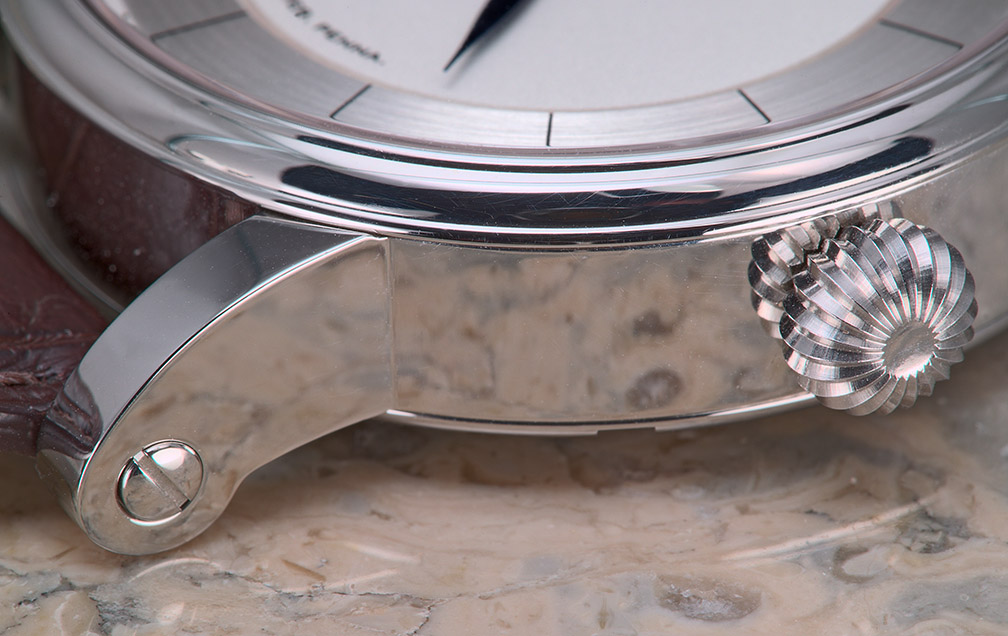 Please check out the rest of my watch Articles and pics:

I hope you enjoyed this!

SteveG
February 7, 2006



All content Copyright asserted 2003, 2004, 2005, 2006