Seiko Presmatic, Cal. 5106A

Wristwatches developed near the end of the 1960s carry a special nostalgia, for they represent the end of the line for mechanical watches as premier personal timekeepers. It is not that development came to an end (although it almost did), but rather with the introduction of quartz-controlled movements into the consumer market, mechanical watches could no longer compete on an absolute basis, but only within their own ranks. Thus, pure-timekeeping achievements now hold relatively limited interest, and accuracy has surrendered an ever-increasing share of the attentions of designers, engineers and consumers to the attributes of aesthetics, durability, materials and distinctive complications and solutions.

Among Swiss manufactures, notable production movements of this era include Eterna-Matic, Girard-Perregaux Gyromatic, JLC 4xx series, IWC 85xx, Longines Ultra-Chron, Omega 5xx, Buren and Universal micro-rotor and Zenith 25xx. There were also great movements from Patek Philippe, Audemars Piguet, Vacheron & Constantin and other luxury-only makers, but quantities were very small.

For Seiko, the 1960s was the decade when they determined to seriously challenge the Swiss industry in chronometry, culminating in their placing three movements in the top ten during the Neuchatel Observatory competitions in 1967, the final year they were held for wristwatches. As background to this drama, Japanese manufactures' use of the legend "chronometer" on production watches and movements generated ongoing controversy (as they were not certified in Switzerland), finally settled in the case of Seiko by uniting their various chronometer-grade watches under the "Grand Seiko" banner.

---

The present watch predates GS harmonization, and its movement is noted as chronometer-grade by the fine regulator, self-compensating hairspring, abundant jeweling and huge balance. Despite some 40 years of age, the Presmatic is of contemporary dress size at 38mm diameter and 9mm height, and displays a thoroughly modern appearance. The dial is beautiful silvered sunburst with steel hardware and restrained legends, and is highly readable thanks to faceted applied markers and hands, with luminous inserts:
Click the pictures for even larger!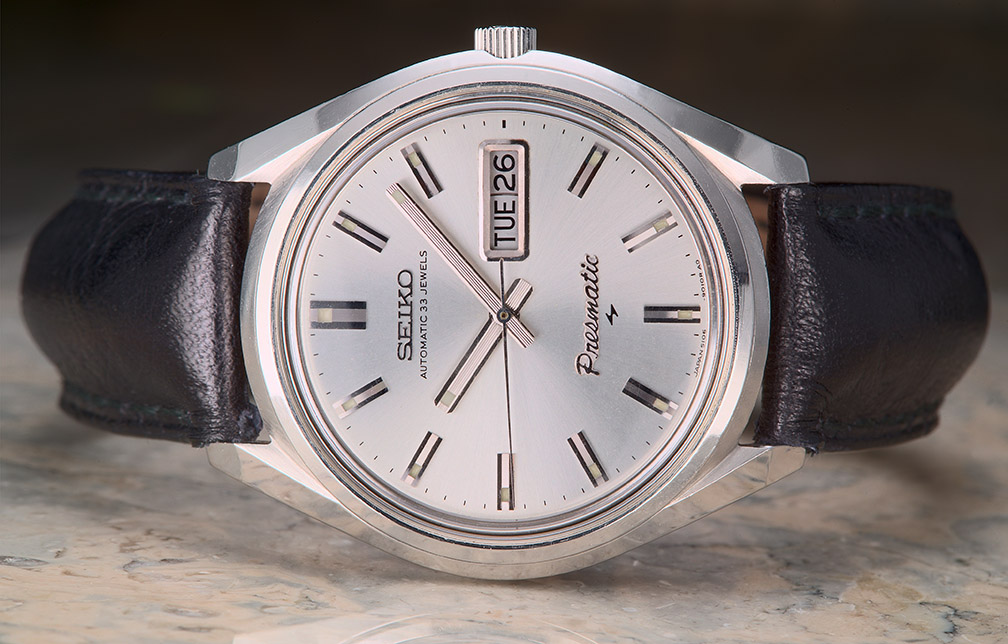 Dial work shows typical Seiko high quality, with complex engraved steel hands and markers.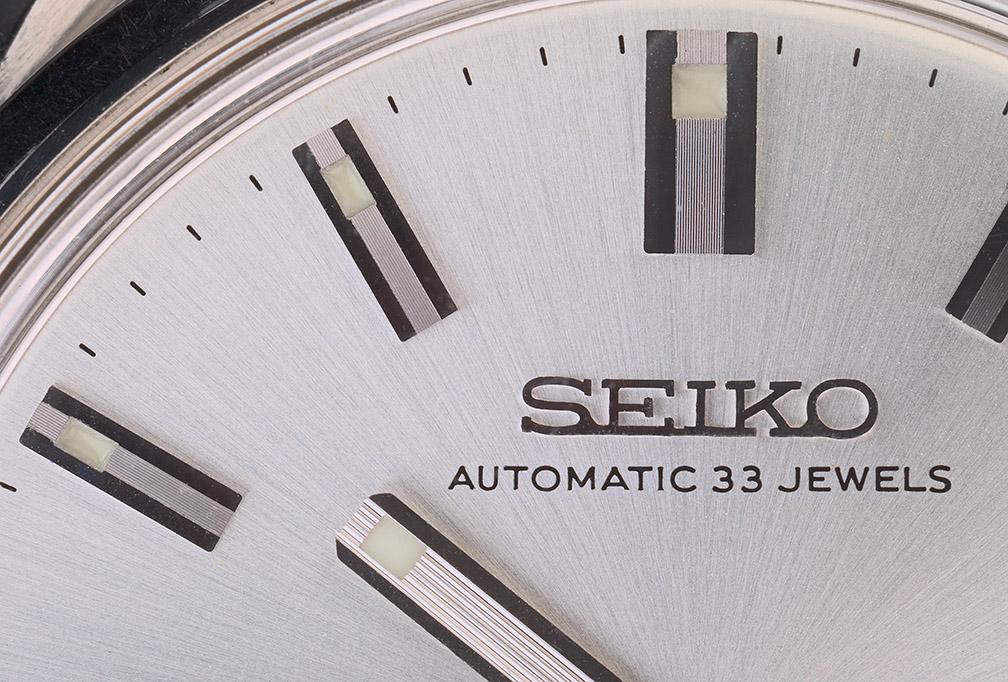 While not decorated in European fashion, the movement's construction is very clean, with excellent functional finish. It is 11 1/4 lignes (about 26mm diameter), and with 33 rubies, just about everything that moves has a jeweled mounting. The 5106A is one of Seiko's last slow beat (19.8 kbph) movements.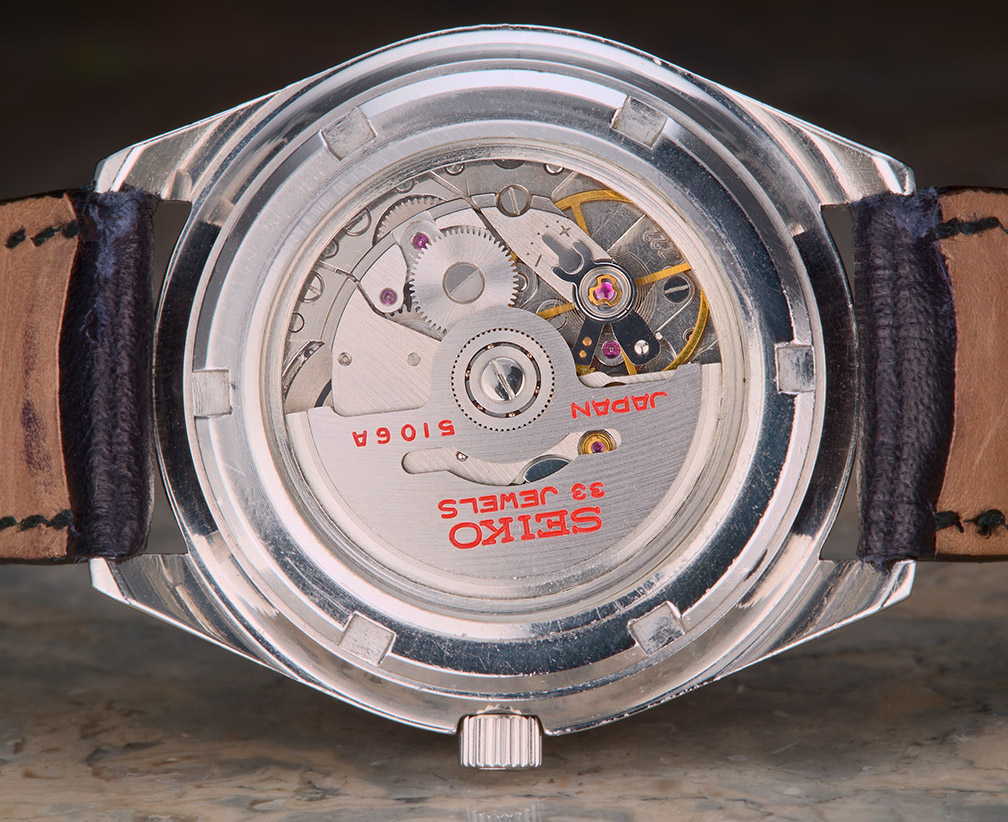 Excellent fine regulator, unique Seiko flexible-mounted jewels for the fourth and escape wheels, polished countersinks, very cleanly machined bridges, huge balance wheel. The steel door to the far right houses the spring and clutch which engages the stem and crown for handwinding: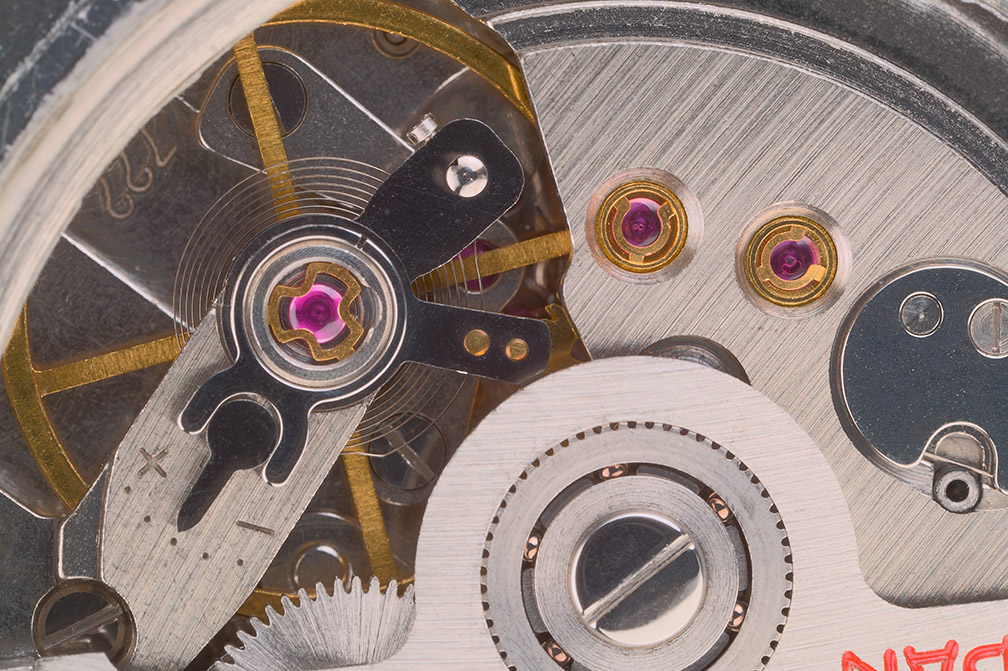 In this view it's easy to appreciate those fabulous hour markers, and the elegant case with brushed accent between the lugs: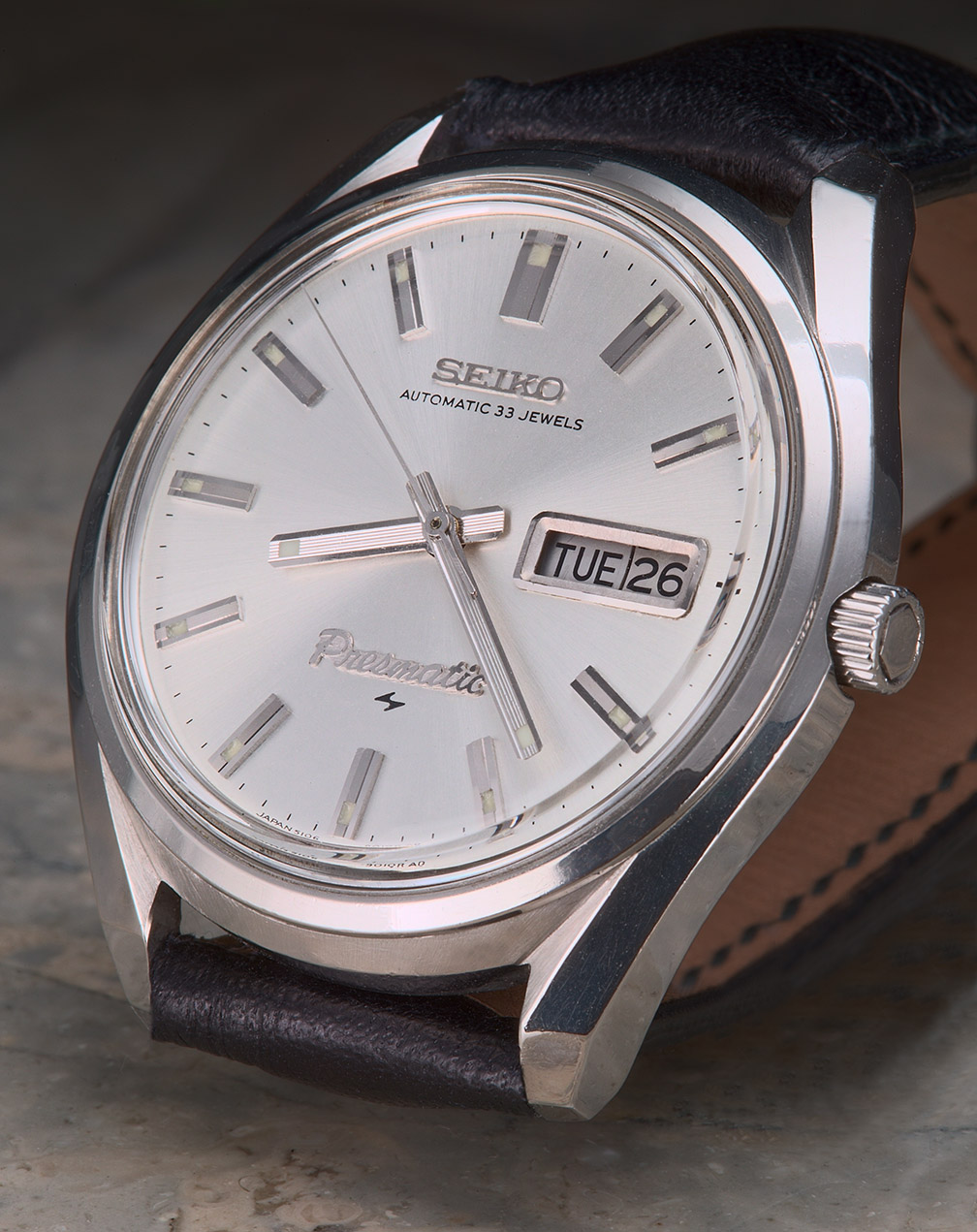 A hexagonal button framed by the partially-inset crown quicksets the date when pushed...Presmatic!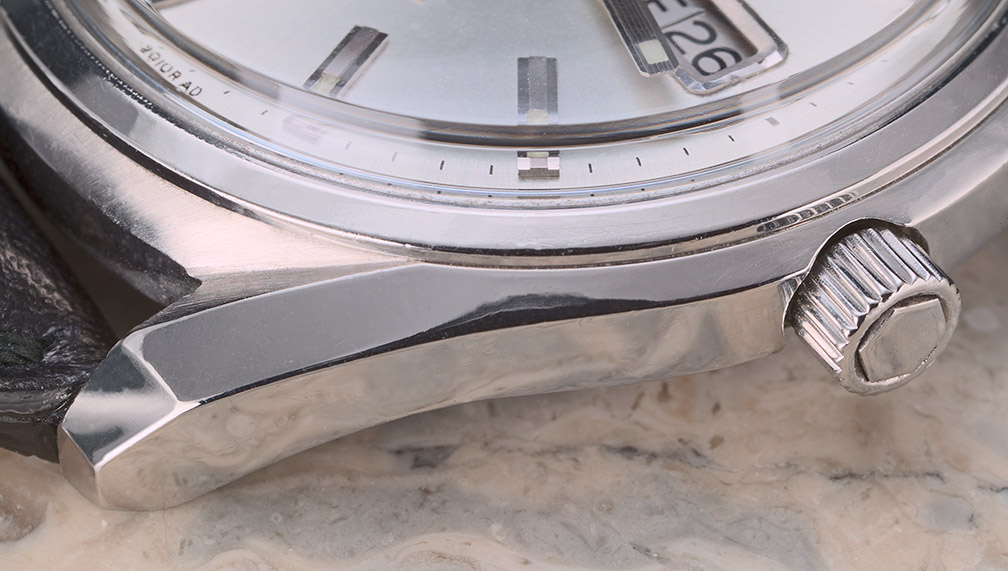 A previous owner has considerately installed a display back on my watch: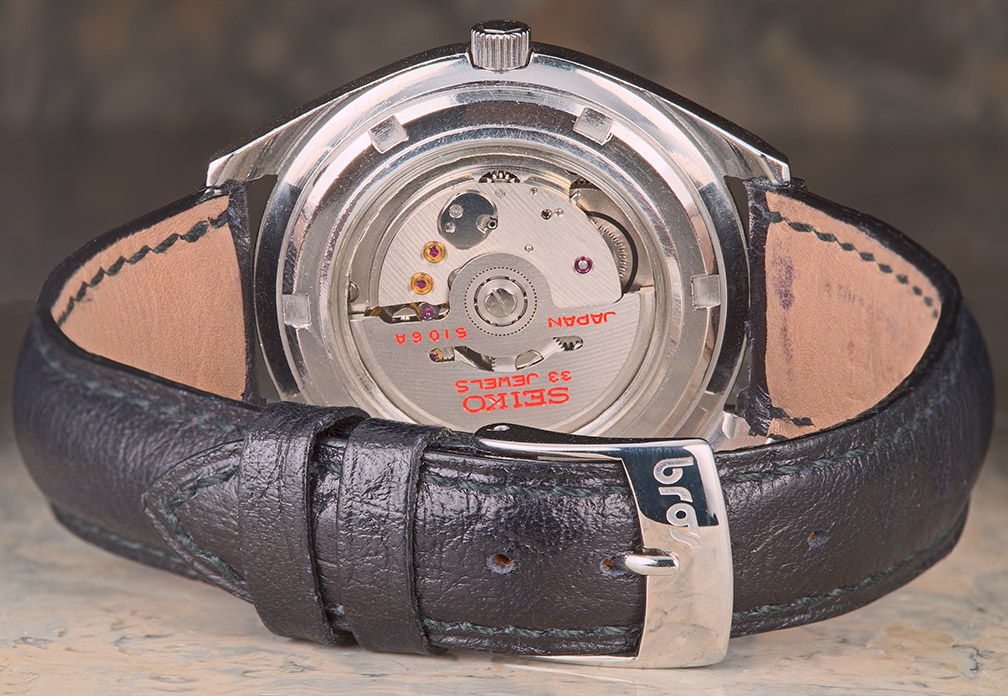 Please check out the rest of my watch Articles and pics:


I hope you enjoyed this!

SteveG
October 5, 2006



All content Copyright asserted 2003, 2004, 2005, 2006