Breitling SuperOcean

Although Rolex, Omega and Panerai pioneered reliably watertight watches in the 1920s-1940s, it was not until the mid-1950s that Rolex (with its Submariner) and Blancpain (and related entities, with its Fifty Fathoms) released the first series-production deep-water-resistant wristwatches. In 1957 the Omega Seamaster 300 appeared, along with the present watch, Breitling's 200-meter SuperOcean.

Soon after, competing efforts from Eterna (KonTiki) and Enicar (Sherpa Dive) arrived, and within a few years the dive watch became an established genre, marketed to civilian and recreational as well as official and military users. Today such watches fill virtually the entire industry spectrum, from dirt-cheap quartz-and-plastic efforts and inexpensive but remarkably rugged stainless steel automatics, through the iconic Rolex and Omega designs and newer (and fancier, and more expensive) "dress divers" like Audemars Piguet's Royal Oak, Roger Dubuis' Easy Diver and Hublot's Big Bang, all the way to multi-hundred-thousand-dollar haute horology watches, sporting tourbillons and perpetual calendars!

---

Breitling has a strong history as an innovator of chronographs (including the two-button controller and slide-rule bezel) and as a supplier to military and official agencies, and their strength has always been their connection to aviation. In this sense their early entry into waterproof watches is perhaps not surprising; still, everyone who has seen this watch senses that it is a bit of an anomoly, with its simple design, no numerals, three hands and not even a date function! Indeed, as far as I have discovered, although Breitling has since almost continuously offered highly water-resistant watches, the designs have strongly reflected their aviation heritage at the expense of simple ruggedness and readability.

The present SuperOcean is 38mm diameter and 10mm thick (appropriately large and robust for its time (about 1961)), and sports a radically dished bezel intended to protect the thick and highly-domed acrylic crystal. The dial has no numerals, rather twelve luminous hour markers and hands, and the smooth-rotating, bidirectional bezel uses metal hour markers with black plastic inserts between. Only the 12 o'clock arrow is luminous, although for both the bezel and dial the 3-6-9-12 markers are distinct from those remaining.
Click the pictures for even larger!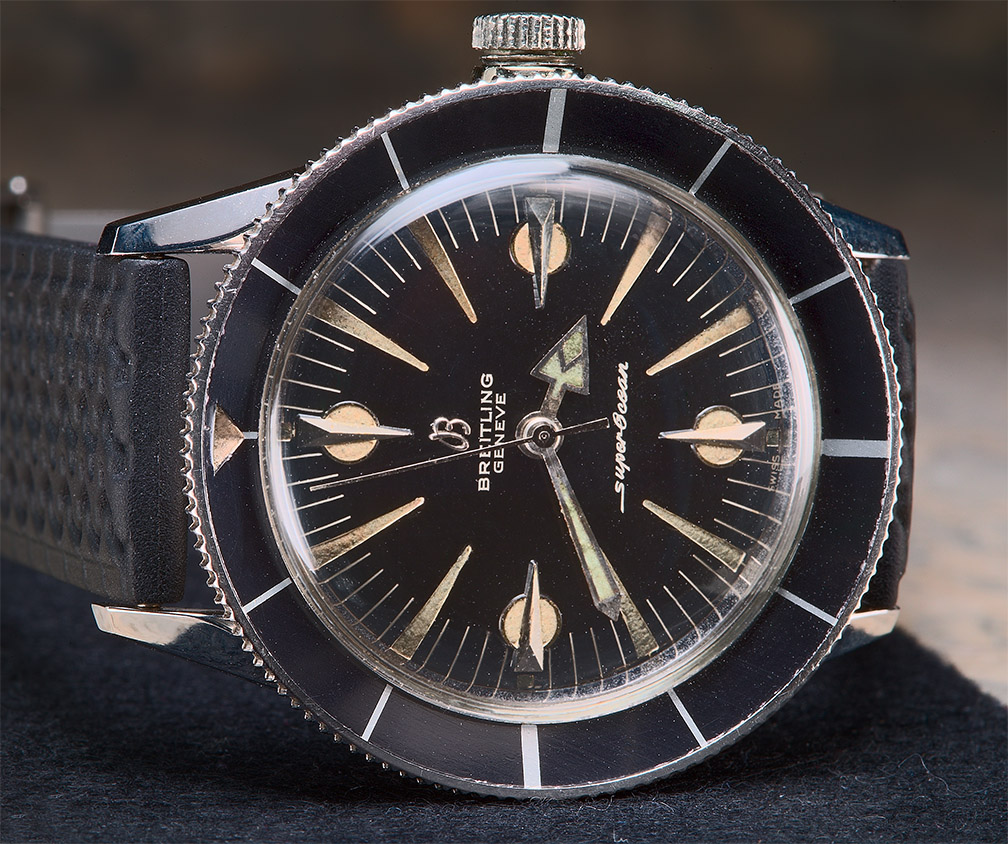 xxxxxxxxxxxxxxxx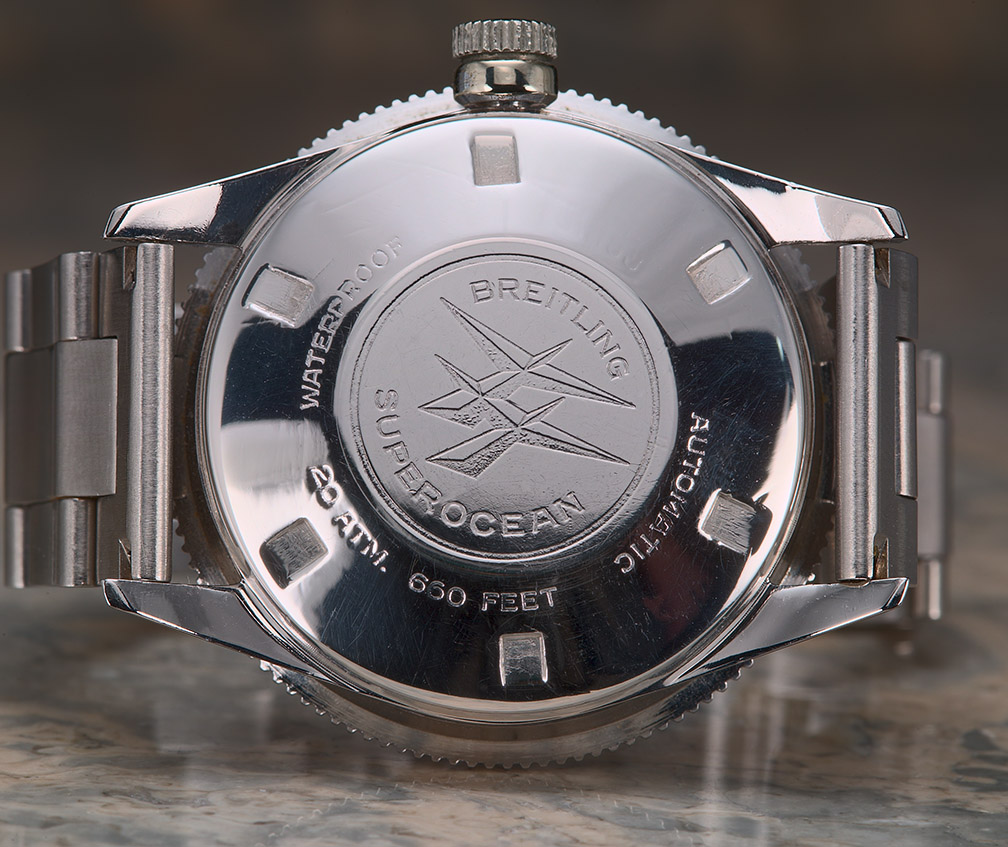 xxxxxxxxxxxxxxxxx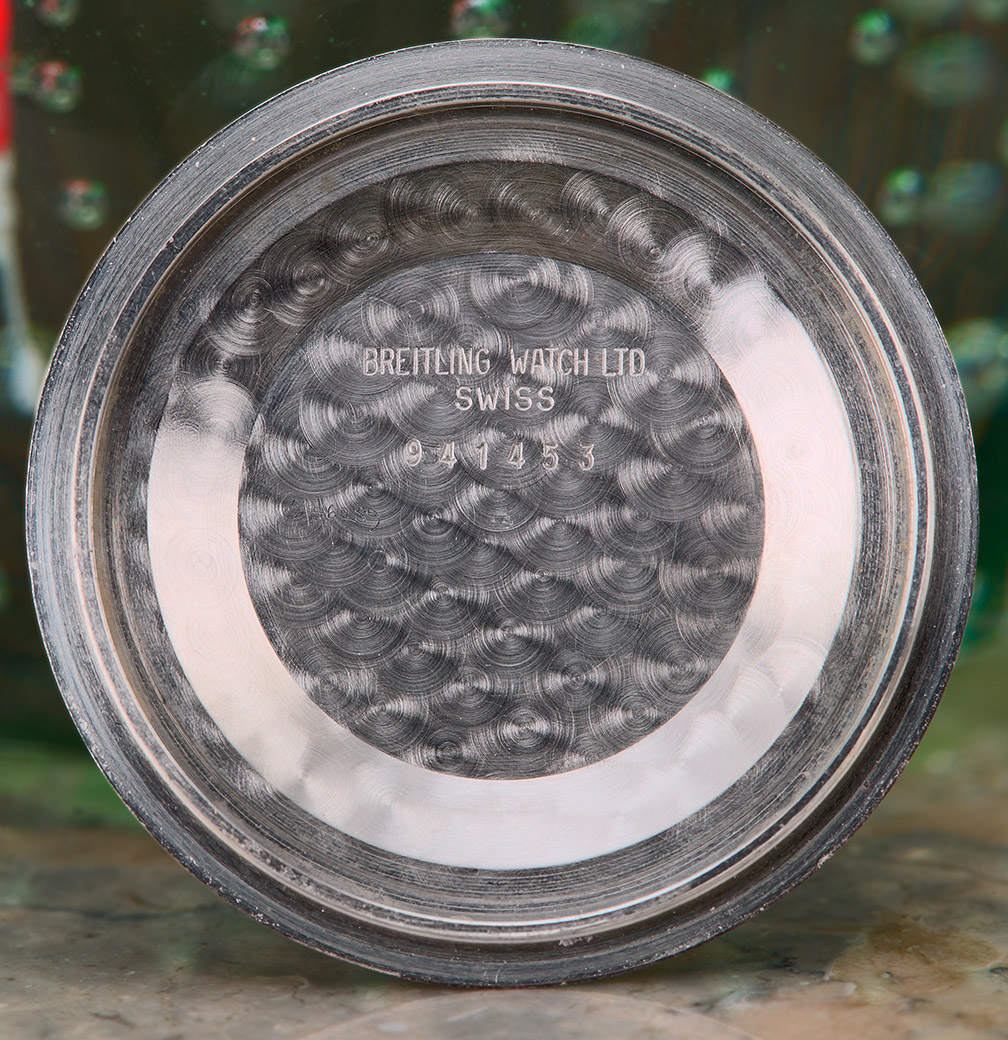 xxxxxxxxxxxxxxxxx
xxxxxxxxxxxxxxxxxxx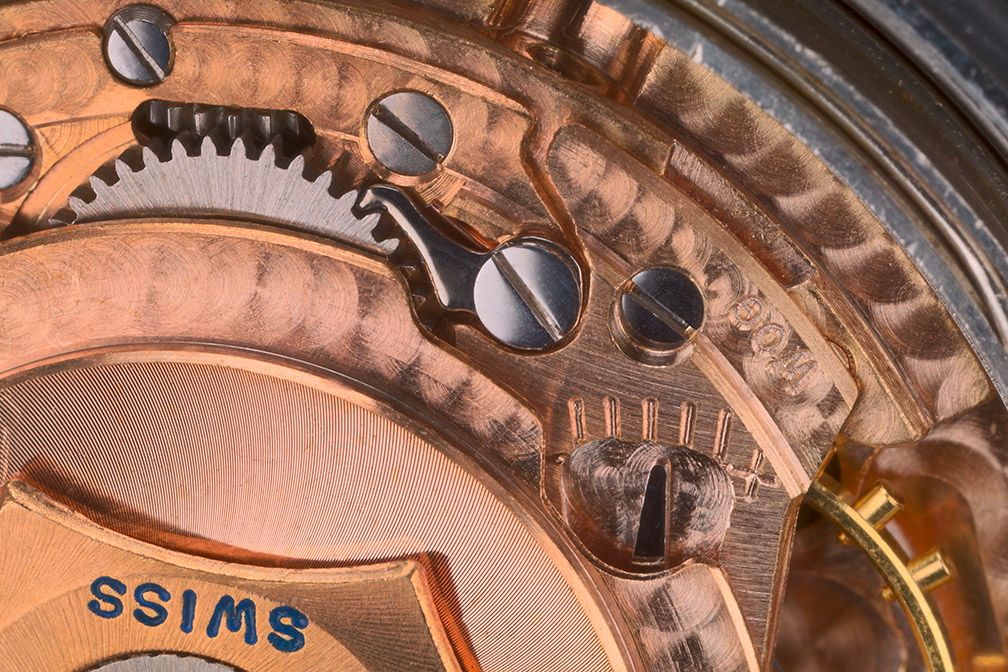 xxxxxxxxxxxxxxxxxxx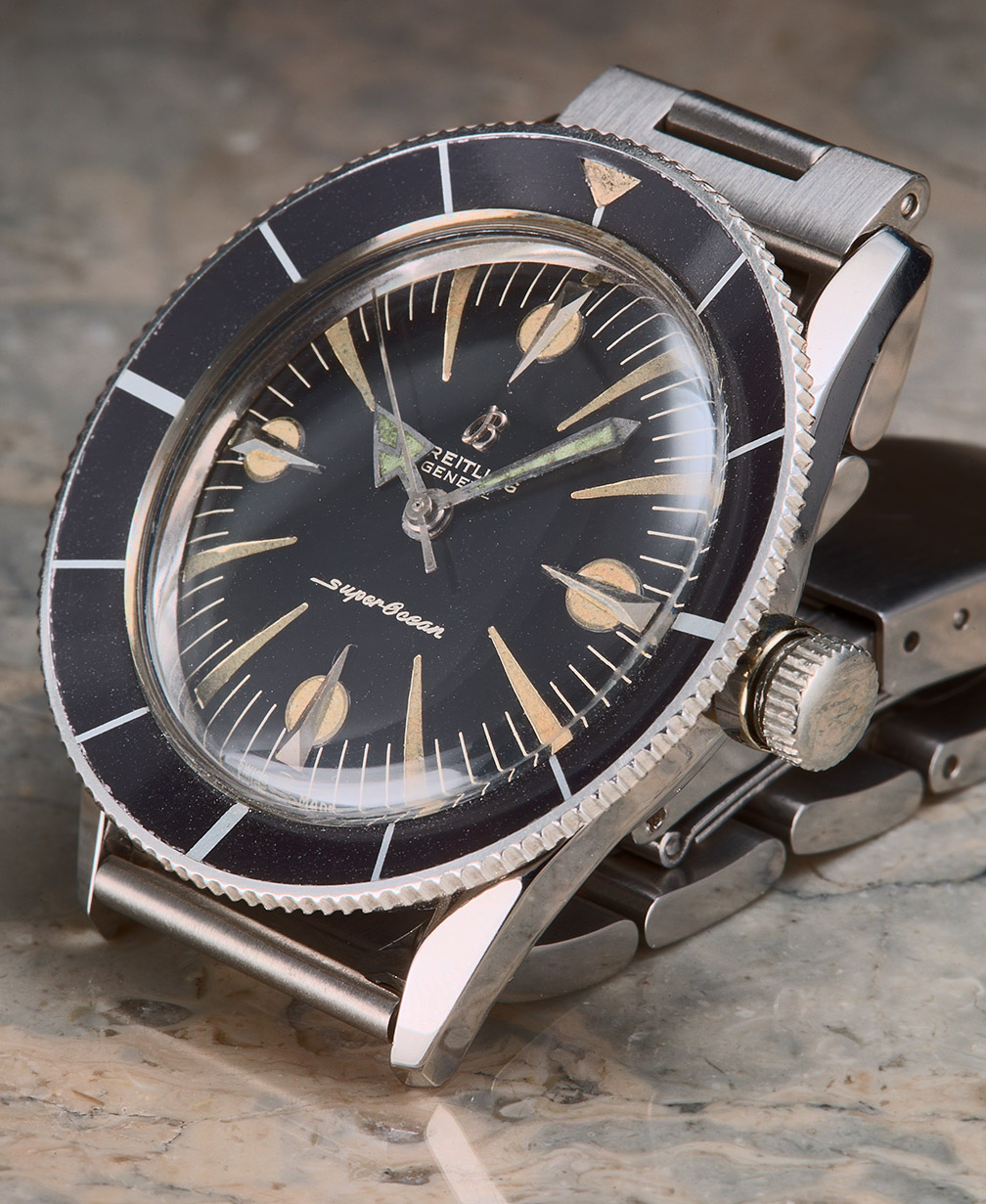 xxxxxxxxxxxxx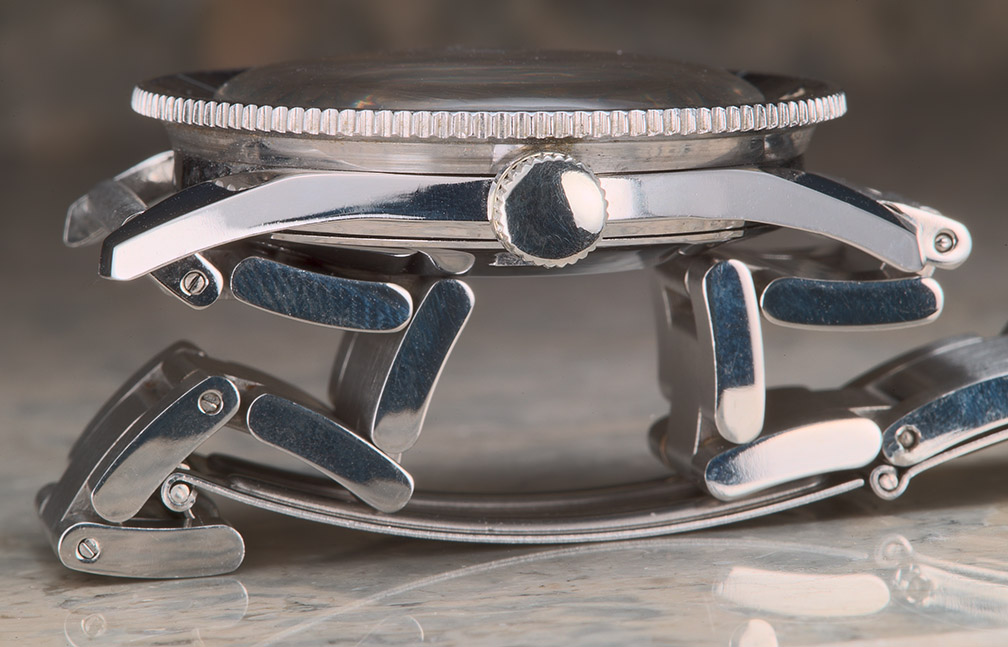 xxxxxxxxxxxxxxxxxx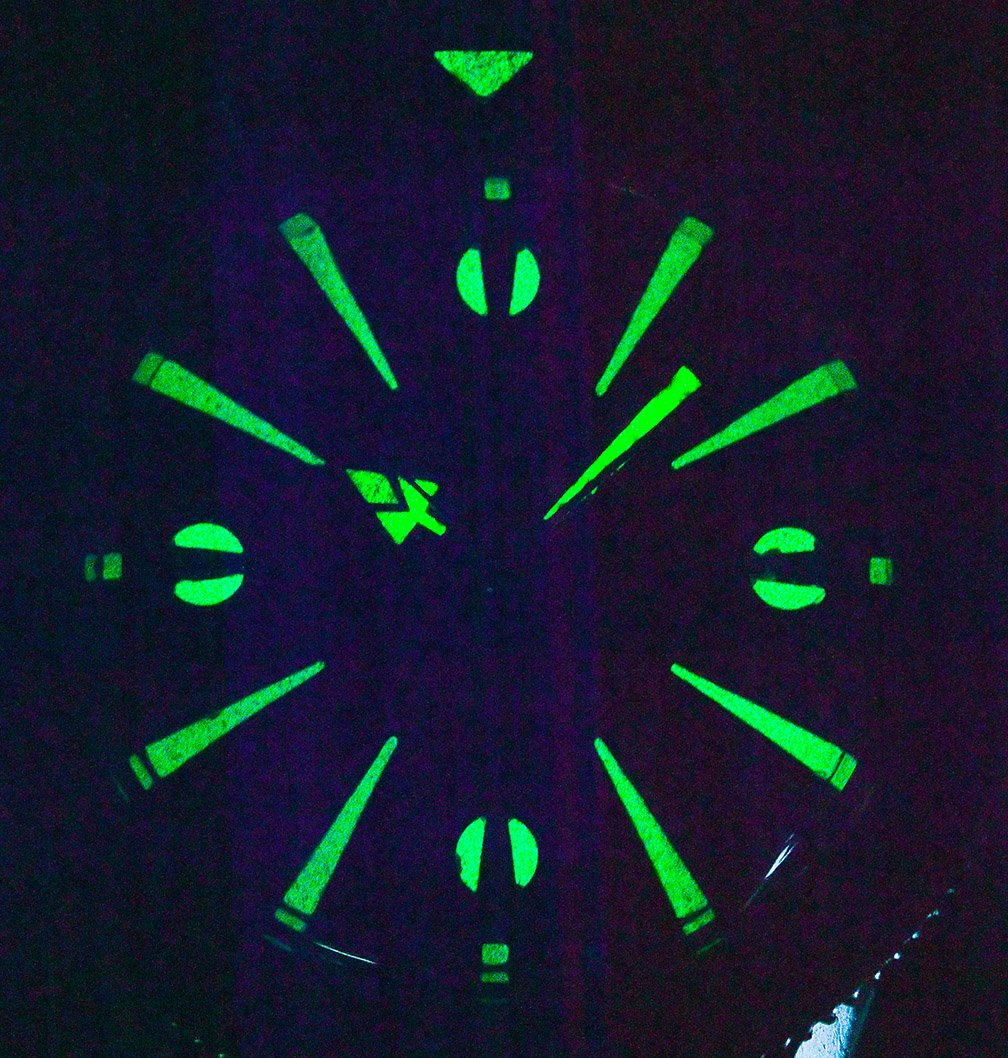 Please check out the rest of my watch Articles and pics:


I hope you enjoyed this!

SteveG
January , 2007


All content Copyright asserted 2003, 2004, 2005, 2006, 2007