Heuer Bund chronograph flyback, circa 1970

Founded in 1860 by Edouard Heuer, the eponymous company was a watchmaking innovator for over a century. Heuer was a pioneer in many most basic areas: stem-winding, chronographs, automobile clocks, and wristwatches with water-resistant cases. Like so many other firms, its fortunes turned at the dawn of quartz-controlled timekeeping, and in 1969 Heuer relinquished its independence and became a public company. From there ownership went to Piaget, then Techniques d'Avant-Garde (TAG), and finally in 1999 it was sold to the luxury conglomerate LVMH.

From the 1930s through the 1960s almost every significant Heuer watch was a chronograph, and although they were not a manufacture, Heuer used only the finest ebauches for their watches. Primary suppliers were Venus and Valjoux, and later Lemania, and their quality was fully competitive with other top firms. Throughout this time Heuer was consistently associated with auto racing, sports timing and aviation, so many of their lines have deep history and a strong following.

Some links of interest include:

Europa Star's excellent article What's in a name?

Chuk Maddox's wonderful and exhaustive Heuer Carrera Chronographs: A Brief Overview

Jeffrey M. Stein's site dedicated to Heuer chronographs and timers: OnTheDash

Walter Allan Manning's incredible survey of Heuer Bundeswehr chronographs

---

Heuer Bunds like the present watch were built to specifications for the German armed forces in the late 1960s and early 1970s. Although there are perhaps a dozen legitimate dial variations, all used very high-grade Valjoux 22/222/230 movements. At 42mm diameter and 12mm thickness, this is a well-proportioned contemporary-sized chronograph, and its purposeful military design is pretty much timeless. The front-loading 2-part case is stainless steel, brushed and matted except for the polished back, and the bidirectional bezel turns smoothly and is painted aluminum(?). As one might expect, the dial is a model of functional simplicity: white and luminous markings and hands on a matte-black background, enlivened by the bright red "tritium symbol" warning of use in radioactive-sensitive areas.
Click the pictures for even larger!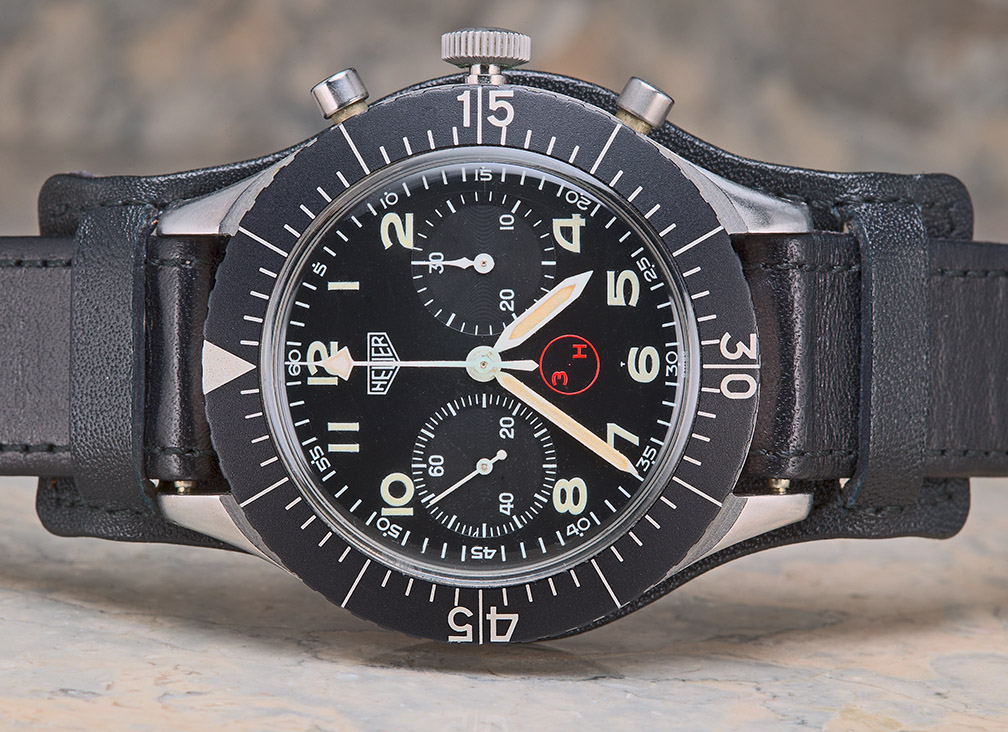 As military watch-dials go, Heuer's is unusually nicely detailed. The engraved subdials offer a subtle contrast to the plain background, and the printing and luminous application is exceptionally neat.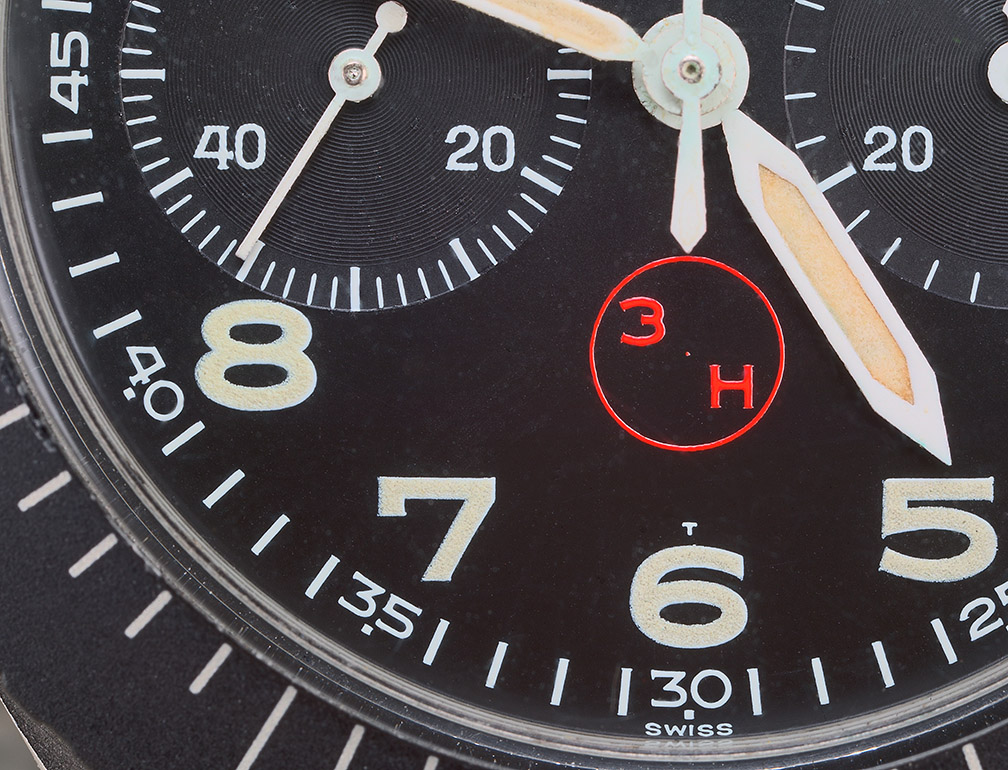 Markings engraved on the back refer to the Bundeswehr specifications. The four set-screws attach the top part of the case and bezel to the back, pressing the crystal and gasket into place, while the movement is cradled inside the back: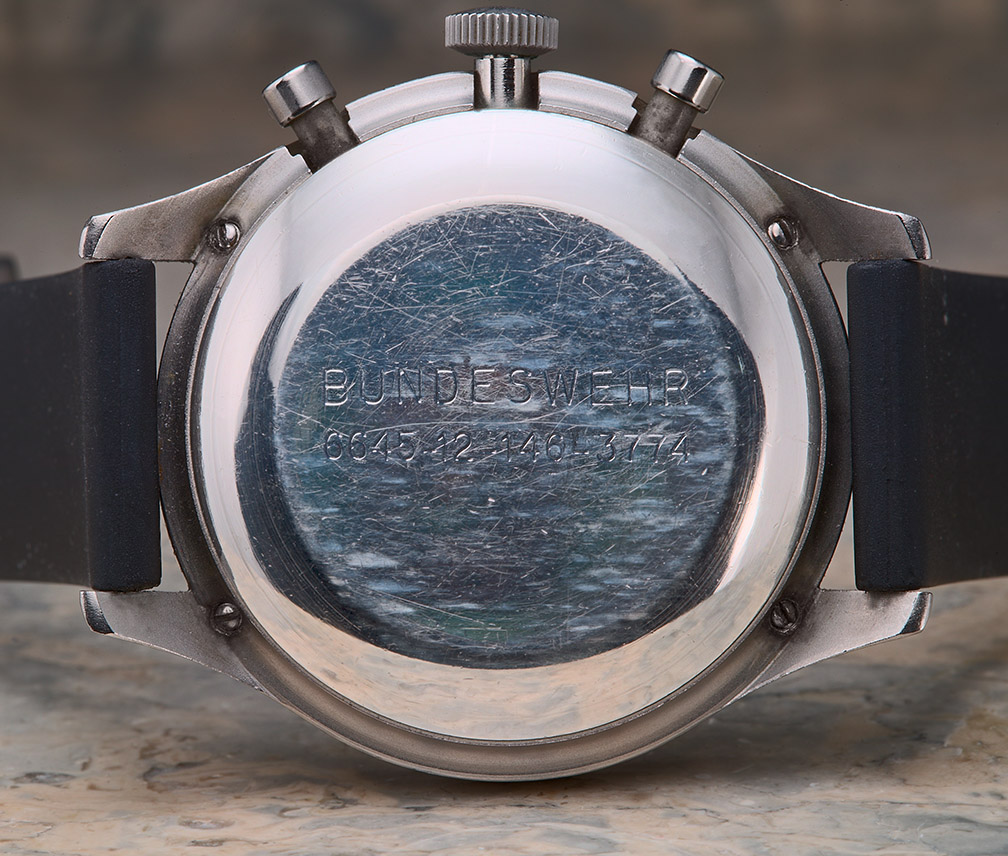 As the unique case has so far defied my attempts at full disassembly, I am showing the Valjoux 230 movement thanks to the kind courtesy of the seller, Zaf Basha. This is a 17-jewel, 13-ligne (about 29.5mm diameter), hacking and flyback movement of traditional column-wheel design, but updated with a smooth balance and flat hairspring. With roots way back into the 'teens, it is a beautiful and historic movement, but robust and serviceable. The action of the chronograph controls is unusual and satisfying: The start/stop (top) pusher offers steady resistance, with an audible (but only barely tactile) "click", while the reset (bottom) pusher shows exactly the same resistance but is entirely silent! The hands start, stop and reset with admirable precision, displaying no backlash, hesitation or vibration. Well done!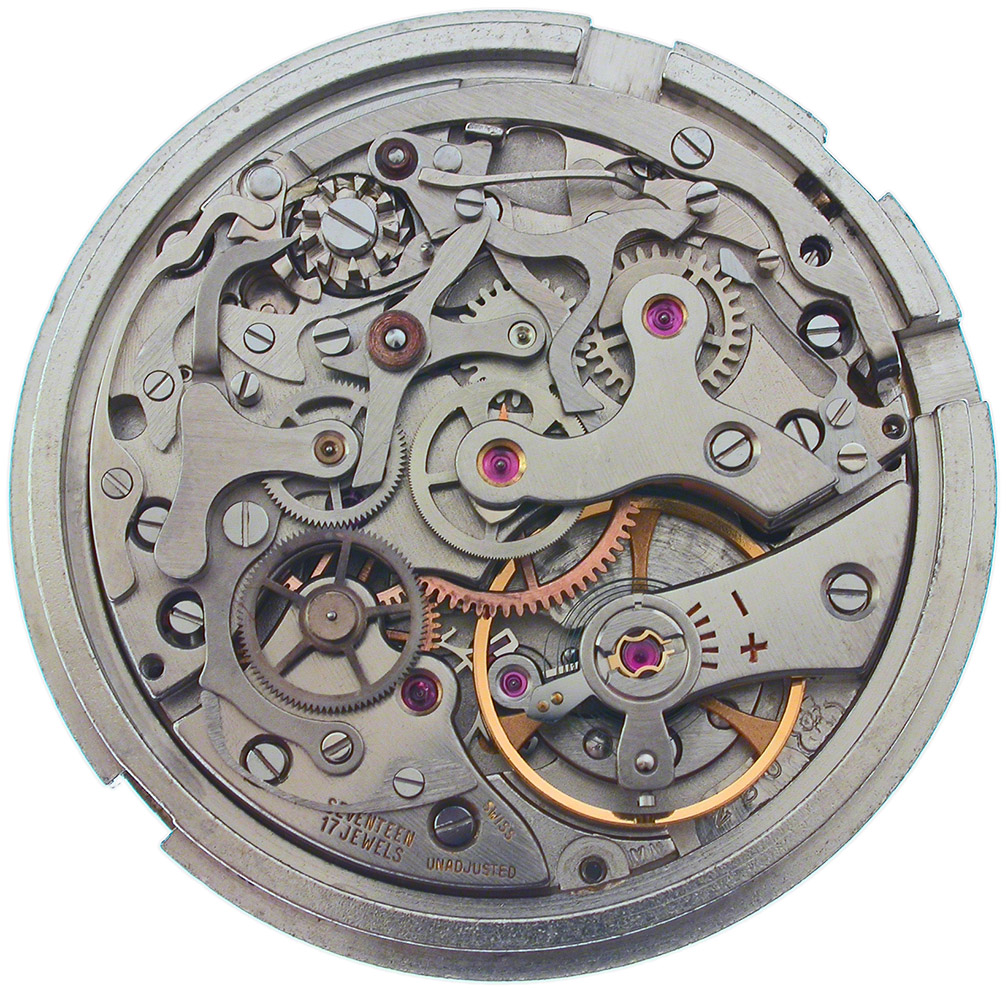 Case profile, crown and pushers are as simple as can be, and are perfectly suited to their jobs: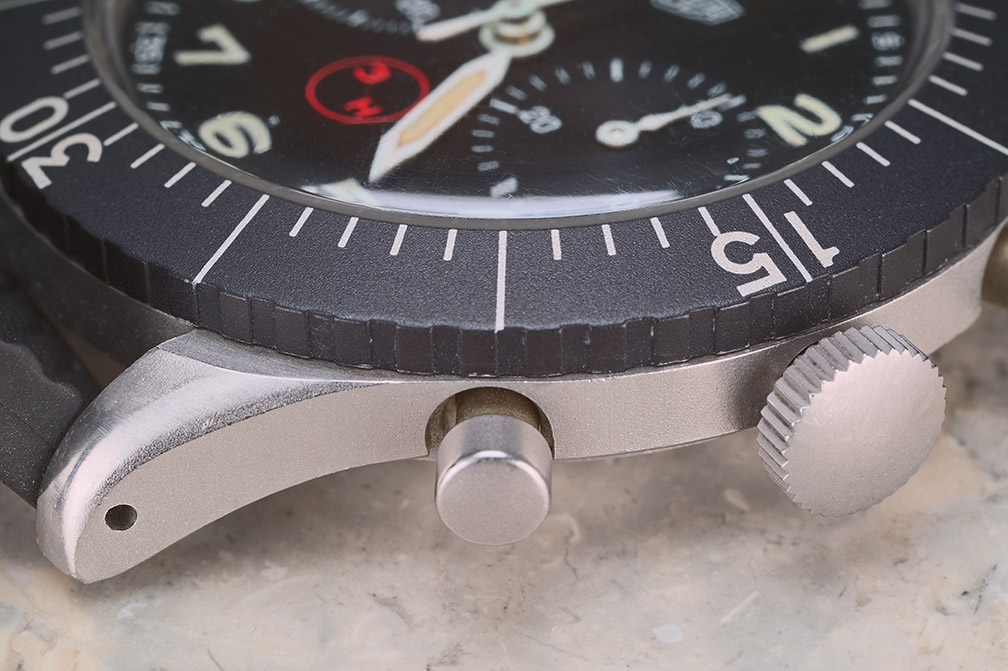 More military engravings between the lugs; the one shown at bottom is the serial number: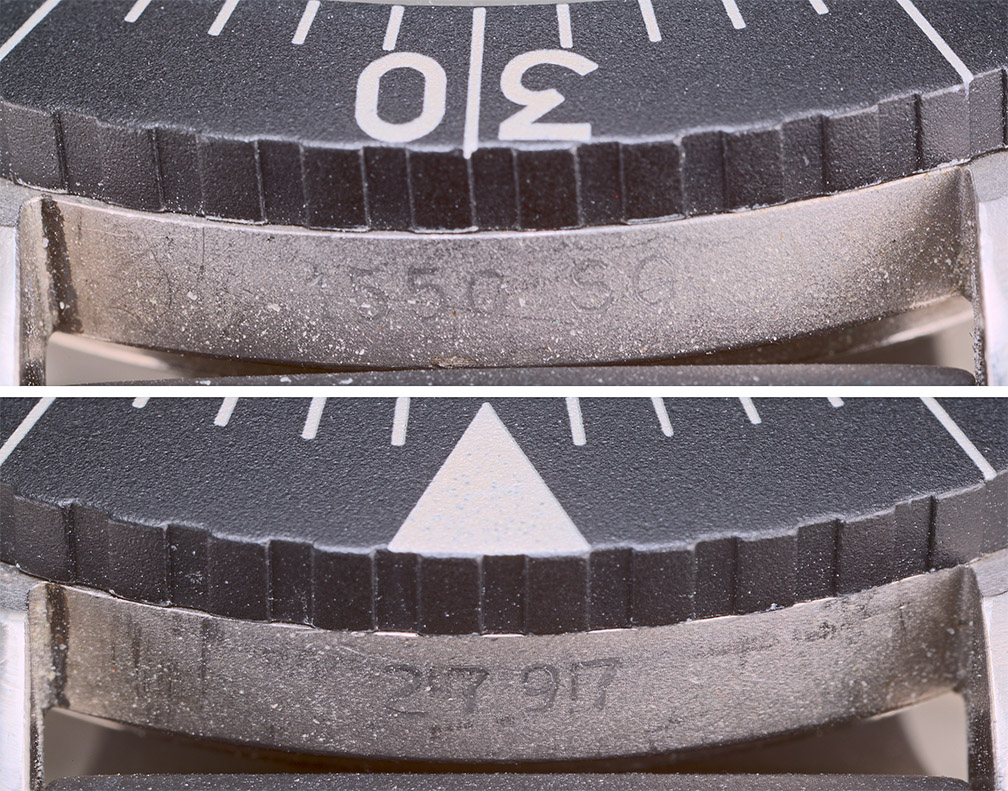 Eerie green tritium glow: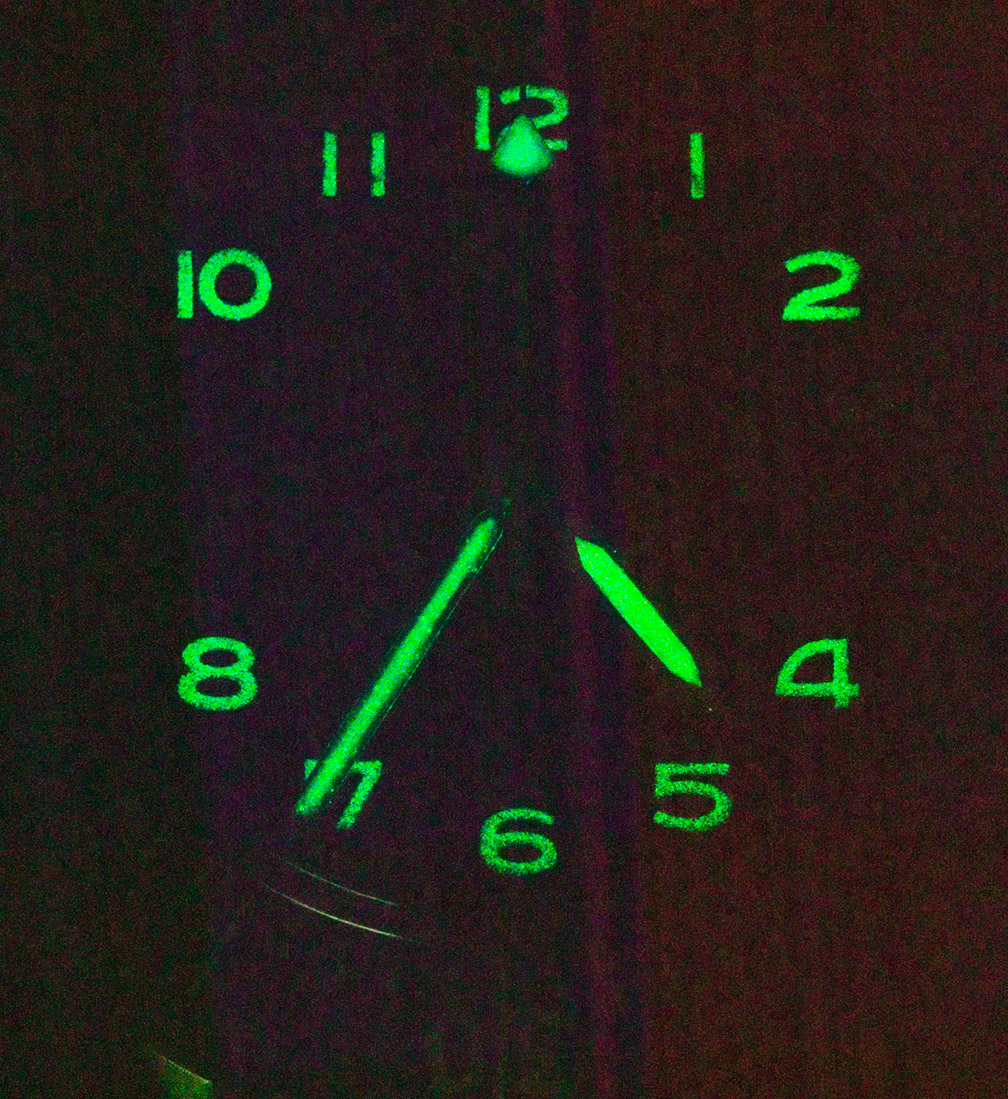 Please check out the rest of my watch Articles and pics:


I hope you enjoyed this!

SteveG
January 17, 2007


All content Copyright asserted 2003, 2004, 2005, 2006, 2007